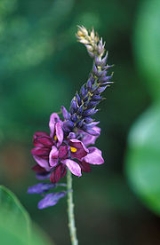 Fabaceae
The
Fabaceae
or
Leguminosae
, commonly known as the
legume
,
pea
, or
bean family
, is a large and economically important
family
Family (biology)
In biological classification, family is* a taxonomic rank. Other well-known ranks are life, domain, kingdom, phylum, class, order, genus, and species, with family fitting between order and genus. As for the other well-known ranks, there is the option of an immediately lower rank, indicated by the...
of
flowering plant
Flowering plant
The flowering plants , also known as Angiospermae or Magnoliophyta, are the most diverse group of land plants. Angiosperms are seed-producing plants like the gymnosperms and can be distinguished from the gymnosperms by a series of synapomorphies...
s. The group is the third largest land plant family, behind only the
Orchidaceae
Orchidaceae
The Orchidaceae, commonly referred to as the orchid family, is a morphologically diverse and widespread family of monocots in the order Asparagales. Along with the Asteraceae, it is one of the two largest families of flowering plants, with between 21,950 and 26,049 currently accepted species,...
and
Asteraceae
Asteraceae
The Asteraceae or Compositae , is an exceedingly large and widespread family of vascular plants. The group has more than 22,750 currently accepted species, spread across 1620 genera and 12 subfamilies...
, with 730 genera and over 19,400 species. The largest genera are
Astragalus
Astragalus
Astragalus is a large genus of about 3,000 species of herbs and small shrubs, belonging to the legume family Fabaceae, subfamily Faboideae. The genus is native to temperate regions of the Northern Hemisphere...
(over 2,400 species),
Acacia
Acacia
Acacia is a genus of shrubs and trees belonging to the subfamily Mimosoideae of the family Fabaceae, first described in Africa by the Swedish botanist Carl Linnaeus in 1773. Many non-Australian species tend to be thorny, whereas the majority of Australian acacias are not...
(over 950 species),
Indigofera
Indigofera
Indigofera is a large genus of about 700 species of flowering plants belonging to the family Fabaceae.The species are mostly shrubs, though some are herbaceous, and a few can become small trees up to tall. Most are dry-season or winter deciduous. The leaves are pinnate with 5–31 leaflets and the...
(around 700 species),
Crotalaria
Crotalaria
Crotalaria is a genus of herbaceous plants and woody shrubs in the Family Fabaceae commonly known as rattlepods. Some 600 or more species of Crotalaria are described worldwide, mostly from the tropics; at least 500 species are known from Africa. Some species of Crotalaria are grown as ornamentals...
(around 700 species), and
Mimosa
Mimosa
Mimosa is a genus of about 400 species of herbs and shrubs, in the subfamily Mimosoideae of the legume family Fabaceae. The generic name is derived from the Greek word μιμος , meaning "mimic."...
(around 500 species).
Plants of this family are found throughout the world, growing in many different environments and climates.