 Glassblowing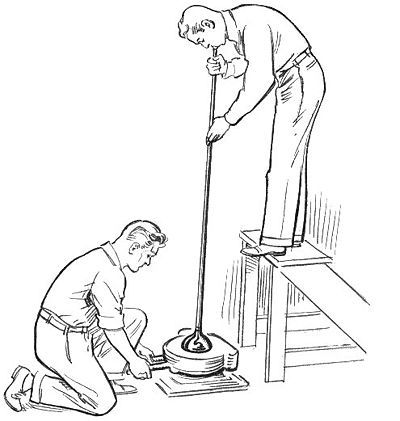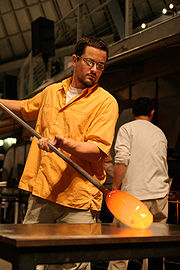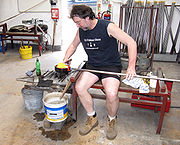 Glassblowing
is a glassforming technique that involves inflating molten
glass
Glass
Glass is an amorphous solid material. Glasses are typically brittle and optically transparent.The most familiar type of glass, used for centuries in windows and drinking vessels, is soda-lime glass, composed of about 75% silica plus Na2O, CaO, and several minor additives...
into a bubble, or parison, with the aid of a blowpipe, or blow tube. A person who blows glass is called a glassblower, glassmith, or gaffer.
Principles
As a novel glass forming technique created in the middle of the last century BC, glassblowing exploited a working property of glass which was previously unknown to the glassworkers: inflation. Inflation refers to the expansion of a molten blob of glass by introducing a small amount of air to it. This property is based on the liquid structure of glass where the atoms are held together by strong chemical bonds in a disordered and random network, therefore molten glass is viscous enough to be blown and gradually hardens as it loses heat. In order to increase the stiffness of the molten glass, which in turn facilitates the process of blowing, there is a subtle change in the composition of glass. With reference to their studies of the ancient glass assemblages from Sepphoris of Israel, Fischer and McCray postulated that the concentration of
natron
Natron
Natron is a naturally occurring mixture of sodium carbonate decahydrate and about 17% sodium bicarbonate along with small quantities of household salt and sodium sulfate. Natron is white to colourless when pure, varying to gray or yellow with impurities...
, which acts as flux in glass, is slightly lower in blown vessels than those manufactured by casting. Lower concentration of natron would have allowed the glass to be stiffer for blowing.
During blowing, thinner layers of glass cool faster than thicker ones and become more viscous than the thicker layers. This allows production of blown glass with uniform thickness, instead of facilitating blow-through of the thinned layers.
A full range of glassblowing techniques was developed within decades of its invention and the two major methods of glassblowing are as follows:
Free-blowing
This method held a pre-eminent position in glassforming ever since its introduction in the middle of the 1st century BC until the late 19th century and is still widely used nowadays as a glassforming technique. The process of free-blowing involves the blowing of short puffs of air into a molten portion of glass called a
gather
which is has been spooled at one end of the blowpipe. This has the effect of forming an elastic skin on the interior of the glass blob that matches the exterior caused by the removal of heat from the furnace. The glassworker can then quickly inflate the molten glass to a coherent blob and work it into a desired shape. The Toledo Museum of Art attempted to reconstruct the ancient free-blowing technique by using clay blowpipes. The result proved that short clay blowpipes of about 30–60 cm facilitate free-blowing because they are simple to handle, easy to manipulate and can be re-used several times. Skilled workers are capable of shaping almost any vessel forms by rotating the pipe, swinging it and controlling the temperature of the piece while they blow. They can produce a great variety of glass objects, ranging from drinking cups to window glass.
An outstanding example of the free-blowing technique is the
Portland Vase
Portland Vase
The Portland Vase is a Roman cameo glass vase, currently dated to between AD 5 and AD 25, which served as an inspiration to many glass and porcelain makers from about the beginning of the 18th century onwards. Since 1810 the vase has been kept almost continuously in the British Museum in London...
which is a cameo manufactured during the Roman period. An experiment was carried out by Gudenrath and Whitehouse with the aim of re-creating the Portland Vase. A full amount of blue glass required for the body of the vase was gathered on the end of the blowpipe and was subsequently dipped into a pot of hot white glass. Inflation occurred when the glassworker blew the molten glass into a sphere which was then stretched or elongated into a vase with a layer of white glass overlying the blue body.
Mold-blowing
Mold-blowing was an alternate glassblowing method that came after the invention of free-blowing during the first part of the second quarter of the 1st century AD A glob of molten glass is placed on the end of the blowpipe which is then inflated into a wooden or metal carved mold. In this way, the shape and the texture of the bubble of glass is determined by the design on the interior of the mold rather than the skill of the glassworker. Two types of molds, namely single-piece mold and multi-piece mold, are frequently used to produce mold-blown vessels. The former allows the finished glass object to be removed in one movement by pulling it upwards from the single-piece mold and is largely employed to produce tableware and utilitarian vessels for storage and transportation. Whereas the latter is made in multi-paneled mold that join together, thus permitting the development of more sophisticated surface modeling, texture and design. The Roman leaf beaker which is now on display in the J. Paul Getty Museum was blown in a three-part mold decorated with the foliage relief frieze of four vertical plants. Meanwhile, Taylor and Hill tried to reproduce mold-blown vessels by using three-part molds made of different materials. The result suggested that metal, in particular bronze, molds are more effective in producing high-relief design on glass than plaster molds and wooden molds. In view of this, the development of the mold-blowing technique has enabled the speedy production of glass objects in large quantity, thus encouraging the mass production and widespread distribution of glass objects.
In modern context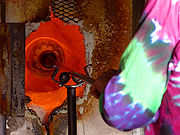 The transformation of raw materials into glass takes place around 2400 °F (~1315 °C); the glass emits enough heat to appear almost white hot. The glass is then left to "fine out" (allowing the
bubbles
Liquid bubble
A bubble is a globule of one substance in another, usually gas in a liquid.Due to the Marangoni effect, bubbles may remain intact when they reach the surface of the immersive substance.-Common examples:...
to rise out of the mass), and then the working temperature is reduced in the furnace to around 2000 °F (~1100 °C). At this stage, the glass appears to be a bright orange color. Though most glassblowing is done between 1600 and 1900 °F (~870 to ~1040 °C), "Soda-lime" glass remains somewhat plastic and workable as low as 1350 °F (~730 °C). Annealing is usually done between 700 and 900 °F (~370 to ~480 °C).
Glassblowing involves three furnaces. The first, which contains a
crucible
Crucible
A crucible is a container used for metal, glass, and pigment production as well as a number of modern laboratory processes, which can withstand temperatures high enough to melt or otherwise alter its contents...
of molten glass, is simply referred to as "the furnace." The second is called the "glory hole", and is used to reheat a piece in between steps of working with it. The final furnace is called the "lehr" or "annealer", and is used to slowly cool the glass, over a period of a few hours to a few days, depending on the size of the pieces. This keeps the glass from cracking due to thermal stress. Historically, all three furnaces were contained in one, with a set of progressively cooler chambers for each of the three purposes. Many glassblowing studios in Mexico and South America still employ this method.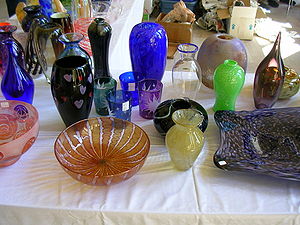 The major tools involved are the
blowpipe
Blowpipe (tool)
The term blowpipe refers to one of several tools used to direct streams of gases into any of several working media.- Blowpipes for torches :...
(or blow tube), the punty (or pontil), bench,
marver
Marver
A Marver is a tool used in glassblowing. It generally is made of a polished steel surface attached to a metal or wooden table. A warm piece of glass is rolled on the marver, for two reasons: controlling temperature and adjusting shape. Because of the high specific heat capacity of the steel, it can...
, blocks, jacks, paddles,
tweezers
Tweezers
Tweezers are tools used for picking up and manipulating objects too small to be easily handled with the human hands. They are probably derived from tongs, pincers, or scissors-like pliers used to grab or hold hot objects since the dawn of recorded history...
, paper, and a variety of
shears
Shears
Shears may mean:* trauma shears, scissors used by emergency medical personnel to quickly and safely cut clothing* kitchen shears, a kind of scissors* pinking shears, a kind of scissors* blade shears, typically used for shearing animals...
. The tip of the blowpipe is first preheated; then dipped in the molten glass in the furnace. The molten glass is 'gathered' on to the blowpipe in much the same way that
honey
Honey
Honey is a sweet food made by bees using nectar from flowers. The variety produced by honey bees is the one most commonly referred to and is the type of honey collected by beekeepers and consumed by humans...
is picked up on a dipper.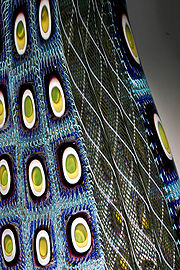 This glass is then rolled on the marver (marvering), which was traditionally a flat slab of
marble
Marble
Marble is a metamorphic rock composed of recrystallized carbonate minerals, most commonly calcite or dolomite.Geologists use the term "marble" to refer to metamorphosed limestone; however stonemasons use the term more broadly to encompass unmetamorphosed limestone.Marble is commonly used for...
, but today is more commonly a fairly thick flat sheet of
steel
Steel
Steel is an alloy that consists mostly of iron and has a carbon content between 0.2% and 2.1% by weight, depending on the grade. Carbon is the most common alloying material for iron, but various other alloying elements are used, such as manganese, chromium, vanadium, and tungsten...
. This forms a cool skin on the exterior of the molten glass and shapes it. Then air is blown into the pipe, creating a bubble. Then, one can gather over that bubble to create a larger piece. Blocks are ladle-like tools made from water-soaked fruit wood and are used similarly to the marver to shape and cool a piece in the early steps of creation. The bench is a glassblower's workstation, and has a place for the glassblower to sit, a place for the handheld tools, and two rails that the pipe or punty rides on while the blower works with the piece. Jacks are a tool shaped somewhat like large tweezers with two blades. Jacks are used for forming shape later in the creation of a piece. Paddles are flat pieces of wood or
graphite
Graphite
The mineral graphite is one of the allotropes of carbon. It was named by Abraham Gottlob Werner in 1789 from the Ancient Greek γράφω , "to draw/write", for its use in pencils, where it is commonly called lead . Unlike diamond , graphite is an electrical conductor, a semimetal...
used for creating flat spots such as a bottom. Tweezers are used to pick out details or to pull on the glass. There are two important types of shears, straight shears and diamond shears. Straight shears are essentially bulky
scissors
Scissors
Scissors are hand-operated cutting instruments. They consist of a pair of metal blades pivoted so that the sharpened edges slide against each other when the handles opposite to the pivot are closed. Scissors are used for cutting various thin materials, such as paper, cardboard, metal foil, thin...
, used for making linear cuts. Diamond shears have blades that form a diamond shape when partially open. These are used for cutting off masses of glass. Once a piece has been blown to its approximate final size, the bottom is finalized. Then, the molten glass is attached to a
stainless steel
Stainless steel
In metallurgy, stainless steel, also known as inox steel or inox from French "inoxydable", is defined as a steel alloy with a minimum of 10.5 or 11% chromium content by mass....
or
iron
Iron
Iron is a chemical element with the symbol Fe and atomic number 26. It is a metal in the first transition series. It is the most common element forming the planet Earth as a whole, forming much of Earth's outer and inner core. It is the fourth most common element in the Earth's crust...
rod called a punty (or a punty rod, a pontil, or a mandrel) for shaping and transferring the hollow piece from the blowpipe to provide an opening and/or to finalize the top. There are many ways to apply patterns and color to blown glass, including rolling molten glass in powdered color or larger pieces of colored glass called
frit
Frit
Frit is a ceramic composition that has been fused in a special fusing oven, quenched to form a glass, and granulated. Frits form an important part of the batches used in compounding enamels and ceramic glazes; the purpose of this pre-fusion is to render any soluble and/or toxic components insoluble...
. Complex patterns with great detail can be created through the use of
cane
Caneworking
Caneworking is a glassblowing technique that is used to add intricate patterns and stripes to vessels or other blown glass objects.Cane refers to rods of glass with color; these rods can be simple, containing a single color, or they can be complex and contain many strands of multiple colors in...
(rods of colored glass) and
murrine
Murrine
Murrine is an Italian term for colored patterns or images made in a glass cane that are revealed when cut in cross-sections. Murrine can be made in infinite designs—some styles are more familiar, such as millefiore...
(rods cut in cross-sections to reveal patterns). These pieces of color can be arranged in a pattern and 'picked up' by rolling a bubble of molten glass over them. One of the most exacting and complicated caneworking techniques is 'reticello', which involves creating two bubbles from cane, each twisted in a different direction and then combining them and blowing out the final form.
A
lampworker
Lampworking
Lampworking is a type of glasswork that uses a gas fueled torch to melt rods and tubes of clear and colored glass. Once in a molten state, the glass is formed by blowing and shaping with tools and hand movements. It is also known as flameworking or torchworking, as the modern practice no longer...
, usually operating on a much smaller scale, historically used
alcohol
Alcohol
In chemistry, an alcohol is an organic compound in which the hydroxy functional group is bound to a carbon atom. In particular, this carbon center should be saturated, having single bonds to three other atoms....
lamps and breath or
bellows
Bellows
A bellows is a device for delivering pressurized air in a controlled quantity to a controlled location.Basically, a bellows is a deformable container which has an outlet nozzle. When the volume of the bellows is decreased, the air escapes through the outlet...
-driven air to create a hot flame at a workbench to manipulate preformed glass rods and tubes. These stock materials took form as
laboratory glassware
Laboratory glassware
Laboratory glassware refers to a variety of equipment, traditionally made of glass, used for scientific experiments and other work in science, especially in chemistry and biology laboratories...
, beads, and durable scientific "specimens"—miniature glass sculpture. The craft, which was raised to an art form in the late 1960s by
Hans Godo Frabel
Hans Godo Frabel
Hans Godo Frabel is an East German-born lampwork glass blower, now living and working in the USA.-Biography:...
(later followed by lampwork artists such as Milon Townsend and Robert Mickelson), is still practised today. The modern lampworker uses a flame of
oxygen
Oxygen
Oxygen is the element with atomic number 8 and represented by the symbol O. Its name derives from the Greek roots ὀξύς and -γενής , because at the time of naming, it was mistakenly thought that all acids required oxygen in their composition...
and
propane
Propane
Propane is a three-carbon alkane with the molecular formula , normally a gas, but compressible to a transportable liquid. A by-product of natural gas processing and petroleum refining, it is commonly used as a fuel for engines, oxy-gas torches, barbecues, portable stoves, and residential central...
or
natural gas
Natural gas
Natural gas is a naturally occurring gas mixture consisting primarily of methane, typically with 0–20% higher hydrocarbons . It is found associated with other hydrocarbon fuel, in coal beds, as methane clathrates, and is an important fuel source and a major feedstock for fertilizers.Most natural...
. The modern torch permits working both the soft glass from the furnace worker and the
borosilicate glass
Borosilicate glass
Borosilicate glass is a type of glass with the main glass-forming constituents silica and boron oxide. Borosilicate glasses are known for having very low coefficients of thermal expansion , making them resistant to thermal shock, more so than any other common glass...
(low-expansion) of the scientific glassblower who may have multiple headed torches and special lathes to help form the glass or
fused quartz
Fused quartz
Fused quartz and fused silica are types of glass containing primarily silica in amorphous form. They are manufactured using several different processes...
used for special projects.
Origins
Glassblowing is a glass forming technique which was invented by the Phoenicians at approximately 50 BC somewhere along the Syro-Palestinian coast. The earliest evidence of glassblowing comes from a collection of waste from a glass workshop, including fragments of glass tubes, glass rods and tiny blown bottles, which was dumped in a
mikvah
Mikvah
Mikveh is a bath used for the purpose of ritual immersion in Judaism...
, a ritual bath in the Jewish Quarter of Old City of
Jerusalem
dated from 37 to 4 BC Some of the glass tubes recovered are fire-closed at one end and are partially inflated by blowing through the open end while still hot to form small bottle, thus they are considered as a rudimentary form of blowpipe. Hence, tube blowing not only represents the initial attempts of experimentation by glassworkers at blowing glass, it is also a revolutionary step that induced a change in conception and a deep understanding of glass. Such invention swiftly eclipsed all other traditional methods, such as casting and core-forming, in working glass.
In the Roman Empire
The invention of glassblowing coincided with the establishment of the
Roman Empire
Roman Empire
The Roman Empire was the post-Republican period of the ancient Roman civilization, characterised by an autocratic form of government and large territorial holdings in Europe and around the Mediterranean....
in the 1st century BC which served to provide motivation to its spread and dominance. Glassblowing was greatly encouraged under the Roman rule, although Roman citizens could not be "in trade", in particular under the reign of
Augustus
Augustus
Augustus ;23 September 63 BC – 19 August AD 14) is considered the first emperor of the Roman Empire, which he ruled alone from 27 BC until his death in 14 AD.The dates of his rule are contemporary dates; Augustus lived under two calendars, the Roman Republican until 45 BC, and the Julian...
, therefore glass was being blown in many areas of the Roman world. On the eastern borders of the Empire, the first glass workshops were set up by the Phoenicians in the birthplace of glassblowing in contemporary
Lebanon
Lebanon
Lebanon , officially the Republic of LebanonRepublic of Lebanon is the most common term used by Lebanese government agencies. The term Lebanese Republic, a literal translation of the official Arabic and French names that is not used in today's world. Arabic is the most common language spoken among...
,
Israel
Israel
The State of Israel is a parliamentary republic located in the Middle East, along the eastern shore of the Mediterranean Sea...
, and
Palestine
Palestine
Palestine is a conventional name, among others, used to describe the geographic region between the Mediterranean Sea and the Jordan River, and various adjoining lands....
, as well as in the neighbouring province of
Cyprus
Cyprus
Cyprus , officially the Republic of Cyprus , is a Eurasian island country, member of the European Union, in the Eastern Mediterranean, east of Greece, south of Turkey, west of Syria and north of Egypt. It is the third largest island in the Mediterranean Sea.The earliest known human activity on the...
. Ennion for example, was among one of the most prominent glassworkers from Lebanon of the time. He was renowned for producing the multi-paneled mould-blown glass vessels that were complex in their shapes, arrangement and decorative motifs. The complexity of designs of these mould-blown glass vessels illustrated that the sophistication of the glassworkers in the eastern regions of the Roman Empire. Mould-blown glass vessels manufactured by the workshops of Ennion and other contemporary glassworkers such as Jason, Nikon, Aristeas and Meges, constitutes some of the earliest evidence of glassblowing found in the eastern territories. Meanwhile, the glassblowing technique reached
Egypt
Egypt
Egypt , officially the Arab Republic of Egypt, Arabic: , is a country mainly in North Africa, with the Sinai Peninsula forming a land bridge in Southwest Asia. Egypt is thus a transcontinental country, and a major power in Africa, the Mediterranean Basin, the Middle East and the Muslim world...
and was described in a fragmentary poem printed on the
papyrus
Papyrus
Papyrus is a thick paper-like material produced from the pith of the papyrus plant, Cyperus papyrus, a wetland sedge that was once abundant in the Nile Delta of Egypt....
which was dated to 3rd century AD Besides, the Roman hegemony over the Mediterranean areas resulted in the substitution of Hellenistic casting, core-forming and mosaic fusion techniques by blowing. The earliest evidence of blowing in Hellenistic consists of small blown bottles for perfume and oil retrieved from the glass workshops on the Greek island of
Samothrace
Samothrace
Samothrace is a Greek island in the northern Aegean Sea. It is a self-governing municipality within the Evros peripheral unit of Thrace. The island is long and is in size and has a population of 2,723 . Its main industries are fishing and tourism. Resources on the island includes granite and...
and at
Corinth
Corinth
Corinth is a city and former municipality in Corinthia, Peloponnese, Greece. Since the 2011 local government reform it is part of the municipality Corinth, of which it is the seat and a municipal unit...
in mainland
Greece
Greece
Greece , officially the Hellenic Republic , and historically Hellas or the Republic of Greece in English, is a country in southeastern Europe....
which were dated to 1st century AD
On the other hand, the Phoenician glassworkers exploited their glassblowing techniques and set up their workshops in the western territories of the Roman Empire first in
Italy
Italy
Italy , officially the Italian Republic languages]] under the European Charter for Regional or Minority Languages. In each of these, Italy's official name is as follows:;;;;;;;;), is a unitary parliamentary republic in South-Central Europe. To the north it borders France, Switzerland, Austria and...
by the middle of the 1st century AD
Rome
Rome
Rome is the capital of Italy and the country's largest and most populated city and comune, with over 2.7 million residents in . The city is located in the central-western portion of the Italian Peninsula, on the Tiber River within the Lazio region of Italy.Rome's history spans two and a half...
, the heartland of the Empire, soon became a major glassblowing centre and more glassblowing workshops were subsequently established in other provinces of Italy, for example
Campania
Campania
Campania is a region in southern Italy. The region has a population of around 5.8 million people, making it the second-most-populous region of Italy; its total area of 13,590 km² makes it the most densely populated region in the country...
,
Morgantina
Morgantina
Morgantina is an archaeological site in east central Sicily, southern Italy. It is sixty kilometres from the coast of the Ionian Sea, in the province of Enna. The closest modern town is Aidone, two kilometres southwest of the site...
and
Aquileia
Aquileia
Aquileia is an ancient Roman city in what is now Italy, at the head of the Adriatic at the edge of the lagoons, about 10 km from the sea, on the river Natiso , the course of which has changed somewhat since Roman times...
. A great variety of blown glass objects, ranging from unguentaria (toiletry container for
perfume
Perfume
Perfume is a mixture of fragrant essential oils and/or aroma compounds, fixatives, and solvents used to give the human body, animals, objects, and living spaces "a pleasant scent"...
) to cameo, from
tableware
Tableware
Tableware is the dishes or dishware , dinnerware , or china used for setting a table, serving food, and for dining. Tableware can be meant to include flatware and glassware...
to
window
Window
A window is a transparent or translucent opening in a wall or door that allows the passage of light and, if not closed or sealed, air and sound. Windows are usually glazed or covered in some other transparent or translucent material like float glass. Windows are held in place by frames, which...
glass, were produced. From there, escaping craftsmen forbidden to travel otherwise advanced to the rest of Europe by building their glassblowing workshops in the north of the
Alps
Alps
The Alps is one of the great mountain range systems of Europe, stretching from Austria and Slovenia in the east through Italy, Switzerland, Liechtenstein and Germany to France in the west....
which is now
Switzerland
Switzerland
Switzerland name of one of the Swiss cantons. ; ; ; or ), in its full name the Swiss Confederation , is a federal republic consisting of 26 cantons, with Bern as the seat of the federal authorities. The country is situated in Western Europe,Or Central Europe depending on the definition....
and then at sites in northern Europe in present-day
France
France
The French Republic , The French Republic , The French Republic , (commonly known as France , is a unitary semi-presidential republic in Western Europe with several overseas territories and islands located on other continents and in the Indian, Pacific, and Atlantic oceans. Metropolitan France...
and
Belgium
Belgium
Belgium , officially the Kingdom of Belgium, is a federal state in Western Europe. It is a founding member of the European Union and hosts the EU's headquarters, and those of several other major international organisations such as NATO.Belgium is also a member of, or affiliated to, many...
. Surviving evidence, such as blowpipes and moulds which are indicative of the presence of blowing, was fragmentary and limited. Fragments of clay blowpipes were retrieved from the late 1st century AD glass workshop at
Avenches
Avenches
Avenches is a Swiss municipality in the canton of Vaud, located in the district of Broye-Vully.-History:The roots of Avenches go back to the Celts...
in Switzerland. Clay blowpipes, also known as mouthblowers, were made by the ancient glassworkers due to the accessibility and availability of the resources before the introduction of the metal blowpipes. Hollow iron rods, together with blown vessel fragments and glass waste dating to approximately 4th century AD, were recovered from the glass workshop in
Merida
Merida
Places of the world named Mérida or Merida include:*Mérida, Spain, capital city of the Spanish Community of Extremadura*Mérida, Yucatán, capital city of the Mexican state of Yucatán*Merida, Leyte, a municipality in Leyte province in the Philippines...
of
Spain
Spain
Spain , officially the Kingdom of Spain languages]] under the European Charter for Regional or Minority Languages. In each of these, Spain's official name is as follows:;;;;;;), is a country and member state of the European Union located in southwestern Europe on the Iberian Peninsula...
, as well as in
Salona
Salona
Salona was an ancient Illyrian Delmati city in the first millennium BC. The Greeks had set up an emporion there. After the conquest by the Romans, Salona became the capital of the Roman province of Dalmatia...
in
Croatia
Croatia
Croatia , officially the Republic of Croatia , is a unitary democratic parliamentary republic in Europe at the crossroads of the Mitteleuropa, the Balkans, and the Mediterranean. Its capital and largest city is Zagreb. The country is divided into 20 counties and the city of Zagreb. Croatia covers ...
. Meanwhile, one of the most prolific glassblowing centres of the Roman period was established in
Cologne
Cologne
Cologne is Germany's fourth-largest city , and is the largest city both in the Germany Federal State of North Rhine-Westphalia and within the Rhine-Ruhr Metropolitan Area, one of the major European metropolitan areas with more than ten million inhabitants.Cologne is located on both sides of the...
on the river
Rhine
in
Germany
Germany
Germany , officially the Federal Republic of Germany , is a federal parliamentary republic in Europe. The country consists of 16 states while the capital and largest city is Berlin. Germany covers an area of 357,021 km2 and has a largely temperate seasonal climate...
by late 1st century BC. Stone base mould and terracotta base mould were discovered from these Rhineland workshops suggesting the adoption and the application of mould-blowing technique by the glassworkers. Besides, blown
flagon
Flagon
A flagon is a large leather, metal or ceramic vessel, commonly a pitcher, often used for drink, whether this be water, ale, or something else.-Christian use:...
s and blown jars decorated with ribbing, as well as blown perfume bottles with letters CCAA or CCA which stand for Colonia Claudia Agrippiniensis, were produced from the Rhineland workshops. Remains of blown blue-green glass vessels, for example
bottle
Bottle
A bottle is a rigid container with a neck that is narrower than the body and a "mouth". By contrast, a jar has a relatively large mouth or opening. Bottles are often made of glass, clay, plastic, aluminum or other impervious materials, and typically used to store liquids such as water, milk, soft...
s with a handle, collared bowls and indented beakers, were found in abundance from the local glass workshops at Poetovio and Celeia in
Slovenia
Slovenia
Slovenia , officially the Republic of Slovenia , is a country in Central and Southeastern Europe touching the Alps and bordering the Mediterranean. Slovenia borders Italy to the west, Croatia to the south and east, Hungary to the northeast, and Austria to the north, and also has a small portion of...
.
Middle Ages
The glass blowing tradition was carried on in Europe from the medieval period through the
Middle Ages
Middle Ages
The Middle Ages is a periodization of European history from the 5th century to the 15th century. The Middle Ages follows the fall of the Western Roman Empire in 476 and precedes the Early Modern Era. It is the middle period of a three-period division of Western history: Classic, Medieval and Modern...
to the
Renaissance
Renaissance
The Renaissance was a cultural movement that spanned roughly the 14th to the 17th century, beginning in Italy in the Late Middle Ages and later spreading to the rest of Europe. The term is also used more loosely to refer to the historical era, but since the changes of the Renaissance were not...
in the demise of the Roman Empire in the 5th century AD. During the early medieval period, the Franks manipulated the technique of glassblowing by creating the simple corrugated moulds and developing the claws decoration techniques. Blown glass objects, such as the drinking vessels that imitated the shape of the animal horn were produced in the Rhine and Meuse valleys, as well as in Belgium. On the other hand, the Renaissance Europe witnessed the revitalization of glass industry in Italy. Glassblowing, in particular the mould-blowing technique, was employed by the
Venetian
Venice
Venice is a city in northern Italy which is renowned for the beauty of its setting, its architecture and its artworks. It is the capital of the Veneto region...
glassworkers from
Murano
Murano
Murano is a series of islands linked by bridges in the Venetian Lagoon, northern Italy. It lies about 1.5 km north of Venice and measures about across with a population of just over 5,000 . It is famous for its glass making, particularly lampworking...
to produce the fine glassware which is also known as
cristallo
Cristallo
Cristallo is a glass which is totally clear , without the slight yellow or greenish color originating from iron oxide impurities. This effect is achieved through small additions of manganese oxide...
. The technique of glassblowing, coupled with the cylinder and crown methods, was used to manufacture sheet or flat glass for
window
Window
A window is a transparent or translucent opening in a wall or door that allows the passage of light and, if not closed or sealed, air and sound. Windows are usually glazed or covered in some other transparent or translucent material like float glass. Windows are held in place by frames, which...
panes in the late 17th century. The applicability of glassblowing was so widespread that glass was being blown in many parts of the world, for example, in
China
China
Chinese civilization may refer to:* China for more general discussion of the country.* Chinese culture* Greater China, the transnational community of ethnic Chinese.* History of China* Sinosphere, the area historically affected by Chinese culture...
,
Japan
Japan
Japan is an island nation in East Asia. Located in the Pacific Ocean, it lies to the east of the Sea of Japan, China, North Korea, South Korea and Russia, stretching from the Sea of Okhotsk in the north to the East China Sea and Taiwan in the south...
and the Islamic Lands. The
Byzantine
Byzantine
Byzantine usually refers to the Roman Empire during the Middle Ages.Byzantine may also refer to:* A citizen of the Byzantine Empire, or native Greek during the Middle Ages...
glassworkers made mould-blown glass decorated with Jewish and
Christian
Christian
A Christian is a person who adheres to Christianity, an Abrahamic, monotheistic religion based on the life and teachings of Jesus of Nazareth as recorded in the Canonical gospels and the letters of the New Testament...
symbols in
Jerusalem
between late 6th century and the middle of the 7th century AD. Mould-blown vessels with facets, relief and linear-cut decoration were discovered at
Samarra
Samarra
Sāmarrā is a city in Iraq. It stands on the east bank of the Tigris in the Salah ad-Din Governorate, north of Baghdad and, in 2003, had an estimated population of 348,700....
in the Islamic Lands.
Recent developments
The "studio glass movement" began in 1962 when
Harvey Littleton
Harvey Littleton
Harvey Littleton is an American educator and glass artist. Born in Corning, New York, he grew up in the shadow of Corning Glassworks, where his father headed Research and Development during the 1930s...
, a ceramics professor, and
Dominick Labino
Dominick Labino
Dominick Labino Dominick Labino was an internationally-known scientist, inventor, artist and master craftsman in glass. Labino's art works in glass are in the permanent collections of more than 100 museums throughout the world...
, a chemist and engineer, held two workshops at the
Toledo Museum of Art
Toledo Museum of Art
The Toledo Museum of Art is an internationally known art museum located in the Old West End neighborhood of Toledo, Ohio, United States. The museum was founded by Toledo glassmaker Edward Drummond Libbey in 1901, and moved to its present location, a Greek revival building designed by Edward B....
, during which they started experimenting with melting glass in a small
furnace
Furnace
A furnace is a device used for heating. The name derives from Latin fornax, oven.In American English and Canadian English, the term furnace on its own is generally used to describe household heating systems based on a central furnace , and sometimes as a synonym for kiln, a device used in the...
and creating blown glass art. Littleton promoted the use of small furnaces in individual artists studios. This approach to glassblowing blossomed into a worldwide movement, producing such flamboyant and prolific artists as
Dale Chihuly
Dale Chihuly
Dale Chihuly is an American glass sculptor and entrepreneur.-Biography:Chihuly graduated from Woodrow Wilson High School in Tacoma, Washington. He enrolled at the College of the Puget Sound in 1959...
,
Dante Marioni
Dante Marioni
Dante Marioni is an American glass artist-Biography:Dante Marioni grew up among many artistic influences. His father, Paul Marioni, was involved in the American studio glass movement and, as a result, Dante was constantly exposed to the glassblowing artists of the San Francisco Bay Area...
, Fritz Driesbach and
Marvin Lipofsky
Marvin Lipofsky
Marvin Lipofsky is an American glass artist. He was one of the six students that Studio Glass founder Harvey Littleton instructed under an independent study program for the University of Wisconsin-Madison in fall 1962 and spring 1963...
as well as scores of other modern glass artists. Today there are many different institutions around the world that offer glassmaking resources.
See also
Angel gilding

Angel gilding

Angel gilding is a term of unknown origin used to describe the process of gilding glass or gold plating by electroless chemical deposition. Glass gilders use the term to distinguish the chemical process from gold leaf gilding also known as Verre églomisé...



Caneworking

Caneworking

Caneworking is a glassblowing technique that is used to add intricate patterns and stripes to vessels or other blown glass objects.Cane refers to rods of glass with color; these rods can be simple, containing a single color, or they can be complex and contain many strands of multiple colors in...



Flat glass

Flat glass

Flat glass, sheet glass, or plate glass is a type of glass, initially produced in plane form, commonly used for windows, glass doors, transparent walls, and windshields. For modern architectural and automotive applications, the flat glass is sometimes bent after production of the plane sheet...



Glassfusing

Fused glass

Fused glass is a term used to describe glass that has been fired in a kiln at a range of high temperatures from to . There are 3 main distinctions for temperature application and the resulting effect on the glass....



Glass art

Glass art

Studio glass or glass sculpture is the modern use of glass as an artistic medium to produce sculptures or three-dimensional artworks. Specific approaches include working glass at room temperature cold working, stained glass, working glass in a torch flame , glass beadmaking, glass casting, glass...



Glass beadmaking

Glass beadmaking

The technology for glass beadmaking is among the oldest human arts, dating back 3,000 years . Glass beads have been dated back to at least Roman times...



Glass tiles

Glass tiles

Glass tiles are pieces of glass formed into consistent shapes. Glass was used in mosaics as early as 2500 BC, but it took until the 3rd Century BC before innovative artisans in Greece, Persia and India created glass tiles....



Glass sculpture
Lampworking

Lampworking

Lampworking is a type of glasswork that uses a gas fueled torch to melt rods and tubes of clear and colored glass. Once in a molten state, the glass is formed by blowing and shaping with tools and hand movements. It is also known as flameworking or torchworking, as the modern practice no longer...



Mosaic

Mosaic

Mosaic is the art of creating images with an assemblage of small pieces of colored glass, stone, or other materials. It may be a technique of decorative art, an aspect of interior decoration, or of cultural and spiritual significance as in a cathedral...



Murrine

Murrine

Murrine is an Italian term for colored patterns or images made in a glass cane that are revealed when cut in cross-sections. Murrine can be made in infinite designs—some styles are more familiar, such as millefiore...



Paperweight
Stained glass

Stained glass

The term stained glass can refer to coloured glass as a material or to works produced from it. Throughout its thousand-year history, the term has been applied almost exclusively to the windows of churches and other significant buildings...



External links
contains additional glassblowing informational links