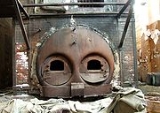 Furnace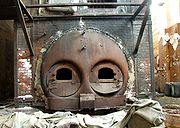 A
furnace
is a device used for
heat
Heat
In physics and thermodynamics, heat is energy transferred from one body, region, or thermodynamic system to another due to thermal contact or thermal radiation when the systems are at different temperatures. It is often described as one of the fundamental processes of energy transfer between...
ing. The name derives from
Latin
Latin
Latin is an Italic language originally spoken in Latium and Ancient Rome. It, along with most European languages, is a descendant of the ancient Proto-Indo-European language. Although it is considered a dead language, a number of scholars and members of the Christian clergy speak it fluently, and...
fornax
,
oven
Oven
An oven is a thermally insulated chamber used for the heating, baking or drying of a substance. It is most commonly used for cooking. Kilns, and furnaces are special-purpose ovens...
.
In
American English
American English
American English is a set of dialects of the English language used mostly in the United States. Approximately two-thirds of the world's native speakers of English live in the United States....
and
Canadian English
Canadian English
Canadian English is the variety of English spoken in Canada. English is the first language, or "mother tongue", of approximately 24 million Canadians , and more than 28 million are fluent in the language...
, the term
furnace
on its own is generally used to describe
house
House
A house is a building or structure that has the ability to be occupied for dwelling by human beings or other creatures. The term house includes many kinds of different dwellings ranging from rudimentary huts of nomadic tribes to free standing individual structures...
hold heating systems based on a central furnace (known either as a
boiler
Boiler
A boiler is a closed vessel in which water or other fluid is heated. The heated or vaporized fluid exits the boiler for use in various processes or heating applications.-Materials:...
or a
heater
Heater
A heater is an object that emits heat or causes another body to achieve a higher temperature. In a household or domestic setting, heaters are usually appliances whose purpose is to generate heating...
in British English), and sometimes as a synonym for
kiln
Kiln
A kiln is a thermally insulated chamber, or oven, in which a controlled temperature regime is produced. Uses include the hardening, burning or drying of materials...
, a device used in the production of ceramics.
In
British English
British English
British English, or English , is the broad term used to distinguish the forms of the English language used in the United Kingdom from forms used elsewhere...
the term
furnace
is used exclusively to mean
industrial
Industry
Industry refers to the production of an economic good or service within an economy.-Industrial sectors:There are four key industrial economic sectors: the primary sector, largely raw material extraction industries such as mining and farming; the secondary sector, involving refining, construction,...
furnaces which are used for many things, such as the
extraction
Resource extraction
The related terms natural resource extraction both refer to the practice of locating, acquiring and selling natural resources....
of
metal
Metal
A metal , is an element, compound, or alloy that is a good conductor of both electricity and heat. Metals are usually malleable and shiny, that is they reflect most of incident light...
from
ore
Ore
An ore is a type of rock that contains minerals with important elements including metals. The ores are extracted through mining; these are then refined to extract the valuable element....
(
smelting
Smelting
Smelting is a form of extractive metallurgy; its main use is to produce a metal from its ore. This includes iron extraction from iron ore, and copper extraction and other base metals from their ores...
) or in oil refineries and other chemical plants, for example as the heat source for
fractional distillation
Fractional distillation
Fractional distillation is the separation of a mixture into its component parts, or fractions, such as in separating chemical compounds by their boiling point by heating them to a temperature at which several fractions of the compound will evaporate. It is a special type of distillation...
columns.
The term
furnace
can also refer to a direct fired heater, used in boiler applications in chemical industries or for providing heat to chemical reactions for processes like cracking, and is part of the standard
English
English language
English is a West Germanic language that arose in the Anglo-Saxon kingdoms of England and spread into what was to become south-east Scotland under the influence of the Anglian medieval kingdom of Northumbria...
names for many metallurgical furnaces worldwide.
The heat energy to fuel a furnace may be supplied directly by fuel
combustion
Combustion
Combustion or burning is the sequence of exothermic chemical reactions between a fuel and an oxidant accompanied by the production of heat and conversion of chemical species. The release of heat can result in the production of light in the form of either glowing or a flame...
, by electricity such as the
electric arc furnace
Electric arc furnace
An electric arc furnace is a furnace that heats charged material by means of an electric arc.Arc furnaces range in size from small units of approximately one ton capacity up to about 400 ton units used for secondary steelmaking...
, or through
Induction heating
Induction heating
Induction heating is the process of heating an electrically conducting object by electromagnetic induction, where eddy currents are generated within the metal and resistance leads to Joule heating of the metal...
in
induction furnace
Induction furnace
An induction furnace is an electrical furnace in which the heat is applied by induction heating of metal. The advantage of the induction furnace is a clean, energy-efficient and well-controllable melting process compared to most other means of metal melting...
s.
Household furnaces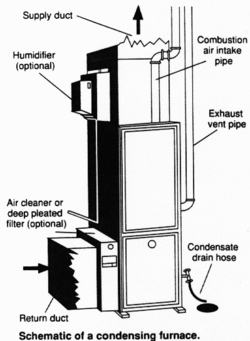 A
household
Household
The household is "the basic residential unit in which economic production, consumption, inheritance, child rearing, and shelter are organized and carried out"; [the household] "may or may not be synonymous with family"....
furnace is a
major appliance
Major appliance
A major appliance, or domestic appliance, is usually defined as a large machine which accomplishes some routine housekeeping task, which includes purposes such as cooking, or food preservation, whether in a household, institutional, commercial or industrial setting...
that is permanently installed to provide heat to an interior space through intermediary fluid movement, which may be air,
steam
Steam
Steam is the technical term for water vapor, the gaseous phase of water, which is formed when water boils. In common language it is often used to refer to the visible mist of water droplets formed as this water vapor condenses in the presence of cooler air...
, or hot
water
Water
Water is a chemical substance with the chemical formula H2O. A water molecule contains one oxygen and two hydrogen atoms connected by covalent bonds. Water is a liquid at ambient conditions, but it often co-exists on Earth with its solid state, ice, and gaseous state . Water also exists in a...
. The most common
fuel
Fuel
Fuel is any material that stores energy that can later be extracted to perform mechanical work in a controlled manner. Most fuels used by humans undergo combustion, a redox reaction in which a combustible substance releases energy after it ignites and reacts with the oxygen in the air...
source for modern furnaces in the United States is
natural gas
Natural gas
Natural gas is a naturally occurring gas mixture consisting primarily of methane, typically with 0–20% higher hydrocarbons . It is found associated with other hydrocarbon fuel, in coal beds, as methane clathrates, and is an important fuel source and a major feedstock for fertilizers.Most natural...
; other common fuel sources include LPG (liquefied petroleum gas),
fuel oil
Fuel oil
Fuel oil is a fraction obtained from petroleum distillation, either as a distillate or a residue. Broadly speaking, fuel oil is any liquid petroleum product that is burned in a furnace or boiler for the generation of heat or used in an engine for the generation of power, except oils having a flash...
,
coal
Coal
Coal is a combustible black or brownish-black sedimentary rock usually occurring in rock strata in layers or veins called coal beds or coal seams. The harder forms, such as anthracite coal, can be regarded as metamorphic rock because of later exposure to elevated temperature and pressure...
or
wood
Wood
Wood is a hard, fibrous tissue found in many trees. It has been used for hundreds of thousands of years for both fuel and as a construction material. It is an organic material, a natural composite of cellulose fibers embedded in a matrix of lignin which resists compression...
. In some cases
electrical resistance
Electrical resistance
The electrical resistance of an electrical element is the opposition to the passage of an electric current through that element; the inverse quantity is electrical conductance, the ease at which an electric current passes. Electrical resistance shares some conceptual parallels with the mechanical...
heating is used as the source of heat, especially where the cost of electricity is low.
Combustion furnaces always need to be vented to the outside. Traditionally, this was through a
chimney
Chimney
A chimney is a structure for venting hot flue gases or smoke from a boiler, stove, furnace or fireplace to the outside atmosphere. Chimneys are typically vertical, or as near as possible to vertical, to ensure that the gases flow smoothly, drawing air into the combustion in what is known as the...
, which tends to expel heat along with the
exhaust
Exhaust gas
Exhaust gas or flue gas is emitted as a result of the combustion of fuels such as natural gas, gasoline/petrol, diesel fuel, fuel oil or coal. According to the type of engine, it is discharged into the atmosphere through an exhaust pipe, flue gas stack or propelling nozzle.It often disperses...
. Modern high-efficiency furnaces can be 98%
efficient
Thermal efficiency
In thermodynamics, the thermal efficiency is a dimensionless performance measure of a device that uses thermal energy, such as an internal combustion engine, a boiler, a furnace, or a refrigerator for example.-Overview:...
and operate without a chimney. The small amount of waste gas and heat are mechanically ventilated through a small tube through the side or roof of the house.
Modern household furnaces are classified as
condensing
Condensation
Condensation is the change of the physical state of matter from gaseous phase into liquid phase, and is the reverse of vaporization. When the transition happens from the gaseous phase into the solid phase directly, the change is called deposition....
or
non-condensing
based on their efficiency in extracting heat from the exhaust gases. Furnaces with efficiencies greater than approximately 89% extract so much heat from the exhaust that
water vapor
Water vapor
Water vapor or water vapour , also aqueous vapor, is the gas phase of water. It is one state of water within the hydrosphere. Water vapor can be produced from the evaporation or boiling of liquid water or from the sublimation of ice. Under typical atmospheric conditions, water vapor is continuously...
in the exhaust condenses; they are referred to as
condensing furnace
Condensing boiler
A condensing boiler utilizes the latent heat of water produced from the burning of fuel, in addition to the standard sensible heat, to increase its efficiency.-Principles of work:...
s. Such furnaces must be designed to avoid the corrosion that this highly acidic condensate might cause and may need to include a
condensate pump
Condensate pump
A condensate pump is a specific type of pump used to pump the condensate produced in an HVAC , refrigeration, condensing boiler furnace or steam system...
to remove the accumulated water. Condensing furnaces can typically deliver heating savings of 20%-35% assuming the old furnace was in the 60%
Annual Fuel Utilization Efficiency
Annual fuel utilization efficiency
The annual fuel utilization efficiency is a thermal efficiency measure of combustion equipment like furnaces, boilers, and water heaters...
(AFUE) range.
Modern furnace components
The furnace components can be divided into three categories.
The burners, heat exchanger

Heat exchanger

A heat exchanger is a piece of equipment built for efficient heat transfer from one medium to another. The media may be separated by a solid wall, so that they never mix, or they may be in direct contact...


, draft inducer, and venting.
The controls and safety devices.
The blower and air movement.
The flame originates at the burners and is drawn into the heat exchanger by the negative pressure produced by the draft inducer. The hot gases produced by the combustion of the flame pass through the chambers of the heat exchanger and heat the metal walls of the heat exchanger. The gases cool as they transfer the heat to the heat exchanger and are at about 120 °F (48.9 °C) as they exit on a high efficiency furnace. The cooled gases then enter the draft inducer blower and are pushed into the venting pipes. The exhaust gases then are directed out of the house through the vent pipes.
The controls include the gas valve, ignition control, ignitor, flame sensor, transformer, limit control, blower control board, and flame roll out switch. The transformer provides 24 volts of electricity to power the controls. 24 volts is applied to the thermostat that is installed in the living space.
The thermostat is basically an automatic switch that closes and completes the electrical circuit when the room temperature drops below the heat setting. This then allows 24 volts to the circuit board which initiates the heat sequence. The circuit board has a relay that closes to power up the motor on the draft inducer blower. Then the circuit board ignitor relay is energized which sends 120 volts to the hot surface ignitor and makes it glow bright and get extremely hot.
Next the gas valve relay in the circuit board is energized. This allows voltage to the gas valve and energizes a solenoid coil in the gas valve which opens the valve to allow gas to flow to the burners. The gas flows into the burners and is ignited by the hot surface ignitor. The ignition control circuit board applies an AC voltage to the flame sensor which is just a stainless steel rod. An interesting thing occurs inside a burning flame, which is called ionization. That is, free electrons are produced which can conduct electricity through the flame itself. The electrons will normally flow from the flame sensor, through the flame when present, and back to ground through the grounded burners.
The ignition system must prove that a flame is present to continue the gas flow, or if there's no flame, then shut off the gas flow through the gas valve to prevent a possible explosion. It also must not be fooled into thinking there is a flame present by a flame sensor that is touching the ground from being broken or bent. The way it does this is by a diode effect where the sensor surface area is less than 10% of the ground surface area. This produces a half-wave of electrical current from each full wave. The ignition control circuit detects the half-wave to determine if the sensor is merely touching ground. If the ignition control receives this half wave signal from the flame sensor then combustion will continue.
Now the circuit board timer counts a determined amount of time and energizes the blower relay. This relay powers up the blower motor and air is then pushed over the heat exchanger where it removes the heat from the hot metal and enters the ductwork to go to the various rooms in the house. The limit control is a safety device that will open the electrical circuit to the ignition control and stop the gas flow if the furnace overheats. The flame roll-out switch does the same thing if the flame was rolling out of the heat exchanger instead of being completely induced into it by the draft inducer.
The blower creates a negative pressure on the intake side which draws air into the ductwork return air system and blows the air out through the heat exchanger and then into supply air ductwork to distribute throughout the home.
Heat distribution
The furnace transfers heat to the living space of the building through an intermediary distribution system. If the distribution is through hot water (or other fluid) or through steam, then the furnace is more commonly termed a boiler. One advantage of a boiler is that the furnace can provide hot water for bathing and washing dishes, rather than requiring a separate water heater. One disadvantage to this type of application is when the boiler breaks down, both heating and domestic hot water is not available.
Air convection heating systems have been in use for over a century, but the older systems relied on a passive air circulation system where the greater density of cooler air caused it to sink into the furnace, and the lesser density of the warmed air caused it to rise in the ductwork, the two forces acting together to drive air circulation in a system termed "gravity-feed; the layout of the ducts and furnace was optimized for short, large ducts and caused the furnace to be referred to as an "octopus" furnace.
By comparison, most modern "warm air" furnaces typically use a
fan
Fan (mechanical)
A mechanical fan is a machine used to create flow within a fluid, typically a gas such as air.A fan consists of a rotating arrangement of vanes or blades which act on the air. Usually, it is contained within some form of housing or case. This may direct the airflow or increase safety by preventing...
to circulate air to the rooms of house and pull cooler air back to the furnace for reheating; this is called
forced-air
Forced-air
A forced-air system is one which uses air as its heat transfer medium. These systems rely on ductwork, vents, and plenums as means of air distribution, separate from the actual heating and air conditioning systems. The return plenum carries the air from several large return grills to a central...
heat. Because the fan easily overcomes the
resistance
Friction
Friction is the force resisting the relative motion of solid surfaces, fluid layers, and/or material elements sliding against each other. There are several types of friction:...
of the ductwork, the arrangement of ducts can be far more flexible than the octopus of old. In American practice, separate ducts collect cool air to be returned to the furnace. At the furnace, cool air passes into the furnace, usually through an air filter, through the blower, then through the heat exchanger of the furnace, whence it is blown throughout the
building
Building
In architecture, construction, engineering, real estate development and technology the word building may refer to one of the following:...
. One major advantage of this type of system is that it also enables easy installation of central
air conditioning
Air conditioning
An air conditioner is a home appliance, system, or mechanism designed to dehumidify and extract heat from an area. The cooling is done using a simple refrigeration cycle...
by simply adding a cooling coil at the exhaust of the furnace.
Air is circulated through
ductwork
Duct (HVAC)
Ducts are used in heating, ventilation, and air conditioning to deliver and remove air. These needed airflows include, for example, supply air, return air, and exhaust air. Ducts also deliver, most commonly as part of the supply air, ventilation air...
, which may be made of sheet metal or plastic "flex" duct and insulated or uninsulated. Unless the ducts and plenum have been sealed using mastic or foil duct tape, the ductwork is likely to have a high leakage of conditioned air, possibly into unconditioned spaces. Another cause of wasted energy is the installation of ductwork in unheated areas, such as attics and crawl spaces; or ductwork of air conditioning systems in attics in warm climates.
The following rare but difficult-to-diagnose failure can occur. If the temperature inside the furnace exceeds a maximum threshold, a safety mechanism with a
thermostat
Thermostat
A thermostat is the component of a control system which regulates the temperature of a system so that the system's temperature is maintained near a desired setpoint temperature. The thermostat does this by switching heating or cooling devices on or off, or regulating the flow of a heat transfer...
will shut the furnace down. A symptom of this failure is that the furnace repeatedly shuts down before the house reaches the desired temperature; this is commonly referred to as the furnace "riding the high limit switch". This condition commonly occurs if the temperature setting of the high limit thermostat is set too close to the normal
operating temperature
Operating temperature
An operating temperature is the temperature at which an electrical or mechanical device operates. The device will operate effectively within a specified temperature range which varies based on the device function and application context, and ranges from the minimum operating temperature to the...
of the furnace. Another situation may occur if a humidifier is incorrectly installed on the furnace and the duct which directs a portion of the humidified air back into the furnace is too large. The solution is to reduce the diameter of the cross-feed tube, or install a baffle that reduces the volume of re-fed air.
Metallurgical furnaces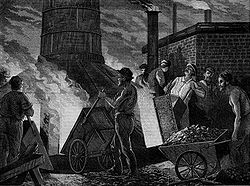 In
metallurgy
Metallurgy
Metallurgy is a domain of materials science that studies the physical and chemical behavior of metallic elements, their intermetallic compounds, and their mixtures, which are called alloys. It is also the technology of metals: the way in which science is applied to their practical use...
, several specialised furnaces are used. These include:
Furnaces used in smelters, including:

The blast furnace

Blast furnace

A blast furnace is a type of metallurgical furnace used for smelting to produce industrial metals, generally iron.In a blast furnace, fuel and ore and flux are continuously supplied through the top of the furnace, while air is blown into the bottom of the chamber, so that the chemical reactions...


, used to reduce

Redox

Redox reactions describe all chemical reactions in which atoms have their oxidation state changed....


iron ore to pig iron

Pig iron

Pig iron is the intermediate product of smelting iron ore with a high-carbon fuel such as coke, usually with limestone as a flux. Charcoal and anthracite have also been used as fuel...



Steelmaking

Steelmaking

Steelmaking is the second step in producing steel from iron ore. In this stage, impurities such as sulfur, phosphorus, and excess carbon are removed from the raw iron, and alloying elements such as manganese, nickel, chromium and vanadium are added to produce the exact steel required.-Older...


furnaces, including:

Puddling furnace
Reverberatory furnace

Reverberatory furnace

A reverberatory furnace is a metallurgical or process furnace that isolates the material being processed from contact with the fuel, but not from contact with combustion gases...



Bessemer converter
Open hearth furnace

Open hearth furnace

Open hearth furnaces are one of a number of kinds of furnace where excess carbon and other impurities are burnt out of the pig iron to produce steel. Since steel is difficult to manufacture due to its high melting point, normal fuels and furnaces were insufficient and the open hearth furnace was...



Basic oxygen furnace
Electric arc furnace

Electric arc furnace

An electric arc furnace is a furnace that heats charged material by means of an electric arc.Arc furnaces range in size from small units of approximately one ton capacity up to about 400 ton units used for secondary steelmaking...



Electric induction furnace
Furnaces used to remelt metal in foundries

Foundry

A foundry is a factory that produces metal castings. Metals are cast into shapes by melting them into a liquid, pouring the metal in a mold, and removing the mold material or casting after the metal has solidified as it cools. The most common metals processed are aluminum and cast iron...


.
Furnaces used to reheat and heat treat

Heat treatment

Heat treating is a group of industrial and metalworking processes used to alter the physical, and sometimes chemical, properties of a material. The most common application is metallurgical. Heat treatments are also used in the manufacture of many other materials, such as glass...


metal for use in:

Rolling mills, including tinplate works and slitting mill

Slitting mill

The slitting mill was a watermill for slitting bars of iron into rods. The rods then were passed to nailers who made the rods into nails, by giving them a point and head....


s.
Forge

Forge

A forge is a hearth used for forging. The term "forge" can also refer to the workplace of a smith or a blacksmith, although the term smithy is then more commonly used.The basic smithy contains a forge, also known as a hearth, for heating metals...


s.
Vacuum furnace

Vacuum furnace

A vacuum furnace is a type of furnace that can heat materials, typically metals, to very high temperatures and carry out processes such as brazing, sintering and heat treatment with high consistency and low contamination....


s
Industrial process furnaces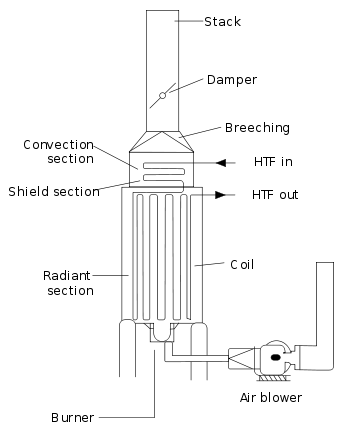 An industrial furnace or direct fired heater, is an equipment used to provide heat for a process or can serve as
reactor
Chemical reactor
In chemical engineering, chemical reactors are vessels designed to contain chemical reactions. The design of a chemical reactor deals with multiple aspects of chemical engineering. Chemical engineers design reactors to maximize net present value for the given reaction...
which provides heats of reaction. Furnace designs vary as to its function, heating duty, type of fuel and method of introducing combustion air. However, most process furnaces have some common features.
Fuel flows into the
burner
Burner
Burner may refer to:* Gas burner or oil burner, a mechanical device that burns a gas or liquid fuel into a flame in a controlled manner* Hot-air balloon device, a device to inflate a hot air balloon* Burner * Burner, West Virginia...
and is burnt with air provided from an air blower. There can be more than one burner in a particular furnace which can be arranged in cells which heat a particular set of tubes. Burners can also be floor mounted, wall mounted or roof mounted depending on design. The flames heat up the tubes, which in turn heat the fluid inside in the first part of the furnace known as the radiant section or firebox. In this chamber where combustion takes place, the heat is transferred mainly by
radiation
Radiant energy
Radiant energy is the energy of electromagnetic waves. The quantity of radiant energy may be calculated by integrating radiant flux with respect to time and, like all forms of energy, its SI unit is the joule. The term is used particularly when radiation is emitted by a source into the...
to tubes around the
fire
Fire
Fire is the rapid oxidation of a material in the chemical process of combustion, releasing heat, light, and various reaction products. Slower oxidative processes like rusting or digestion are not included by this definition....
in the chamber. The heating fluid passes through the tubes and is thus heated to the desired temperature. The gases from the combustion are known as
flue gas
Flue gas
Flue gas is the gas exiting to the atmosphere via a flue, which is a pipe or channel for conveying exhaust gases from a fireplace, oven, furnace, boiler or steam generator. Quite often, the flue gas refers to the combustion exhaust gas produced at power plants...
. After the flue gas leaves the firebox, most furnace designs include a
convection
Convection
Convection is the movement of molecules within fluids and rheids. It cannot take place in solids, since neither bulk current flows nor significant diffusion can take place in solids....
section where more heat is recovered before venting to the
atmosphere
Earth's atmosphere
The atmosphere of Earth is a layer of gases surrounding the planet Earth that is retained by Earth's gravity. The atmosphere protects life on Earth by absorbing ultraviolet solar radiation, warming the surface through heat retention , and reducing temperature extremes between day and night...
through the
flue gas stack
Flue gas stack
A flue-gas stack is a type of chimney, a vertical pipe, channel or similar structure through which combustion product gases called flue gases are exhausted to the outside air. Flue gases are produced when coal, oil, natural gas, wood or any other fuel is combusted in an industrial furnace, a power...
. (HTF=Heat Transfer Fluid. Industries commonly use their furnaces to heat a secondary fluid with special additives like anti-
rust
Rust
Rust is a general term for a series of iron oxides. In colloquial usage, the term is applied to red oxides, formed by the reaction of iron and oxygen in the presence of water or air moisture...
and high heat transfer efficiency. This heated fluid is then circulated round the whole plant to heat exchangers to be used wherever heat is needed instead of directly heating the product line as the product or material may be volatile or prone to
cracking
Cracking (chemistry)
In petroleum geology and chemistry, cracking is the process whereby complex organic molecules such as kerogens or heavy hydrocarbons are broken down into simpler molecules such as light hydrocarbons, by the breaking of carbon-carbon bonds in the precursors. The rate of cracking and the end products...
at the furnace temperature.)
Radiant section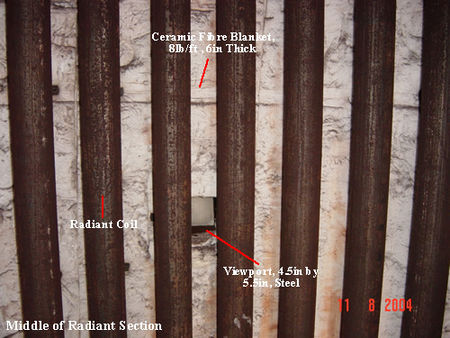 The radiant section is where the tubes receive almost all its heat by
radiation
Thermal radiation
Thermal radiation is electromagnetic radiation generated by the thermal motion of charged particles in matter. All matter with a temperature greater than absolute zero emits thermal radiation....
from the flame. In a vertical, cylindrical furnace, the tubes are vertical. Tubes can be vertical or horizontal, placed along the
refractory
Refractory
A refractory material is one that retains its strength at high temperatures. ASTM C71 defines refractories as "non-metallic materials having those chemical and physical properties that make them applicable for structures, or as components of systems, that are exposed to environments above...
wall, in the middle, etc., or arranged in cells. Studs are used to hold the
insulation
Thermal insulation
Thermal insulation is the reduction of the effects of the various processes of heat transfer between objects in thermal contact or in range of radiative influence. Heat transfer is the transfer of thermal energy between objects of differing temperature...
together and on the wall of the furnace. They are placed about 1 ft (300 mm) apart in this picture of the inside of a furnace. The tubes, shown below, which are reddish brown from
corrosion
Corrosion
Corrosion is the disintegration of an engineered material into its constituent atoms due to chemical reactions with its surroundings. In the most common use of the word, this means electrochemical oxidation of metals in reaction with an oxidant such as oxygen...
, are carbon steel tubes and run the height of the radiant section. The tubes are a distance away from the insulation so radiation can be reflected to the back of the tubes to maintain a uniform tube wall temperature. Tube guides at the top, middle and bottom hold the tubes in place.
Convection section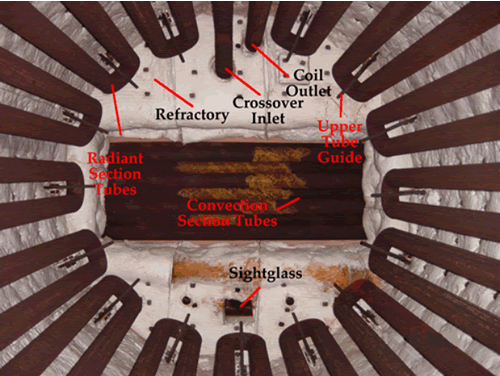 The convection section is located above the radiant section where it is cooler to recover additional heat.
Heat transfer
Heat transfer
Heat transfer is a discipline of thermal engineering that concerns the exchange of thermal energy from one physical system to another. Heat transfer is classified into various mechanisms, such as heat conduction, convection, thermal radiation, and phase-change transfer...
takes place by
convection
Convection
Convection is the movement of molecules within fluids and rheids. It cannot take place in solids, since neither bulk current flows nor significant diffusion can take place in solids....
here, and the tubes are finned to increase heat transfer. The first two tube rows in the bottom of the convection section and at the top of the radiant section is an area of bare tubes (without fins) and are known as the shield section, so named because they are still exposed to plenty of radiation from the firebox and they also act to shield the convection section tubes, which are normally of less resistant material from the high temperatures in the firebox. The area of the radiant section just before flue gas enters the shield section and into the convection section called the bridgezone. Crossover is the term used to describe the tube that connects from the convection section outlet to the radiant section inlet. The crossover piping is normally located outside so that the temperature can be monitored and the efficiency of the convection section can be calculated. The sightglass at the top allows personnel to see the flame shape and pattern from above and visually inspect if flame impingement is occurring. Flame impingement happens when the flame touches the tubes and causes small isolated spots of very high temperature.
Burner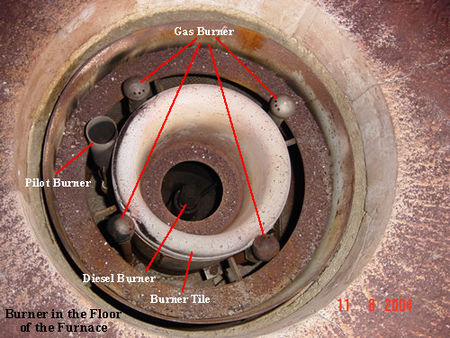 The burner in the vertical, cylindrical furnace as above, is located in the floor and fires upward. Some furnaces have side fired burners, such as in train locomotives. The burner
tile
Tile
A tile is a manufactured piece of hard-wearing material such as ceramic, stone, metal, or even glass. Tiles are generally used for covering roofs, floors, walls, showers, or other objects such as tabletops...
is made of high temperature refractory and is where the flame is contained. Air registers located below the burner and at the outlet of the air blower are devices with movable flaps or vanes that control the shape and pattern of the flame, whether it spreads out or even swirls around. Flames should not spread out too much, as this will cause flame impingement. Air registers can be classified as primary, secondary and if applicable, tertiary, depending on when their air is introduced. The primary air register supplies primary air, which is the first to be introduced in the burner. Secondary air is added to supplement primary air. Burners may include a premixer to mix the air and fuel for better combustion before introducing into the burner. Some burners even use steam as premix to preheat the air and create better mixing of the fuel and heated air. The floor of the furnace is mostly made of a different material from that of the wall, typically hard castable refractory to allow technicians to walk on its floor during maintenance.
A furnace can be lit by a small
pilot flame
Pilot light
thumb|right|Merker gas fired water heater from the 1930's, with pilot light clearly visible through the aperture in the front cover. The large opening allowed for the manual lighting of the pilot light by a lit match or taper...
or in some older models, by hand. Most pilot flames nowadays are lit by an ignition transformer (much like a car's spark plugs). The pilot flame in turn lights up the main flame. The pilot flame uses natural gas while the main flame can use both diesel and natural gas. When using liquid fuels, an atomizer is used, otherwise, the liquid fuel will simply pour onto the furnace floor and become a hazard. Using a pilot flame for lighting the furnace increases safety and ease compared to using a manual ignition method (like a match).
Sootblower
Sootblowers are found in the convection section. As this section is above the radiant section and air movement is slower because of the fins,
soot
Soot
Soot is a general term that refers to impure carbon particles resulting from the incomplete combustion of a hydrocarbon. It is more properly restricted to the product of the gas-phase combustion process but is commonly extended to include the residual pyrolyzed fuel particles such as cenospheres,...
tends to accumulate here. Sootblowing is normally done when the efficiency of the convection section is decreased. This can be calculated by looking at the temperature change from the crossover piping and at the convection section exit.
Sootblowers utilize flowing media such as water, air or steam to remove deposits from the tubes. This is typically done during maintenance with the air blower turned on. There are several different types of sootblowers used. Wall blowers of the rotary type are mounted on furnace walls protruding between the convection tubes. The
lance
Lance
A Lance is a pole weapon or spear designed to be used by a mounted warrior. The lance is longer, stout and heavier than an infantry spear, and unsuited for throwing, or for rapid thrusting. Lances did not have tips designed to intentionally break off or bend, unlike many throwing weapons of the...
s are connected to a steam source with holes drilled into it at intervals along its length. When it is turned on, it rotates and blows the soot off the tubes and out through the stack.
Stack
The flue gas stack is a cylindrical structure at the top of all the heat transfer chambers. The
breeching
Flue
A flue is a duct, pipe, or chimney for conveying exhaust gases from a fireplace, furnace, water heater, boiler, or generator to the outdoors. In the United States, they are also known as vents and for boilers as breeching for water heaters and modern furnaces...
directly below it collects the flue gas and brings it up high into the atmosphere where it will not endanger personnel.
The stack
damper
Damper (architecture)
A damper is a valve or plate that stops or regulates the flow of air inside a duct, chimney, VAV box, air handler, or other air handling equipment. A damper may be used to cut off central air conditioning to an unused room, or to regulate it for room-by-room temperature and climate control. Its...
contained within works like a
butterfly valve
Butterfly valve
A butterfly valve is a valve which can be used for isolating or regulating flow. The closing mechanism takes the form of a disk. Operation is similar to that of a ball valve, which allows for quick shut off. Butterfly valves are generally favored because they are lower in cost to other valve...
and regulates
draft
Stack effect
Stack effect is the movement of air into and out of buildings, chimneys, flue gas stacks, or other containers, and is driven by buoyancy. Buoyancy occurs due to a difference in indoor-to-outdoor air density resulting from temperature and moisture differences. The result is either a positive or...
(pressure difference between air intake and air exit)in the furnace, which is what pulls the flue gas through the convection section. The stack damper also regulates the heat lost through the stack. As the damper closes, the amount of heat escaping the furnace through the stack decreases, but the
pressure
Pressure
Pressure is the force per unit area applied in a direction perpendicular to the surface of an object. Gauge pressure is the pressure relative to the local atmospheric or ambient pressure.- Definition :...
or draft in the furnace increases which poses risks to those working around it if there are air leakages in the furnace, the flames can then escape out of the firebox or even explode if the pressure is too great.
Insulation
Insulation is an important part of the furnace because it prevents excessive heat loss. Refractory materials such as firebrick, castable refractories and
ceramic fibre
High temperature insulation wool
In the 1950s, the term "Refractory Ceramic Fibre" was coined for the aluminium silicate fibres developed at this time.On account of their chemical purity and resistance to high temperatures as well as on the basis of their use in other applications, this definition was made to differentiate...
, are used for insulation. The floor of the furnace are normally castable type refractories while those on the walls are nailed or glued in place. Ceramic fibre is commonly used for the roof and wall of the furnace and is graded by its
density
Density
The mass density or density of a material is defined as its mass per unit volume. The symbol most often used for density is ρ . In some cases , density is also defined as its weight per unit volume; although, this quantity is more properly called specific weight...
and then its maximum temperature rating. For example, 8# 2,300 °F means 8 lb/ft
3
density with a maximum temperature rating of 2,300 °F. An example of a castable composition is kastolite.
First fire
The
first fire
is the moment when a furnace or another heating device (usually for industrial use such as metallurgy or ceramics) is first lit after its construction. The
refractory
Refractory
A refractory material is one that retains its strength at high temperatures. ASTM C71 defines refractories as "non-metallic materials having those chemical and physical properties that make them applicable for structures, or as components of systems, that are exposed to environments above...
of the furnace walls should be as dry as possible and the first fire should be done slowly with a small flame as the refractory of the still unfired furnace has a minimal amount of moisture. Gradually or during subsequent firings, the flame or heat source (e.g.
Kanthal
Kanthal
Kanthal is the trademark for a family of iron-chromium-aluminium alloys used in a wide range of resistance and high-temperature applications. Kanthal FeCrAl alloys consist of mainly iron, chromium and aluminium . The first Kanthal FeCrAl alloy was developed by Hans von Kantzow in Hallstahammar,...
heating elements) can be turned up higher.
After first fire some adjustments should be done usually to fine-tune the furnace. Despite this, a first fire is always a moment of great excitement for the people who designed and built the furnace.
Description
An outdoor wood-fired boiler (OWB) also known as a waterstove or outdoor wood furnace or simply a wood boiler, is a heating technology that has grown in popularity in the northern United States and Canada. OWBs in most cases look like a small shack with metal siding. They are self-contained, and are only connected to the building they heat through underground insulated water pipes. OWBs contain a metal combustion chamber for a wood fire, which is surrounded by a water tank or water jacket. The fire heats the water, which is then circulated through the insulated water pipes into the heated building. Once the hot water from the boiler reaches the building, the heat from the hot water can be transferred to most existing heating systems and the building's hot water supply.
A damper and fan on the boiler interacts with a thermostat inside the building. If the building's temperature falls, the thermostat will trigger the damper to open, letting oxygen enter the combustion chamber, which causes the fire to burn more intensely. The fire will then raise the temperature of the water which increases the heat supplied to the home.
Benefits
OWBs have several benefits that increase their popularity. Their large combustion chamber accommodates more fuel than many other forms of wood heat, decreasing the number of times an owner has to add fuel to the fire. Home insurance may cost more for people who heat with an indoor form of wood heat than with an OWB. Finally, for people with a large supply of free wood and willing to invest the time to prepare the wood and stock the OWB, an OWB can be less expensive than heating with gas, oil, or electricity.
Controversy in the United States
OWBs are not without controversy, as their emissions sometimes bother neighbors. Some states and municipalities have regulated the devices. They are not currently regulated by the United States Environmental Protection Agency (EPA), unlike other forms of wood heat. However, recently the EPA has worked with manufacturers to develop a method for manufacturers to identify OWBs that meet a voluntary emissions standard. Studies conducted on OWBs suggest that these devices may produce more emissions, most notably particulate matter under 2.5 micrometers (PM2.5) than other heating technologies, though manufacturers dispute these assessments
http://www.nescaum.org/documents/assessment-of-outdoor-wood-fired-boilers
. Exposure to elevated levels of PM2.5 has been associated with cardiopulmonary health effects and premature death.
As of July 2006, the HPBA, along with many of the major OWB manufactures, have requested users of their products follow the "Outdoor Wood Furnace Best Burn Practices". These guidelines have been set up by the HPBA to help cut down on problems associated with OWBs.
Early in January 2007, the United States Environmental Protection Agency (EPA) initiated a voluntary program for manufacturers of outdoor wood furnaces. The EPA's primary intent is to encourage manufacturers to produce cleaner Outdoor Wood-fired Hydronic Heaters (OWHH) models. The EPA also wants those who buy an OWHH / OWB to buy the cleanest models available, which are those that meet EPA performance verified levels. To participate in this program, manufacturers commit their best efforts to develop cleaner models with goals of distributing their units starting in April 2007.
The EPA now publishes a list of all OWHH / OWB units that pass the new voluntary program. These furnaces come with either an orange EPA tag, signifying Level 1 certification, or a white EPA tag, signifying Level 2 certification, to notify the customer of the units particular emission level output. (One beneficial aspect of this process to consumers is that outdoor wood boilers that are EPA-certified are usually more energy efficient than those that are not, extracting more energy per unit of wood, and thus reducing costs to the owner. Plus, consumers benefit by knowing that such boilers are far less likely to annoy their neighbors.)
Boilers that do pollute enough to cause a
public nuisance
Public nuisance
In English criminal law, public nuisance is a class of common law offence in which the injury, loss or damage is suffered by the local community as a whole rather than by individual victims.-Discussion:...
(such as by smoke wafting into the house of a neighbor) can be subject to lawsuits by nearby people who are impacted by the smoke nuisance in question, an ancient right under the
common law
Common law
Common law is law developed by judges through decisions of courts and similar tribunals rather than through legislative statutes or executive branch action...
for the
abatement
Abatement
Abatement may refer to:*Abatement of debts and legacies, a common law doctrine of wills*Abatement in pleading, a legal defense to civil and criminal actions based purely on procedural and technical issues involving the death of parties...
of
nuisance
Nuisance
Nuisance is a common law tort. It means that which causes offence, annoyance, trouble or injury. A nuisance can be either public or private. A public nuisance was defined by English scholar Sir J. F...
. This is in addition to local and state regulations, laws, or ordinances that cause restrictions on operation to or even compel removal of excessively polluting boilers. For example, the Commonwealth of Massachusetts
Department of Environmental Protection
Massachusetts Department of Environmental Protection
The Massachusetts Department of Environmental Protection is an agency of the Commonwealth of Massachusetts, responsible for protecting the environment in the state. Its areas of responsibility include preventing pollution of air, water, and ground; protecting wetlands; waste and recycling issues;...
has barred the sale, installation, or use of new outdoor wood boilers that are not Level 2 certified by the EPA, though old boilers remain grandfathered so long as they do not cause a public nuisance or manifestly impact health and safety.
See also
Blast furnace

Blast furnace

A blast furnace is a type of metallurgical furnace used for smelting to produce industrial metals, generally iron.In a blast furnace, fuel and ore and flux are continuously supplied through the top of the furnace, while air is blown into the bottom of the chamber, so that the chemical reactions...



Electric arc furnace

Electric arc furnace

An electric arc furnace is a furnace that heats charged material by means of an electric arc.Arc furnaces range in size from small units of approximately one ton capacity up to about 400 ton units used for secondary steelmaking...



Basic oxygen steelmaking

Basic oxygen steelmaking

Basic oxygen steelmaking , also known as Linz-Donawitz-Verfahren steelmaking or the oxygen converter process is a method of primary steelmaking in which carbon-rich molten pig iron is made into steel. Blowing oxygen through molten pig iron lowers the carbon content of the alloy and changes it into...



Open hearth furnace

Open hearth furnace

Open hearth furnaces are one of a number of kinds of furnace where excess carbon and other impurities are burnt out of the pig iron to produce steel. Since steel is difficult to manufacture due to its high melting point, normal fuels and furnaces were insufficient and the open hearth furnace was...



Russian oven

Russian oven

.A Russian oven or Russian stove is a unique type of oven/furnace that first appeared in the 15th century. It is used both for cooking and domestic heating. The Russian oven burns firewood or wood manufacturing waste....



Shell boiler

Shell boiler

A shell or flued boiler is an early, and relatively simple, form of boiler used to make steam, usually for the purpose of driving a steam engine. The design marked a transitional stage in boiler development, between the early haystack boilers and the later multi-tube fire-tube boilers...



Jetstream furnace

Jetstream furnace

Jetstream furnaces , were an advanced design of wood-fired water heaters conceived by Dr. Richard Hill of the University of Maine in Orono, Maine, USA...



HVAC

HVAC

HVAC refers to technology of indoor or automotive environmental comfort. HVAC system design is a major subdiscipline of mechanical engineering, based on the principles of thermodynamics, fluid mechanics, and heat transfer...



Humidifier

Humidifier

A humidifier is a household appliance that increases humidity in a single room or in the entire house. There are point-of-use humidifiers, which are commonly used to humidify a single room, and whole-house or furnace humidifiers, which connect to a home's HVAC system to provide humidity to the...



Solar power

Solar power

Solar energy, radiant light and heat from the sun, has been harnessed by humans since ancient times using a range of ever-evolving technologies. Solar radiation, along with secondary solar-powered resources such as wind and wave power, hydroelectricity and biomass, account for most of the available...



Cremation

Cremation

Cremation is the process of reducing bodies to basic chemical compounds such as gasses and bone fragments. This is accomplished through high-temperature burning, vaporization and oxidation....



Fan heater

Fan heater

thumb|Typical fan heater's internal partsthumb|Overheat cutoutsA fan heater is a heater that works by using a fan to pass air over a heating element. This heats up the air, which then leaves the heater, warming up the surrounding room...



Geothermal systems
Fire test furnaces

Fire test

A fire test is a means of determining whether or not fire protection products meet minimum performance criteria as set out in a building code or other applicable legislation. Successful tests in laboratories holding national accreditation for testing and certification result in the issuance of a...



Batch oven

Batch oven

Batch ovens are a type of furnace used for thermal processing. They are used in numerous production and laboratory applications, including curing, drying, sterilizing, aging, and other process-critical applications. Sizes can vary depending on what type of thermal processing application is needed....



Forced-air gas

Forced-air gas

Forced-air gas heating systems are used in central air heating/cooling systems for houses. Sometimes the system is referred to as "Forced hot air". Generally, they have a furnace heated by natural gas that pushes hot air through duct-work, then through vents to heat a building. A climate-control...



External links