 Bottle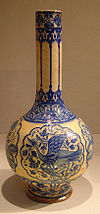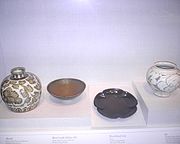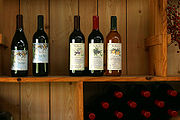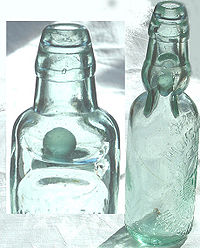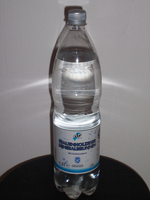 A
bottle
is a rigid
container
Food storage container
Food storage containers are widespread in use throughout the world and have probably been in use since the first human civilisations.-Early civilizations:...
with a neck that is narrower than the body and a "mouth". By contrast, a
jar
Jar
A jar is a rigid, approximately cylindrical container with a wide mouth or opening. Jars are typically made of glass, ceramic, or plastic. They are used for foods, cosmetics, medications, and chemicals that are relatively thick or viscous...
has a relatively large mouth or opening. Bottles are often made of
glass
Glass
Glass is an amorphous solid material. Glasses are typically brittle and optically transparent.The most familiar type of glass, used for centuries in windows and drinking vessels, is soda-lime glass, composed of about 75% silica plus Na2O, CaO, and several minor additives...
,
clay
Clay
Clay is a general term including many combinations of one or more clay minerals with traces of metal oxides and organic matter. Geologic clay deposits are mostly composed of phyllosilicate minerals containing variable amounts of water trapped in the mineral structure.- Formation :Clay minerals...
,
plastic
Plastic
A plastic material is any of a wide range of synthetic or semi-synthetic organic solids used in the manufacture of industrial products. Plastics are typically polymers of high molecular mass, and may contain other substances to improve performance and/or reduce production costs...
, aluminum or other impervious materials, and typically used to store
liquid
Liquid
Liquid is one of the three classical states of matter . Like a gas, a liquid is able to flow and take the shape of a container. Some liquids resist compression, while others can be compressed. Unlike a gas, a liquid does not disperse to fill every space of a container, and maintains a fairly...
s such as
water
Water
Water is a chemical substance with the chemical formula H2O. A water molecule contains one oxygen and two hydrogen atoms connected by covalent bonds. Water is a liquid at ambient conditions, but it often co-exists on Earth with its solid state, ice, and gaseous state . Water also exists in a...
,
milk
Milk
Milk is a white liquid produced by the mammary glands of mammals. It is the primary source of nutrition for young mammals before they are able to digest other types of food. Early-lactation milk contains colostrum, which carries the mother's antibodies to the baby and can reduce the risk of many...
,
soft drink
Soft drink
A soft drink is a non-alcoholic beverage that typically contains water , a sweetener, and a flavoring agent...
s,
beer
Beer
Beer is the world's most widely consumed andprobably oldest alcoholic beverage; it is the third most popular drink overall, after water and tea. It is produced by the brewing and fermentation of sugars, mainly derived from malted cereal grains, most commonly malted barley and malted wheat...
,
wine
Wine
Wine is an alcoholic beverage, made of fermented fruit juice, usually from grapes. The natural chemical balance of grapes lets them ferment without the addition of sugars, acids, enzymes, or other nutrients. Grape wine is produced by fermenting crushed grapes using various types of yeast. Yeast...
,
cooking oil
Cooking oil
Cooking oil is purified fat of plant origin, which is usually liquid at room temperature ....
,
medicine
Medicine
Medicine is the science and art of healing. It encompasses a variety of health care practices evolved to maintain and restore health by the prevention and treatment of illness....
,
shampoo
Shampoo
Shampoo is a hair care product used for the removal of oils, dirt, skin particles, dandruff, environmental pollutants and other contaminant particles that gradually build up in hair...
,
ink
Ink
Ink is a liquid or paste that contains pigments and/or dyes and is used to color a surface to produce an image, text, or design. Ink is used for drawing and/or writing with a pen, brush, or quill...
, and chemicals. A device applied in the
bottling line
Bottling line
Bottling lines are production lines that fill a product, generally a beverage, into bottles on a large scale.-Wine bottling process:The first step in bottling wine is depalletising, where the empty wine bottles are removed from the original pallet packaging delivered from the manufacturer, so that...
to seal the mouth of a bottle is termed an external
bottle cap
Bottle cap
Bottle caps are a type of closure used to seal the openings of bottles of many types. They can be small circular pieces of metal, usually steel, with plastic backings, and for plastic bottles a plastic cap is used instead. A bottle cap is typically colorfully decorated with the logo of the brand...
,
closure
Closure
Closure may refer to:* Closure used to seal a bottle, jug, jar, can, or other container** Closure , a stopper* Closure , the process by which an organization ceases operations...
, or internal
stopper
Stopper (plug)
A bung is truncated cylindrical or conical closure to seal a container, such as a bottle, tube or barrel. Unlike a lid which encloses a container from the outside without displacing the inner volume, a bung is partially inserted inside the container to act as a seal...
. A bottle can also be sealed by a conductive "innerseal" by using
induction sealing
Induction sealing
Induction sealing, otherwise known as cap sealing, is a non-contact method of heating a metallic disk to hermetically seal the top of plastic and glass containers. This sealing process takes place after the container has been filled and capped.-How it works:...
.
The bottle has developed over millennia of use, with some of the earliest examples appearing in
China
China
Chinese civilization may refer to:* China for more general discussion of the country.* Chinese culture* Greater China, the transnational community of ethnic Chinese.* History of China* Sinosphere, the area historically affected by Chinese culture...
,
Phoenicia
Phoenicia
Phoenicia , was an ancient civilization in Canaan which covered most of the western, coastal part of the Fertile Crescent. Several major Phoenician cities were built on the coastline of the Mediterranean. It was an enterprising maritime trading culture that spread across the Mediterranean from 1550...
,
Rome
Rome
Rome is the capital of Italy and the country's largest and most populated city and comune, with over 2.7 million residents in . The city is located in the central-western portion of the Italian Peninsula, on the Tiber River within the Lazio region of Italy.Rome's history spans two and a half...
and
Crete
Crete
Crete is the largest and most populous of the Greek islands, the fifth largest island in the Mediterranean Sea, and one of the thirteen administrative regions of Greece. It forms a significant part of the economy and cultural heritage of Greece while retaining its own local cultural traits...
. The Chinese used bottles to store liquids. Bottles are often recycled according to the SPI recycling code for the material. Some regions have a
legally mandated deposit
Container deposit legislation
Container-deposit legislation is any law that requires collection of a monetary deposit on soft-drink, juice, milk, water, alcoholic-beverage, and/or other containers at the point of sale...
which is refunded after returning the bottle to the retailer.
Etymology
First attested in English 14th century, the word
bottle
derives from
old French
Old French
Old French was the Romance dialect continuum spoken in territories that span roughly the northern half of modern France and parts of modern Belgium and Switzerland from the 9th century to the 14th century...
boteille
, which comes from
vulgar Latin
Vulgar Latin
Vulgar Latin is any of the nonstandard forms of Latin from which the Romance languages developed. Because of its nonstandard nature, it had no official orthography. All written works used Classical Latin, with very few exceptions...
butticula
, itself from
late Latin
Late Latin
Late Latin is the scholarly name for the written Latin of Late Antiquity. The English dictionary definition of Late Latin dates this period from the 3rd to the 6th centuries AD extending in Spain to the 7th. This somewhat ambiguously defined period fits between Classical Latin and Medieval Latin...
buttis
meaning "cask", which is perhaps the
latinisation
Latinisation (literature)
Latinisation is the practice of rendering a non-Latin name in a Latin style. It is commonly met with for historical personal names, with toponyms, or for the standard binomial nomenclature of the life sciences. It goes further than Romanisation, which is the writing of a word in the Latin alphabet...
of the
Greek
Greek language
Greek is an independent branch of the Indo-European family of languages. Native to the southern Balkans, it has the longest documented history of any Indo-European language, spanning 34 centuries of written records. Its writing system has been the Greek alphabet for the majority of its history;...
βοῦττις (
bouttis
), "vessel".
History
Since prehistoric times, bottle containers were created from clay or asphaltum sealed woven containers. Early glass bottles were produced by the
Phoenicia
Phoenicia
Phoenicia , was an ancient civilization in Canaan which covered most of the western, coastal part of the Fertile Crescent. Several major Phoenician cities were built on the coastline of the Mediterranean. It was an enterprising maritime trading culture that spread across the Mediterranean from 1550...
ns; specimens of Phoenician translucent and transparent glass bottles have been found in
Cyprus
Cyprus
Cyprus , officially the Republic of Cyprus , is a Eurasian island country, member of the European Union, in the Eastern Mediterranean, east of Greece, south of Turkey, west of Syria and north of Egypt. It is the third largest island in the Mediterranean Sea.The earliest known human activity on the...
and
Rhodes
Rhodes
Rhodes is an island in Greece, located in the eastern Aegean Sea. It is the largest of the Dodecanese islands in terms of both land area and population, with a population of 117,007, and also the island group's historical capital. Administratively the island forms a separate municipality within...
generally varying in length from three to six inches. These Phoenician examples from the first millennium BC were thought to have been used for
perfume
Perfume
Perfume is a mixture of fragrant essential oils and/or aroma compounds, fixatives, and solvents used to give the human body, animals, objects, and living spaces "a pleasant scent"...
. The
Romans
Ancient Rome
Ancient Rome was a thriving civilization that grew on the Italian Peninsula as early as the 8th century BC. Located along the Mediterranean Sea and centered on the city of Rome, it expanded to one of the largest empires in the ancient world....
learned glass-making from the Phoenicians and produced many extant examples of fine glass bottles, mostly relatively small.
For wine
The
glass bottle
Glass bottle
A glass bottle is a bottle created from glass. Glass bottles can vary in size considerably, but are most commonly found in sizes ranging between about 10ml and 5 liters....
was an important development in the history of wine, because, when combined with a high-quality
stopper
Stopper (plug)
A bung is truncated cylindrical or conical closure to seal a container, such as a bottle, tube or barrel. Unlike a lid which encloses a container from the outside without displacing the inner volume, a bung is partially inserted inside the container to act as a seal...
such as a
cork
Cork (material)
Cork is an impermeable, buoyant material, a prime-subset of bark tissue that is harvested for commercial use primarily from Quercus suber , which is endemic to southwest Europe and northwest Africa...
, it allowed long-term
aging of wine
Aging of wine
The aging of wine, and its ability to potentially improve wine quality, distinguishes wine from most other consumable goods. While wine is perishable and capable of deteriorating, complex chemical reactions involving a wine's sugars, acids and phenolic compounds can alter the aroma, color,...
. Glass has all the qualities required for long-term storage. It eventually gave rise to "château bottling", the practice where an estate's wine is put in a bottle at the source, rather than by a merchant. Prior to this, wine would be sold by the barrel (and before that, the
amphora
Amphora
An amphora is a type of vase-shaped, usually ceramic container with two handles and a long neck narrower than the body...
) and put into bottles only at the merchant's shop, if at all. This left a large and often abused opportunity for fraud and adulteration, as the consumer had to trust the merchant as to the contents. It is thought that most wine consumed outside of
wine-producing regions
had been tampered with in some way. Also, not all merchants were careful to avoid oxidation or contamination while bottling, leading to large
bottle variation
Bottle variation
Bottle variation is the degree to which different bottles, nominally of the same product, can have different taste, smell, etc.There are many possible causes of bottle variation:* variation in the contents prior to packaging...
. Particularly in the case of
port
Port wine
Port wine is a Portuguese fortified wine produced exclusively in the Douro Valley in the northern provinces of Portugal. It is typically a sweet, red wine, often served as a dessert wine, and comes in dry, semi-dry, and white varieties...
, certain conscientious merchants' bottling of old ports fetch higher prices even today. To avoid these problems, most fine wine is bottled at the place of production (including all port, since 1974).
There are many sizes and shapes of bottles used for wine. Some of the known shapes:
"Bordeaux": This bottle is roughly straight sided with a curved "shoulder" that is useful for catching sediment

Sediment

Sediment is naturally occurring material that is broken down by processes of weathering and erosion, and is subsequently transported by the action of fluids such as wind, water, or ice, and/or by the force of gravity acting on the particle itself....


and is also the easiest to stack. Traditionally used in Bordeaux

Bordeaux

Bordeaux is a port city on the Garonne River in the Gironde department in southwestern France.The Bordeaux-Arcachon-Libourne metropolitan area, has a population of 1,010,000 and constitutes the sixth-largest urban area in France. It is the capital of the Aquitaine region, as well as the prefecture...


but now worldwide, this is probably the most common type.
"Burgundy": Traditionally used in Burgundy, this has sides that taper down about 2/3 of the height to a short cylindrical section, and does not have a shoulder.
"Champagne": Traditionally used for Champagne, it is similar to a Burgundy bottle, but with a wider base and heavier due to the pressurization

Pressure

Pressure is the force per unit area applied in a direction perpendicular to the surface of an object. Gauge pressure is the pressure relative to the local atmospheric or ambient pressure.- Definition :...


.
Codd-neck bottles
In 1872,
British
United Kingdom
The United Kingdom of Great Britain and Northern IrelandIn the United Kingdom and Dependencies, other languages have been officially recognised as legitimate autochthonous languages under the European Charter for Regional or Minority Languages...
soft drink maker
Bottling company
A bottling company is a commercial enterprise whose output is the bottling of beverages for distribution.Many bottling companies are franchisees of corporations such as Coca-Cola and PepsiCo who distribute the beverage in a specific geographic region...
Hiram Codd
Hiram Codd
Hiram Codd was an English engineer. In 1872, he patented a bottle filled under gas pressure which pushed a marble against a rubber washer in the neck, creating a perfect seal.-Early life:...
of
Camberwell
Camberwell
Camberwell is a district of south London, England, and forms part of the London Borough of Southwark. It is a built-up inner city district located southeast of Charing Cross. To the west it has a boundary with the London Borough of Lambeth.-Toponymy:...
, London, designed and patented a bottle designed specifically for
carbonated
Carbonation
Carbonation is the process of dissolving carbon dioxide in water. The process usually involves carbon dioxide under high pressure. When the pressure is reduced, the carbon dioxide is released from the solution as small bubbles, which cause the solution to "fizz." This effect is seen in carbonated...
drinks. The
Codd-neck bottle
was designed and manufactured to enclose a
marble
Marbles
A marble is a small spherical toy usually made from glass, clay, steel, or agate. These balls vary in size. Most commonly, they are about ½ inch in diameter, but they may range from less than ¼ inch to over 3 inches , while some art glass marbles fordisplay purposes are over 12 inches ...
and a
rubber
Rubber
Natural rubber, also called India rubber or caoutchouc, is an elastomer that was originally derived from latex, a milky colloid produced by some plants. The plants would be 'tapped', that is, an incision made into the bark of the tree and the sticky, milk colored latex sap collected and refined...
washer/gasket
Washer (mechanical)
A washer is a thin plate with a hole that is normally used to distribute the load of a threaded fastener, such as a screw or nut. Other uses are as a spacer, spring , wear pad, preload indicating device, locking device, and to reduce vibration...
in the neck. The bottles were filled upside down, and pressure of the
gas
Gas
Gas is one of the three classical states of matter . Near absolute zero, a substance exists as a solid. As heat is added to this substance it melts into a liquid at its melting point , boils into a gas at its boiling point, and if heated high enough would enter a plasma state in which the electrons...
in the bottle forced the marble against the washer, sealing in the carbonation. The bottle was pinched into a special shape, as can be seen in the photo to the right, to provide a chamber into which the marble was pushed to open the bottle. This prevented the marble from blocking the neck as the drink was poured
Soon after its introduction, the bottle became extremely popular with the soft drink and
brewing
Brewing
Brewing is the production of beer through steeping a starch source in water and then fermenting with yeast. Brewing has taken place since around the 6th millennium BCE, and archeological evidence suggests that this technique was used in ancient Egypt...
industries mainly in
Europe
Europe
Europe is, by convention, one of the world's seven continents. Comprising the westernmost peninsula of Eurasia, Europe is generally 'divided' from Asia to its east by the watershed divides of the Ural and Caucasus Mountains, the Ural River, the Caspian and Black Seas, and the waterways connecting...
,
Asia
Asia
Asia is the world's largest and most populous continent, located primarily in the eastern and northern hemispheres. It covers 8.7% of the Earth's total surface area and with approximately 3.879 billion people, it hosts 60% of the world's current human population...
and
Australasia
Australasia
Australasia is a region of Oceania comprising Australia, New Zealand, the island of New Guinea, and neighbouring islands in the Pacific Ocean. The term was coined by Charles de Brosses in Histoire des navigations aux terres australes...
, though some
alcohol
Alcohol
In chemistry, an alcohol is an organic compound in which the hydroxy functional group is bound to a carbon atom. In particular, this carbon center should be saturated, having single bonds to three other atoms....
drinkers disdained the use of the bottle. One
etymology
Etymology
Etymology is the study of the history of words, their origins, and how their form and meaning have changed over time.For languages with a long written history, etymologists make use of texts in these languages and texts about the languages to gather knowledge about how words were used during...
of the term
codswallop
originates from beer sold in Codd bottles, though this is generally dismissed as a folk etymology.
The bottles were regularly produced for many decades, but gradually declined in usage. Since children smashed the bottles to retrieve the marbles, they are relatively rare and have become collector items; particularly in the UK. A cobalt coloured Codd bottle today fetches thousands of British pounds at auction. The Codd-neck design is still used for the
Japan
Japan
Japan is an island nation in East Asia. Located in the Pacific Ocean, it lies to the east of the Sea of Japan, China, North Korea, South Korea and Russia, stretching from the Sea of Okhotsk in the north to the East China Sea and Taiwan in the south...
ese soft drink
Ramune
Ramune
is a carbonated soft drink originally sold in Japan which was introduced in Kobe by Alexander Cameron Sim.-Bottle design:Ramune is widely known for the distinctive design of its bottle, often called Codd-neck bottles after the inventor, Hiram Codd. They are made of glass and sealed with a marble;...
and in the
India
India
India , officially the Republic of India , is a country in South Asia. It is the seventh-largest country by geographical area, the second-most populous country with over 1.2 billion people, and the most populous democracy in the world...
n drink called
Banta
Banta
Banta is a lemon or orange-flavoured drink popular in India.It is available in a Codd-neck bottle, a heavy glass bottle in which a round marble seals the mouth of the bottle by the pressure of the contents, instead of a cap...
.
Plastic bottles
Plastic bottle
Plastic bottle
A plastic bottle is a bottle constructed of plastic, with a neck that is narrower than its real body and an opening at the top. The mouth of the bottle is normally sealed with a plastic bottle cap. Plastic bottles are typically used to store liquids such as water, soft drinks, motor oil, cooking...
s range from very small sample bottles to large
carboy
Carboy
A carboy is a rigid container with a typical capacity of 5 to 15 gallons . Carboys are primarily used for transporting fluids, often water or chemicals.They are also used for in-home fermentation of beverages, often wine.-Brewing:...
s. The plastic is strain oriented in the stretch
blow molding
Blow molding
Blow molding is a manufacturing process by which hollow plastic parts are formed. In general, there are three main types of blow molding: extrusion blow molding, injection blow molding, and stretch blow molding. The blow molding process begins with melting down the plastic and forming it into a...
manufacturing process.
Aluminum bottles
The aluminum beverage bottle, launched in 2002, also known as a bottlecan, is made of recyclable aluminum with a resealable lug cap that fits onto a plastic sleeve.
Capsules
Some
jar
Jar
A jar is a rigid, approximately cylindrical container with a wide mouth or opening. Jars are typically made of glass, ceramic, or plastic. They are used for foods, cosmetics, medications, and chemicals that are relatively thick or viscous...
s and bottles have a metal cap or cover called a capsule. They were historically made of
lead
Lead
Lead is a main-group element in the carbon group with the symbol Pb and atomic number 82. Lead is a soft, malleable poor metal. It is also counted as one of the heavy metals. Metallic lead has a bluish-white color after being freshly cut, but it soon tarnishes to a dull grayish color when exposed...
, and protected the cork from being gnawed away by
rodent
Rodent
Rodentia is an order of mammals also known as rodents, characterised by two continuously growing incisors in the upper and lower jaws which must be kept short by gnawing....
s or infested with cork weevil. Because of research showing that trace amounts of lead could remain on the lip of the bottle, lead capsules (lead foil bottleneck wrappings) were slowly phased out, and by the 1990s (FDA 1992) most capsules were made of aluminum foil or plastic.
See also
Bottle sling

Bottle sling

The bottle sling is a knot which can be used to create a handle for a glass or ceramic container with a slippery narrow neck, as long as the neck widens slightly near the top....



Bottle wall

Bottle wall

A bottle wall is a wall made out of glass bottles and binding material.-Bottle Wall Construction:A building construction style which usually uses 1l glass bottles A bottle wall is a wall made out of glass bottles and binding material.-Bottle Wall Construction:A building construction style which...



Carinate

Carinate

This article is about a topic in pottery design. For the article about birds, see Carinatae.Carinate is a shape in pottery, glassware and artistic design usually applied to amphora or vases...



Concert bottling

Concert bottling

Bottling is when a concert audience throws various objects at the performers onstage. This generally happens at festivals when one act in the lineup is of a different genre or audience than the rest of the bands, especially festivals where the majority of bands are related to heavy metal and punk...


and Helmholtz resonance

Helmholtz resonance

Helmholtz resonance is the phenomenon of air resonance in a cavity, such as when one blows across the top of an empty bottle. The name comes from a device created in the 1850s by Hermann von Helmholtz, the "Helmholtz resonator", which he, the author of the classic study of acoustic science, used to...



Glass Container Industry
Plastic Bottles
Reusing water bottles
Screw cap
Spray bottle

Spray bottle

A spray bottle is a bottle that can squirt, spray or mist fluids. A common use for spray bottles is dispensing cool cleaners, cosmetics, and chemical specialties. Another wide use of spray bottles is mixing down concentrates such as pine oil with water....