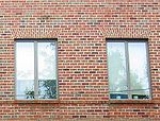 Window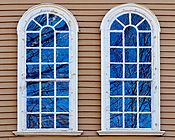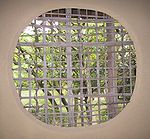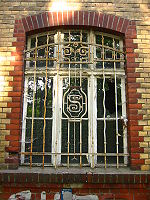 A
window
is a transparent or translucent opening in a
wall
Wall
A wall is a usually solid structure that defines and sometimes protects an area. Most commonly, a wall delineates a building and supports its superstructure, separates space in buildings into rooms, or protects or delineates a space in the open air...
or
door
Door
A door is a movable structure used to open and close off an entrance, typically consisting of a panel that swings on hinges or that slides or rotates inside of a space....
that allows the passage of light and, if not closed or sealed, air and sound. Windows are usually
glazed
Glazing
Glazing, which derives from the Middle English for 'glass', is a part of a wall or window, made of glass. Glazing also describes the work done by a professional "glazier"...
or covered in some other transparent or translucent material like
float glass
Float glass
Float glass is a sheet of glass made by floating molten glass on a bed of molten metal, typically tin, although lead and various low melting point alloys were used in the past. This method gives the sheet uniform thickness and very flat surfaces. Modern windows are made from float glass...
. Windows are held in place by frames, which prevent them from collapsing in. Many glazed windows may be opened, to allow ventilation, or closed, to exclude inclement weather.
Etymology
The word
window
originates from the Old Norse 'vindauga', from 'vindr – wind' and 'auga – eye', i.e. "
wind eye
". In
Norwegian
Norwegian language
Norwegian is a North Germanic language spoken primarily in Norway, where it is the official language. Together with Swedish and Danish, Norwegian forms a continuum of more or less mutually intelligible local and regional variants .These Scandinavian languages together with the Faroese language...
Nynorsk
Nynorsk
Nynorsk or New Norwegian is one of two official written standards for the Norwegian language, the other being Bokmål. The standard language was created by Ivar Aasen during the mid-19th century, to provide a Norwegian alternative to the Danish language which was commonly written in Norway at the...
and
Icelandic
Icelandic language
Icelandic is a North Germanic language, the main language of Iceland. Its closest relative is Faroese.Icelandic is an Indo-European language belonging to the North Germanic or Nordic branch of the Germanic languages. Historically, it was the westernmost of the Indo-European languages prior to the...
the Old Norse form has survived to this day (in Icelandic only as a less used synonym to
gluggi
), in
Swedish
Swedish language
Swedish is a North Germanic language, spoken by approximately 10 million people, predominantly in Sweden and parts of Finland, especially along its coast and on the Åland islands. It is largely mutually intelligible with Norwegian and Danish...
the word
vindöga
remains as a term for a hole through the roof of a hut, and in the Danish language 'vindue' and Norwegian
Bokmål
Bokmål
Bokmål is one of two official Norwegian written standard languages, the other being Nynorsk. Bokmål is used by 85–90% of the population in Norway, and is the standard most commonly taught to foreign students of the Norwegian language....
'vindu', the direct link to 'eye' is lost, just like for 'window'. The Danish (but not the Bokmål) word is pronounced fairly similarly to
window
.
Window
is first recorded in the early 13th century, and originally referred to an unglazed hole in a roof.
Window
replaced the
Old English
Old English language
Old English or Anglo-Saxon is an early form of the English language that was spoken and written by the Anglo-Saxons and their descendants in parts of what are now England and southeastern Scotland between at least the mid-5th century and the mid-12th century...
'eagþyrl', which literally means 'eye-hole,' and 'eagduru' 'eye-door'. Many Germanic languages however adopted the Latin word 'fenestra' to describe a window with glass, such as
standard
Standard language
A standard language is a language variety used by a group of people in their public discourse. Alternatively, varieties become standard by undergoing a process of standardization, during which it is organized for description in grammars and dictionaries and encoded in such reference works...
Swedish
Swedish language
Swedish is a North Germanic language, spoken by approximately 10 million people, predominantly in Sweden and parts of Finland, especially along its coast and on the Åland islands. It is largely mutually intelligible with Norwegian and Danish...
'fönster', or
German
German language
German is a West Germanic language, related to and classified alongside English and Dutch. With an estimated 90 – 98 million native speakers, German is one of the world's major languages and is the most widely-spoken first language in the European Union....
'Fenster'. The use of
window
in English is probably due to the Scandinavian influence on the English language by means of loanwords during the
Viking Age
Viking Age
Viking Age is the term for the period in European history, especially Northern European and Scandinavian history, spanning the late 8th to 11th centuries. Scandinavian Vikings explored Europe by its oceans and rivers through trade and warfare. The Vikings also reached Iceland, Greenland,...
. In English the word
fenester
was used as a parallel until the mid-18th century and
fenestration
is still used to describe the arrangement of windows within a
façade
Facade
A facade or façade is generally one exterior side of a building, usually, but not always, the front. The word comes from the French language, literally meaning "frontage" or "face"....
.
From Webster's 1828 Dictionary:
Window
, n. [G. The vulgar pronunciation is windor, as if from the Welsh gwyntdor, wind-door.]
History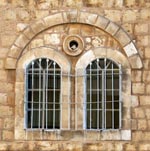 Primitive windows were just holes in a wall. Later, windows were covered with animal hide, cloth, or wood.
Shutters
Window shutter
A window shutter is a solid and stable window covering usually consisting of a frame of vertical stiles and horizontal rails...
that could be opened and closed came next. Over time, windows were built that both protected the inhabitants from the elements and transmitted light: mullioned glass windows, which joined multiple small pieces of glass with
lead
Lead
Lead is a main-group element in the carbon group with the symbol Pb and atomic number 82. Lead is a soft, malleable poor metal. It is also counted as one of the heavy metals. Metallic lead has a bluish-white color after being freshly cut, but it soon tarnishes to a dull grayish color when exposed...
ing,
paper
Paper
Paper is a thin material mainly used for writing upon, printing upon, drawing or for packaging. It is produced by pressing together moist fibers, typically cellulose pulp derived from wood, rags or grasses, and drying them into flexible sheets....
windows, flattened pieces of translucent animal horn, and plates of thinly sliced
marble
Marble
Marble is a metamorphic rock composed of recrystallized carbonate minerals, most commonly calcite or dolomite.Geologists use the term "marble" to refer to metamorphosed limestone; however stonemasons use the term more broadly to encompass unmetamorphosed limestone.Marble is commonly used for...
. The Romans were the first to use glass for windows. In Alexandria ca. 100 CE, cast glass windows, albeit with poor optical properties, began to appear. Mullioned glass windows were the windows of choice among
Europe
Europe
Europe is, by convention, one of the world's seven continents. Comprising the westernmost peninsula of Eurasia, Europe is generally 'divided' from Asia to its east by the watershed divides of the Ural and Caucasus Mountains, the Ural River, the Caspian and Black Seas, and the waterways connecting...
an well-to-do, whereas paper windows were economical and widely used in ancient
China
China
Chinese civilization may refer to:* China for more general discussion of the country.* Chinese culture* Greater China, the transnational community of ethnic Chinese.* History of China* Sinosphere, the area historically affected by Chinese culture...
,
Korea
Korea
Korea ) is an East Asian geographic region that is currently divided into two separate sovereign states — North Korea and South Korea. Located on the Korean Peninsula, Korea is bordered by the People's Republic of China to the northwest, Russia to the northeast, and is separated from Japan to the...
and
Japan
Japan
Japan is an island nation in East Asia. Located in the Pacific Ocean, it lies to the east of the Sea of Japan, China, North Korea, South Korea and Russia, stretching from the Sea of Okhotsk in the north to the East China Sea and Taiwan in the south...
. In England, glass became common in the windows of ordinary homes only in the early 17th century whereas windows made up of panes of flattened animal horn were used as early as the 14th century in Northern Britain. Modern-style floor-to-ceiling windows became possible only after the industrial
glass making
Glass production
Glass production involves two main methods - the float glass process, which produces sheet glass, and glassblowing which produces bottles and other containers.-Glass container factories:...
process was perfected.
Double-hung sash window
This
sash window
Sash window
A sash window or hung sash window is made of one or more movable panels or "sashes" that form a frame to hold panes of glass, which are often separated from other panes by narrow muntins...
is the traditional style of window in the United Kingdom, and many other places that were formerly colonized by the UK, with two parts (sashes) that overlap slightly and slide up and down inside the frame. The two parts are not necessarily the same size. Nowadays, most new double-hung sash windows use spring balances to support the sashes, but traditionally, counterweights held in boxes on either side of the window were used. These were and are attached to the sashes using pulleys of either braided cord or, later, purpose-made chain. Double-hung sash windows were traditionally often fitted with
shutters
Window shutter
A window shutter is a solid and stable window covering usually consisting of a frame of vertical stiles and horizontal rails...
. Sash windows may be fitted with
simplex
Simplex
In geometry, a simplex is a generalization of the notion of a triangle or tetrahedron to arbitrary dimension. Specifically, an n-simplex is an n-dimensional polytope which is the convex hull of its n + 1 vertices. For example, a 2-simplex is a triangle, a 3-simplex is a tetrahedron,...
hinge
Hinge
A hinge is a type of bearing that connects two solid objects, typically allowing only a limited angle of rotation between them. Two objects connected by an ideal hinge rotate relative to each other about a fixed axis of rotation. Hinges may be made of flexible material or of moving components...
s which allow the window to be locked into hinges on one side, while the rope on the other side is detached, allowing the window to be opened for escape or for cleaning.
Single-hung sash window
One sash is movable (usually the bottom one) and the other fixed. This is the earlier form of sliding sash window, and is also cheaper.
Horizontal sliding sash window
Has two or more sashes that overlap slightly but slide horizontally within the frame. In the UK, these are sometimes called
Yorkshire
Yorkshire
Yorkshire is a historic county of northern England and the largest in the United Kingdom. Because of its great size in comparison to other English counties, functions have been increasingly undertaken over time by its subdivisions, which have also been subject to periodic reform...
sash windows, presumably because of their traditional use in that county.
Casement window

A window with a hinged sash that swings in or out like a door comprising either a side-hung, top-hung (also called "awning window"; see below), or occasionally bottom-hung sash or a combination of these types, sometimes with fixed panels on one or more sides of the sash. In the USA, these are usually opened using a
crank
Crank (mechanism)
A crank is an arm attached at right angles to a rotating shaft by which reciprocating motion is imparted to or received from the shaft. It is used to change circular into reciprocating motion, or reciprocating into circular motion. The arm may be a bent portion of the shaft, or a separate arm...
, but in parts of Europe they tend to use projection friction stays and
espagnolette
Espagnolette
An espagnolette is a locking device, normally mounted on the vertical frame of a French door or casement window. A handle or knob is connected to a metal rod mounted to the surface of the frame, at about three or four feet above the floor. Operating the handle rotates the rod, which has hooks at...
locking. Formerly, plain hinges were used with a casement stay.
Handing
Handing
A door's handing describes the direction in which it swings. Doors can be either right or left handed and be "inswinging" or "outswinging".To determine a door's handing, stand facing the closed door on the side of the door that will swing toward you as it is opened. If the door handle is on your...
applies to casement windows to determine direction of swing; a casement window may be left-handed, right-handed, or double. The casement window is the dominant type now found in the UK and parts of Europe.
Awning window
An awning window is a casement window that is hung horizontally,
hinge
Hinge
A hinge is a type of bearing that connects two solid objects, typically allowing only a limited angle of rotation between them. Two objects connected by an ideal hinge rotate relative to each other about a fixed axis of rotation. Hinges may be made of flexible material or of moving components...
d on top, so that it swings outward like an
awning
Awning
An awning or overhang is a secondary covering attached to the exterior wall of a building. It is typically composed of canvas woven of acrylic, cotton or polyester yarn, or vinyl laminated to polyester fabric that is stretched tightly over a light structure of aluminium, iron or steel, possibly...
. Emilie Poisson designed this window.
Hopper window
A hopper window is a bottom hung casement window that opens similar to a draw bridge typically opening to the outside.
Tilt and slide window
A window (more usually a door-sized window) where the sash tilts inwards at the top and then slides horizontally behind the fixed pane.
Tilt and turn window
A window which can either tilt inwards at the top, or can open inwards hinged at the side. This is by far the most common type of window in Germany, its country of origin. It is also widespread in many other European countries.
Transom window
A window above a door; in an exterior door the
transom
Transom (architectural)
In architecture, a transom is the term given to a transverse beam or bar in a frame, or to the crosspiece separating a door or the like from a window or fanlight above it. Transom is also the customary U.S. word used for a transom light, the window over this crosspiece...
window is often fixed, in an interior door it can open either by hinges at top or bottom, or rotate on hinges. It provided ventilation before forced air heating and cooling. A fan-shaped transom is known as a fanlight, especially in the British Isles.
Jalousie window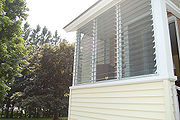 Also known as a
louver
Louver
A louver or louvre , from the French l'ouvert; "the open one") is a window, blind or shutter with horizontal slats that are angled to admit light and air, but to keep out rain, direct sunshine, and noise...
ed window, the jalousie window consists of parallel slats of glass or acrylic that open and close like a Venetian blind, usually using a crank or a lever. They are used extensively in tropical architecture. A jalousie door is a door with a jalousie window.
Clerestory window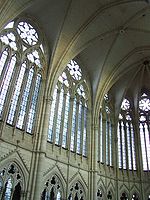 A window set in a
roof
Roof
A roof is the covering on the uppermost part of a building. A roof protects the building and its contents from the effects of weather. Structures that require roofs range from a letter box to a cathedral or stadium, dwellings being the most numerous....
structure or high in a wall, used for
daylighting
Daylighting
Daylighting is the practice of placing windows or other openings and reflective surfaces so that during the day natural light provides effective internal lighting. Particular attention is given to daylighting while designing a building when the aim is to maximize visual comfort or to reduce energy...
.
Skylight
A flat or slope window used for daylighting, built into a roof structure that is out of reach.
Roof window
A sloped window used for
daylighting
Daylighting
Daylighting is the practice of placing windows or other openings and reflective surfaces so that during the day natural light provides effective internal lighting. Particular attention is given to daylighting while designing a building when the aim is to maximize visual comfort or to reduce energy...
, built into a roof structure.
Roof lantern
A roof lantern is a multi-paned glass structure, resembling a small building, built on a roof for day or moon light. Sometimes includes an additional
clerestory
Clerestory
Clerestory is an architectural term that historically denoted an upper level of a Roman basilica or of the nave of a Romanesque or Gothic church, the walls of which rise above the rooflines of the lower aisles and are pierced with windows. In modern usage, clerestory refers to any high windows...
. May also be called a
cupola
Cupola
In architecture, a cupola is a small, most-often dome-like, structure on top of a building. Often used to provide a lookout or to admit light and air, it usually crowns a larger roof or dome....
.
Bay window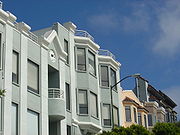 A multi-panel window, with at least three panels set at different angles to create a protrusion from the wall line.
Oriel window
A window with many panels. It is most often seen in Tudor-style houses and monasteries. An oriel window projects from the wall and does not extend to the ground. Oriel windows originated as a form of porch. They are often supported by brackets or corbels. Buildings in the Gothic Revival style often have oriel windows.
Thermal window
Thermal, or Diocletian, windows are large semicircular windows (or niches) which are usually divided into three lights (window compartments) by two vertical
mullion
Mullion
A mullion is a vertical structural element which divides adjacent window units. The primary purpose of the mullion is as a structural support to an arch or lintel above the window opening. Its secondary purpose may be as a rigid support to the glazing of the window...
s. The central compartment is often wider than the two side lights on either side of it.
Fixed window
A window that cannot be opened, whose function is limited to allowing light to enter (Unlike an unfixed window, which can open and close). Clerestory windows are often fixed. Transom windows may be fixed or operable. This type of window is used in situations where light or vision alone is needed as no ventilation is possible through fixed windows.
Picture window
A very large fixed window in a wall, typically without glazing bars or glazed with only perfunctory glazing bars near the edge of the window. Picture windows are intended to provide an unimpeded view, as if framing a picture.
Multi-lit window
A window glazed with small panes of glass separated by wooden or lead "glazing bars", or "muntins", arranged in a decorative "glazing pattern" often dictated by the architectural style at use. Due to the historic unavailability of large panes of glass, this was the prevailing style of window until the beginning of the 20th century, and is traditionally still used today.
Emergency exit/egress window
A window big enough and low enough so that occupants can escape through the opening in an emergency, such as a
fire
Fire
Fire is the rapid oxidation of a material in the chemical process of combustion, releasing heat, light, and various reaction products. Slower oxidative processes like rusting or digestion are not included by this definition....
. In the United States, exact specifications for emergency windows in bedrooms are given in many building codes. Vehicles, such as
bus
Bus
A bus is a road vehicle designed to carry passengers. Buses can have a capacity as high as 300 passengers. The most common type of bus is the single-decker bus, with larger loads carried by double-decker buses and articulated buses, and smaller loads carried by midibuses and minibuses; coaches are...
es and
aircraft
Aircraft
An aircraft is a vehicle that is able to fly by gaining support from the air, or, in general, the atmosphere of a planet. An aircraft counters the force of gravity by using either static lift or by using the dynamic lift of an airfoil, or in a few cases the downward thrust from jet engines.Although...
, frequently have emergency exit windows as well.
Stained glass window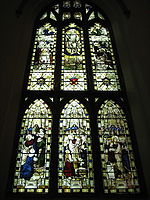 A window composed of pieces of colored glass, transparent, translucent or
opaque
Opacity (optics)
Opacity is the measure of impenetrability to electromagnetic or other kinds of radiation, especially visible light. In radiative transfer, it describes the absorption and scattering of radiation in a medium, such as a plasma, dielectric, shielding material, glass, etc...
, frequently portraying persons or scenes. Typically the glass in these windows is separated by lead glazing bars. Stained glass windows were popular in
Victorian
Victorian era
The Victorian era of British history was the period of Queen Victoria's reign from 20 June 1837 until her death on 22 January 1901. It was a long period of peace, prosperity, refined sensibilities and national self-confidence...
houses and some
Wrightian
Frank Lloyd Wright
Frank Lloyd Wright was an American architect, interior designer, writer and educator, who designed more than 1,000 structures and completed 500 works. Wright believed in designing structures which were in harmony with humanity and its environment, a philosophy he called organic architecture...
houses, and are especially common in churches.
French window
A French window, also known as a
French door
is really a type of
door
Door
A door is a movable structure used to open and close off an entrance, typically consisting of a panel that swings on hinges or that slides or rotates inside of a space....
, but one which has one or more panes of glass set into the whole length of the door, meaning it also functions as a window. In France, they are known as 'porte-fenêtre'. In
Italy
Italy
Italy , officially the Italian Republic languages]] under the European Charter for Regional or Minority Languages. In each of these, Italy's official name is as follows:;;;;;;;;), is a unitary parliamentary republic in South-Central Europe. To the north it borders France, Switzerland, Austria and...
they are very common, usually overlooking a
terrace
Terrace (building)
A terrace is an outdoor, occupiable extension of a building above ground level. Although its physical characteristics may vary to a great degree, a terrace will generally be larger than a balcony and will have an "open-top" facing the sky...
, known as
portafinestra
(door-window).
Technical terms
The term "lite", or "light", refers to a glass pane, several of which may be used to construct the final window product. For example, a sash unit, consisting of at least one sliding glass component, is typically composed of two lites, while a fixed window is composed of one lite. The terms "single-light", "double-light" etc. refer to the number of these glass panes in a window.
The lites in a window sash are divided horizontally and vertically by narrow strips of wood or metal called muntins. More substantial load bearing or structural vertical dividers are called mullions, with the corresponding horizontal dividers referred to as transoms.
In the United States, the term
replacement window
means a framed window designed to slip inside the original window frame from the inside after the old sashes are removed. In Europe, however, it usually means a complete window including a replacement outer frame.
The U.S., the term
new construction window
means a window with a nailing fin designed to be inserted into a rough opening from the outside before applying siding and inside trim. A nailing fin is a projection on the outer frame of the window in the same plane as the glazing, which overlaps the prepared opening, and can thus be 'nailed' into place.
In the UK and mainland Europe, windows in new-build houses are usually fixed with long screws into expanding plastic plugs in the brickwork. A gap of up to 13mm is left around all four sides, and filled with expanding polyurethane foam. This makes the window fixing weatherproof but allows for expansion due to heat.
A beam over the top of a window is known as the lintel or
transom
Transom (architectural)
In architecture, a transom is the term given to a transverse beam or bar in a frame, or to the crosspiece separating a door or the like from a window or fanlight above it. Transom is also the customary U.S. word used for a transom light, the window over this crosspiece...
, while a beam below the bottom of a window is known as the
sill plate
Sill plate
A sill plate or sole plate in construction and architecture is the bottom horizontal member of a wall or building to which vertical members are attached. Sill plates are usually composed of lumber. It usually comes in sizes of 2×4, 2×6, 2×8, and 2×10. In the platform framing method the sill plate...
or
windowsill
.
In the US, the
NFRC
National Fenestration Rating Council
The National Fenestration Rating Council is a 5013, non-profit organization that provides performance ratings on windows, doors, and skylights. NFRC administers a certification and labeling program for the energy-efficiency of windows, doors, and skylights.NFRC helps determine how well a product...
Window Label lists the following terms:
Window construction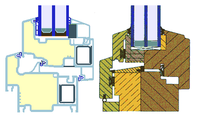 Windows can be a significant source of heat transfer. Therefore,
insulated glazing units
Insulated glazing
Insulated glazing also known as double glazing are double or triple glass window panes separated by an air or other gas filled space to reduce heat transfer across a part of the building envelope....
consist of two or more panes to reduce the transfer of heat.
Grids or Muntins
These are the pieces of framing that separate a larger window into smaller panes. In older windows, large panes of glass were quite expensive, so muntins allowed smaller panes to fill a larger space. In modern windows, light-colored muntins still provide a useful function by reflecting some of the light going through the window, making the window itself a source of diffuse light (instead of just the surfaces and objects illuminated within the room). By increasing the indirect illumination of surfaces near the window, muntins tend to brighten the area immediately around a window and reduce the contrast of shadows within the room.
Frame and sash construction
Frames and sashes can be made of the following materials:
Material
thermal resistance
Durability
Maintenance
Cost
Recycled content
Comment
Wood

Wood

Wood is a hard, fibrous tissue found in many trees. It has been used for hundreds of thousands of years for both fuel and as a construction material. It is an organic material, a natural composite of cellulose fibers embedded in a matrix of lignin which resists compression...



very good
variable
high
high
low
shrinks and swells with humidity changes
vinyl or PVC

Polyvinyl chloride

Polyvinyl chloride, commonly abbreviated PVC, is a thermoplastic polymer. It is a vinyl polymer constructed of repeating vinyl groups having one hydrogen replaced by chloride. Polyvinyl chloride is the third most widely produced plastic, after polyethylene and polypropylene. PVC is widely used in...



very good
good*
low
low
very low
Aluminum
bad**
good
very low
low
typically > 95%
used in most large structures
Steel

Steel

Steel is an alloy that consists mostly of iron and has a carbon content between 0.2% and 2.1% by weight, depending on the grade. Carbon is the most common alloying material for iron, but various other alloying elements are used, such as manganese, chromium, vanadium, and tungsten...



medium
superior
very low
high
> 98%
typically welded at corner joints
Fiberglass

Fiberglass

Glass fiber is a material consisting of numerous extremely fine fibers of glass.Glassmakers throughout history have experimented with glass fibers, but mass manufacture of glass fiber was only made possible with the invention of finer machine tooling...



very good
very good*
very low
high
medium
*
Vinyl and fiberglass frames perform well in accelerated weathering tests. Because vinyl is not as strong as other materials, some vinyl frames are reinforced with metal or composite materials to improve their structural strength.
**
Modern aluminium window frames are typically separated by a
thermal break
Thermal break
A thermal break or thermal barrier is an element of low thermal conductivity placed in an assembly to reduce or prevent the flow of thermal energy between conductive materials....
made of a polyamide. This greatly increases thermal resistance, while retaining virtually all of the structural strength.
Composites
Composite material
Composite materials, often shortened to composites or called composition materials, are engineered or naturally occurring materials made from two or more constituent materials with significantly different physical or chemical properties which remain separate and distinct at the macroscopic or...
may combine materials to obtain aesthetics of one material with the functional benefits of another.
Glazing and filling
Low-emissivity
Low-emissivity
Low emissivity - actually low thermal emissivity - is a quality of a surface that radiates, or emits, low levels of radiant thermal energy. All materials absorb, reflect and emit radiant energy...
coated panes reduce heat transfer by
radiation
Radiation
In physics, radiation is a process in which energetic particles or energetic waves travel through a medium or space. There are two distinct types of radiation; ionizing and non-ionizing...
, which, depending on which surface is coated, helps prevent heat loss (in cold climates) or heat gains (in warm climates).
High thermal resistance can be obtained by evacuating or filling the insulated glazing units with gases such as
argon
Argon
Argon is a chemical element represented by the symbol Ar. Argon has atomic number 18 and is the third element in group 18 of the periodic table . Argon is the third most common gas in the Earth's atmosphere, at 0.93%, making it more common than carbon dioxide...
or
krypton
Krypton
Krypton is a chemical element with the symbol Kr and atomic number 36. It is a member of Group 18 and Period 4 elements. A colorless, odorless, tasteless noble gas, krypton occurs in trace amounts in the atmosphere, is isolated by fractionally distilling liquified air, and is often used with other...
, which reduces
conductive
Heat conduction
In heat transfer, conduction is a mode of transfer of energy within and between bodies of matter, due to a temperature gradient. Conduction means collisional and diffusive transfer of kinetic energy of particles of ponderable matter . Conduction takes place in all forms of ponderable matter, viz....
heat transfer due to their low thermal conductivity. Performance of such units depends on good window seals and meticulous frame construction to prevent entry of air and loss of efficiency.
Modern double-pane and triple-pane windows often include one or more low-e coatings to reduce the window's U-factor (its insulation value, specifically its rate of heat loss). In general, soft-coat low-e coatings tend to result in a lower solar heat gain coefficient (SHGC) than hard-coat low-e coatings.
Modern windows are usually glazed with one large sheet of glass per sash, while windows in the past were glazed with multiple panes separated by "glazing bars", or "
muntin
Muntin
Muntin or Muntin bar is a strip of wood or metal separating and holding panes of glass in a window. Muntins are also called "glazing bars", "muntin bars", or "sash bars". Muntins can be found in doors, windows and furniture, typically in western styles of architecture...
s", due to the unavailability of large sheets of glass. Today, glazing bars tend to be decorative, separating windows into small panes of glass even though larger panes of glass are available, generally in a pattern dictated by the architectural style at use. Glazing bars are typically wooden, but occasionally lead glazing bars soldered in place are used for more intricate glazing patterns.
Other construction details
Many windows have movable
window covering
Window covering
Window coverings are material used to cover a window to manage sunlight, to provide additional weatherproofing, to ensure privacy or for purely decorative purposes....
s such as blinds or
curtain
Curtain
A curtain is a piece of cloth intended to block or obscure light, or drafts, or water in the case of a shower curtain. Curtains hung over a doorway are known as portières...
s to keep out light, provide additional insulation, or ensure privacy.
Windows allow natural light to enter, but too much can have negative effects such as glare and heat gain. Additionally, while windows allow the user to see the outside, there needs to be a way to maintain privacy on in the inside. Window coverings are practical accommodations for these issues.
Sun incidence angle
Historically, windows are designed with surfaces parallel to vertical building walls. Such a design allows considerable solar light and heat penetration due to the most commonly occurring incidence of sun angles. In
passive solar building design
Passive solar building design
In passive solar building design, windows, walls, and floors are made to collect, store, and distribute solar energy in the form of heat in the winter and reject solar heat in the summer...
, an extended eave is typically used to control the amount of solar light and heat entering the window(s).
An alternate method would be to calculate a more optimum angle for mounting windows which accounts for summer sun load minimization, with consideration of the actual latitude of the particular building. An example where this process has been implemented is the
Dakin Building
Dakin Building
The Dakin Building is an architectural award-winning class A office building on the San Francisco Bay in Brisbane, California. Serving as a corporate headquarters building for several companies of national prominence, it was built from the profits of the Garfield character whose licensed products...
,
Brisbane, California
Brisbane, California
Brisbane is a small city located in the northern part of San Mateo County, California on the lower slopes of San Bruno Mountain. It is on the northeastern edge of South San Francisco, next to the San Francisco Bay and near the San Francisco International Airport.The population was 4,282 as of...
; much of the fenestration has been designed to reflect summer heat load and assist in preventing summer interior
over-illumination
Over-illumination
Over-illumination is the presence of lighting intensity beyond that required for a specified activity. Over-illumination was commonly ignored between 1950 and 1995, especially in office and retail environments; only since then has the interior design community begun to reconsider this practice.The...
and glare, by designing window canting to achieve a near 45 degree angle.
Solar window
Photovoltaïc windows not only provide a clear view and illuminate rooms, but also use sunlight to efficiently help generate electricity for the building. In most cases, translucent photovoltaïc cells are used.
Window coverings
A
window covering
Window covering
Window coverings are material used to cover a window to manage sunlight, to provide additional weatherproofing, to ensure privacy or for purely decorative purposes....
is a shading or screening device that can be used for multiple purposes. For example, some window coverings are used to control solar heat gain and glare. Typically, there are external shading devices and internal shading devices. Low-e
window film
Window film
There are many types of window tint available in the market for a wide variety of uses from solar heat reduction to UV protection, privacy to safety and security, decorative applications to heat retention.- Primary properties :...
is a low-cost alternative to window replacement to transform existing poorly-insulating windows into energy-efficient windows.
For high-rise buildings, smart glass can be used as an alternative.
See also
External links