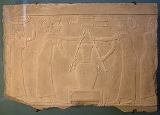 Perfume
Perfume
(ˈpɝː.fjuːm, French
parfum
paʁ.fœ̃) is a mixture of fragrant
essential oil
Essential oil
An essential oil is a concentrated hydrophobic liquid containing volatile aroma compounds from plants. Essential oils are also known as volatile oils, ethereal oils or aetherolea, or simply as the "oil of" the plant from which they were extracted, such as oil of clove...
s and/or
aroma compound
Aroma compound
An aroma compound, also known as odorant, aroma, fragrance or flavor, is a chemical compound that has a smell or odor...
s,
fixative
Fixative (perfumery)
In perfumery, a fixative is a natural or synthetic substance used to reduce the evaporation rate and improve stability when added to more volatile components. This allows the final product to last longer while keeping its original fragrance. Fixatives are indispensable commodities to the perfume...
s, and
solvent
Solvent
A solvent is a liquid, solid, or gas that dissolves another solid, liquid, or gaseous solute, resulting in a solution that is soluble in a certain volume of solvent at a specified temperature...
s used to give the human body, animals, objects, and living spaces "a pleasant
scent
Odor
An odor or odour is caused by one or more volatilized chemical compounds, generally at a very low concentration, that humans or other animals perceive by the sense of olfaction. Odors are also commonly called scents, which can refer to both pleasant and unpleasant odors...
". The odoriferous compounds that make up a perfume can be manufactured synthetically or extracted from plant or animal sources.
Perfumes have been known to exist in some of the earliest human civilizations either through ancient texts or from archaeological digs.