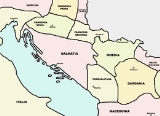 Salona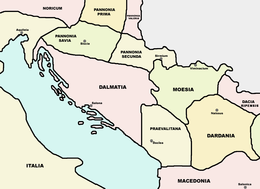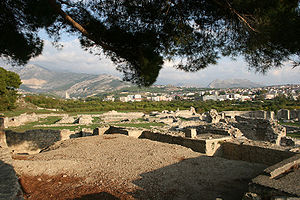 Salona
was an ancient
Illyria
Illyria
In classical antiquity, Illyria was a region in the western part of the Balkan Peninsula inhabited by the Illyrians....
n Delmati city in the first millennium BC. The Greeks had set up an
emporion
(marketplace) there. After the conquest by the Romans, Salona became the capital of the
Roman
Roman Empire
The Roman Empire was the post-Republican period of the ancient Roman civilization, characterised by an autocratic form of government and large territorial holdings in Europe and around the Mediterranean....
province of
Dalmatia
Dalmatia
Dalmatia is a historical region on the eastern coast of the Adriatic Sea. It stretches from the island of Rab in the northwest to the Bay of Kotor in the southeast. The hinterland, the Dalmatian Zagora, ranges from fifty kilometers in width in the north to just a few kilometers in the south....
. When the
Roman Emperor
Roman Emperor
The Roman emperor was the ruler of the Roman State during the imperial period . The Romans had no single term for the office although at any given time, a given title was associated with the emperor...
Diocletian
Diocletian
Diocletian |latinized]] upon his accession to Diocletian . c. 22 December 244 – 3 December 311), was a Roman Emperor from 284 to 305....
retired, he erected a monumental palace nearby; this massive structure, known as
Diocletian's Palace
Diocletian's Palace
Diocletian's Palace is a building in Split, Croatia, that was built by the Roman emperor Diocletian at the turn of the fourth century AD.Diocletian built the massive palace in preparation for his retirement on 1 May 305 AD. It lies in a bay on the south side of a short peninsula running out from...
, became the core of the modern city of Split. In present times Salona (or
Salon
) is situated near today's town of Solin (near
Split
Split (city)
Split is a Mediterranean city on the eastern shores of the Adriatic Sea, centered around the ancient Roman Palace of the Emperor Diocletian and its wide port bay. With a population of 178,192 citizens, and a metropolitan area numbering up to 467,899, Split is by far the largest Dalmatian city and...
).
Salona was largely destroyed in the invasions of the
Avars
Eurasian Avars
The Eurasian Avars or Ancient Avars were a highly organized nomadic confederacy of mixed origins. They were ruled by a khagan, who was surrounded by a tight-knit entourage of nomad warriors, an organization characteristic of Turko-Mongol groups...
and Slavs first in 614. The Romans re-occupied Diocletian's Palace in the year
639
639
Year 639 was a common year starting on Friday of the Julian calendar. The denomination 639 for this year has been used since the early medieval period, when the Anno Domini calendar era became the prevalent method in Europe for naming years.- Europe :* Clovis II succeeds Dagobert I as king of the...
AD.