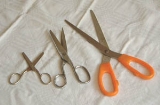 Scissors

Scissors
are hand-operated cutting instruments. They consist of a pair of
metal
Metal
A metal , is an element, compound, or alloy that is a good conductor of both electricity and heat. Metals are usually malleable and shiny, that is they reflect most of incident light...
blade
Blade
A blade is that portion of a tool, weapon, or machine with a cutting edge and/or a pointed tip that is designed to cut and/or puncture, stab, slash, chop, slice, thrust, or scrape animate or inanimate surfaces or materials...
s pivoted so that the sharpened edges slide against each other when the handles (bows) opposite to the pivot are closed. Scissors are used for cutting various thin materials, such as
paper
Paper
Paper is a thin material mainly used for writing upon, printing upon, drawing or for packaging. It is produced by pressing together moist fibers, typically cellulose pulp derived from wood, rags or grasses, and drying them into flexible sheets....
,
cardboard
Paperboard
Paperboard is a thick paper based material. While there is no rigid differentiation between paper and paperboard, paperboard is generally thicker than paper. According to ISO standards, paperboard is a paper with a basis weight above 224 g/m2, but there are exceptions. Paperboard can be single...
,
metal foil
Metal leaf
Metal leaf, also called composition leaf or schlagmetal, is a thin foil used for decoration. Metal leaf can come in many different shades. Some metal leaf may look like gold leaf but not contain any real gold...
, thin
plastic
Plastic
A plastic material is any of a wide range of synthetic or semi-synthetic organic solids used in the manufacture of industrial products. Plastics are typically polymers of high molecular mass, and may contain other substances to improve performance and/or reduce production costs...
, cloth,
rope
Rope
A rope is a length of fibres, twisted or braided together to improve strength for pulling and connecting. It has tensile strength but is too flexible to provide compressive strength...
, and
wire
Wire
A wire is a single, usually cylindrical, flexible strand or rod of metal. Wires are used to bear mechanical loads and to carry electricity and telecommunications signals. Wire is commonly formed by drawing the metal through a hole in a die or draw plate. Standard sizes are determined by various...
. Scissors can also be used to cut
hair
Hair
Hair is a filamentous biomaterial, that grows from follicles found in the dermis. Found exclusively in mammals, hair is one of the defining characteristics of the mammalian class....
and
food
Food
Food is any substance consumed to provide nutritional support for the body. It is usually of plant or animal origin, and contains essential nutrients, such as carbohydrates, fats, proteins, vitamins, or minerals...
. Scissors and
shears
Shears
Shears may mean:* trauma shears, scissors used by emergency medical personnel to quickly and safely cut clothing* kitchen shears, a kind of scissors* pinking shears, a kind of scissors* blade shears, typically used for shearing animals...
are functionally equivalent, but larger implements tend to be called shears.
There are many types of scissors and shears for different purposes. For example, children's scissors, used only on paper, have dull blades and rounded corners to ensure safety. Scissors used to cut hair or fabric must be much sharper. The largest shears used to cut metal or to trim shrubs must have very strong, sharp blades.
Specialized scissors include
sewing
Sewing
Sewing is the craft of fastening or attaching objects using stitches made with a needle and thread. Sewing is one of the oldest of the textile arts, arising in the Paleolithic era...
scissors, which often have one sharp point and one blunt point for intricate cutting of fabric, and
nail
Nail (anatomy)
A nail is a horn-like envelope covering the dorsal aspect of the terminal phalanges of fingers and toes in humans, most non-human primates, and a few other mammals. Nails are similar to claws, which are found on numerous other animals....
scissors, which sometimes have curved blades for cutting fingernails and toenails.
Special kinds of shears include
pinking shears
Pinking shears
Pinking shears are scissors, the blades of which are sawtoothed instead of straight. They leave a zigzag pattern instead of a straight edge.Pinking shears have a utilitarian function for cutting woven cloth. Cloth edges that are unfinished will easily fray, the weave becoming undone and threads...
, which have notched blades that cut cloth to give it a wavy edge, and thinning shears, which have teeth that cut every second hair strand, rather than every strand giving the illusion of thinner hair.
Terminology
The noun "scissors" is treated as a
plural noun
Plurale tantum
A plurale tantum is a noun that appears only in the plural form and does not have a singular variant for referring to a single object...
, and therefore takes a plural verb ("these scissors are"). Alternatively, this tool is also referred to as "a pair of scissors", in which case it (a pair) is singular and therefore takes a singular verb ("this pair of scissors is").
The word
shears
is used to describe similar instruments that are larger in size and for heavier cutting. Geographical opinions vary as to the size at which 'scissors' become 'shears', but this is often at between six to eight inches in length.
History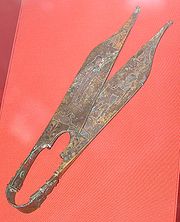 It is most likely that scissors were invented around 1500 BC in
ancient Egypt
Ancient Egypt
Ancient Egypt was an ancient civilization of Northeastern Africa, concentrated along the lower reaches of the Nile River in what is now the modern country of Egypt. Egyptian civilization coalesced around 3150 BC with the political unification of Upper and Lower Egypt under the first pharaoh...
. The earliest known scissors appeared in
Mesopotamia
Mesopotamia
Mesopotamia is a toponym for the area of the Tigris–Euphrates river system, largely corresponding to modern-day Iraq, northeastern Syria, southeastern Turkey and southwestern Iran.Widely considered to be the cradle of civilization, Bronze Age Mesopotamia included Sumer and the...
3,000 to 4,000 years ago. These were of the 'spring scissor' type comprising two
bronze
Bronze
Bronze is a metal alloy consisting primarily of copper, usually with tin as the main additive. It is hard and brittle, and it was particularly significant in antiquity, so much so that the Bronze Age was named after the metal...
blades connected at the handles by a thin, flexible strip of curved bronze which served to hold the blades in alignment, to allow them to be squeezed together, and to pull them apart when released.
Spring scissors continued to be used in Europe until the sixteenth century. However, pivoted scissors of bronze or
iron
Iron
Iron is a chemical element with the symbol Fe and atomic number 26. It is a metal in the first transition series. It is the most common element forming the planet Earth as a whole, forming much of Earth's outer and inner core. It is the fourth most common element in the Earth's crust...
, in which the blades were pivoted at a point between the tips and the handles, the direct ancestor of modern scissors, were invented by the
Romans
Roman Empire
The Roman Empire was the post-Republican period of the ancient Roman civilization, characterised by an autocratic form of government and large territorial holdings in Europe and around the Mediterranean....
around AD 100. They entered common use not only in ancient Rome, but also in
China
China
Chinese civilization may refer to:* China for more general discussion of the country.* Chinese culture* Greater China, the transnational community of ethnic Chinese.* History of China* Sinosphere, the area historically affected by Chinese culture...
,
Japan
Japan
Japan is an island nation in East Asia. Located in the Pacific Ocean, it lies to the east of the Sea of Japan, China, North Korea, South Korea and Russia, stretching from the Sea of Okhotsk in the north to the East China Sea and Taiwan in the south...
, and
Korea
Korea
Korea ) is an East Asian geographic region that is currently divided into two separate sovereign states — North Korea and South Korea. Located on the Korean Peninsula, Korea is bordered by the People's Republic of China to the northwest, Russia to the northeast, and is separated from Japan to the...
, and the idea is still used in almost all modern scissors.
Early manufacture
During the
Middle Ages
Middle Ages
The Middle Ages is a periodization of European history from the 5th century to the 15th century. The Middle Ages follows the fall of the Western Roman Empire in 476 and precedes the Early Modern Era. It is the middle period of a three-period division of Western history: Classic, Medieval and Modern...
and
Renaissance
Renaissance
The Renaissance was a cultural movement that spanned roughly the 14th to the 17th century, beginning in Italy in the Late Middle Ages and later spreading to the rest of Europe. The term is also used more loosely to refer to the historical era, but since the changes of the Renaissance were not...
, spring scissors were made by heating a bar of iron or steel, then flattening and shaping its ends into blades on an anvil. The center of the bar was heated, bent to form the spring, then cooled and reheated to make it flexible.
William Whiteley & Sons (Sheffield) Ltd. is officially recognized as first starting the manufacture of scissors in the year 1760, although it is believed the business began trading even earlier. The first trade-mark, 332, was granted in 1791.
Pivoted scissors were not manufactured in large numbers until 1761, when Robert Hinchliffe produced the first pair of modern-day scissors made of hardened and polished cast steel. He lived in Cheney Square,
London
London
London is the capital city of :England and the :United Kingdom, the largest metropolitan area in the United Kingdom, and the largest urban zone in the European Union by most measures. Located on the River Thames, London has been a major settlement for two millennia, its history going back to its...
and was reputed to be the first person who put out a signboard proclaiming himself "fine scissor manufacturer".
During the nineteenth century, scissors were hand-forged with elaborately decorated handles. They were made by hammering steel on indented surfaces known as bosses to form the blades. The rings in the handles, known as bows, were made by punching a hole in the steel and enlarging it with the pointed end of an anvil.
In 1649, in a part of
Sweden
Sweden
Sweden , officially the Kingdom of Sweden , is a Nordic country on the Scandinavian Peninsula in Northern Europe. Sweden borders with Norway and Finland and is connected to Denmark by a bridge-tunnel across the Öresund....
that is now in
Finland
Finland
Finland , officially the Republic of Finland, is a Nordic country situated in the Fennoscandian region of Northern Europe. It is bordered by Sweden in the west, Norway in the north and Russia in the east, while Estonia lies to its south across the Gulf of Finland.Around 5.4 million people reside...
, an ironworks was founded in the "Fiskars" hamlet between
Helsinki
Helsinki
Helsinki is the capital and largest city in Finland. It is in the region of Uusimaa, located in southern Finland, on the shore of the Gulf of Finland, an arm of the Baltic Sea. The population of the city of Helsinki is , making it by far the most populous municipality in Finland. Helsinki is...
and
Turku
Turku
Turku is a city situated on the southwest coast of Finland at the mouth of the Aura River. It is located in the region of Finland Proper. It is believed that Turku came into existence during the end of the 13th century which makes it the oldest city in Finland...
. In 1830, a new owner started the first cutlery works in Finland, making, among other items, scissors with the
Fiskars
Fiskars
The Fiskars Corporation is a metal and consumer brands company founded in 1649 at Fiskars Bruk , a locality now in the town of Raseborg, Finland, about 100 km west of Helsinki on the old main road from Turku to Vyborg...
trademark. In 1967, Fiskars Corporation introduced new methods to scissors manufacturing.
Description and operation
A pair of scissors consists of two pivoted blades. In lower quality scissors the cutting edges are not particularly sharp; it is primarily the
shearing
Shearing (physics)
Shearing in continuum mechanics refers to the occurrence of a shear strain, which is a deformation of a material substance in which parallel internal surfaces slide past one another. It is induced by a shear stress in the material...
action between the two blades that cuts the material. In high quality scissors the blades can be both extremely sharp, and tension sprung - to increase the cutting and shearing tension only at the exact point where the blades meet. The hand movement (pushing with the thumb, pulling with the fingers in right handed use) can add to this tension. An ideal example is in high quality tailors scissors or shears, which need to be able perfectly cut (and not simply tear apart) delicate cloths such as chiffon and silk.
Child
Child
Biologically, a child is generally a human between the stages of birth and puberty. Some vernacular definitions of a child include the fetus, as being an unborn child. The legal definition of "child" generally refers to a minor, otherwise known as a person younger than the age of majority...
ren's scissors are usually not particularly sharp, and the tips of the blades are often blunted or 'rounded' for safety.
Mechanically, scissors are a first-class double-
lever
Lever
In physics, a lever is a rigid object that is used with an appropriate fulcrum or pivot point to either multiply the mechanical force that can be applied to another object or resistance force , or multiply the distance and speed at which the opposite end of the rigid object travels.This leverage...
with the pivot acting as the fulcrum. For cutting thick or heavy material, the
mechanical advantage
Mechanical advantage
Mechanical advantage is a measure of the force amplification achieved by using a tool, mechanical device or machine system. Ideally, the device preserves the input power and simply trades off forces against movement to obtain a desired amplification in the output force...
of a lever can be exploited by placing the material to be cut as close to the fulcrum as possible. For example, if the applied force (at the handles) is twice as far away from the fulcrum as the cutting location (i.e., the point of contact between the blades), the force at the cutting location is twice that of the applied force at the handles. Scissors cut material by applying a local
shear stress
Shear stress
A shear stress, denoted \tau\, , is defined as the component of stress coplanar with a material cross section. Shear stress arises from the force vector component parallel to the cross section...
at the cutting location which exceeds the material's
shear strength
Shear strength
Shear strength in engineering is a term used to describe the strength of a material or component against the type of yield or structural failure where the material or component fails in shear. A shear load is a force that tends to produce a sliding failure on a material along a plane that is...
.
For people who do not have the use of their hands, there are specially designed foot operated scissors. Some quadriplegics can use a motorized mouth-operated style of scissor.
Kitchen scissors
Kitchen scissors, also known as
kitchen shears
, are traditionally used in the kitchen for food preparation, although due to their tough nature they can serve many other purposes. In modern times they are often made from stainless steel (for food hygiene and oxidization-resistance reasons). They often have kitchen functionality (other than cutting) incorporated, such as bottle-cap and bottle-openers built into the handles.
Handed scissors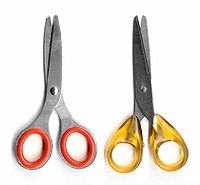 Most scissors are best-suited for use with the right hand, but
left-handed
scissors are designed for use with the left hand. Because scissors have overlapping blades, they are not symmetric. This asymmetry is true regardless of the orientation and shape of the handles: the blade that is on top always forms the same diagonal regardless of orientation. Human hands are also asymmetric, and when closing, the thumb and fingers do not close vertically, but have a lateral component to the motion. Specifically, the thumb pushes out and fingers pull inwards. For right-handed scissors held in the right hand, the thumb blade is further from the user's body, so that the natural tendency of the right hand is to force the cutting blades together. Conversely, if right-handed scissors are held in the left hand, the natural tendency of the left hand would be to force the cutting blades laterally apart. Furthermore, with right-handed scissors held by the right-hand, the shearing edge is visible, but when used with the left hand, the cutting edge of the scissors is behind the top blade, and one cannot see what is being cut.
Some scissors are marketed as ambidextrous. These have symmetric handles so there is no distinction between the thumb and finger handles, and have very strong pivots so that the blades simply rotate and do not have any lateral give. However, most "ambidextrous" scissors are in fact still right-handed in that the upper blade is on the right, and hence is on the outside when held in the right hand. Even if they successfully cut, the blade orientation will block the view of the cutting line for a left-handed person. True ambidextrous scissors are possible if the blades are double-edged and one handle is swung all the way around (to almost 360
degrees
Degree (angle)
A degree , usually denoted by ° , is a measurement of plane angle, representing 1⁄360 of a full rotation; one degree is equivalent to π/180 radians...
) so that the back of the blades become the new cutting edges. Patents have been awarded for true ambidextrous scissors.
Specialized scissors
Among specialized scissors and shears used for different purposes are:
Agriculture and animal husbandry

Grass and hedge shears are used for trimming grass

Grass

Grasses, or more technically graminoids, are monocotyledonous, usually herbaceous plants with narrow leaves growing from the base. They include the "true grasses", of the Poaceae family, as well as the sedges and the rushes . The true grasses include cereals, bamboo and the grasses of lawns ...


and hedges.
Pruning shears

Pruning shears

Pruning shears, also called hand pruners , or secateurs are a type of scissors for use with plants. They are strong enough to prune hard branches of trees and shrubs, sometimes up to two centimetres thick...


(secateurs) and loppers

Loppers

Loppers are a type of scissors used for pruning twigs and small branches. They are the largest type of manual garden cutting tool. They are usually operated with two hands, and with handles around 65 cm long to give good leverage...


are gardening scissors for cutting through branches of tree

Tree

A tree is a perennial woody plant. It is most often defined as a woody plant that has many secondary branches supported clear of the ground on a single main stem or trunk with clear apical dominance. A minimum height specification at maturity is cited by some authors, varying from 3 m to...


s and shrub

Shrub

A shrub or bush is distinguished from a tree by its multiple stems and shorter height, usually under 5–6 m tall. A large number of plants may become either shrubs or trees, depending on the growing conditions they experience...


s.
Sheep shears and machine shears are used for cutting an animal's fleece to make wool

Wool

Wool is the textile fiber obtained from sheep and certain other animals, including cashmere from goats, mohair from goats, qiviut from muskoxen, vicuña, alpaca, camel from animals in the camel family, and angora from rabbits....


.

General domestic use

Kitchen scissors are for general-purpose kitchen use
Nail scissors, for cutting finger- and toenails
Poultry shears are used to cut cooked poultry

Poultry

Poultry are domesticated birds kept by humans for the purpose of producing eggs, meat, and/or feathers. These most typically are members of the superorder Galloanserae , especially the order Galliformes and the family Anatidae , commonly known as "waterfowl"...


.
Specialized scissors with concave blade edges have been designed for use as a cigar cutter

Cigar cutter

A cigar cutter is a mechanical device designed to cut one end off a cigar so that it may be properly smoked. Although some cigars are cut on both ends, or twirled at both ends, the vast majority come with one straight cut end and one end in a "cap" which must be cut off for the cigar to be smoked...


.

Hair care

Thinning scissors are used for thinning thick hair to avoid a bushy look
Hair clippers – for cutting hair by barber

Barber

A barber is someone whose occupation is to cut any type of hair, and to shave or trim the beards of men. The place of work of a barber is generally called a barbershop....


s, hairdresser

Hairdresser

Hairdresser is a term referring to anyone whose occupation is to cut or style hair in order to change or maintain a person's image. This is achieved using a combination of hair coloring, haircutting, and hair texturing techniques...


s, and pet groomers

Dog grooming

Dog grooming refers to both the hygienic care and cleaning of a dog, as well as a process by which a dog's physical appearance is enhanced for showing or other types of competition. A dog groomer is a person who earns their living grooming dogs.-Reasons for grooming:Grooming is an important part...


. Functionally like several small pairs of scissors side-by-side, operated by a single handle or a motor.

Metalwork

Jaws of Life are hydraulic rescue tools

Hydraulic Rescue Tools

Hydraulic rescue tools are used by emergency rescue personnel to assist vehicle extrication of crash victims, as well as other rescues from small spaces. These tools include cutters, spreaders, door busters and rams...


for cutting heavy sheet metal.
Throatless shears are used for cutting complex shapes in sheet metal.
Tin snips

Tin snips

Snips, also known as shears, are hand tools used to cut sheet metal and other tough webs. There are two broad categories: tinner's snips, which are similar to common scissors, and compound-action snips, which use a compound leverage handle system to increase the mechanical advantage.-Tinner's...


are scissors for cutting through sheet metal

Sheet metal

Sheet metal is simply metal formed into thin and flat pieces. It is one of the fundamental forms used in metalworking, and can be cut and bent into a variety of different shapes. Countless everyday objects are constructed of the material...


.

Trauma shears

Trauma shears

Trauma shears, also known as tuff cuts, are a type of scissors used by paramedics and other emergency medical personnel to quickly and safely cut clothing from injured people...


, or "tuff cuts", are robust scissors used in emergency medical response and rescue.
Sewing and clothes-making

Pinking shears

Pinking shears

Pinking shears are scissors, the blades of which are sawtoothed instead of straight. They leave a zigzag pattern instead of a straight edge.Pinking shears have a utilitarian function for cutting woven cloth. Cloth edges that are unfinished will easily fray, the weave becoming undone and threads...


are scissors with a serrated cutting edge for cutting cloth so that the fabric does not fray.
Sewing Chatelaine Scissors. Chatelaine is a French term meaning "mistress of a castle, chateau or stately home", and dates back to the Middle Ages. It refers to an ornamental clasp or hook from which chains were hung from the waist, holding perhaps, a purse, watch, keys, scissors or thimble case. The sewing chatelaine became a popular ornamental appendage worn by Victorian ladies at their waist, but disappeared when fashion changed and skirts were no longer full and long. Sewing chatelaines are now produced and worn as pendants around the neck.

Ceremonial

Ceremonial Scissors are scissors used, and often presented for, ceremonial ribbon-cutting events such as building openings etc.
Culture
Due to their ubiquity across cultures and classes, scissors have numerous representations across world culture.
Art
It must be noted that numerous forms of art worldwide enlist scissors as a tool/material with which to accomplish the art; in this section, we will be looking at cases where scissors appear in or are represented by the
final art product
.
Film
Edward Scissorhands

Edward Scissorhands

Edward Scissorhands is a 1990 romantic fantasy film directed by Tim Burton and starring Johnny Depp. The film shows the story of an artificial man named Edward, an unfinished creation, who has scissors for hands. Edward is taken in by a suburban family and falls in love with their teenage daughter...


is a 1990 film starring Johnny Depp

Johnny Depp

John Christopher "Johnny" Depp II is an American actor, producer and musician. He has won the Golden Globe Award and Screen Actors Guild award for Best Actor. Depp rose to prominence on the 1980s television series 21 Jump Street, becoming a teen idol...


as a young man who has hands made of multiple pairs of scissors.
Running with Scissors

Running with Scissors (film)

Running with Scissors is a 2006 American comedy-drama film based on Augusten Burroughs' 2002 memoir of the same name, written and directed by Ryan Murphy, and starring Joseph Cross, Annette Bening, Brian Cox, Joseph Fiennes, Evan Rachel Wood, Alec Baldwin, Jill Clayburgh, and Gwyneth Paltrow with...


is a 2006 film based on the memoir of the same title.
Games
The game
Rock-Paper-Scissors
Rock-paper-scissors
Rock-paper-scissors is a hand game played by two people. The game is also known as roshambo, or another ordering of the three items ....
involves two or more players making shapes with their hands to determine the outcome of the game. One of the three shapes, 'scissors', is made by extending the index and middle fingers to mimic the shape of most scissors.
Literature
Augusten Burroughs
Augusten Burroughs
Augusten Xon Burroughs is an American writer known for his New York Times bestselling memoir Running with Scissors .- Life :...
' 2002
memoir
Memoir
A memoir , is a literary genre, forming a subclass of autobiography – although the terms 'memoir' and 'autobiography' are almost interchangeable. Memoir is autobiographical writing, but not all autobiographical writing follows the criteria for memoir set out below...
Running with Scissors
spent eight weeks on the
New York Times best seller list
New York Times Best Seller list
The New York Times Best Seller list is widely considered the preeminent list of best-selling books in the United States. It is published weekly in The New York Times Book Review magazine, which is published in the Sunday edition of The New York Times and as a stand-alone publication...
. The book was later adapted into a film.
Music
Running with Scissors

Running with Scissors (album)

Running with Scissors is the 10th studio album by "Weird Al" Yankovic, released on June 29, 1999. The album contains the hit single "The Saga Begins", a parody of Don McLean's song "American Pie".-Details:...


is the title of a 1999 album by "Weird Al" Yankovic

"Weird Al" Yankovic

Alfred Matthew "Weird Al" Yankovic is an American singer-songwriter, music producer, accordionist, actor, comedian, writer, satirist, and parodist. Yankovic is known for his humorous songs that make light of popular culture and that often parody specific songs by contemporary musical acts...


.
The song "The Tailor Shop on Enbizaka (円尾坂の仕立屋 Enbizaka no Shitateya)" from Vocaloid

Vocaloid

is a singing synthesizer application, with its signal processing part developed through a joint research project between the Pompeu Fabra University in Spain and Japan's Yamaha Corporation, who backed the development financially—and later developed the software into the commercial product...


producer Akuno-P tells a story about a tailor that kills a man, his wife and their two daughters using her Sewing Scissors.
Sport
The term 'scissor kick' may be found in several sports, including:
Scissor kick (strike)

Scissor kick (strike)

A scissor kick in martial arts is used to describe certain kicking or grabbing techniques that resemble a pair of scissors.-In The Asian Martial Arts:...


, a generic martial arts term for any of a number of moves that may resemble the appearance or action of a pair of scissors.
Bicycle kick

Bicycle kick

A Bicycle kick or Scissor kick is a physical move made by throwing the body up into the air, making a shearing movement with the legs to get one leg in front of the other without holding on to the ground. The move can either be done backwards or sideways...


s in football are sometimes known as 'scissor kicks'.
Swimming strokes including the sidestroke

Sidestroke

The sidestroke is a swimming stroke, so named because the swimmer lies on one side and it is helpful as a lifesaving technique and is often used for long-distance swimming. The sidestroke allows the swimmer increased endurance because, instead of working both arms and legs simultaneously in the...


incorporate a leg movement often known as a 'scissor kick'.
Superstition
Scissors have a widespread place in cultural superstitions. In many cases, the specifics of the superstition may be specific to a given country, region, tribe, religion or even situation.
Africa

In parts of North Africa

Africa

Africa is the world's second largest and second most populous continent, after Asia. At about 30.2 million km² including adjacent islands, it covers 6% of the Earth's total surface area and 20.4% of the total land area...


, it was held that scissors could be used to curse

Curse

A curse is any expressed wish that some form of adversity or misfortune will befall or attach to some other entity—one or more persons, a place, or an object...


a bridegroom. When the bridegroom was on horseback, the person enacting the curse would stand behind him with the scissors open and call his name. If the bridegroom answered to his name being called, the scissors would then be snapped shut and the bridegroom would be unable to consummate his marriage with his bride.

Asia

In Pakistan, some believe that scissors should never be idly opened and closed without purpose. This is believed to cause bad luck.

North America

United States

In New Orleans, some believed that putting an open pair of scissors underneath your pillow

Pillow

A pillow is a large cushion support for the head, usually used while sleeping in a bed, or for the body as used on a couch or chair. There are also throw pillows , which are pillows that are purely decorative and not designed for support or comfort...


at night was a sound method for sleeping well, even if one might be cursed.
Science
Scissors have been used in the sciences for various purposes, including descriptions of animals or natural features.
Nature
Animals named after scissors include:
Birds

The Scissor-tailed Flycatcher

Scissor-tailed Flycatcher

The Scissor-tailed Flycatcher is a long-tailed insectivorous bird of the genus, whose members are collectively referred to as kingbirds. The kingbirds are a group of large insectivorous birds in the tyrant flycatcher family...


of North and Central America.
The Scissor-tailed Hummingbird

Scissor-tailed Hummingbird

The Scissor-tailed Hummingbird is a bird species in the family Trochilidae, the only member of the genus Hylonympha. It is found only in Venezuela....



The Scissor-tailed Kite, a bird that is widespread throughout Africa.
The Scissor-tailed Nightjar

Scissor-tailed Nightjar

The Scissor-tailed Nightjar is a species of nightjar in the Caprimulgidae family.It is found in Argentina, Bolivia, Brazil, Paraguay, Peru, Suriname, and Uruguay....


of South America

South America

South America is a continent situated in the Western Hemisphere, mostly in the Southern Hemisphere, with a relatively small portion in the Northern Hemisphere. The continent is also considered a subcontinent of the Americas. It is bordered on the west by the Pacific Ocean and on the north and east...


.

Fish

The Scissor-tail rasbora

Scissor-tail rasbora

The scissortail rasbora is the common name for a number of species freshwater aquarium fish that belongs to the rasbora family. They move their fins like scissors when they swim, hence the name. They are easy to manage, and require a tank 20 gallons or more in size...


, a species of fish that is commonly used for freshwater aquariums.
See also
Hemostat

Hemostat

A hemostat , is a vital surgical tool used in almost any surgical procedure, usually to control bleeding. Therefore, it is not uncommon to see the initial incision lined with hemostats closing blood vessels awaiting ligation during the initial phases of surgery...


resembles a pair of scissors, but is used as a clamp in surgery

Surgery

Surgery is an ancient medical specialty that uses operative manual and instrumental techniques on a patient to investigate and/or treat a pathological condition such as disease or injury, or to help improve bodily function or appearance.An act of performing surgery may be called a surgical...


and does not cut at all.
Nippers

Nipper (tool)

A nipper or tile nipper is a tool used to "nip" or remove small amounts of a hard material, such as pieces of a tile which needs to be fitted around an odd or irregular shape....


cut small pieces out of tile

Tile

A tile is a manufactured piece of hard-wearing material such as ceramic, stone, metal, or even glass. Tiles are generally used for covering roofs, floors, walls, showers, or other objects such as tabletops...


.
Pliers

Pliers

Pliers are a hand tool used to hold objects firmly, for bending, or physical compression. Generally, pliers consist of a pair of metal first-class levers joined at a fulcrum positioned closer to one end of the levers, creating short jaws on one side of the fulcrum, and longer handles on the other...


used for holding and crimping metal or wire.