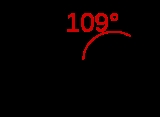 Alcohol
In
chemistry
Chemistry
Chemistry is the science of matter, especially its chemical reactions, but also its composition, structure and properties. Chemistry is concerned with atoms and their interactions with other atoms, and particularly with the properties of chemical bonds....
, an
alcohol
is an
organic compound
Organic compound
An organic compound is any member of a large class of gaseous, liquid, or solid chemical compounds whose molecules contain carbon. For historical reasons discussed below, a few types of carbon-containing compounds such as carbides, carbonates, simple oxides of carbon, and cyanides, as well as the...
in which the
hydroxy
Hydroxy
Hydroxy can refer to:* In chemical nomenclature, the prefix "hydroxy-" shows the presence of a hydroxyl functional group '* An abbreviation for the medication hydroxyzine, which is commonly sold under the brand names Atarax, Ucerax, Serecid, and Vistaril* Hydroxy gas: A nickname for oxyhydrogen, a...
functional group
Functional group
In organic chemistry, functional groups are specific groups of atoms within molecules that are responsible for the characteristic chemical reactions of those molecules. The same functional group will undergo the same or similar chemical reaction regardless of the size of the molecule it is a part of...
(-
O
Oxygen
Oxygen is the element with atomic number 8 and represented by the symbol O. Its name derives from the Greek roots ὀξύς and -γενής , because at the time of naming, it was mistakenly thought that all acids required oxygen in their composition...
H
Hydrogen
Hydrogen is the chemical element with atomic number 1. It is represented by the symbol H. With an average atomic weight of , hydrogen is the lightest and most abundant chemical element, constituting roughly 75% of the Universe's chemical elemental mass. Stars in the main sequence are mainly...
) is bound to a
carbon
Carbon
Carbon is the chemical element with symbol C and atomic number 6. As a member of group 14 on the periodic table, it is nonmetallic and tetravalent—making four electrons available to form covalent chemical bonds...
atom. In particular, this carbon center should be saturated, having single bonds to three other atoms.
An important class of alcohols are the simple
acyclic
Aliphatic compound
In organic chemistry, aliphatic compounds are acyclic or cyclic, non-aromatic carbon compounds.Thus, aliphatic compounds are opposite to aromatic compounds.- Structure :...
alcohols, the general formula for which is C
n
H
2n+1
OH. Of those,
ethanol
Ethanol
Ethanol, also called ethyl alcohol, pure alcohol, grain alcohol, or drinking alcohol, is a volatile, flammable, colorless liquid. It is a psychoactive drug and one of the oldest recreational drugs. Best known as the type of alcohol found in alcoholic beverages, it is also used in thermometers, as a...
(C
2
H
5
OH) is the type of alcohol found in alcoholic beverages, and in common speech the word
alcohol
refers specifically to ethanol.
Other alcohols are usually described with a clarifying adjective, as in
isopropyl alcohol
Isopropyl alcohol
Isopropyl alcohol is a common name for a chemical compound with the molecular formula C3H8O. It is a colorless, flammable chemical compound with a strong odor...
(
propan-2-ol
) or
wood alcohol
(
methyl alcohol
, or
methanol
Methanol
Methanol, also known as methyl alcohol, wood alcohol, wood naphtha or wood spirits, is a chemical with the formula CH3OH . It is the simplest alcohol, and is a light, volatile, colorless, flammable liquid with a distinctive odor very similar to, but slightly sweeter than, ethanol...
).