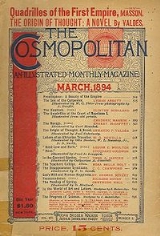 Cosmopolitan (magazine)
Cosmopolitan
is an international magazine for women. It was first published in 1886 in the United States as a family magazine, was later transformed into a
literary magazine
Literary magazine
A literary magazine is a periodical devoted to literature in a broad sense. Literary magazines usually publish short stories, poetry and essays along with literary criticism, book reviews, biographical profiles of authors, interviews and letters...
and eventually became a women's magazine in the late 1960s. Also known as
Cosmo
, its content as of 2011 included articles on relationships and sex, health, careers, self-improvement, celebrities, as well as fashion and beauty. Published by Hearst Magazines, Cosmopolitan has 63 international editions, is printed in 32 languages and is distributed in more than 100 countries.
History
Cosmopolitan began as a family magazine, launched in 1886 by Schlicht & Field as
The Cosmopolitan
.
Paul Schlicht told his first-issue readers that his publication was a "first-class family magazine", adding, "There will be a department devoted exclusively to the interests of women, with articles on fashions, on household decoration, on cooking, and the care and management of children, etc., also a department for the younger members of the family."
Cosmopolitans circulation reached 25,000 that year, but by March 1888, Schlicht & Field were no longer in business.
John Brisben Walker
John Brisben Walker
John Brisben Walker was a United States magazine publisher and automobile entrepreneur, in later years a resident of Jefferson County, Colorado.-Biography:...
acquired the magazine in 1889. That same year, he dispatched
Elizabeth Bisland
Elizabeth Bisland
Elizabeth Bisland Wetmore was an American journalist and author, perhaps best known for her 1889–1890 race around the world against Nellie Bly, which drew worldwide attention.-Early career:...
on a race around the world against
Nellie Bly
Nellie Bly
Nellie Bly was the pen name of American pioneer female journalist Elizabeth Jane Cochran. She remains notable for two feats: a record-breaking trip around the world in emulation of Jules Verne's character Phileas Fogg, and an exposé in which she faked insanity to study a mental institution from...
to try to draw some attention.
Under John Brisben Walker's ownership, E. D. Walker, formerly with Harper's Monthly, took over as the new editor, introducing color illustrations, serials and book reviews. It became a leading market for fiction, featuring such authors as
Annie Besant
Annie Besant
Annie Besant was a prominent British Theosophist, women's rights activist, writer and orator and supporter of Irish and Indian self rule.She was married at 19 to Frank Besant but separated from him over religious differences. She then became a prominent speaker for the National Secular Society ...
,
Ambrose Bierce
Ambrose Bierce
Ambrose Gwinnett Bierce was an American editorialist, journalist, short story writer, fabulist and satirist...
,
Theodore Dreiser
Theodore Dreiser
Theodore Herman Albert Dreiser was an American novelist and journalist of the naturalist school. His novels often featured main characters who succeeded at their objectives despite a lack of a firm moral code, and literary situations that more closely resemble studies of nature than tales of...
,
Rudyard Kipling
Rudyard Kipling
Joseph Rudyard Kipling was an English poet, short-story writer, and novelist chiefly remembered for his celebration of British imperialism, tales and poems of British soldiers in India, and his tales for children. Kipling received the 1907 Nobel Prize for Literature...
,
Jack London
Jack London
John Griffith "Jack" London was an American author, journalist, and social activist. He was a pioneer in the then-burgeoning world of commercial magazine fiction and was one of the first fiction writers to obtain worldwide celebrity and a large fortune from his fiction alone...
,
Willa Cather
Willa Cather
Willa Seibert Cather was an American author who achieved recognition for her novels of frontier life on the Great Plains, in works such as O Pioneers!, My Ántonia, and The Song of the Lark. In 1923 she was awarded the Pulitzer Prize for One of Ours , a novel set during World War I...
, and
Edith Wharton
Edith Wharton
Edith Wharton , was a Pulitzer Prize-winning American novelist, short story writer, and designer.- Early life and marriage:...
. The magazine's circulation climbed to 75,000 by 1892.
In 1897, Cosmopolitan announced plans for a free correspondence school: "No charge of any kind will be made to the student. All expenses for the present will be borne by the Cosmopolitan. No conditions, except a pledge of a given number of hours of study." When 20,000 immediately signed up, Walker could not fund the school and students were then asked to contribute 20 dollars a year. Also in 1897,
H. G. Wells
H. G. Wells
Herbert George Wells was an English author, now best known for his work in the science fiction genre. He was also a prolific writer in many other genres, including contemporary novels, history, politics and social commentary, even writing text books and rules for war games...
'
The War of the Worlds
The War of the Worlds
The War of the Worlds is an 1898 science fiction novel written by H. G. Wells.The War of the Worlds may also refer to:- Radio broadcasts :* The War of the Worlds , the 1938 radio broadcast by Orson Welles...
was serialized, as was his
The First Men in the Moon
The First Men in the Moon
The First Men in the Moon is a 1901 scientific romance novel by the English author H. G. Wells. The novel tells the story of a journey to the moon undertaken by the two protagonists, the impoverished businessman Mr Bedford and the brilliant but eccentric scientist Dr. Cavor...
(1900).
Olive Schreiner
Olive Schreiner
Olive Schreiner was a South African author, anti-war campaigner and intellectual. She is best remembered today for her novel The Story of an African Farm which has been highly acclaimed ever since its first publication in 1883 for the bold manner in which it dealt with some of the burning issues...
contributed a lengthy article about the
Boer War
Boer War
The Boer Wars were two wars fought between the British Empire and the two independent Boer republics, the Oranje Vrijstaat and the Republiek van Transvaal ....
.
In 1905,
William Randolph Hearst
William Randolph Hearst
William Randolph Hearst was an American business magnate and leading newspaper publisher. Hearst entered the publishing business in 1887, after taking control of The San Francisco Examiner from his father...
purchased the magazine for US$400,000 (approximately $11,000,000 in 2007 prices) and brought in journalist
Charles Edward Russell
Charles Edward Russell
Charles Edward Russell was an American journalist, politician, and a co-founder of the National Association for the Advancement of Colored People...
, who contributed a series of investigative articles, including "The Growth of Caste in America" (March 1907), "At the Throat of the Republic" (December 1907 - March 1908) and "What Are You Going to Do About It?" (July 1910 - January 1911) and "Colorado - New Tricks in an Old Game" (December 1910).
Other contributors during this period included
Alfred Henry Lewis
Alfred Henry Lewis
Alfred Henry Lewis was an American investigative journalist, lawyer, novelist, editor, and short story writer.-External links:* at Spartacus Educational...
,
Sinclair Lewis
Sinclair Lewis
Harry Sinclair Lewis was an American novelist, short-story writer, and playwright. In 1930, he became the first writer from the United States to be awarded the Nobel Prize in Literature, "for his vigorous and graphic art of description and his ability to create, with wit and humor, new types of...
,
A. J. Cronin
A. J. Cronin
Archibald Joseph Cronin was a Scottish physician and novelist. His best-known works are Hatter's Castle, The Stars Look Down, The Citadel, The Keys of the Kingdom and The Green Years, all of which were adapted to film. He also created the Dr...
,
David Graham Phillips
David Graham Phillips
David Graham Phillips was an American journalist of the muckraker tradition and novelist.-Early life and career:Phillips was born in Madison, Indiana...
,
George Bernard Shaw
George Bernard Shaw
George Bernard Shaw was an Irish playwright and a co-founder of the London School of Economics. Although his first profitable writing was music and literary criticism, in which capacity he wrote many highly articulate pieces of journalism, his main talent was for drama, and he wrote more than 60...
,
Upton Sinclair
Upton Sinclair
Upton Beall Sinclair Jr. , was an American author who wrote close to one hundred books in many genres. He achieved popularity in the first half of the twentieth century, acquiring particular fame for his classic muckraking novel, The Jungle . It exposed conditions in the U.S...
, and Ida Tarbell. A constant presence from 1910-18 was
Arthur B. Reeve
Arthur B. Reeve
Arthur Benjamin Reeve was an American mystery writer. He is best known for creating the series character Professor Craig Kennedy, sometimes called "The American Sherlock Holmes," and his Dr Watson-like sidekick Walter Jameson, a newspaper reporter, in eighteen detective novels...
, with 82 stories featuring
Craig Kennedy
Craig Kennedy
Professor Craig Kennedy is a character created by Arthur B. Reeve.Kennedy is a scientist detective at Columbia University similar to Sherlock Holmes and Dr Thorndyke...
, the "scientific detective." Magazine illustrators included Francis Attwood,
Dean Cornwell
Dean Cornwell
Dean Cornwell was an American illustrator and muralist. His oil paintings were frequently featured in popular magazines and books as literary illustrations, advertisements, and posters promoting the war effort. Throughout the first half of the 20th century he was a dominant presence in American...
,
James Montgomery Flagg
James Montgomery Flagg
James Montgomery Flagg was an American artist and illustrator. He worked in media ranging from fine art painting to cartooning, but is best remembered for his political posters....
, and
Harrison Fisher
Harrison Fisher
Harrison Fisher was an American illustrator.Fisher was born in Brooklyn, New York City and began to draw at an early age. Both his father and his grandfather were artists. Fisher spent much of his youth in San Francisco, and studied at the San Francisco Art Association...
.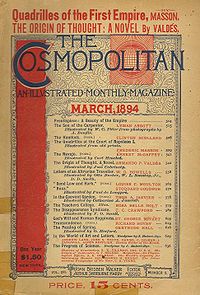 With a circulation of 1,700,000 in the 1930s, Cosmopolitan had an advertising income of $5,000,000. Emphasizing fiction in the 1940s, it was subtitled The Four-Book Magazine since the first section had one novelette, six or eight short stories, two serials, six to eight articles and eight or nine special features, while the other three sections featured two novels and a digest of current non-fiction books. During World War II, sales peaked at 2,000,000.
The magazine began to run less fiction during the 1950s. Circulation dropped to slightly over a million by 1955, a time when magazines were overshadowed during the rise of paperbacks and television. The Golden Age of magazines came to an end as
mass market
Mass market
The mass market is a general business term describing the largest group of consumers for a specified industry product. It is the opposite extreme of the term niche market.-General:...
, general interest publications gave way to special interest magazines targeting specialized audiences.
Helen Gurley Brown arrives
Cosmopolitans circulation continued to decline for another decade until
Helen Gurley Brown
Helen Gurley Brown
Helen Gurley Brown , is an author, publisher, and businesswoman. She was editor-in-chief of Cosmopolitan magazine for 32 years.-Personal life and career:...
became chief editor in 1965 and remodeled the magazine as New Cosmopolitan. After countless denials by other publications, Brown finally landed an opportunity to put her perspective on a magazine. The magazine was renamed Cosmopolitan in 1967. In the early 1970s, Cosmopolitan became a women's magazine. The magazine eventually adopted a cover format consisting of a usually young female model typically in a low cut dress or
bikini
Bikini
The bikini is typically a women's two-piece swimsuit. One part of the attire covers the breasts and the other part covers the crotch and part of or the entire buttocks, leaving an uncovered area between the two. Merriam–Webster describes the bikini as "a woman's scanty two-piece bathing suit" or "a...
. The magazine focused on young women and published articles that openly talked about sexual issues.
This was not her first publication dealing with sexually liberating woman. Her 1962 advice book, Sex and the Single Girl, had been a best seller. Fan mail begging for Brown's advice on many subjects concerning women's behavior, sexual encounters, health, and beauty flooded her after the book was released. Brown sent the message that a woman should have men complement her life, not take it over. Enjoying sex without shame was also a message she incorporated in both publications.
In Brown's early years as editor, the magazine received heavy criticism. The magazine ran a near-nude centerfold of actor
Burt Reynolds
Burt Reynolds
Burton Leon "Burt" Reynolds, Jr. is an American actor. Some of his memorable roles include Bo 'Bandit' Darville in Smokey and the Bandit, Lewis Medlock in Deliverance, Bobby "Gator" McCluskey in White Lightning and sequel Gator, Paul Crewe and Coach Nate Scarborough in The Longest Yard and its...
in April 1972, causing great controversy and attracting much attention.
In April 1978, a single edition of Cosmopolitan Man was published as a trial, targeted to appeal to men. Its cover featured
Jack Nicholson
Jack Nicholson
John Joseph "Jack" Nicholson is an American actor, film director, producer and writer. He is renowned for his often dark portrayals of neurotic characters. Nicholson has been nominated for an Academy Award twelve times, and has won the Academy Award for Best Actor twice: for One Flew Over the...
and
Aurore Clément
Aurore Clément
Aurore Clément is a French actress. She has performed in a number of motion pictures in both the French language and the English language as well as in television films and miniseries.-Early life:...
. It was published twice in 1989 as a supplement to Cosmopolitan.
Cosmopolitan in 2011
The magazine, and in particular its cover stories, have become more sexually explicit in tone, and covers have models wearing revealing clothes.
Kroger
Kroger
The Kroger Co. is an American supermarket chain founded by Bernard Kroger in 1883 in Cincinnati, Ohio. It reported US$ 76.7 billion in sales during fiscal year 2009. It is the country's largest grocery store chain and its second-largest grocery retailer by volume and second-place general retailer...
, America's largest grocery chain, used to cover up Cosmopolitan at checkout stands because of complaints about sexually explicit headlines.
The UK edition of Cosmopolitan, which began in 1972, was well known for sexual explicitness, with strong sexual language, male nudity and coverage of such subjects as rape. In 1999 CosmoGIRL!, a spinoff magazine targeting a teenage female audience, was created for international readership, but closed in December 2008.
Real-world stories are recounted ("Cosmo Confidential") first-hand by survivors, safety tips for risky or dangerous situations (such as living alone) accompany stories of hidden risks, health myths and urban legends are debunked. Sections such as "Health Check", which has featured articles such as "Cosmo Gyno" and "Your Body", both have entertainment value and help women understand their bodies and even recognize possible health problems. Less serious regular features include "Guy Confessions" (pages where men share embarrassing stories or shameful things they've done); celebrities; "You, Even Better", which contains a wide variety of fun facts and advice.
The magazine currently features topics including sex, relationships, beauty, fashion and health.
Cosmopolitan has 63 international editions worldwide published in 32 languages with distribution in more than 100 countries making Cosmopolitan the largest-selling young women's magazine in the world. Some international editions are published in partnerships, such as licenses or joint ventures, with established publishing houses in each local market.
International editions are published in Argentina, Armenia, Australia, Azerbaijan, Brazil, Bulgaria, Central America, Chile, China, Colombia, Croatia, Cyprus, Czech Republic, Ecuador, Estonia, Finland, France, Germany, Greece, Hong Kong, Hungary, India, Indonesia, Israel, Italy, Kazakhstan, Korea, Latvia, Lithuania, Malaysia, Mexico, Mongolia, Netherlands, Norway, Peru, Philippines, Poland, Portugal, Puerto Rico, Romania, Russia, Serbia, Slovenia, South Africa, Spain, Sweden, Taiwan, Thailand, Turkey, United Kingdom, U.S. en Español, Ukraine, Venezuela, and Vietnam.
Cosmopolitan has since the sixties been a women's magazine discussing such topics as sex, health, fitness and fashion. Cosmopolitan also has a section called "Ask Him Anything" where a male writer answers readers' questions about men and dating.
Awards by Cosmopolitan, and features
Fun, Fearless Male and Female of the Year:
For more than a decade, the February issue has featured this award. In 2011
Russell Brand
Russell Brand
Russell Edward Brand is an English comedian, actor, columnist, singer, author and radio/television presenter.Brand achieved mainstream fame in the UK in 2004 for his role as host of Big Brother spin-off, Big Brother's Big Mouth. His first major film role was in the 2007 film St Trinians...
received the magazine's Fun Fearless Male of the Year Award, joining
Kellan Lutz
Kellan Lutz
Kellan Christopher Lutz is an American fashion model, and film and television actor, who is best known for playing Emmett Cullen in the Twilight series.-Early life:...
and
Paul Wesley
Paul Wesley
Paul Thomas Wasilewski , known professionally as Paul Wesley, is an American actor, best known for his roles as Stefan Salvatore in The CW TV series The Vampire Diaries and as Aaron Corbett in the ABC Family miniseries Fallen....
(2010),
John Mayer
John Mayer
John Clayton Mayer is an American pop rock and blues rock musician, singer-songwriter, recording artist, and music producer. Born in Bridgeport, Connecticut and raised in Fairfield, Connecticut, he attended Berklee College of Music in Boston. He moved to Atlanta in 1997, where he refined his...
(2008),
Nick Lachey
Nick Lachey
Nicholas Scott "Nick" Lachey is an American singer, songwriter, actor, producer and television personality. Lachey rose to fame as a member of the boy band 98 Degrees. He later starred in the reality television series Newlyweds: Nick and Jessica with his then-wife, Jessica Simpson. He has released...
(2007),
Patrick Dempsey
Patrick Dempsey
Patrick Galen Dempsey is an American actor, known for his role as neurosurgeon Dr. Derek Shepherd on the medical drama Grey's Anatomy. Prior to Grey's Anatomy he made several television appearances and was nominated for an Emmy Award...
(2006),
Josh Duhamel
Josh Duhamel
Joshua David "Josh" Duhamel is an American actor and former fashion model. He first achieved acting success in 1999 as Leo du Pres on ABC's All My Children and later as the chief of security, Danny McCoy, on NBC's Las Vegas...
(2005),
Matthew Perry
Matthew Perry
Matthew Perry is Canadian-American television and film actor.Matthew Perry or Matt Perry may also refer to:*Matthew C. Perry , American naval officer who forcibly opened Japan to trade with the West...
(2004), and
Jon Bon Jovi
Jon Bon Jovi
Jon Bon Jovi is an American musician, singer, songwriter, and actor, best known as the founder, occasional rhythm guitarist, and lead singer of rock band Bon Jovi, which was named after him...
(2003).
Mila Kunis
Mila Kunis
Milena "Mila" Kunis is an American actress. Her work includes the role of Jackie Burkhart on the TV series That '70s Show and the voice of Meg Griffin on the animated series Family Guy...
received the 2011 Fun, Fearless Female of the Year honor, a title that had been previously awarded to
Anna Faris
Anna Faris
Anna Kay Faris is an American actress, singer and comedienne. She is known for her starring role in the Scary Movie film series, as well as roles in The Hot Chick , Lost in Translation , Just Friends , My Super Ex-Girlfriend , Smiley Face , and The House Bunny...
(2010),
Ali Larter
Ali Larter
Alison Elizabeth "Ali" Larter is an American actress. She is perhaps best known for playing the dual roles of Niki Sanders and Jessica Sanders on the NBC science fiction drama Heroes as well as her guest roles on several television shows in the 1990s.Larter's screen debut came in the 1999 film...
(2009),
Katherine Heigl
Katherine Heigl
Katherine Marie Heigl is an American actress and producer. She is possibly best known for her role as Dr. Izzie Stevens on ABC's Grey's Anatomy from 2005 to 2010, for which she won a Primetime Emmy Award for Outstanding Supporting Actress – Drama Series in 2007...
(2008),
Eva Mendes
Eva Mendes
Eva Mendes is an American actress.She began acting in the late 1990s, and after a series of minor roles and performances in several smaller films such as Children of the Corn V: Fields of Terror and Urban Legends: Final Cut , she broke into the mainstream, appearing in leading roles in Hollywood...
(2007),
Beyoncé
Beyoncé Knowles
Beyoncé Giselle Knowles , often known simply as Beyoncé, is an American singer, songwriter, record producer, and actress. Born and raised in Houston, Texas, she enrolled in various performing arts schools and was first exposed to singing and dancing competitions as a child...
(2006),
Ashlee Simpson
Ashlee Simpson
Ashlee Nicole Simpson is an American singer and actress. In 2004, she rose to prominence with the success of her number-one debut album Autobiography and the reality series, The Ashlee Simpson Show. In October 2005, following a North American concert tour and a film appearance, Simpson released...
(2005),
Alicia Silverstone
Alicia Silverstone
Alicia Silverstone is an American actress, author, and former fashion model. She first came to widespread attention in music videos for Aerosmith, and is perhaps best known for her roles in Hollywood films such as Clueless and her portrayal of Batgirl in Batman & Robin .-Early life:Silverstone...
(2004),
Sandra Bullock
Sandra Bullock
Sandra Annette Bullock is an Academy Award winning American actress and producer who rose to fame in the 1990s after roles in successful films such as Demolition Man, Speed, The Net, A Time to Kill, and While You Were Sleeping. She continued with films such as Miss Congeniality, The Lake House,...
(2003),
Britney Spears
Britney Spears
Britney Jean Spears is an American recording artist and entertainer. Born in McComb, Mississippi, and raised in Kentwood, Louisiana, Spears began performing as a child, landing acting roles in stage productions and television shows. She signed with Jive Records in 1997 and released her debut album...
(2002),
Debra Messing
Debra Messing
Debra Lynn Messing is an American actress, voice artist, and comedienne. She is perhaps best known for her role as Grace Adler in the NBC sitcom Will & Grace and as Molly Kagan in the mini-series The Starter Wife....
(2001),
Jennifer Love Hewitt
Jennifer Love Hewitt
Jennifer Love Hewitt is an American actress, producer, television director and former singer-songwriter. Hewitt began her acting career as a child by appearing in television commercials and the Disney Channel series Kids Incorporated...
(2000),
Shania Twain
Shania Twain
Shania Twain, OC is a Canadian country pop singer-songwriter. Her album The Woman in Me , brought her fame and her 1997 album Come On Over, became the best-selling album of all time by a female musician in any genre, and the best-selling country album of all time. It has sold over 40 million...
(1999) and
Ashley Judd
Ashley Judd
Ashley Judd is an American television and film actress, who has played lead roles in films including Ruby in Paradise, Kiss the Girls, Double Jeopardy, Where the Heart Is and High Crimes...
(1998)
Bachelor of the Year:
Cosmopolitans November issue features the hottest bachelors from all 50 states. Pictures and profiles of all the Bachelors are posted on www.cosmopolitan.com, where readers view and vote for their favorite, narrowing it down to six finalists. A team of Cosmopolitan editors then selects the Bachelor of the Year, who is announced at an annual party and media event in New York. The 50 bachelors generally appear on programs such as The Today Show.
Past Winners Include
Chris Van Vliet

Chris Van Vliet

Christopher "Chris" Van Vliet is a television personality and an Entertainment reporter for CBS Cleveland Affiliate, WOIO. He is the former co-host of the Sun TV show Inside Jam! and the former co-host of Razer's 969 program...


2011
Ryan "Mickey" McLean 2010
Brad Ludden

Brad Ludden

Brad Ludden is a professional Kayaker born in Kalispell, Montana on May 8, 1981. He started traveling internationally to kayak at age 12 and has been to over 40 countries and completed over 100 first descents....


2008
Brian Watkins 2007
Matt Wood 2006
Practice Safe Sun:
In the May 2006 issue of Cosmopolitan, the magazine launched the Practice Safe Sun campaign, an initiative aimed at fighting skin cancer by asking readers to stop all forms of tanning other than tanning from a bottle. In conjunction with the campaign, Cosmo's editor-in-chief, Kate White, approached Congresswoman Carolyn Maloney (D-NY), known for her support of women's health issues, with concerns that women weren't fully aware of the dangers of indoor tanning and the effectiveness of the current warning labels. After careful review, the Congresswoman agreed that it was necessary to recommend that the FDA take a closer look. She and Representative Ginny Brown-Waite (R-FL) introduced the Tanning Accountability and Notification Act (TAN Act - H.R. 4767) on February 16, 2006. President Bush signed the act in September 2007, and the new federal law requires the FDA to scrutinize the warning labels on tanning beds and issue a report by September 2008.
Cosmo Blog Awards:
Cosmopolitan UK launched the Cosmo Blog Awards
in 2010. The Awards attracted more than 15,000 entries and winning and highly commended blogs were voted for in several categories including beauty, fashion, lifestyle and celebrity. The 2011 Awards launched in August 2011 and nominations are open until 31 August 2011. All UK-based bloggers and blogs written by British blogges abroad with a British perspective can be entered.

Criticism
In its January 1988 issue, Cosmopolitan ran a feature claiming that women had almost no reason to worry about contracting HIV

HIV

Human immunodeficiency virus is a lentivirus that causes acquired immunodeficiency syndrome , a condition in humans in which progressive failure of the immune system allows life-threatening opportunistic infections and cancers to thrive...


long after the best available medical science indicated otherwise. The piece claimed that unprotected sex with an HIV-positive man did not put women at risk of infection, and went on to state that "most heterosexuals are not at risk" and that it was impossible to transmit HIV in the missionary position

Missionary position

The missionary position is a "man-on-top" sex position usually described as the act in which the woman lies on her back and the partners face each other. Though often acted on and applied by heterosexual pairings, it may also be used by gay and lesbian couples.The missionary position is an example...


. This article angered many knowledgeable people including AIDS

AIDS

Acquired immune deficiency syndrome or acquired immunodeficiency syndrome is a disease of the human immune system caused by the human immunodeficiency virus...


and gay rights activists.

Cosmopolitan, as well as other women's-interest magazines, have been criticized for using published psychological research studies to gain credibility for their articles on sex and relationship advice but vastly misrepresenting or misconstruing data and findings from these studies in order to appear more "shocking", "newsworthy", and "more relevant to popular culture".

In popular culture
In an episode of Rules of Engagement

Rules of Engagement (TV series)

Rules of Engagement is a sitcom that debuted on CBS on February 5, 2007, as a midseason replacement, immediately following Two and a Half Men, in the time slot that was occupied by now-cancelled The New Adventures of Old Christine...


aired in 2007, David Spade

David Spade

David Wayne Spade is an American actor, comedian and television personality who first became famous in the 1990s as a cast member on Saturday Night Live, and from 1997 until 2003 when he starred as Dennis Finch on Just Shoot Me!. He also starred as C.J...


's character says he likes to read Cosmo because it's like having "the other team's playbook."
In Legally Blonde 2 (2003), when Elle Woods tells Paulette she's going to work where a voice is given to the people, Paulette asks if she's going to the headquarters of Cosmopolitan magazine.
In the movie Now and Then (1995), the four girls (Tina, Roberta, Samantha, and Chrissy played by Thora Birch

Thora Birch

Thora Birch is an American actress. She was a child actor in the 1990s, starring in movies such as All I Want for Christmas , Patriot Games , Hocus Pocus , Now and Then , and Alaska . She came to prominence in 1999 after earning worldwide attention and praise for her performance in American Beauty...


, Christina Ricci

Christina Ricci

Christina Ricci is an American actress. Ricci received initial recognition and praise as a child star for her performance as Wednesday Addams in The Addams Family and Addams Family Values , and her role as Kat Harvey in Casper...


, Gaby Hoffmann

Gaby Hoffmann

Gabriella Mary "Gaby" Hoffmann is an American actress.-Birth:Hoffmann was born in New York City. Her mother, Viva , is an actress and writer and appeared in many of Andy Warhol's movies during the 1960s...


, and Ashleigh Aston Moore

Ashleigh Aston Moore

Ashleigh Aston Moore was a Canadian child actress, who played Chrissy in the 1995 film Now and Then.-Career:Born Ashley Rogers in Sunnyvale, California, Moore began acting at the age of four...


), in the summer of 1970, are taking a Cosmo quiz on foreplay in a diner.
In the movie Legally Blonde

Legally Blonde

Legally Blonde is a 2001 American comedy film directed by Robert Luketic, written by Karen McCullah Lutz and Kirsten Smith, and produced by Marc E. Platt...


(2001), Elle Woods says in her closing arguments, "The rules of hair care are simple and finite. Any Cosmo girl would have known."
In a 2005 episode of The O.C.

The O.C.

The O.C. is an American teen drama television series that originally aired on the Fox television network in the United States from August 5, 2003, to February 21, 2007, running a total of four seasons...


, Seth

Seth Cohen

Seth Ezekiel Cohen is a fictional character on the FOX television series The O.C., portrayed by Adam Brody. Seth was one of the "core four" characters on The O.C. alongside Ryan Atwood, Marissa Cooper, and Summer Roberts.-Background:...


draws a female superhero that he calls "Cosmo Girl" who he says has a "passion for fashion."
In an episode of Third Watch

Third Watch

Third Watch is an American television drama series which first aired on NBC from 1999 to 2005 for a total of 132 episodes, broadcast in 6 seasons of 22 episodes each....


(1999), Jimmy tells Kim that Cosmo says she should make a man feel important to her, to which she replies, "You read Cosmo?"
Will Truman

Will Truman

William Pierce "Will" Truman is a fictional character on the American sitcom Will & Grace, portrayed by Eric McCormack. He is a gay lawyer who lives in the Upper West Side of New York City with his best friend, Grace Adler.-Fictional character history:...


on Will and Grace says in a 1998 episode, "Oh, you girls are going to have a ball, braiding each other's hair and talking about boys and doing the Cosmo quiz."
In a 1997 episode of Just Shoot Me, the emcee of the "Femmy" magazine award ceremony says, "Do we really have to sit here for three hours, or can we just give all the awards to Cosmo?"
In an episode of Friends

Friends

Friends is an American sitcom created by David Crane and Marta Kauffman, which aired on NBC from September 22, 1994 to May 6, 2004. The series revolves around a group of friends in Manhattan. The series was produced by Bright/Kauffman/Crane Productions, in association with Warner Bros. Television...


the September 1996 issue appears featuring cover model Tatjana Dragovic, Chandler

Chandler Bing

Chandler Muriel Bing is a fictional character on the popular U.S. television sitcom Friends, portrayed by Matthew Perry.-Background:Chandler Muriel Bing was born on April 8, 1968, the son of an erotic novelist mother and a cross-dressing Las Vegas star and is of Scottish ancestry. Chandler was Ross...


admits to taking a Cosmo quiz and apparently "puts career before men!"
In the "Everybody Loves Casey" episode of That '70s Show

That '70s Show

That '70s Show is an American television period sitcom that centers on the lives of a group of teenage friends living in the fictional suburban town of Point Place, Wisconsin, from May 17, 1976, to December 31, 1979...


, Jackie

Jackie Burkhart

Jacqueline "Jackie" Beulah Burkhart is a fictional character and one of the two female leads on the Fox Network sitcom That '70s Show, portrayed by Mila Kunis.-Personality:...


and Kelso

Michael Kelso

Michael Christopher Kelso usually referred to simply as Kelso by his friends is one of the five male leads on Fox Network's That '70s Show, portrayed by Ashton Kutcher. Tall, lanky and long-haired , he is the dim-witted pretty-boy of the group, coasting through life on his good looks...


read Cosmopolitan to resolve their relationship troubles.
In 1992, the lyrics of Sir Mix-a-Lot

Sir Mix-a-Lot

Anthony Ray , better known by his stage name Sir Mix-a-Lot, is an emcee and producer based in Seattle, Washington. The founder of the Nastymix record label, he debuted in 1988 with Swass...


's "Baby Got Back

Baby Got Back

"Baby Got Back" is a 1992 Number One single by hip hop artist Sir Mix-a-Lot, from his album Mack Daddy. The song samples the 1986 electro single "Technicolor" by Channel One. The song's title originates from an urban slang term used to express a favorable opinion about a woman's buttocks...


" explicitly decries the bodies of Cosmo girls in favor of black women's bodies.
In the 1986 war film Heartbreak Ridge

Heartbreak Ridge

Heartbreak Ridge is a 1986 American war film, starring Clint Eastwood and Mario Van Peebles, surrounding the 1983 U.S. invasion of Grenada, West Indies. A portion of the movie was filmed on the island itself....


, Clint Eastwood's character, Sgt. "Gunny" Highway, reads Cosmopolitan to gain insights of the other sex's mind in order to win his ex-wife back.
In an episode of Corner Gas

Corner Gas

Corner Gas is a Canadian television sitcom created by Brent Butt. The series ran for six seasons from 2004 to 2009. Re-runs still air on CTV and The Comedy Network in Canada; it formerly aired on WGN America in the United States....


, it is revealed that Davis reads Cosmopolitan.
In the Broadway musical The Wedding Singer

The Wedding Singer (musical)

The Wedding Singer is a musical with music by Matthew Sklar, lyrics by Chad Beguelin, and a book by Chad Beguelin and Tim Herlihy. It is based on the 1998 film The Wedding Singer.-Synopsis:Act 1...


, in the song "Pop", Holly sings the lyric: "Every five seconds a girl gets engaged, according to Cosmo's latest quiz..."
Community

Community

The term community has two distinct meanings:*a group of interacting people, possibly living in close proximity, and often refers to a group that shares some common values, and is attributed with social cohesion within a shared geographical location, generally in social units larger than a household...


, Season 2, Episode 1, (9/23/2010): Britta, being defensive about the way she is being treated by her peers at Greendale, says "I'm not hiding from you. Its like high school all over again out there. 'Psycho Britta, the walking freakshow, for every Barbie with a Cosmo subscription." Later the young women Britta is referring to approach her and tell Britta she is "fearless, honest, and speaking from your heart."
CollegeHumor

CollegeHumor

CollegeHumor is a comedy website owned by InterActiveCorp and based in New York City. The site features daily original comedy videos and articles created by its in-house writing and production team, in addition to user-submitted videos, pictures, articles and links. In early 2009, CollegeHumor's...


has featured several articles making fun of Cosmo's lists of sex tips by providing line-by-line analysis of the advice. The articles are written by pseudonymous contributor BL1Y.
YouTube

YouTube

YouTube is a video-sharing website, created by three former PayPal employees in February 2005, on which users can upload, view and share videos....


user csandreas has a monthly web series called Black Man Answers Cosmo that features two straight black males answering Cosmopolitans various letters sections.
Editors (American edition)
Frank P. Smith (1886–1888)
E. D. Walker (1888)
John Brisben Walker

John Brisben Walker

John Brisben Walker was a United States magazine publisher and automobile entrepreneur, in later years a resident of Jefferson County, Colorado.-Biography:...


(1889–1905)
Bailey Millard (1905–1907)
S. S. Chamberlain (1907–1908)
C. P. Narcross (1908–1913)
Sewell Haggard (1914)
Edgar Grant Sisson (1914–1917)
Douglas Z. Doty (1917–1918)
Ray Long (1918–1931)
Harry Payne Burton (1931–1942)
Frances Whiting (1942–1945)
Arthur Gordon (1946–1948)
Herbert R. Mayes (1948–1951)
John J. O'Connell (1951–1959)
Robert Atherton (1959–1965)
Helen Gurley Brown

Helen Gurley Brown

Helen Gurley Brown , is an author, publisher, and businesswoman. She was editor-in-chief of Cosmopolitan magazine for 32 years.-Personal life and career:...


(1965–1997)
Bonnie Fuller

Bonnie Fuller

Bonnie Fuller is a Canadian media executive and the editor of HollywoodLife.com. Fuller has been responsible for several magazine titles, including as Vice President and Chief Editorial Director of American Media .She was editor of Flare magazine, YM magazine, the...


(1997–1998)
Kate White

Kate White

*Not to be confused with Katie WhiteKate White is the editor-in-chief of Cosmopolitan Magazine. She is the author of the best-selling Bailey Weggins mystery novels , for which she has received critical acclaim...


(1998–Present)
Books
Cosmo's Guide to Red Hot Sex (2008) (ISBN 1-58816-649-X)
Cosmo's Aqua Kama Sutra: 25 Sex Positions for the Tub, Shower, Pool, and More (2006) (ISBN 1-58816-571-X)
Cosmo Confessions: Hundreds of Absolutely Shameful, Scandalous, and Sexy Real-Life Tales! (2006) (ISBN 1-58816-467-5)
Cosmo's Naughty Notes: 100 Sexy Stickies to Tease, Tantalize, and Turn On Your Man (2006) (ISBN 1-58816-599-X)
Cosmo's Steamy Sex Games: All Sorts of Naughty Ways to Have Fun with Your Lover (2006) (ISBN 1-58816-640-6)
The Cosmo Kama Sutra: 77 Mind-Blowing Sex Positions (2004) (ISBN 1-58816-423-3)
External links