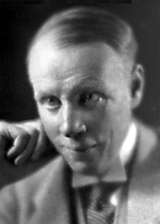 Sinclair Lewis
Harry Sinclair Lewis
was an
American
United States
The United States of America is a federal constitutional republic comprising fifty states and a federal district...
novelist, short-story writer, and
playwright
Playwright
A playwright, also called a dramatist, is a person who writes plays.The term is not a variant spelling of "playwrite", but something quite distinct: the word wright is an archaic English term for a craftsman or builder...
. In 1930, he became the first writer from the United States to be awarded the
Nobel Prize in Literature
Nobel Prize in Literature
Since 1901, the Nobel Prize in Literature has been awarded annually to an author from any country who has, in the words from the will of Alfred Nobel, produced "in the field of literature the most outstanding work in an ideal direction"...
, "for his vigorous and graphic art of description and his ability to create, with wit and humor, new types of characters." His works are known for their insightful and critical views of American society and
capitalist
Capitalism
Capitalism is an economic system that became dominant in the Western world following the demise of feudalism. There is no consensus on the precise definition nor on how the term should be used as a historical category...
values, as well as for their strong characterizations of modern working women.
He has been honored by the
U.S. Postal Service
United States Postal Service
The United States Postal Service is an independent agency of the United States government responsible for providing postal service in the United States...
with a
Great Americans series
Great Americans series
The Great Americans series is a set of definitive stamps issued by the United States Postal Service, starting on December 27, 1980 with the 19¢ stamp depicting Sequoyah, and continuing through 2002, the final stamp being the 78¢ Alice Paul self-adhesive stamp. The series, noted for its simplicity...
postage stamp
Postage stamp
A postage stamp is a small piece of paper that is purchased and displayed on an item of mail as evidence of payment of postage. Typically, stamps are made from special paper, with a national designation and denomination on the face, and a gum adhesive on the reverse side...
.
Born in the village of
Sauk Centre
Sauk Centre, Minnesota
As of the census of 2000, there were 3,930 people, 1,616 households, and 1,042 families residing in the city. The population density was 1,057.2 people per square mile . There were 1,709 housing units at an average density of 459.7 per square mile...
,
Minnesota
Minnesota
Minnesota is a U.S. state located in the Midwestern United States. The twelfth largest state of the U.S., it is the twenty-first most populous, with 5.3 million residents. Minnesota was carved out of the eastern half of the Minnesota Territory and admitted to the Union as the thirty-second state...
, Lewis began reading books at a young age and kept a diary.
Every compulsion is put upon writers to become safe, polite, obedient, and sterile. In protest, I declined election to the National Institute of Arts and Letters some years ago, and now I must decline the Pulitzer Prize.

Letter declining the 1926 Pulitzer Prize for Arrowsmith
Slow yellow river flowing, willows that gesture in tepid August airs, and four children playing at greatness, as, doubtless, great men themselves must play.

Ann Vickers (1933) First lines.
Probably none of the Weagles gave five minutes' thought a year to theology or ecclesiology, except Ora, who occasionally stirred up a lot of interesting family irritation by announcing that he was going to become a Catholic, an Episcopalian, a Buddhist, or a Seventh Day Adventist.

Work of Art (1934) Ch. 4
Myron reflected that there are so many people in the world who are eager to do for you things that you do not wish done, provided only that you will do for them things that you don't wish to do.

Work of Art (1934) Ch. 21
Mr. Blingham, and may he fry in his own cooking-oil, was assistant treasurer of the Flaver-Saver Company.

Kingsblood Royal (1947) First lines.
His entire system of theology was comprised in the Bible, which he never read, and the Methodist Church, which he rarely attended.

Fine, large, meaningless, general terms like romance and business can always be related. They take the place of thinking, and are highly useful to optimists and lecturers.

The reason for it all, nobody who is actually engaged in it can tell you, except the bosses, who believe that these sacred rites of composing dull letters and solemnly filing them away are observed in order that they may buy the large automobiles in which they do not have time to take the air.

Mr. Wilkins came back and hemmed and hawed a good deal; he praised the work she hadn't considered well done, and pointed out faults in what she considered particularly clever achievements.