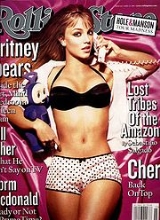 Britney Spears
Britney Jean Spears
is an American recording artist and entertainer. Born in
McComb, Mississippi
McComb, Mississippi
McComb is a city in Pike County, Mississippi, United States, about south of Jackson. As of the 2010 census, the city had a total population of 13,644. It is the principal city of the McComb, Mississippi, Micropolitan Statistical Area...
, and raised in
Kentwood, Louisiana
, Spears began performing as a child, landing acting roles in stage productions and television shows. She signed with
Jive Records
Jive Records
Jive Records was a record label based in New York City, operating under RCA Music Group. Jive was primarily known for a string of successes with hip hop artists in the 1980s, and in teen pop and boy bands in the late 1990s. The word "jive" was inspired by Township Jive, a form of South African...
in 1997 and released her debut album
...Baby One More Time
...Baby One More Time
...Baby One More Time is the debut studio album of American recording artist Britney Spears, released on January 12, 1999, by Jive Records. In June 1997, while Spears was in a negotiation with manager Lou Pearlman to join female pop group Innosense, her mother asked family friend and entertainment...
in 1999. During her first decade in the music industry, she became a prominent figure in mainstream popular music and popular culture, followed by a much-publicized personal life.
I think I'm still clean living. That's — I mean I don't go home and have orgies or anything like that. I'm still the same person I've always been.

CNN interview (3 September 2003)
About shocking. You know I feel comfortable in my skin. I think it's an okay thing to express yourself.

Everyone now, they look back and they're like, "What happened to your sweet image that you used to be?" And I'm like, then when you came out you thought I was too provocative. It's like you can never win. No matter what you do, at the end of the day you can't please everybody, you know. I'm not here to please...

I think honestly if you can wait until you're married I think you should definitely do that, because it's so much more sacred. That you don't go around sleeping with people. But I mean, I really thought I was going to be with him for the rest of my life, I did. (Referring to losing her virginity to ex-boyfriend Justin Timberlake.

I'm very, very blessed. But my safety, my privacy, and my respect are three things that I feel like are trying to be taken away from me right now. As a mother I have to speak up and say something. I have to speak up.

I think with anybody who's doing well in the public eye or whatever, there's always gonna be a shift because people don't wanna see somebody happy all the time. And they're gonna try to take shots at people.

That driving incident, I did it with my dad. I'd sit on his lap and I drive. We're country.