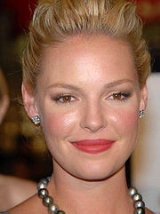 Katherine Heigl
Katherine Marie Heigl
(icon; born November 24, 1978) is an American actress and producer. She is possibly best known for her role as
Dr. Izzie Stevens
Izzie Stevens
Isobel 'Izzie' Katherine Stevens is a fictional character from the medical drama television series Grey's Anatomy, which airs on ABC in the United States. The character was created by series producer Shonda Rhimes, and was portrayed by actress Katherine Heigl from 2005 to 2010...
on
ABC
American Broadcasting Company
The American Broadcasting Company is an American commercial broadcasting television network. Created in 1943 from the former NBC Blue radio network, ABC is owned by The Walt Disney Company and is part of Disney-ABC Television Group. Its first broadcast on television was in 1948...
's
Grey's Anatomy
Grey's Anatomy
Grey's Anatomy is an American medical drama television series created by Shonda Rhimes. The series premiered on March 27, 2005 on ABC; since then, seven seasons have aired. The series follows the lives of interns, residents and their mentors in the fictional Seattle Grace Mercy West Hospital in...
from 2005 to 2010, for which she won a Primetime Emmy Award for Outstanding Supporting Actress – Drama Series in 2007. She has also starred in films such as
Knocked Up
Knocked Up
Knocked Up is a 2007 American romantic comedy drama film co-produced, written, and directed by Judd Apatow. Starring Seth Rogen, Katherine Heigl, Paul Rudd, and Leslie Mann, the film follows the repercussions of a drunken one-night stand between Rogen's slacker character and Heigl's just-promoted...
,
Zyzzyx Road
Zyzzyx Road
Zyzzyx Road is a 2006 independent thriller film. It stars Leo Grillo, Katherine Heigl, and Tom Sizemore. The screenplay was written by John Penney, who also directed the film. The film has gained a degree of notoriety due to its extremely low U.S. box office gross .-Plot:Grant is an accountant...
,
27 Dresses
27 Dresses
27 Dresses is a 2008 romantic comedy film directed by Anne Fletcher and written by Aline Brosh McKenna. The film stars Katherine Heigl and James Marsden. The film was released January 10, 2008 in Australia and opened in the United States on January 18....
,
The Ugly Truth
The Ugly Truth (film)
The Ugly Truth is a 2009 American romantic comedy film starring Katherine Heigl and Gerard Butler. The film was released in North America on July 24, 2009, produced by Lakeshore Entertainment for Columbia Pictures .- Plot :...
,
Killers
Killers (2010 film)
Killers is a 2010 American romantic comedy action film starring Katherine Heigl, Ashton Kutcher, Tom Selleck and Catherine O'Hara. The film was released in the United States and Canada on June 4, 2010...
, and
Life As We Know It
Life as We Know It (film)
Life as We Know It is a 2010 romantic comedy-drama film directed by Greg Berlanti, starring Katherine Heigl and Josh Duhamel. It was released on October 8, 2010, after sneak previews in 811 theaters on October 2, 2010...
.
Heigl started her career as a child model with
Wilhelmina Models
Wilhelmina Models
Wilhelmina Models is a modeling agency founded in 1967 by the model Wilhelmina Cooper and her husband Bruce Cooper in Manhattan Starting in 2010, Wilhelmina Models started a sub-brand called "Digital Empire Modeling" for new digital-era modeling talents....
before she turned her attention to acting.
When I was 13, I was flat as a board and totally unhappy about it. I would write in my diary every day, Oh, if I could just have a B cup by summer! I actually prayed for big boobs. So I developed at about 14, and then I was 15, 16, 17, and they kept going.

Discussing her bust in an interview with Maxim (June 2000)
Oh God — I look back now, and it seems so gross. At just 14 years old, I had to wear a thong bikini. And then they used that scene in the trailer, so my entire school saw it! There are still men who come up to me today and say, "You were really hot in that film!" I was 14, for God's sake!

Discussing her scene in wikipedia:en:My Father The Hero|My Father The Hero in an interview with FHM (October 2000)
I lived in a town called New Canaan, which is just outside of Connecticut, where they are far too snobby to even mention celebrities. Many American towns are famous for things like, "See the World's Largest Ball of String!" I think my town's would probably have to be "Most Pretentious People".

About New Canaan, her hometown, in an interview with FHM (October 2000) :Interview in Allure magazine (June 2007)
I think people don't expect a lot from me. I'm trying to think at what age I noticed it was more about how I looked and less about what I do, but to me that was never the interesting part about me. I had nothing to do with my looks.

I do think you've got to fight a lot of the time to be respected in business, in relationships, in life. I learned that early in my career.

I have very little patience for people who whine and complain about life not being fair. It's just the risk of life. The only thing to do is live as much as you can and as best you can, and just sort of swing it from there.

Yeah, I have giant breasts — in a bra. It's so disconcerting — there are so many women now with fake breasts that that's the standard; that's what you're supposed to look like. But real boobs don't look like that, and a lot of working out won't make them look like that.

I have a real problem giving up that kind of control. You know, my mother helps me.

On not having a stylist. :Interview in InStyle magazine (August 2009)
I'm still figuring out who I am. But at least I know what I want.

My sense of humor is the raunchier, inappropriate kind. It's so much funnier than the quirky stuff.