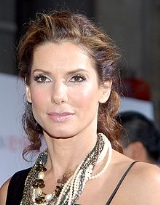 Sandra Bullock
Sandra Annette Bullock is an Academy Award winning American actress and producer who rose to fame in the 1990s after roles in successful films such as
Demolition Man
Demolition Man (film)
Demolition Man is a 1993 American, science fiction action film directed by Marco Brambilla, and starring Sylvester Stallone and Wesley Snipes. Sandra Bullock, Nigel Hawthorne, and Denis Leary co-star....
, Speed, The Net,
A Time to Kill
A Time to Kill (film)
A Time to Kill is a 1996 film adaptation of John Grisham's 1989 legal thriller novel of the same name. Directed by Joel Schumacher, the film features an ensemble cast that includes Sandra Bullock, Samuel L...
, and
While You Were Sleeping
While You Were Sleeping
While You Were Sleeping is a 1995 romantic comedy film directed by Jon Turteltaub and written by Daniel G. Sullivan and Frederic Lebow. It stars Sandra Bullock as Lucy, a Chicago Transit Authority token collector and Bill Pullman as Jack, the brother of a man whose life she saves, along with Peter...
. She continued with films such as Miss Congeniality,
The Lake House
The Lake House (film)
The Lake House: Original Motion Picture Soundtrack was released in 2006.# "This Never Happened Before" - Paul McCartney# " Make You Mine" - The Clientele# "Time Has Told Me" - Nick Drake# "Ant Farm" - Eels...
, and
Crash
Crash (2004 film)
Crash is a 2004 American drama film co-written, produced, and directed by Paul Haggis. The film is about racial and social tensions in Los Angeles, California. A self-described "passion piece" for Haggis, Crash was inspired by a real life incident in which his Porsche was carjacked outside a video...
, the third of which received critical acclaim. In 2007, she was ranked as the 14th richest female celebrity with an estimated fortune of US$85 million. In 2009, Bullock starred in the most financially successful films of her career,
The Proposal
The Proposal (film)
The Proposal is a 2009 American romantic comedy film set in Sitka, Alaska. Directed by Anne Fletcher and written by Peter Chiarelli, the film features Sandra Bullock and Ryan Reynolds as the leading roles, with Mary Steenburgen, Betty White, and Craig T. Nelson in supporting roles...
and
The Blind Side
The Blind Side (film)
The Blind Side is a 2009 American semi-biographical drama film. It is written and directed by John Lee Hancock, and based on the 2006 book The Blind Side: Evolution of a Game by Michael Lewis. The storyline features Michael Oher, an offensive lineman who plays for the Baltimore Ravens of the NFL...
.