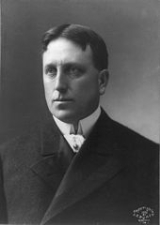 William Randolph Hearst
William Randolph Hearst
(icon; April 29, 1863 – August 14, 1951) was an American
business magnate
Business magnate
A business magnate, sometimes referred to as a capitalist, czar, mogul, tycoon, baron, oligarch, or industrialist, is an informal term used to refer to an entrepreneur who has reached prominence and derived a notable amount of wealth from a particular industry .-Etymology:The word magnate itself...
and leading newspaper publisher. Hearst entered the publishing business in 1887, after taking control of
The San Francisco Examiner
The San Francisco Examiner
The San Francisco Examiner is a U.S. daily newspaper. It has been published continuously in San Francisco, California, since the late 19th century.-19th century:...
from his father. Moving to New York City, he acquired
The New York Journal
and engaged in a bitter circulation war with
Joseph Pulitzer
Joseph Pulitzer
Joseph Pulitzer April 10, 1847 – October 29, 1911), born Politzer József, was a Hungarian-American newspaper publisher of the St. Louis Post Dispatch and the New York World. Pulitzer introduced the techniques of "new journalism" to the newspapers he acquired in the 1880s and became a leading...
's
New York World
New York World
The New York World was a newspaper published in New York City from 1860 until 1931. The paper played a major role in the history of American newspapers...
which led to the creation of
yellow journalism
Yellow journalism
Yellow journalism or the yellow press is a type of journalism that presents little or no legitimate well-researched news and instead uses eye-catching headlines to sell more newspapers. Techniques may include exaggerations of news events, scandal-mongering, or sensationalism...
— sensationalized stories of dubious veracity.