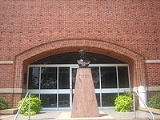 Jack London
John Griffith "Jack" London
(born
John Griffith Chaney
, January 12, 1876 – November 22, 1916) was an American author, journalist, and social activist. He was a pioneer in the then-burgeoning world of commercial magazine fiction and was one of the first fiction writers to obtain worldwide celebrity and a large fortune from his fiction alone. He is best remembered as the author of
Call of the Wild
Call Of The Wild
-Track listing:All songs written by Ted Nugent, except where indicated:#"Call of the Wild" – 4:51#"Sweet Revenge" – 4:06#"Pony Express" – 5:21#"Ain't It the Truth" – 4:57#"Renegade" – 3:33...
and
White Fang
White Fang
White Fang is a novel by American author Jack London. First serialized in Outing magazine, it was published in 1906. The story takes place in Yukon Territory, Canada, during the Klondike Gold Rush at the end of the 19th-century, and details a wild wolfdog's journey to domestication...
, both set in the
Klondike Gold Rush
Klondike Gold Rush
The Klondike Gold Rush, also called the Yukon Gold Rush, the Alaska Gold Rush and the Last Great Gold Rush, was an attempt by an estimated 100,000 people to travel to the Klondike region the Yukon in north-western Canada between 1897 and 1899 in the hope of successfully prospecting for gold...
, as well as the short stories "
To Build a Fire
To Build a Fire
"To Build a Fire" is a short story by American author Jack London. The famous version of this story was published in 1908. London published an earlier and radically different version in 1902 in which the protagonist survives his ordeal, and a comparison of the two provides a dramatic illustration...
", "An Odyssey of the North", and "Love of Life".
I do not live for what the world thinks of me, but for what I think of myself.

Letter to Charles Warren Stoddard|Charles Warren Stoddard (21 August 1903)
Life? Bah! It has no value. Of cheap things it is the cheapest.

"The Sea-Wolf|The Sea-Wolf" (1904)
I love the flesh. I'm a pagan. "Who are they who speak evil of the clay? The very stars are made of clay like mine!"

Letter to Charles Warren Stoddard|Charles Warren Stoddard (11 August 1905)
Life achieves its summit when it does to the uttermost that which it was equipped to do.

White Fang|White Fang (1906)
The trouble with him was that he was without imagination. He was quick and alert in the things of life, but only in the things, and not in the significances.

"To Build a Fire|To Build a Fire" published as a collection of short stories in the book Lost Face (1910)
Life is not always a matter of holding good cards, but sometimes, playing a poor hand well.

As quoted in Sacred Journey of the Peaceful Warrior (1991) by Dan Millman, p. 78
Too much is written by the men who can't write about the men who do write.

Ch. XXXII