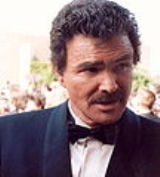 Burt Reynolds
Burton Leon "Burt" Reynolds, Jr.
(born February 11, 1936) is an American actor. Some of his memorable roles include Bo 'Bandit' Darville in
Smokey and the Bandit
Smokey and the Bandit
Smokey and the Bandit is a 1977 American film starring Burt Reynolds, Sally Field, Jackie Gleason, Jerry Reed, Pat McCormick, Paul Williams, and Mike Henry. It inspired several other trucking films, including two sequels, Smokey and the Bandit II, and Smokey and the Bandit Part 3...
, Lewis Medlock in
Deliverance
Deliverance
Deliverance is a 1972 American thriller film produced and directed by John Boorman. Principal cast members include Jon Voight, Burt Reynolds, Ronny Cox and Ned Beatty in his film debut. The film is based on a 1970 novel of the same name by American author James Dickey, who has a small role in the...
, Bobby "Gator" McCluskey in
White Lightning
White Lightning (1973 film)
White Lightning is a 1973 American action film from United Artists starring Burt Reynolds as Gator McKlusky. The film, directed by Joseph Sargent and written by William W. Norton, also starred Jennifer Billingsley, Ned Beatty, Bo Hopkins, R.G. Armstrong, and Diane Ladd...
and sequel
Gator
Gator (film)
Gator is a 1976 action film starring and directed by Burt Reynolds. It is a sequel to White Lightning. Reynolds honored his favorite professor from college, Watson B...
, Paul Crewe and Coach Nate Scarborough in
The Longest Yard
and its
2005 remake
The Longest Yard (2005 film)
The Longest Yard is a 2005 American sports comedy film remake of the 1974 film of the same name. Adam Sandler plays the protagonist, Paul Crewe, a disgraced former professional football quarterback for the Pittsburgh Steelers of the NFL, who is coerced to form a team from the prison inmates to play...
respectively, Billy Clyde Puckett in
Semi-Tough
Semi-Tough
Semi-Tough is a 1977 film directed by Michael Ritchie and starring Burt Reynolds, Kris Kristofferson, Jill Clayburgh, Lotte Lenya, Bert Convy, and Brian Dennehy. The plot involves a love triangle between the characters portrayed by Reynolds, Kristofferson and Clayburgh...
, J.J. McClure in
The Cannonball Run
, the voice of Charlie B.