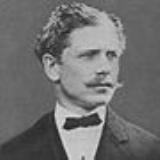 Ambrose Bierce
Ambrose Gwinnett Bierce
(June 24, 1842 – after December 26, 1913) was an American
editorial
Editorial
An opinion piece is an article, published in a newspaper or magazine, that mainly reflects the author's opinion about the subject. Opinion pieces are featured in many periodicals.-Editorials:...
ist,
journalist
Journalist
A journalist collects and distributes news and other information. A journalist's work is referred to as journalism.A reporter is a type of journalist who researchs, writes, and reports on information to be presented in mass media, including print media , electronic media , and digital media A...
,
short story
Short story
A short story is a work of fiction that is usually written in prose, often in narrative format. This format tends to be more pointed than longer works of fiction, such as novellas and novels. Short story definitions based on length differ somewhat, even among professional writers, in part because...
writer,
fabulist
Fable
A fable is a succinct fictional story, in prose or verse, that features animals, mythical creatures, plants, inanimate objects or forces of nature which are anthropomorphized , and that illustrates a moral lesson , which may at the end be expressed explicitly in a pithy maxim.A fable differs from...
and satirist. Today, he is best known for his short story, "
An Occurrence at Owl Creek Bridge
An Occurrence at Owl Creek Bridge
"An Occurrence at Owl Creek Bridge" is a short story by Ambrose Bierce. It was originally published in 1890, and first collected in Bierce's 1891 book Tales of Soldiers and Civilians...
" and his satirical lexicon,
The Devil's Dictionary
The Devil's Dictionary
The Devil's Dictionary is a satirical "reference" book written by Ambrose Bierce. The book offers reinterpretations of terms in the English language, lampooning cant and political doublespeak, as well as other aspects of human foolishness and frailty. It was originally published in 1906 as The...
.
The sardonic view of human nature that informed his work – along with his vehemence as a
critic
Critic
A critic is anyone who expresses a value judgement. Informally, criticism is a common aspect of all human expression and need not necessarily imply skilled or accurate expressions of judgement. Critical judgements, good or bad, may be positive , negative , or balanced...
, with his motto "nothing matters" – earned him the
nickname
Nickname
A nickname is "a usually familiar or humorous but sometimes pointed or cruel name given to a person or place, as a supposedly appropriate replacement for or addition to the proper name.", or a name similar in origin and pronunciation from the original name....
"Bitter Bierce."
Despite his reputation as a searing critic, however, Bierce was known to encourage younger writers, including poet
George Sterling
George Sterling
George Sterling was an American poet based in California who, during his time, was celebrated in Northern California as one of the greatest American poets, although he never gained much fame in the rest of the United States.-Biography:Sterling was born in Sag Harbor, Long Island, New York, the...
and fiction writer
W. C. Morrow
W. C. Morrow
William Chambers Morrow was an American writer, now noted mainly for his short stories of horror and suspense...
.
Mark how my fame rings out from zone to zone:A thousand critics shouting: "He's unknown!"

Couplet
Absent, adj. Peculiarly exposed to the tooth of detraction; vilifed; hopelessly in the wrong; superseded in the consideration and affection of another.

To men a man is but a mind. Who cares What face he carries or what form he wears? But woman's body is the woman. O, Stay thou, my sweetheart, and do never go, But heed the warning words the sage hath said: A woman absent is a woman dead.

Abstainer, n. A weak person who yields to the temptation of denying himself a pleasure. A total abstainer is one who abstains from everything but abstention, and especially from inactivity in the affairs of others.

Absurdity, n. A statement or belief manifestly inconsistent with one's own opinion.

Accord, n. Harmony.

Accordion, n. An instrument in harmony with the sentiments of an assassin.

Acquaintance, n. A person whom we know well enough to borrow from, but not well enough to lend to. A degree of friendship called slight when its object is poor or obscure, and intimate when he is rich or famous

Admiration, n. Our polite recognition of another's resemblance to ourselves.