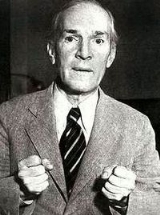 Upton Sinclair
Upton Beall Sinclair Jr.
(September 20, 1878 – November 25, 1968), was an
American
United States
The United States of America is a federal constitutional republic comprising fifty states and a federal district...
author who wrote close to one hundred books in many genres. He achieved popularity in the first half of the twentieth century, acquiring particular fame for his classic
muckraking
Muckraker
The term muckraker is closely associated with reform-oriented journalists who wrote largely for popular magazines, continued a tradition of investigative journalism reporting, and emerged in the United States after 1900 and continued to be influential until World War I, when through a combination...
novel,
The Jungle
The Jungle
The Jungle is a 1906 novel written by journalist Upton Sinclair. Sinclair wrote the novel with the intention of portraying the life of the immigrant in the United States, but readers were more concerned with the large portion of the book pertaining to the corruption of the American meatpacking...
(1906). It exposed conditions in the U.S.
meat packing industry
Meat packing industry
The meat packing industry handles the slaughtering, processing, packaging, and distribution of animals such as cattle, pigs, sheep and other livestock...
, causing a public uproar that contributed in part to the passage a few months later of the 1906
Pure Food and Drug Act
Pure Food and Drug Act
The Pure Food and Drug Act of June 30, 1906, is a United States federal law that provided federal inspection of meat products and forbade the manufacture, sale, or transportation of adulterated food products and poisonous patent medicines...
and the
Meat Inspection Act
Meat Inspection Act
The Federal Meat Inspection Act of 1906 was a United States Congress Act that worked to prevent adulterated or misbranded meat and meat products from being sold as food and to ensure that meat and meat products are slaughtered and processed under sanitary conditions. These requirements also apply...
.
What life means to me is to put the content of Shelley into the form of Zola. The proletarian writer is a writer with a purpose; he thinks no more of "art for art's sake" than a man on a sinking ship thinks of painting a beautiful picture in the cabin; he thinks of getting ashore — and then there will be time enough for art.

Cosmopolitan (October 1906)
Let us redeem our great words from base uses. Let that no longer call itself Love, which knows that it is not free!

Love's Pilgrimage (1911)
I know you are brave and unselfish people, making sacrifices for a great principle but I cannot join you. I believe in the present effort which the allies are making to suppress German militarism. I would approve of America going to their assistance. I would enlist to that end, if ever there be a situation where I believe I could do more with my hands than I could with my pen.

Letter to the Anti-Enlistment League (1915-09-20)
All art is propaganda. It is universally and inescapably propaganda; sometimes unconsciously, but often deliberately, propaganda.

Mammonart - an Essay in Economic Interpretation Ch. 2 Who Owns the Artists? (1925)
I used to say to our audiences: "It is difficult to get a man to understand something, when his salary depends upon his not understanding it!"

I, Candidate for Governor: And How I Got Licked (1935), ISBN 0-520-08198-6; repr. University of California Press, 1994, p. 109.