 Blue plaque
A
blue plaque
is a permanent sign installed in a public place to commemorate a link between that location and a famous person or event, serving as a
historical marker
Historical marker
A historical marker or historic marker is an indicator such as a plaque or sign to commemorate an event or person of historic interest and to associate that point of interest with a specific locale one can visit.-Description:...
.
The world's first blue plaques were erected in London, England in the nineteenth century to mark the homes and workplaces of famous people. This original scheme still survives today and is administered by English Heritage. There are now commemorative plaque schemes throughout the world for example in Paris, France; Rome, Italy; Oslo, Norway; Dublin, Ireland; Poland; Canada and Australia; as well as in additional towns in the United Kingdom and the United States.
English Heritage scheme
The original blue plaque scheme started in the 1860s, is now run by
English Heritage
English Heritage
English Heritage . is an executive non-departmental public body of the British Government sponsored by the Department for Culture, Media and Sport...
in London. It is believed to be the oldest such scheme in the world.
There are currently about 850 plaques in London. There were once more, but about 100 have been removed or destroyed due to demolition.
English Heritage puts up an average of 12 new plaques each year in London and many of these are unveiled by prominent celebrities. A recent plaque to
John Lennon
John Lennon
John Winston Lennon, MBE was an English musician and singer-songwriter who rose to worldwide fame as one of the founding members of The Beatles, one of the most commercially successful and critically acclaimed acts in the history of popular music...
was unveiled in Montagu Square, London, by
Yoko Ono
Yoko Ono
is a Japanese artist, musician, author and peace activist, known for her work in avant-garde art, music and filmmaking as well as her marriage to John Lennon...
, at the house where the couple shot the cover of the album Two Virgins.
History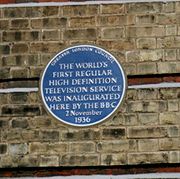 The scheme was founded in 1866 by William Ewart MP, Henry Cole and the Royal Society of Arts (RSA), which erected plaques in a variety of shapes and colours.
The first plaque was unveiled in 1867 to commemorate Lord Byron at his birthplace, 24 Holles Street, Cavendish Square. This house was demolished in 1889. The earliest blue plaque to survive, also put up in 1867, commemorates Napoleon III in King Street, St James's. Byron's plaque was blue, but the colour was changed by the manufacturer Minton, Hollins & Co to chocolate brown to save money.
In 1879, the Royal Society of Arts agreed that the Corporation of the City of London would be responsible for erecting plaques in The Square Mile to recognise the jurisdictional independence of the City. This demarcation has remained ever since. In total the RSA put up 35 plaques, less than half of which survive today.
In 1901, the scheme was taken over by the
London County Council
London County Council
London County Council was the principal local government body for the County of London, throughout its 1889–1965 existence, and the first London-wide general municipal authority to be directly elected. It covered the area today known as Inner London and was replaced by the Greater London Council...
(LCC), which gave much thought to the future design of the plaques, and eventually it was decided to keep the basic shape and design of the RSA plaques, with the exception that they would from then on be blue, introduce a laurel wreath and include the LCC's title. Though this design was used consistently from 1903 to 1938, some experimentation occurred in the 1920s, and plaques were made in bronze, stone and lead. Shape and colour also varied.
In 1921, the most common (blue) plaque design was revised, as it was discovered that glazed ceramic
Doulton ware
Royal Doulton
The Royal Doulton Company is an English company producing tableware and collectables, dating to 1815. Operating originally in London, its reputation grew in The Potteries, where it was a latecomer compared to Spode, Wedgwood and Minton...
was cheaper than the
encaustic
Encaustic tile
Encaustic tiles are ceramic tiles in which the pattern or figure on the surface is not a product of the glaze but of different colors of clay. They are usually of two colors but a tile may be composed of as many as six. The pattern is inlaid into the body of the tile, so that the design remains as...
formerly used. In 1938, a new plaque design was prepared by an unnamed student at the LCC's Central School of Arts and Crafts and was approved by the committee. It omitted the decorative elements of earlier plaque designs, and allowed for lettering to be better spaced and enlarged. A white border was added to the design shortly after, and this has remained the standard ever since. The LCC formalised the selection criteria for the scheme in 1954.
When the LCC was abolished in 1965, the scheme was taken over by the
Greater London Council
Greater London Council
The Greater London Council was the top-tier local government administrative body for Greater London from 1965 to 1986. It replaced the earlier London County Council which had covered a much smaller area...
(GLC). The scheme changed little, but the GLC was keen to broaden the range of people commemorated. The GLC erected 252 plaques, the subjects including
Sylvia Pankhurst
Sylvia Pankhurst
Estelle Sylvia Pankhurst was an English campaigner for the suffragist movement in the United Kingdom. She was for a time a prominent left communist who then devoted herself to the cause of anti-fascism.-Early life:...
,
Samuel Coleridge-Taylor
Samuel Coleridge-Taylor
Samuel Coleridge-Taylor was an English composer who achieved such success that he was once called the "African Mahler".-Early life and education:...
, and
Mary Seacole
Mary Seacole
Mary Jane Seacole , sometimes known as Mother Seacole or Mary Grant, was a Jamaican nurse best known for her involvement in the Crimean War. She set up and operated boarding houses in Panama and the Crimea to assist in her desire to treat the sick...
.
In 1986, the GLC was disbanded and the Blue Plaques Scheme passed to
English Heritage
English Heritage
English Heritage . is an executive non-departmental public body of the British Government sponsored by the Department for Culture, Media and Sport...
. English Heritage has erected over 300 plaques in London so far, with many more shortlisted.
Criteria
In order to be eligible for an English Heritage blue plaque in London the famous person concerned must:
have been dead for twenty years or have passed the centenary of their birth. Fictional characters are not eligible;
be considered eminent by a majority of members of their own profession; have made an outstanding contribution to human welfare or happiness;
have lived in that building in London (excluding the City of London and Whitehall) for a significant period, in time or importance, within their life and work; be recognisable to the well-informed passer-by, or deserve national recognition.
In cases of foreigners and overseas visitors, candidates should be of international reputation or significant standing in their own country.
With regards to the location of a plaque:
Plaques can only be erected on the actual building inhabited by a figure, not the site where the building once stood (but in exceptional circumstances they may be put onto reconstructed buildings which have exactly the same façade on the identical site);
Plaques are not placed onto boundary walls, gate piers, educational or ecclesiastic buildings, or Inns of Court;
Buildings marked with plaques should be visible from the public highway;
A single person may not be commemorated with more than one plaque in London.
Note that other schemes have different criteria.
Selection process
Almost all the proposals for English Heritage blue plaques are made by members of the public who write or email the organisation before submitting a formal proposal.
English Heritage's in-house historian researches the proposal, and the Blue Plaques Panel advises on which suggestions should be successful. This is composed of 13 people from various disciplines from across the country. The panel is chaired by Professor Sir
David Cannadine
David Cannadine
Sir David Nicholas Cannadine, FBA is a British historian, known for a number of books, including The Decline and Fall of the British Aristocracy and Ornamentalism. He is also notable as a commentator and broadcaster on British public life, especially the monarchy. He serves as the generaleditor...
, and includes former
Poet Laureate
Poet Laureate
A poet laureate is a poet officially appointed by a government and is often expected to compose poems for state occasions and other government events...
Professor Sir
Andrew Motion
Andrew Motion
Sir Andrew Motion, FRSL is an English poet, novelist and biographer, who presided as Poet Laureate of the United Kingdom from 1999 to 2009.- Life and career :...
and buildings historian Professor
Gavin Stamp
Gavin Stamp
Gavin Stamp is a British writer and architectural historian. He is a trustee of the Twentieth Century Society, a registered charity which promotes the appreciation of modern architecture and the conservation of Britain's architectural heritage...
. The actor and broadcaster
Stephen Fry
Stephen Fry
Stephen John Fry is an English actor, screenwriter, author, playwright, journalist, poet, comedian, television presenter and film director, and a director of Norwich City Football Club. He first came to attention in the 1981 Cambridge Footlights Revue presentation "The Cellar Tapes", which also...
is also a prominent member of the panel. Stephen Fry wrote the foreword to the book 'Lived in London: Blue Plaques and the Stories Behind Them'.
Roughly a third of proposals are approved in principle, and are placed on a shortlist. Because the scheme is so popular, and because a lot of detailed research has to be carried out, it takes about three years for each case to reach the top of the shortlist. Proposals which are not taken forward can only be re-proposed once ten years have elapsed.
Other English schemes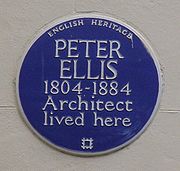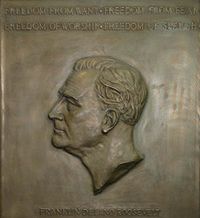 The popularity of the English Heritage London blue plaques scheme has meant that similar schemes have been set up in other towns in the UK and abroad. Many of these schemes also use blue plaques, often manufactured in metal or plastic rather than the ceramic used in London, but some feature plaques of different colours and shapes.
The criteria for selection tends to varies greatly. Many other schemes treat plaques primarily as memorials and place them on the sites of former buildings, whereas English Heritage places emphasis on the plaque as a marker of the actual building lived in by the famous person. Other schemes are run according to theme, such as the
Transport Trust's Red Wheel scheme
, which places red plaques on sites of particular significance in the evolution of transport.
The
Birmingham Civic Society
provides for a blue plaque scheme in and around Birmingham, there are currently in excess of 80 plaques commemorating notable former Birmingham residents and historical places of interest.
A scheme in
Manchester
Manchester
Manchester is a city and metropolitan borough in Greater Manchester, England. According to the Office for National Statistics, the 2010 mid-year population estimate for Manchester was 498,800. Manchester lies within one of the UK's largest metropolitan areas, the metropolitan county of Greater...
until recently used colour-coded plaques to commemorate figures, with each of the colours corresponding to his/her occupation. The plaques are now patinated bronze. The scheme is co-ordinated by Manchester City Galleries, to whom nominations can be submitted. Under the Manchester scheme, plaques must be funded by those who propose them.
The
British Comic Society
(previously known as the Dead Comics' Society) installs blue plaques to commemorate the former residences of well-known comedians, including those of
Sid James
Sid James
Sid James was an English-based South African actor and comedian. He made his name as Tony Hancock's co-star in Hancock's Half Hour and also starred in the popular Carry On films. He was known for his trademark "dirty laugh" and lascivious persona...
and
John Le Mesurier
John Le Mesurier
John Le Mesurier was a BAFTA Award-winning English actor. He is most famous for his role as Sergeant Arthur Wilson in the popular 1970s BBC comedy Dad's Army.-Career:...
.
A green plaque scheme is run in London alongside that of English Heritage by
Westminster City Council
Westminster City Council
Westminster City Council is the local authority for the City of Westminster in Greater London, England. It is a London borough council and is entitled to be known as a city council, which is a rare distinction in the United Kingdom. The city is divided into 20 wards, each electing three councillors...
, with each plaque being sponsored by groups campaigning for memorials.
In 2003, the
London Borough of Southwark

Southwark

Southwark is a district of south London, England, and the administrative headquarters of the London Borough of Southwark. Situated east of Charing Cross, it forms one of the oldest parts of London and fronts the River Thames to the north...



started a blue plaque scheme which allows for the commemoration of living people in the awards. The London Borough of Southwark awards Blue Plaques through popular vote following public nomination. Unlike the English Heritage scheme, the original building is not necessary for nomination.
Bournemouth Borough Council
has unveiled more than thirty-four blue plaques. The first plaque placed on a building in
Bournemouth
Bournemouth
Bournemouth is a large coastal resort town in the ceremonial county of Dorset, England. According to the 2001 Census the town has a population of 163,444, making it the largest settlement in Dorset. It is also the largest settlement between Southampton and Plymouth...
was unveiled on 31 October 1937 to
Lewis Tregonwell
Lewis Tregonwell
Lewis Dymoke Grosvenor Tregonwell ; captain in the Dorset Yeomanry and historic figure in the early development of what is now Bournemouth.-Early life:...
, who build the first house in what is now Bournemouth. Two further plaques followed in 1957 and 1975 to writer
Robert Louis Stevenson
Robert Louis Stevenson
Robert Louis Balfour Stevenson was a Scottish novelist, poet, essayist and travel writer. His best-known books include Treasure Island, Kidnapped, and Strange Case of Dr Jekyll and Mr Hyde....
and poet
Rupert Brooke
Rupert Brooke
Rupert Chawner Brooke was an English poet known for his idealistic war sonnets written during the First World War, especially The Soldier...
respectively. The first 'Blue Plaque' was unveiled on 30 June 1985 dedicated to
Sir Percy Florence Shelley
Percy Florence Shelley
Sir Percy Florence Shelley, 3rd Baronet was the son and only surviving child of Percy Bysshe Shelley and his second wife, Mary Shelley. He was thus the only grandchild of Mary Wollstonecraft...
,
Bt.
Baronet
A baronet or the rare female equivalent, a baronetess , is the holder of a hereditary baronetcy awarded by the British Crown...
. Since that time Bournemouth Borough Council has unveiled more than 30 blue plaques.
The Hertfordshire town of
Berkhamsted
Berkhamsted
-Climate:Berkhamsted experiences an oceanic climate similar to almost all of the United Kingdom.-Castle:...
unveiled a set of 32 blue plaques in 2000 on some of the town's most significant buildings, including
Berkhamsted Castle
Berkhamsted Castle
Berkhamsted Castle is a ruined Norman motte-and-bailey castle at Berkhamsted in Hertfordshire, England.The original fortification dates from Saxon times. Work on the Norman structure was started in 1066 by William the Conqueror who later passed the castle to his half-brother, Robert, Count of...
, the birthplace of writer
Graham Greene
Graham Greene
Henry Graham Greene, OM, CH was an English author, playwright and literary critic. His works explore the ambivalent moral and political issues of the modern world...
and buildings associated with the poet
William Cowper
William Cowper
William Cowper was an English poet and hymnodist. One of the most popular poets of his time, Cowper changed the direction of 18th century nature poetry by writing of everyday life and scenes of the English countryside. In many ways, he was one of the forerunners of Romantic poetry...
,
John Incent
John Incent
John Incent was an English clergyman in the early 16th Century, during the early years of the English Reformation. Originating from the town of Berkhamsted in Hertfordshire, he studied at the University of Cambridge and later at All Souls College, Oxford, and served as Dean of St Paul's Cathedral...
(a Dean of St Paul's Cathedral) and Clementine Churchill. The plaques feature in a Heritage Trail promoted by the Town Council.
The
Essex
Essex
Essex is a ceremonial and non-metropolitan county in the East region of England, and one of the home counties. It is located to the northeast of Greater London. It borders with Cambridgeshire and Suffolk to the north, Hertfordshire to the west, Kent to the South and London to the south west...
town of
Loughton
Loughton
Loughton is a town and civil parish in the Epping Forest district of Essex. It is located between 11 and 13 miles north east of Charing Cross in London, south of the M25 and west of the M11 motorway and has boundaries with Chingford, Waltham Abbey, Theydon Bois, Chigwell and Buckhurst Hill...
inaugurated a scheme in 1997, following a programme allowing for three new plaques a year; 33 had been erected to the end of 2010. The aim is to stimulate public interest in the town's heritage.
In 2005,
Malvern
Civic Society and Malvern Hills District Council announced that blue plaques would be placed on buildings in
Malvern
Malvern, Worcestershire
Malvern is a town and civil parish in Worcestershire, England, governed by Malvern Town Council. As of the 2001 census it has a population of 28,749, and includes the historical settlement and commercial centre of Great Malvern on the steep eastern flank of the Malvern Hills, and the former...
that were associated with famous people, including Franklin D Roosevelt. Since then blue plaques have been erected to commemorate CS Lewis,
Florence Nightingale
Florence Nightingale
Florence Nightingale OM, RRC was a celebrated English nurse, writer and statistician. She came to prominence for her pioneering work in nursing during the Crimean War, where she tended to wounded soldiers. She was dubbed "The Lady with the Lamp" after her habit of making rounds at night...
,
Charles Darwin
Charles Darwin
Charles Robert Darwin FRS was an English naturalist. He established that all species of life have descended over time from common ancestry, and proposed the scientific theory that this branching pattern of evolution resulted from a process that he called natural selection.He published his theory...
and Haile Selassie.
In 2010,
Derbyshire
Derbyshire
Derbyshire is a county in the East Midlands of England. A substantial portion of the Peak District National Park lies within Derbyshire. The northern part of Derbyshire overlaps with the Pennines, a famous chain of hills and mountains. The county contains within its boundary of approx...
County Council allowed its residents to vote via the internet on a shortlist of notable historical figures to be commemorated in a local blue plaque scheme. The first six plaques commemorated industrialist
Richard Arkwright junior
Richard Arkwright Junior
Richard Arkwright junior , the son of the famous Sir Richard Arkwright of Cromford, Derbyshire, was the financier of Samuel Oldknow of Marple and Mellor and a personal friend. His son Captain Arkwright married Francis Kemble, daughter of the famous theatre manager Stephen Kemble.-Biography:Richard...
(
Bakewell
Bakewell
Bakewell is a small market town in the Derbyshire Dales district of Derbyshire, England, deriving its name from 'Beadeca's Well'. It is the only town included in the Peak District National Park, and is well known for the local confection Bakewell Pudding...
),
Olave Baden-Powell
Olave Baden-Powell
Olave St Clair Baden-Powell, Baroness Baden-Powell, GBE was born Olave St Clair Soames in Chesterfield, England...
and the "Father of Railways"
George Stephenson
George Stephenson
George Stephenson was an English civil engineer and mechanical engineer who built the first public railway line in the world to use steam locomotives...
(
Chesterfield
Chesterfield
Chesterfield is a market town and a borough of Derbyshire, England. It lies north of Derby, on a confluence of the rivers Rother and Hipper. Its population is 70,260 , making it Derbyshire's largest town...
), the mathematical prodigy
Jedediah Buxton
Jedediah Buxton
Jedediah Buxton was a noted English mental calculator, born at Elmton, near Bolsover, in Derbyshire. Although his father was schoolmaster of the parish, and his grandfather had been the vicar, his education had been so neglected that he could not write; and his knowledge, except of numbers, was...
(
Elmton
Elmton
Elmton is a linear village. It is located in the parish of Elmton-with-Creswell in the Bolsover district of Derbyshire approximately equidistant between Bolsover Castle and Creswell Crags.- History :...
), actor
Arthur Lowe
Arthur Lowe
Arthur Lowe was a BAFTA Award winning English actor. He was best known for playing Captain George Mainwaring in the popular British sitcom Dad's Army from 1968 until 1977.-Early life:...
(
Hayfield
Hayfield
Hayfield is a village and civil parish in the Borough of High Peak, in the county of Derbyshire, England. The village lies approximately east of New Mills, south of Glossop and north of Buxton by road....
), and architect
Joseph Paxton
Joseph Paxton
Sir Joseph Paxton was an English gardener and architect, best known for designing The Crystal Palace.-Early life:...
(
Chatsworth House
Chatsworth House
Chatsworth House is a stately home in North Derbyshire, England, northeast of Bakewell and west of Chesterfield . It is the seat of the Duke of Devonshire, and has been home to his family, the Cavendish family, since Bess of Hardwick settled at Chatsworth in 1549.Standing on the east bank of the...
). The scheme is to be expanded with a further internet vote in 2011.
Northern Ireland
In
Northern Ireland
Northern Ireland
Northern Ireland is one of the four countries of the United Kingdom. Situated in the north-east of the island of Ireland, it shares a border with the Republic of Ireland to the south and west...
the
Ulster History Circle
Ulster History Circle
The Ulster History Circle is one of a number of heritage organisations that administers Blue Plaques in Northern Ireland. It is a voluntary, not for profit organisation, placing commemorative plaques in public places in honour of people and locations that have contributed to all genres of history...
is one of a small number of groups administering blue plaques within the UK province. Established in 1983, the Ulster History Circle has erected around 140 plaques. Belfast City Council also has a scheme.
Property values
Whilst there is no statistical evidence that having a commemorative plaque increases the value of a property, a Daily Mail article pointed out that it helps to make a property stand out from others, especially if there has been some publicity around it.
Other nations
Commemorative plaque schemes (not all of them using blue plaques) exist in the cities of Paris, Rome, Oslo and Dublin, in addition to those in London and the rest of the UK.
In the United States, commemorative plaques similar to those used in Europe are called historical markers. These vary in colour, but tend to predominately being green or blue. The
National Trust for Historic Preservation
National Trust for Historic Preservation
The National Trust for Historic Preservation is an American member-supported organization that was founded in 1949 by congressional charter to support preservation of historic buildings and neighborhoods through a range of programs and activities, including the publication of Preservation...
or the United States Government, through the
National Register of Historic Places
National Register of Historic Places
The National Register of Historic Places is the United States government's official list of districts, sites, buildings, structures, and objects deemed worthy of preservation...
, can bestow historical status.
Most Australian states have historic marker programs. For example, in
Victoria
Victoria (Australia)
Victoria is the second most populous state in Australia. Geographically the smallest mainland state, Victoria is bordered by New South Wales, South Australia, and Tasmania on Boundary Islet to the north, west and south respectively....
all places and objects listed on the
Victorian Heritage Register
Victorian Heritage Register
The Victorian Heritage Register lists places of cultural heritage significance to the State of Victoria, Australia. It has statutory weight under the Heritage Act 1995 which establishes Heritage Victoria as the permit authority...
are entitled to a blue plaque.
Examples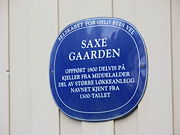 External links