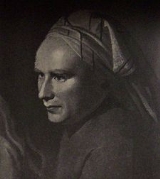 William Cowper
William Cowper
was an English
poet
Poet
A poet is a person who writes poetry. A poet's work can be literal, meaning that his work is derived from a specific event, or metaphorical, meaning that his work can take on many meanings and forms. Poets have existed since antiquity, in nearly all languages, and have produced works that vary...
and hymnodist. One of the most popular poets of his time, Cowper changed the direction of 18th century nature poetry by writing of everyday life and scenes of the English countryside. In many ways, he was one of the forerunners of
Romantic poetry
Romantic poetry
Romanticism, a philosophical, literary, artistic and cultural era which began in the mid/late-1700s as a reaction against the prevailing Enlightenment ideals of the day , also influenced poetry...
.
Samuel Taylor Coleridge
Samuel Taylor Coleridge
Samuel Taylor Coleridge was an English poet, Romantic, literary critic and philosopher who, with his friend William Wordsworth, was a founder of the Romantic Movement in England and a member of the Lake Poets. He is probably best known for his poems The Rime of the Ancient Mariner and Kubla...
called him "the best modern poet", whilst
William Wordsworth
William Wordsworth
William Wordsworth was a major English Romantic poet who, with Samuel Taylor Coleridge, helped to launch the Romantic Age in English literature with the 1798 joint publication Lyrical Ballads....
particularly admired his poem
Yardley-Oak
. He was a nephew of the poet
Judith Madan
Judith Madan
Judith Madan was an English poet. She was the grand daughter of Lady Sarah Cowper , the diarist....
.
While Cowper found refuge in a fervent
evangelical
Evangelicalism
Evangelicalism is a Protestant Christian movement which began in Great Britain in the 1730s and gained popularity in the United States during the series of Great Awakenings of the 18th and 19th century.Its key commitments are:...
Christianity
Christianity
Christianity is a monotheistic religion based on the life and teachings of Jesus as presented in canonical gospels and other New Testament writings...
, the inspiration behind his much-loved hymns, he often experienced
doubt
Doubt
Doubt, a status between belief and disbelief, involves uncertainty or distrust or lack of sureness of an alleged fact, an action, a motive, or a decision. Doubt brings into question some notion of a perceived "reality", and may involve delaying or rejecting relevant action out of concerns for...
and feared that he was doomed to eternal damnation.
Absence from whom we love is worse than death, And frustrate hope severer than despair.

"Hope, like the short-lived ray that gleams awhile", line 35
But oars alone can ne'er prevail To reach the distant coast; The breath of Heaven must swell the sail, Or all the toil is lost.

"Human Frailty", line 21 (1779)
Reasoning at every step he treads, Man yet mistakes his way, While meaner things, whom instinct leads, Are rarely known to stray.

"The Doves", line 1. (1780)
Fate steals along with silent tread, Found oftenest in what least we dread, Frowns in the storm with angry brow, But in the sunshine strikes the blow.

"A Fable" (or "The Raven"), line 36
True Charity, a plant divinely nurs'd.

"Charity", line 573. (1781)
"Regions Caesar never knew Thy posterity shall sway; Where his eagles never flew, None invincible as they." Such the bard's prophetic words, Pregnant with celestial fire, Bending as he swept the chords Of his sweet but awful lyre.

"Boadicea" (1782)
Sweet stream that winds through yonder glade, Apt emblem of a virtuous maid Silent and chaste she steals along, Far from the world's gay busy throng: With gentle yet prevailing force, Intent upon her destined course; Graceful and useful all she does, Blessing and blest where'er she goes; Pure-bosom'd as that watery glass, And Heaven reflected in her face.

"To a Young Lady" (1782)
Candid, and generous, and just,Boys care but little whom they trust,An error soon corrected— For who but learns in riper yearsThat man, when smoothest he appearsIs most to be suspected?

"Friendship", line 19 (1782)
Thus neither the praise nor the blame is our own.

"From a Letter to the Rev. Mr. Newton", line 21. (1782)
I believe no man was ever scolded out of his sins.

Letter to John Newton|John Newton, June 17, 1783.