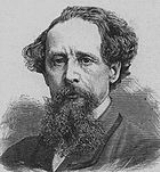 Charles Dickens
Charles John Huffam Dickens
(icon; 7 February 1812 – 9 June 1870) was an English novelist, generally considered the greatest of the Victorian period. Dickens enjoyed a wider popularity and fame than had any previous author during his lifetime, and he remains popular, having been responsible for some of English literature's most iconic novels and characters.
Many of his writings were originally published
serially
Serial (literature)
In literature, a serial is a publishing format by which a single large work, most often a work of narrative fiction, is presented in contiguous installments—also known as numbers, parts, or fascicles—either issued as separate publications or appearing in sequential issues of a single periodical...
, in monthly instalments or parts, a format of publication which Dickens himself helped popularise at that time.