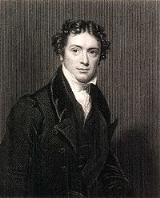 Michael Faraday
Michael Faraday
, FRS (22 September 1791 – 25 August 1867) was an English
chemist
Chemist
A chemist is a scientist trained in the study of chemistry. Chemists study the composition of matter and its properties such as density and acidity. Chemists carefully describe the properties they study in terms of quantities, with detail on the level of molecules and their component atoms...
and
physicist
Physicist
A physicist is a scientist who studies or practices physics. Physicists study a wide range of physical phenomena in many branches of physics spanning all length scales: from sub-atomic particles of which all ordinary matter is made to the behavior of the material Universe as a whole...
(or
natural philosopher
, in the terminology of the time) who contributed to the fields of
electromagnetism
Electromagnetism
Electromagnetism is one of the four fundamental interactions in nature. The other three are the strong interaction, the weak interaction and gravitation...
and
electrochemistry
Electrochemistry
Electrochemistry is a branch of chemistry that studies chemical reactions which take place in a solution at the interface of an electron conductor and an ionic conductor , and which involve electron transfer between the electrode and the electrolyte or species in solution.If a chemical reaction is...
.
Faraday studied the
magnetic field
Electromagnetic field
An electromagnetic field is a physical field produced by moving electrically charged objects. It affects the behavior of charged objects in the vicinity of the field. The electromagnetic field extends indefinitely throughout space and describes the electromagnetic interaction...
around a
conductor
Electrical conductor
In physics and electrical engineering, a conductor is a material which contains movable electric charges. In metallic conductors such as copper or aluminum, the movable charged particles are electrons...
carrying a DC
electric current
Electric current
Electric current is a flow of electric charge through a medium.This charge is typically carried by moving electrons in a conductor such as wire...
. While conducting these studies, Faraday established the basis for the electromagnetic field concept in physics, subsequently enlarged upon by
James Maxwell
James Clerk Maxwell
James Clerk Maxwell of Glenlair was a Scottish physicist and mathematician. His most prominent achievement was formulating classical electromagnetic theory. This united all previously unrelated observations, experiments and equations of electricity, magnetism and optics into a consistent theory...
.
ALL THIS IS A DREAM. Still examine it by a few experiments. Nothing is too wonderful to be true, if it be consistent with the laws of nature; and in such things as these experiment is the best test of such consistency.

Labratory journal entry 10,040 (19 March 1849); published in The Life and Letters of Faraday (1870) Vol. II, edited by Henry Bence Jones|Henry Bence Jones, p. 253. This has sometimes been quoted partially as "Nothing is too wonderful to be true."
If you would cause your view ... to be acknowledged by scientific men; you would do a great service to science. If you would even get them to say yes or no to your conclusions it would help to clear the future progress. I believe some hesitate because they do not like their thoughts disturbed.

Life and Letters, 2:389.
There is no more open door by which you can enter into the study of natural philosophy than by considering the physical phenomena of a candle.

The Chemical History of a Candle(1860)