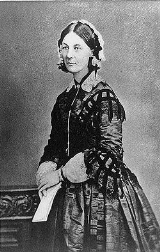 Florence Nightingale
Florence Nightingale
OM,
RRC
Royal Red Cross
The Royal Red Cross is a military decoration awarded in the United Kingdom and Commonwealth for exceptional services in military nursing.The award was established on 27 April 1883 by Queen Victoria, with a single class of Member...
(icon; historically ˈflɒɾəns; 12 May 1820 – 13 August 1910) was a celebrated
English
English people
The English are a nation and ethnic group native to England, who speak English. The English identity is of early mediaeval origin, when they were known in Old English as the Anglecynn. England is now a country of the United Kingdom, and the majority of English people in England are British Citizens...
nurse, writer and
statistician
Statistician
A statistician is someone who works with theoretical or applied statistics. The profession exists in both the private and public sectors. The core of that work is to measure, interpret, and describe the world and human activity patterns within it...
. She came to prominence for her pioneering work in
nursing
Nursing
Nursing is a healthcare profession focused on the care of individuals, families, and communities so they may attain, maintain, or recover optimal health and quality of life from conception to death....
during the
Crimean War
Crimean War
The Crimean War was a conflict fought between the Russian Empire and an alliance of the French Empire, the British Empire, the Ottoman Empire, and the Kingdom of Sardinia. The war was part of a long-running contest between the major European powers for influence over territories of the declining...
, where she tended to wounded soldiers. She was dubbed "The Lady with the Lamp" after her habit of making rounds at night. An Anglican, Nightingale believed that God had called her to be a nurse.
Nightingale laid the foundation of professional nursing with the establishment, in 1860, of her nursing school at
St Thomas' Hospital
St Thomas' Hospital
St Thomas' Hospital is a large NHS hospital in London, England. It is administratively a part of Guy's & St Thomas' NHS Foundation Trust. It has provided health care freely or under charitable auspices since the 12th century and was originally located in Southwark.St Thomas' Hospital is accessible...
in
London
London
London is the capital city of :England and the :United Kingdom, the largest metropolitan area in the United Kingdom, and the largest urban zone in the European Union by most measures. Located on the River Thames, London has been a major settlement for two millennia, its history going back to its...
, the first secular nursing school in the world, now part of
King's College London
King's College London
King's College London is a public research university located in London, United Kingdom and a constituent college of the federal University of London. King's has a claim to being the third oldest university in England, having been founded by King George IV and the Duke of Wellington in 1829, and...
.
Can the "word" be pinned down to either one period or one church? All churches are, of course, only more or less unsuccessful attempts to represent the unseen to the mind.

Letter quoted in Florence Nightingale in Rome : Letters Written by Florence Nightingale in Rome in the Winter of 1847-1848 (1981), edited by Mary Keele, and Suggestions for Thought : Selections and Commentaries (1994), edited by Michael D. Calabria and Janet A. MacRae, p. xiv
You must go to Mahometanism, to Buddhism, to the East, to the Sufis & Fakirs, to Pantheism, for the right growth of mysticism.

Letter (2 March 1853), quoted in Suggestions for Thought : Selections and Commentaries (1994), edited by Michael D. Calabria and Janet A. MacRae, p. xiii
What the horrors of war are, no one can imagine — they are not wounds and blood and fever, spotted and low, or dysentery, chronic and acute, cold and heat and famine — they are intoxication, drunken brutality, demoralization and disorder on the part of the inferior, jealousies, meanness, indifference, selfish brutality on the part of the superior.

Letter (5 May 1855), published in Florence Nightingale : An Introduction to Her Life and Family (2001), edited by Lynn McDonald, p. 141
Asceticism is the trifling of an enthusiast with his power, a puerile coquetting with his selfishness or his vanity, in the absence of any sufficiently great object to employ the first or overcome the last.

Letter (5 September 1857), quoted in The Life of Florence Nightingale (1913) by Edward Tyas Cook, p. 369
I use the word nursing for want of a better. It has been limited to signify little more than the administration of medicines and the application of poultices. It ought to signify the proper use of fresh air, light, warmth, cleanliness, quiet, and the proper selection and administration of diet — all at the least expense of vital power to the patient.

Notes on Nursing (1860)
No man, not even a doctor, ever gives any other definition of what a nurse should be than this — 'devoted and obedient'. This definition would do just as well for a porter. It might even do for a horse. It would not do for a policeman.

Notes on Nursing (1860)
Instead of wishing to see more doctors made by women joining what there are, I wish to see as few doctors, either male or female, as possible. For, mark you, the women have made no improvement — they have only tried to be men and they have only succeeded in being third-rate men.

Letter to John Stuart Mill (12 September 1860), published in Florence Nightingale on Society and Politics, Philosophy, Science, Education (2003) edited by Lynn McDonald
It may seem a strange principle to enunciate as the very first requirement in a hospital that it should do the sick no harm.

Notes on Hospitals 3rd Edition (1863), Preface
God has taken away the greatest man of his generation, for David Livingstone|Dr. Livingstone stood alone.

Quoted in Modern Heroes of the Mission Field (1882) by William Pakenham Walsh p. 281
Hospitals are only an intermediate stage of civilization, never intended at all even to take in the whole sick population.

Sick-Nursing and Health-Nursing" (1893)