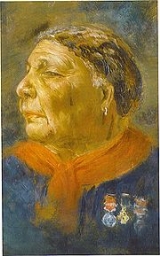 Mary Seacole
Mary Jane Seacole
sometimes known as
Mother Seacole
or
Mary Grant
, was a
Jamaica
Jamaica
Jamaica is an island nation of the Greater Antilles, in length, up to in width and 10,990 square kilometres in area. It is situated in the Caribbean Sea, about south of Cuba, and west of Hispaniola, the island harbouring the nation-states Haiti and the Dominican Republic...
n nurse best known for her involvement in the
Crimean War
Crimean War
The Crimean War was a conflict fought between the Russian Empire and an alliance of the French Empire, the British Empire, the Ottoman Empire, and the Kingdom of Sardinia. The war was part of a long-running contest between the major European powers for influence over territories of the declining...
. She set up and operated boarding houses in
Panama
Panama
Panama , officially the Republic of Panama , is the southernmost country of Central America. Situated on the isthmus connecting North and South America, it is bordered by Costa Rica to the northwest, Colombia to the southeast, the Caribbean Sea to the north and the Pacific Ocean to the south. The...
and the
Crimea
Crimea
Crimea , or the Autonomous Republic of Crimea , is a sub-national unit, an autonomous republic, of Ukraine. It is located on the northern coast of the Black Sea, occupying a peninsula of the same name...
to assist in her desire to treat the sick. Seacole was taught herbal remedies and folk medicine by her mother, who kept a boarding house for
disabled
Disability
A disability may be physical, cognitive, mental, sensory, emotional, developmental or some combination of these.Many people would rather be referred to as a person with a disability instead of handicapped...
European soldiers and sailors.
Confident that her knowledge of tropical medicine could be useful, and after hearing of poor medical provisions for wounded soldiers during the Crimean War, she travelled to London to volunteer as a nurse.