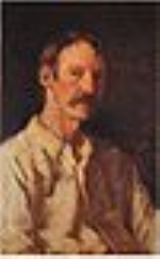 Robert Louis Stevenson
Robert Louis Balfour Stevenson
(13 November 1850 – 3 December 1894) was a
Scottish
Scottish people
The Scottish people , or Scots, are a nation and ethnic group native to Scotland. Historically they emerged from an amalgamation of the Picts and Gaels, incorporating neighbouring Britons to the south as well as invading Germanic peoples such as the Anglo-Saxons and the Norse.In modern use,...
novelist, poet, essayist and
travel writer
Travel writing
Travel writing is a genre that has, as its focus, accounts of real or imaginary places. The genre encompasses a number of styles that may range from the documentary to the evocative, from literary to journalistic, and from the humorous to the serious....
. His best-known books include
Treasure Island
Treasure Island
Treasure Island is an adventure novel by Scottish author Robert Louis Stevenson, narrating a tale of "pirates and buried gold". First published as a book on May 23, 1883, it was originally serialized in the children's magazine Young Folks between 1881–82 under the title Treasure Island; or, the...
,
Kidnapped
Kidnapped (novel)
Kidnapped is a historical fiction adventure novel by the Scottish author Robert Louis Stevenson. Written as a "boys' novel" and first published in the magazine Young Folks from May to July 1886, the novel has attracted the praise and admiration of writers as diverse as Henry James, Jorge Luis...
, and
Strange Case of Dr Jekyll and Mr Hyde
.
A literary celebrity during his lifetime, Stevenson now ranks among the 26 most translated authors in the world.
He has been greatly admired by many authors, including
Jorge Luis Borges
Jorge Luis Borges
Jorge Francisco Isidoro Luis Borges Acevedo , known as Jorge Luis Borges , was an Argentine writer, essayist, poet and translator born in Buenos Aires. In 1914 his family moved to Switzerland where he attended school, receiving his baccalauréat from the Collège de Genève in 1918. The family...
,
Ernest Hemingway
Ernest Hemingway
Ernest Miller Hemingway was an American author and journalist. His economic and understated style had a strong influence on 20th-century fiction, while his life of adventure and his public image influenced later generations. Hemingway produced most of his work between the mid-1920s and the...
,
Rudyard Kipling
Rudyard Kipling
Joseph Rudyard Kipling was an English poet, short-story writer, and novelist chiefly remembered for his celebration of British imperialism, tales and poems of British soldiers in India, and his tales for children. Kipling received the 1907 Nobel Prize for Literature...
,
Marcel Schwob
Marcel Schwob
Marcel Schwob was a Jewish French writer.-Biography:He was born in Chaville, Hauts-de-Seine on 23 August 1867...
,
Vladimir Nabokov
Vladimir Nabokov
Vladimir Vladimirovich Nabokov was a multilingual Russian novelist and short story writer. Nabokov wrote his first nine novels in Russian, then rose to international prominence as a master English prose stylist...
,
J. M. Barrie
J. M. Barrie
Sir James Matthew Barrie, 1st Baronet, OM was a Scottish author and dramatist, best remembered today as the creator of Peter Pan. The child of a family of small-town weavers, he was educated in Scotland. He moved to London, where he developed a career as a novelist and playwright...
, and
G. K. Chesterton
G. K. Chesterton
Gilbert Keith Chesterton, KC*SG was an English writer. His prolific and diverse output included philosophy, ontology, poetry, plays, journalism, public lectures and debates, literary and art criticism, biography, Christian apologetics, and fiction, including fantasy and detective fiction....
, who said of him that he "seemed to pick the right word up on the point of his pen, like a man playing spillikins."
Stevenson was born Robert Lewis Balfour Stevenson at 8 Howard Place,
Edinburgh
Edinburgh
Edinburgh is the capital city of Scotland, the second largest city in Scotland, and the eighth most populous in the United Kingdom. The City of Edinburgh Council governs one of Scotland's 32 local government council areas. The council area includes urban Edinburgh and a rural area...
, Scotland, on 13 November 1850, to
Thomas Stevenson
Thomas Stevenson
Thomas Stevenson PRSE MInstCE FRSSA FSAScot was a pioneering Scottish lighthouse designer and meteorologist, who designed over thirty lighthouses in and around Scotland, as well as the Stevenson screen used in meteorology...
(1818–1887), a leading
lighthouse
Lighthouse
A lighthouse is a tower, building, or other type of structure designed to emit light from a system of lamps and lenses or, in older times, from a fire, and used as an aid to navigation for maritime pilots at sea or on inland waterways....
engineer
Engineer
An engineer is a professional practitioner of engineering, concerned with applying scientific knowledge, mathematics and ingenuity to develop solutions for technical problems. Engineers design materials, structures, machines and systems while considering the limitations imposed by practicality,...
, and his wife, the former Margaret Isabella Balfour (1829–1897).
Mankind was never so happily inspired as when it made a cathedral.

An Inland Voyage|An Inland Voyage (1878)
Every man is his own doctor of divinity, in the last resort.

An Inland Voyage (1878)
For my part, I travel not to go anywhere, but to go. I travel for travel's sake. The great affair is to move.

Travels with a Donkey in the Cévennes|Travels with a Donkey in the Cévennes (1878)
I am in the habit of looking not so much to the nature of a gift as to the spirit in which it is offered.

The New Arabian Nights|The New Arabian Nights. The Suicide Club (1882)
In every part and corner of our life, to lose oneself is to be a gainer; to forget oneself is to be happy.

Old Mortality (1884)
Am I no a bonny fighter?

Kidnapped (book)|Kidnapped, ch. 10 (1886)
I have thus played the sedulous ape to Hazlitt, to Lamb, to Wordsworth, to Sir Thomas Browne, to Defoe, to Hawthorne, to Montaigne, to Baudelaire and to Obermann.

Memories and Portraits|Memories and Portraits (1887)