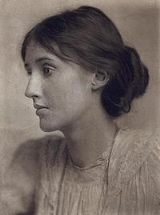 Virginia Woolf
Adeline Virginia Woolf (ˈwʊlf; 25 January 1882 – 28 March 1941) was an English author, essayist, publisher, and writer of short stories, regarded as one of the foremost
modernist
Modernist literature
Modernist literature is sub-genre of Modernism, a predominantly European movement beginning in the early 20th century that was characterized by a self-conscious break with traditional aesthetic forms...
literary figures of the twentieth century.
During the
interwar period
Interwar period
Interwar period can refer to any period between two wars. The Interbellum is understood to be the period between the end of the Great War or First World War and the beginning of the Second World War in Europe....
, Woolf was a significant figure in London literary society and a member of the
Bloomsbury Group
Bloomsbury Group
The Bloomsbury Group or Bloomsbury Set was a group of writers, intellectuals, philosophers and artists who held informal discussions in Bloomsbury throughout the 20th century. This English collective of friends and relatives lived, worked or studied near Bloomsbury in London during the first half...
. Her most famous works include the novels
Mrs Dalloway
Mrs Dalloway
Mrs Dalloway is a novel by Virginia Woolf that details a day in the life of Clarissa Dalloway in post-World War I England. It is one of Woolf's best-known novels....
(1925),
To the Lighthouse
To the Lighthouse
To the Lighthouse is a novel by Virginia Woolf. A novel set on the Ramsays and their visits to the Isle of Skye in Scotland between 1910 and 1920, it skilfully manipulates temporal and psychological elements....
(1927) and
Orlando
Orlando: A Biography
Orlando: A Biography is an influential novel by Virginia Woolf, first published on 11 October 1928. A semi-biographical novel based in part on the life of Woolf's lover Vita Sackville-West, it is generally considered one of Woolf's most accessible novels...
(1928), and the book-length essay
A Room of One's Own
A Room of One's Own
A Room of One's Own is an extended essay by Virginia Woolf. First published on 24 October 1929, the essay was based on a series of lectures she delivered at Newnham College and Girton College, two women's colleges at Cambridge University in October 1928...
(1929), with its famous dictum, "A woman must have money and a room of her own if she is to write fiction."
Virginia Woolf was born Adeline Virginia Stephen in London in 1882 to Sir
Leslie Stephen
Leslie Stephen
Sir Leslie Stephen, KCB was an English author, critic and mountaineer, and the father of Virginia Woolf and Vanessa Bell.-Life:...
and Julia Prinsep Stephen (née Jackson).
Virginia's father, Sir Leslie Stephen (1832–1904), was a notable historian, author, critic and mountaineer.
The strange thing about life is that though the nature of it must have been apparent to every one for hundreds of years, no one has left any adequate account of it. The streets of London have their map; but our passions are uncharted. What are you going to meet if you turn this corner?

Chapter 8
But can we go to posterity with a sheaf of loose pages, or ask the readers of those days, with the whole of literature before them, to sift our enormous rubbish heaps for our tiny pearls? Such are the questions which the critics might lawfully put to their companions at table, the novelists and poets.

"How It Strikes a Contemporary"
Life is not a series of gig lamps symmetrically arranged; life is a luminous halo, a semi-transparent envelope surrounding us from the beginning of consciousness to the end.

"Modern Fiction"
Theirs, too, is the word-coining genius, as if thought plunged into a sea of words and came up dripping.

"Notes on an Elizabethan Play"
But delightful though it is to indulge in righteous indignation, it is misplaced if we agree with the lady's-maid that high birth is a form of congenital insanity, that the sufferer merely inherits the diseases of his ancestors, and endures them, for the most part very stoically, in one of those comfortably padded lunatic asylums which are known, euphemistically, as the stately homes of England.

"Outlines: Lady Dorothy Nevill" Mrs. Dalloway said she would buy the flowers herself.
It was enemies one wanted, not friends.

A light here required a shadow there.

Part I, Chapter 9