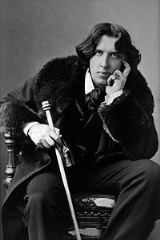 Oscar Wilde
Oscar Fingal O'Flahertie Wills Wilde
(16 October 1854 – 30 November 1900) was an
Irish writer
Irish literature
For a comparatively small island, Ireland has made a disproportionately large contribution to world literature. Irish literature encompasses the Irish and English languages.-The beginning of writing in Irish:...
and
poet
Irish poetry
The history of Irish poetry includes the poetries of two languages, one in Irish and the other in English. The complex interplay between these two traditions, and between both of them and other poetries in English, has produced a body of work that is both rich in variety and difficult to...
. After writing in different forms throughout the 1880s, he became one of London's most popular playwrights in the early 1890s. Today he is remembered for his epigrams, plays and the circumstances of his imprisonment, followed by his early death.
Wilde's parents were successful Dublin intellectuals.
Tread Lightly, she is nearUnder the snow,Speak gently, she can hearThe daisies grow.

s:Requiescat (Wilde)|Requiescat, st. 1 (1881)
Over the piano was printed a notice: Please do not shoot the pianist. He is doing his best.

Personal Impressions of America (Leadville) (1883)
Appearance blinds, whereas words reveal.

Personal Impressions of America (Leadville) (1883)