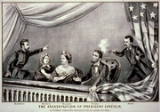 Assassination
Topics
Assassination
Timeline

Timeline
41 Gaius Caesar (Caligula), known for his eccentricity and cruel despotism, is assassinated by his disgruntled Praetorian Guards. Claudius succeeds his nephew.
193 Roman Emperor Pertinax is assassinated by Praetorian Guards, who then sell the throne in an auction to Didius Julianus.
193 Roman Emperor Didius Julianus is assassinated.
1082 Ramon Berenguer II, Count of Barcelona is assassinated.
1127 Assassination of Charles the Good, Count of Flanders.
1192 Assassination of Conrad of Montferrat (Conrad I), King of Jerusalem, in Tyre, two days after his title to the throne is confirmed by election. The killing is carried out by Hashshashin.
1462 Vlad III the Impaler attempts to assassinate Mehmed II (The Night Attack) forcing him to retreat from Wallachia.
1567 An explosion destroys the Kirk o' Field house in Edinburgh, Scotland. The second husband of Mary, Queen of Scots, Lord Darnley is found strangled, in what many believe to be an assassination.
1570 The assassination of regent James Stewart, 1st Earl of Moray throws Scotland into civil war.
1584 William I of Orange is assassinated in his home in Delft, Holland by Balthasar Gérard.
1757 Louis XV of France survives an assassination attempt by Robert–François Damiens, the last person to be executed in France by drawing and quartering, the traditional and gruesome form of capital punishment used for regicides.
1806 Former leader of the Haitian Revolution, Emperor Jacques I of Haiti is assassinated after an oppressive rule.
1831 Capo d'Istria is assassinated.
1835 In the first assassination attempt against a President of the United States, Richard Lawrence attempts to shoot president Andrew Jackson, but fails and is subdued by a crowd, including several congressmen.
1865 Mary Surratt is arrested as a conspirator in the assassination of Abraham Lincoln.
1900 Datu Muhammad Salleh is assassinated in Kampung Teboh, Tambunan, ending the Mat Salleh Rebellion
1901 President of the United States William McKinley dies after an assassination attempt on September 6, and is succeeded by Theodore Roosevelt.
1903 May coup d'etat: Alexander Obrenovich, King of Serbia, and Queen Draga, are assassinated in Belgrade by the Black Hand (''Crna Ruka'') organization.
1913 King George I of Greece is assassinated in the recently liberated city of Thessaloniki.
1918 Bolshevik revolutionary leader Moisei Uritsky is assassinated.
1919 Kurt Eisner, German socialist, is assassinated. His death results in the establishment of the Bavarian Soviet Republic and parliament and government fleeing Munich, Germany.
1942 World War II: in retaliation for the assassination of Reinhard Heydrich, Nazis in Czechoslovakia kill over 1,800 people.
1945 An assassination attempt is made on Japan's prime minister, Kantaro Suzuki.
1947 The Prime Minister of the shadow Burmese government, Bogyoke Aung San and 6 of his cabinet and 2 non-cabinet members are assassinated by Galon U Saw.
1951 The first Prime Minister of Pakistan, Liaquat Ali Khan, is assassinated in Rawalpindi.
1960 The Mirabal sisters of the Dominican Republic are assassinated.
1963 U.S. President Lyndon B. Johnson establishes the Warren Commission to investigate the assassination of President John F. Kennedy.
1976 An assassination attempt is made on Bob Marley. He is shot twice, but plays a concert two days later.
1978 President of Afghanistan, Mohammed Daoud Khan, is overthrown and assassinated in a coup led by pro-communist rebels.
1982 John Hinckley is found not guilty by reason of insanity for the attempted assassination of U.S. President Ronald Reagan.
1984 Gerry Adams, head of Sinn Féin, is seriously wounded in an assassination attempt in central Belfast.
1988 Chico Mendes, a Brazilian rubber tapper, unionist and environmental activist, is assassinated.
1999 In Uzbekistan, a bomb explodes and gunfire is heard at the government headquarters in an apparent assassination attempt against President Islom Karimov.
2002 Dutch politician Pim Fortuyn is assassinated by an animal rights activist.
2003 Ayatollah Sayed Mohammed Baqir al-Hakim, the Shia Muslim leader in Iraq, is assassinated in a terrorist bombing, along with nearly 100 worshippers as they leave a mosque in Najaf.