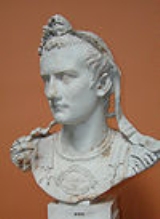 Caligula
Caligula
also known as
Gaius
, was
Roman Emperor
Roman Emperor
The Roman emperor was the ruler of the Roman State during the imperial period . The Romans had no single term for the office although at any given time, a given title was associated with the emperor...
from 37 AD to 41 AD. Caligula was a member of the house of rulers conventionally known as the
Julio-Claudian dynasty
Julio-Claudian Dynasty
The Julio-Claudian dynasty normally refers to the first five Roman Emperors: Augustus, Tiberius, Caligula , Claudius, and Nero, or the family to which they belonged; they ruled the Roman Empire from its formation, in the second half of the 1st century BC, until AD 68, when the last of the line,...
. Caligula's father
Germanicus
Germanicus
Germanicus Julius Caesar , commonly known as Germanicus, was a member of the Julio-Claudian dynasty and a prominent general of the early Roman Empire. He was born in Rome, Italia, and was named either Nero Claudius Drusus after his father or Tiberius Claudius Nero after his uncle...
, the nephew and
adopted
Adoption in Ancient Rome
In ancient Rome, adoption of boys was a fairly common procedure, particularly in the upper senatorial class. The need for a male heir and the expense of raising children were strong incentives to have at least one son, but not too many children. Adoption, the obvious solution, also served to...
son of Emperor
Tiberius
Tiberius
Tiberius , was Roman Emperor from 14 AD to 37 AD. Tiberius was by birth a Claudian, son of Tiberius Claudius Nero and Livia Drusilla. His mother divorced Nero and married Augustus in 39 BC, making him a step-son of Octavian...
, was a very successful general and one of Rome's most beloved public figures. The young Gaius earned the nickname Caligula (meaning "little soldier's boot", the diminutive form of
caliga
Caligae
Caligae are heavy-soled hob-nailed military boots worn by Roman legionary soldiers and auxiliaries throughout the Roman Republic and Empire. Worn by all ranks up to and including centurions, no other shoes in history stand as much symbol for the expansion of an empire than the famed caligae...
, n. hob-nailed military boot) from his father's soldiers while accompanying him during his campaigns in
Germania
Germania
Germania was the Greek and Roman geographical term for the geographical regions inhabited by mainly by peoples considered to be Germani. It was most often used to refer especially to the east of the Rhine and north of the Danube...
.
37 Caligula becomes Roman Emperor after the death of his great uncle, Tiberius.
37 The Roman Senate annuls Tiberius's will and proclaims Caligula emperor.
37 Roman Emperor Caligula accepts the titles of the Principate, entitled to him by the Senate.
41 Gaius Caesar (Caligula), known for his eccentricity and cruel despotism, is assassinated by his disgruntled Praetorian Guards. Claudius succeeds his nephew.
Utinam populus Romanus unam cervicem haberet!

Would that the Roman people had but one neck!