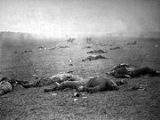 Civil war
A
civil war
is a
war
War
War is a state of organized, armed, and often prolonged conflict carried on between states, nations, or other parties typified by extreme aggression, social disruption, and usually high mortality. War should be understood as an actual, intentional and widespread armed conflict between political...
between organized groups within the same nation state or
republic
Republic
A republic is a form of government in which the people, or some significant portion of them, have supreme control over the government and where offices of state are elected or chosen by elected people. In modern times, a common simplified definition of a republic is a government where the head of...
, or, less commonly, between two countries created from a formerly-united nation state.
The aim of one side may be to take control of the country or a region, to achieve independence for a region, or to change government policies.
The term is a calque of the Latin
bellum civile
which was used to refer to the various
civil wars of the Roman Republic
Roman civil wars
There were several Roman civil wars, especially during the late Republic. The most famous of these are the war in the 40s BC between Julius Caesar and the optimate faction of the senatorial elite initially led by Pompey and the subsequent war between Caesar's successors, Octavian and Mark Antony in...
in the 1st century BC.
A civil war is a high-intensity conflict, often involving
regular armed forces
Regular Army
The Regular Army of the United States was and is the successor to the Continental Army as the country's permanent, professional military establishment. Even in modern times the professional core of the United States Army continues to be called the Regular Army...
, that is sustained, organized and large-scale.
1157 The Battle of Grathe Heath ends the civil war in Denmark. King Sweyn III is killed and Valdemar I restores the country.
1383 The 1383-1385 Crisis in Portugal: King Fernando dies without a male heir to the Portuguese throne, sparking a period of civil war and disorder.
1570 The assassination of regent James Stewart, 1st Earl of Moray throws Scotland into civil war.
1850 Senator Daniel Webster gives his "Seventh of March" speech endorsing the Compromise of 1850 in order to prevent a possible civil war.
1992 The Rome General Peace Accords ends a 16 year civil war in Mozambique.
1994 The Angolan government and UNITA rebels sign the Lusaka Protocol in Zambia, ending 19 years of civil war (localized fighting resumes the next year).
1997 After a brief civil war which has driven President Pascal Lissouba out of Brazzaville, Denis Sassou-Nguesso proclaims himself the President of the Republic of the Congo.