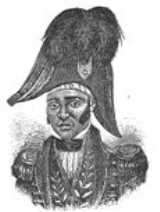 Jean-Jacques Dessalines
Jean-Jacques Dessalines
(20 September 1758 – 17 October 1806) was a leader of the
Haitian Revolution
Haitian Revolution
The Haitian Revolution was a period of conflict in the French colony of Saint-Domingue, which culminated in the elimination of slavery there and the founding of the Haitian republic...
and the first ruler of an independent
Haiti
Haiti
Haiti , officially the Republic of Haiti , is a Caribbean country. It occupies the western, smaller portion of the island of Hispaniola, in the Greater Antillean archipelago, which it shares with the Dominican Republic. Ayiti was the indigenous Taíno or Amerindian name for the island...
under the 1801 constitution. Initially regarded as Governor-General, Dessalines later named himself Emperor
Jacques I of Haiti
(1804–1806). He is regarded as a founding father of Haiti.
Dessalines served as an officer in the French army when the colony was trying to withstand Spanish and British incursions.