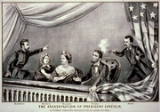 Assassination
To carry out an
assassination
is "to murder (a usually prominent person) by a sudden and/or secret attack, often for political reasons." Alternatively, assassination may be defined as "the act of deliberately killing someone, especially a public figure, usually for hire or for political reasons."
An assassination may be prompted by
religious
Religion
Religion is a collection of cultural systems, belief systems, and worldviews that establishes symbols that relate humanity to spirituality and, sometimes, to moral values. Many religions have narratives, symbols, traditions and sacred histories that are intended to give meaning to life or to...
,
ideological
Ideology
An ideology is a set of ideas that constitutes one's goals, expectations, and actions. An ideology can be thought of as a comprehensive vision, as a way of looking at things , as in common sense and several philosophical tendencies , or a set of ideas proposed by the dominant class of a society to...
,
political
Politics
Politics is a process by which groups of people make collective decisions. The term is generally applied to the art or science of running governmental or state affairs, including behavior within civil governments, but also applies to institutions, fields, and special interest groups such as the...
, or
military
Military
A military is an organization authorized by its greater society to use lethal force, usually including use of weapons, in defending its country by combating actual or perceived threats. The military may have additional functions of use to its greater society, such as advancing a political agenda e.g...
motives; it may be carried out for the prospect of
financial gain
Contract killing
Contract killing is a form of murder, in which one party hires another party to kill a target individual or group of people. It involves an illegal agreement between two parties in which one party agrees to kill the target in exchange for consideration, monetary, or otherwise. The hiring party may...
, to
avenge
Revenge
Revenge is a harmful action against a person or group in response to a grievance, be it real or perceived. It is also called payback, retribution, retaliation or vengeance; it may be characterized, justly or unjustly, as a form of justice.-Function in society:Some societies believe that the...
a grievance, from the desire to acquire fame or notoriety (that is, a psychological need to garner
personal public recognition
Celebrity
A celebrity, also referred to as a celeb in popular culture, is a person who has a prominent profile and commands a great degree of public fascination and influence in day-to-day media...
), from the wish to form some kind of "relationship" with a public figure, or from the desire (or at least the willingness) to be killed or commit suicide in the act.
The word
assassin
is derived from the word
Hashshashin
Hashshashin
The Assassins were an order of Nizari Ismailis, particularly those of Persia that existed from around 1092 to 1265...
(Arabic: حشّاشين, ħashshāshīyīn, also Hashishin, Hashashiyyin, or Assassins), and shares its etymological roots with
hashish
Hashish
Hashish is a cannabis preparation composed of compressed stalked resin glands, called trichomes, collected from the unfertilized buds of the cannabis plant. It contains the same active ingredients but in higher concentrations than unsifted buds or leaves...
(icon or ˈ; from
Persian
Persian
Persian means of, from, or related to Persia , or the Persian-speaking world. See:* Persian people, the majority ethnic group of Iran, Afghanistan and Tajikistan* Persian language, an Iranian language of the Indo-European family...
: ).
41 Gaius Caesar (Caligula), known for his eccentricity and cruel despotism, is assassinated by his disgruntled Praetorian Guards. Claudius succeeds his nephew.
193 Roman Emperor Pertinax is assassinated by Praetorian Guards, who then sell the throne in an auction to Didius Julianus.
193 Roman Emperor Didius Julianus is assassinated.
1082 Ramon Berenguer II, Count of Barcelona is assassinated.
1127 Assassination of Charles the Good, Count of Flanders.
1192 Assassination of Conrad of Montferrat (Conrad I), King of Jerusalem, in Tyre, two days after his title to the throne is confirmed by election. The killing is carried out by Hashshashin.
1462 Vlad III the Impaler attempts to assassinate Mehmed II (The Night Attack) forcing him to retreat from Wallachia.
1567 An explosion destroys the Kirk o' Field house in Edinburgh, Scotland. The second husband of Mary, Queen of Scots, Lord Darnley is found strangled, in what many believe to be an assassination.
1570 The assassination of regent James Stewart, 1st Earl of Moray throws Scotland into civil war.
1584 William I of Orange is assassinated in his home in Delft, Holland by Balthasar Gérard.