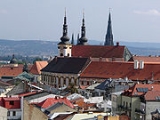 Roof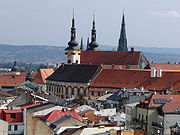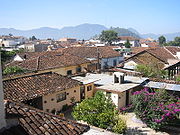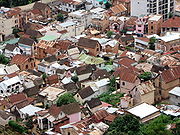 A
roof
is the covering on the uppermost part of a
building
Building
In architecture, construction, engineering, real estate development and technology the word building may refer to one of the following:...
. A roof protects the building and its contents from the effects of
weather
Weather
Weather is the state of the atmosphere, to the degree that it is hot or cold, wet or dry, calm or stormy, clear or cloudy. Most weather phenomena occur in the troposphere, just below the stratosphere. Weather refers, generally, to day-to-day temperature and precipitation activity, whereas climate...
. Structures that require roofs range from a
letter box
Letter box
A letter box, letterbox, letter plate, letter hole, mail slot, or mailbox is a receptacle for receiving incoming mail at a private residence or business...
to a
cathedral
Cathedral
A cathedral is a Christian church that contains the seat of a bishop...
or
stadium
Stadium
A modern stadium is a place or venue for outdoor sports, concerts, or other events and consists of a field or stage either partly or completely surrounded by a structure designed to allow spectators to stand or sit and view the event.)Pausanias noted that for about half a century the only event...
,
dwelling
Dwelling
Dwelling, as well as being a term for a house, or for living somewhere, or for lingering somewhere, is a philosophical concept which was developed by Martin Heidegger. Dwelling is about making yourself at home where the home itself is a building that is a house...
s being the most numerous.
In most countries a roof protects primarily against
rain
Rain
Rain is liquid precipitation, as opposed to non-liquid kinds of precipitation such as snow, hail and sleet. Rain requires the presence of a thick layer of the atmosphere to have temperatures above the melting point of water near and above the Earth's surface...
. Depending upon the nature of the building, the roof may also protect against
heat
Heat
In physics and thermodynamics, heat is energy transferred from one body, region, or thermodynamic system to another due to thermal contact or thermal radiation when the systems are at different temperatures. It is often described as one of the fundamental processes of energy transfer between...
,
sunlight
Sunlight
Sunlight, in the broad sense, is the total frequency spectrum of electromagnetic radiation given off by the Sun. On Earth, sunlight is filtered through the Earth's atmosphere, and solar radiation is obvious as daylight when the Sun is above the horizon.When the direct solar radiation is not blocked...
, cold, snow and
wind
Wind
Wind is the flow of gases on a large scale. On Earth, wind consists of the bulk movement of air. In outer space, solar wind is the movement of gases or charged particles from the sun through space, while planetary wind is the outgassing of light chemical elements from a planet's atmosphere into space...
. Other types of structure, for example, a garden
conservatory
Conservatory (greenhouse)
A conservatory is a room having glass roof and walls, typically attached to a house on only one side, used as a greenhouse or a sunroom...
, might use roofing that protects against cold, wind and rain but admits light. A
verandah
Verandah
A veranda or verandah is a roofed opened gallery or porch. It is also described as an open pillared gallery, generally roofed, built around a central structure...
may be roofed with material that protects against sunlight but admits the other elements.
The characteristics of a roof are dependent upon the purpose of the building that it covers, the available roofing materials and the local traditions of construction and wider concepts of
architectural design
Architectural Design
Architectural Design, also known as AD, is a UK-based architectural journal first launched in 1930.In its early days it was more concerned with the British scene, but gradually became more international. It also moved away from presenting mostly news towards theme-based issues...
and practice and may also be governed by local or national
legislation
Legislation
Legislation is law which has been promulgated by a legislature or other governing body, or the process of making it...
.
Design elements
The elements in the design of a roof are:
the material

Material

Material is anything made of matter, constituted of one or more substances. Wood, cement, hydrogen, air and water are all examples of materials. Sometimes the term "material" is used more narrowly to refer to substances or components with certain physical properties that are used as inputs to...



the construction

Construction

In the fields of architecture and civil engineering, construction is a process that consists of the building or assembling of infrastructure. Far from being a single activity, large scale construction is a feat of human multitasking...



the durability
The
material
Material
Material is anything made of matter, constituted of one or more substances. Wood, cement, hydrogen, air and water are all examples of materials. Sometimes the term "material" is used more narrowly to refer to substances or components with certain physical properties that are used as inputs to...
of a roof may range from
banana
Banana
Banana is the common name for herbaceous plants of the genus Musa and for the fruit they produce. Bananas come in a variety of sizes and colors when ripe, including yellow, purple, and red....
leaves, wheaten
straw
Straw
Straw is an agricultural by-product, the dry stalks of cereal plants, after the grain and chaff have been removed. Straw makes up about half of the yield of cereal crops such as barley, oats, rice, rye and wheat. It has many uses, including fuel, livestock bedding and fodder, thatching and...
or
seagrass
Seagrass
Seagrasses are flowering plants from one of four plant families , all in the order Alismatales , which grow in marine, fully saline environments.-Ecology:...
to
lamininated glass
Architectural glass
Architectural glass is glass that is used as a building material. It is most typically used as transparent glazing material in the building envelope, including windows in the external walls. Glass is also used for internal partitions and as an architectural feature...
,
aluminium
Aluminium
Aluminium or aluminum is a silvery white member of the boron group of chemical elements. It has the symbol Al, and its atomic number is 13. It is not soluble in water under normal circumstances....
sheeting and
precast concrete
Precast concrete
By producing precast concrete in a controlled environment , the precast concrete is afforded the opportunity to properly cure and be closely monitored by plant employees. Utilizing a Precast Concrete system offers many potential advantages over site casting of concrete...
. In many parts of the world
ceramic
Ceramic
A ceramic is an inorganic, nonmetallic solid prepared by the action of heat and subsequent cooling. Ceramic materials may have a crystalline or partly crystalline structure, or may be amorphous...
tile
Tile
A tile is a manufactured piece of hard-wearing material such as ceramic, stone, metal, or even glass. Tiles are generally used for covering roofs, floors, walls, showers, or other objects such as tabletops...
s have been the predominant roofing material for centuries.
The
construction
Construction
In the fields of architecture and civil engineering, construction is a process that consists of the building or assembling of infrastructure. Far from being a single activity, large scale construction is a feat of human multitasking...
of a roof is determined by its method of support and how the underneath space is bridged and whether or not the roof is
pitched
. The
pitch
is the angle at which the roof rises from its lowest to highest point. Most
domestic architecture
House
A house is a building or structure that has the ability to be occupied for dwelling by human beings or other creatures. The term house includes many kinds of different dwellings ranging from rudimentary huts of nomadic tribes to free standing individual structures...
, except in very dry regions, has roofs that are sloped, or
pitched
. The pitch is partly dependent upon stylistic factors, but has more to do with practicalities. Some types of roofing, for example thatch, require a steep pitch in order to be waterproof and durable. Other types of roofing, for example
pantiles
Pantile (roof material)
A pantile is a type of fired roof tile, normally made from clay. It is S-shaped in appearance and is single lap, meaning that the end of the tile laps only the course immediately below...
, are unstable on a steeply pitched roof but provide excellent weather protection at a relatively low angle. In regions where there is little rain, an almost flat roof with a slight run-off provides adequate protection against an occasional downpour.
The
durability
of a roof is a matter of concern because the roof is often the least accessible part of a building for purposes of repair and renewal, while its damage or destruction can have serious effects.
Form of a roof
The
shape of roofs
differs greatly from region to region. The main factors which influence the shape of roofs are the climate and the materials available for roof structure and the outer covering.
The basic shapes of roofs are flat,
skillion
Skillion roof
A skillion roof is normally a single sloping roof surface, not attached to another roof surface. Skillion roofs are sometimes called a shed roof, a flat roof, in Australia or a lean-to in the UK....
,
gable
Gable
A gable is the generally triangular portion of a wall between the edges of a sloping roof. The shape of the gable and how it is detailed depends on the structural system being used and aesthetic concerns. Thus the type of roof enclosing the volume dictates the shape of the gable...
d, hipped,
arch
Arch
An arch is a structure that spans a space and supports a load. Arches appeared as early as the 2nd millennium BC in Mesopotamian brick architecture and their systematic use started with the Ancient Romans who were the first to apply the technique to a wide range of structures.-Technical aspects:The...
ed and
dome
Dome
A dome is a structural element of architecture that resembles the hollow upper half of a sphere. Dome structures made of various materials have a long architectural lineage extending into prehistory....
d. There are many variations on these types. Roofs constructed of flat sections that are sloped are referred to as
pitched roof
Pitched roof
A pitched roof is a roof for which one or more roof surfaces is pitched more than 10 degrees, and alternately a roof with two slopes that meet at a central ridge. Some definitions are even more general, including any roof with a sloping surface or surfaces....
s (generally if the angle exceeds 10 degrees). Pitched roofs, including gabled, hipped and skillion roofs, make up the greatest number of domestic roofs. Some roofs follow organic shapes, either by architectural design or because a flexible material such as that is used in the construction.
Parts of a roof
There are two parts to a roof, its supporting structure and its outer skin, or uppermost weatherproof layer. In a minority of buildings, the outer layer is also a self-supporting structure.
The roof structure is generally supported upon walls, although some building styles, for example,
geodesic
Geodesic dome
A geodesic dome is a spherical or partial-spherical shell structure or lattice shell based on a network of great circles on the surface of a sphere. The geodesics intersect to form triangular elements that have local triangular rigidity and also distribute the stress across the structure. When...
and
A-frame
A-Frame
An A-frame is a basic structure designed to bear a load in a lightweight economical manner. The simplest form of an A-frame is two similarly sized beams, arranged in a 45-degree or greater angle, attached at the top...
, blur the distinction between wall and roof.
Support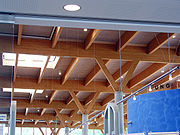 The supporting structure of a roof usually comprises beams that are long and of strong, fairly rigid material such as
timber
Timber
Timber may refer to:* Timber, a term common in the United Kingdom and Australia for wood materials * Timber, Oregon, an unincorporated community in the U.S...
, and since the mid 19th century,
cast iron
Cast iron
Cast iron is derived from pig iron, and while it usually refers to gray iron, it also identifies a large group of ferrous alloys which solidify with a eutectic. The color of a fractured surface can be used to identify an alloy. White cast iron is named after its white surface when fractured, due...
or
steel
Steel
Steel is an alloy that consists mostly of iron and has a carbon content between 0.2% and 2.1% by weight, depending on the grade. Carbon is the most common alloying material for iron, but various other alloying elements are used, such as manganese, chromium, vanadium, and tungsten...
. In countries that use
bamboo
Bamboo
Bamboo is a group of perennial evergreens in the true grass family Poaceae, subfamily Bambusoideae, tribe Bambuseae. Giant bamboos are the largest members of the grass family....
extensively, the flexibility of the material causes a distinctive curving line to the roof, characteristic of
Oriental architecture
Japanese architecture
' originated in prehistoric times with simple pit-houses and stores that were adapted to a hunter-gatherer population. Influence from Han Dynasty China via Korea saw the introduction of more complex grain stores and ceremonial burial chambers....
.
Timber lends itself to a great variety of roof shapes. The timber structure can fulfil an aesthetic as well as practical function, when left exposed to view.
Stone
lintel
Post and lintel
Post and lintel, or in contemporary usage Post and beam, is a simple construction method using a lintel, header, or architrave as the horizontal member over a building void supported at its ends by two vertical columns, pillars, or posts...
s have been used to support roofs since
prehistoric times
Prehistory
Prehistory is the span of time before recorded history. Prehistory can refer to the period of human existence before the availability of those written records with which recorded history begins. More broadly, it refers to all the time preceding human existence and the invention of writing...
, but cannot bridge large distances. The stone arch came into extensive use in the
ancient Roman
Ancient Rome
Ancient Rome was a thriving civilization that grew on the Italian Peninsula as early as the 8th century BC. Located along the Mediterranean Sea and centered on the city of Rome, it expanded to one of the largest empires in the ancient world....
period and in variant forms could be used to span spaces up to 140 feet (43 m) across. The stone arch or
vault
Vault (architecture)
A Vault is an architectural term for an arched form used to provide a space with a ceiling or roof. The parts of a vault exert lateral thrust that require a counter resistance. When vaults are built underground, the ground gives all the resistance required...
, with or without ribs, dominated the roof structures of major architectural works for about 2,000 years, only giving way to iron beams with the
Industrial Revolution
Industrial Revolution
The Industrial Revolution was a period from the 18th to the 19th century where major changes in agriculture, manufacturing, mining, transportation, and technology had a profound effect on the social, economic and cultural conditions of the times...
and the designing of such buildings as
Paxton
Paxton
-United Kingdom:* Great Paxton, England* Little Paxton, England* Paxton, Scottish Borders, UK* Paxton House, Berwickshire, Scotland* Paxton's Tower, near the National Botanic Garden of Wales in Carmarthenshire, Wales-United States:* Paxton, California...
's
Crystal Palace
The Crystal Palace
The Crystal Palace was a cast-iron and glass building originally erected in Hyde Park, London, England, to house the Great Exhibition of 1851. More than 14,000 exhibitors from around the world gathered in the Palace's of exhibition space to display examples of the latest technology developed in...
, completed 1851.
With continual improvements in steel girders, these became the major structural support for large roofs, and eventually for ordinary houses as well. Another form of
girder
Girder
A girder is a support beam used in construction. Girders often have an I-beam cross section for strength, but may also have a box shape, Z shape or other forms. Girder is the term used to denote the main horizontal support of a structure which supports smaller beams...
is the
reinforced concrete
Reinforced concrete
Reinforced concrete is concrete in which reinforcement bars , reinforcement grids, plates or fibers have been incorporated to strengthen the concrete in tension. It was invented by French gardener Joseph Monier in 1849 and patented in 1867. The term Ferro Concrete refers only to concrete that is...
beam, in which metal rods are encased in concrete, giving it greater strength under tension.
Outer layer
This part of the roof shows great variation dependent upon availability of material. In simple
vernacular architecture
Vernacular architecture
Vernacular architecture is a term used to categorize methods of construction which use locally available resources and traditions to address local needs and circumstances. Vernacular architecture tends to evolve over time to reflect the environmental, cultural and historical context in which it...
, roofing material is often vegetation, such as thatches, the most durable being sea grass with a life of perhaps 40 years. In many Asian countries bamboo is used both for the supporting structure and the outer layer where split bamboo stems are laid turned alternately and overlapped. In areas with an abundance of timber, wooden
shingles
Roof shingle
Roof shingles are a roof covering consisting of individual overlapping elements. These elements are typically flat rectangular shapes laid in rows from the bottom edge of the roof up, with each successive higher row overlapping the joints in the row below...
are used, while in some countries the bark of certain trees can be peeled off in thick, heavy sheets and used for roofing.
The 20th century saw the manufacture of composition shingles which can last from a thin 20-year shingle to the thickest which are limited lifetime shingles, the cost depending on the thickness and durability of the shingle. When a layer of shingles wears out, they are usually stripped, along with the underlay and roofing nails, allowing a new layer to be installed. An alternative method is to install another layer directly over the worn layer. While this method is faster, it does not allow the roof sheathing to be inspected and water damage, often associated with worn shingles, to be repaired. Having multiple layers of old shingles under a new layer causes roofing nails to be located further from the sheathing, weakening their hold. The greatest concern with this method is that the weight of the extra material could exceed the dead load capacity of the roof structure and cause collapse.
Slate
Slate
Slate is a fine-grained, foliated, homogeneous metamorphic rock derived from an original shale-type sedimentary rock composed of clay or volcanic ash through low-grade regional metamorphism. The result is a foliated rock in which the foliation may not correspond to the original sedimentary layering...
is an ideal, and durable material, while in the
Swiss Alps
Swiss Alps
The Swiss Alps are the portion of the Alps mountain range that lies within Switzerland. Because of their central position within the entire Alpine range, they are also known as the Central Alps....
roofs are made from huge slabs of stone, several inches thick. The slate roof is often considered the best type of roofing. A slate roof may last 75 to 150 years, and even longer. However, slate roofs are often expensive to install – in the USA, for example, a slate roof may have the same cost as the rest of the house. Often, the first part of a slate roof to fail is the fixing nails; they corrode, allowing the slates to slip. In the UK, this condition is known as "nail sickness". Because of this problem, fixing nails made of
stainless steel
Stainless steel
In metallurgy, stainless steel, also known as inox steel or inox from French "inoxydable", is defined as a steel alloy with a minimum of 10.5 or 11% chromium content by mass....
or
copper
Copper
Copper is a chemical element with the symbol Cu and atomic number 29. It is a ductile metal with very high thermal and electrical conductivity. Pure copper is soft and malleable; an exposed surface has a reddish-orange tarnish...
are recommended, and even these must be protected from the weather.
Asbestos
Asbestos
Asbestos is a set of six naturally occurring silicate minerals used commercially for their desirable physical properties. They all have in common their eponymous, asbestiform habit: long, thin fibrous crystals...
, usually in bonded corrugated panels, has been used widely in the 20th century as an inexpensive, non-flammable roofing material with excellent insulating properties.
Health
Asbestosis
Asbestosis is a chronic inflammatory and fibrotic medical condition affecting the parenchymal tissue of the lungs caused by the inhalation and retention of asbestos fibers...
and
legal issues
Asbestos and the law
This article concerns asbestos-related legal and regulatory issues. Litigation related to asbestos injuries and property damages has been claimed to be the longest-running mass tort in U.S. history...
involved in the mining and handling of asbestos products means that it is no longer used as a new roofing material. However, many asbestos roofs continue to exist, particularly in South America and Asia.
Roofs made of cut turf (modern ones known as
Green roof
Green roof
A green roof is a roof of a building that is partially or completely covered with vegetation and a growing medium, planted over a waterproofing membrane. It may also include additional layers such as a root barrier and drainage and irrigation systems...
s, traditional ones as
sod roof
Sod roof
A sod roof or turf roof is a traditional Scandinavian type of green roof covered with sod on top of several layers of birch bark on gently sloping wooden roof boards. Until the late 19th century it was the most common roof on rural log houses in large parts of Scandinavia...
s) have good insulating properties and are increasingly encouraged as a way of "greening" the Earth. Adobe roofs are roofs of clay, mixed with binding material such as straw or animal hair, and plastered on lathes to form a flat or gently sloped roof, usually in areas of low rainfall.
In areas where clay is plentiful, roofs of baked tiles have been the major form of roof. The casting and firing of roof tiles is an industry that is often associated with
brickworks
Brickworks
A brickworks also known as a brick factory, is a factory for the manufacturing of bricks, from clay or shale. Usually a brickworks is located on a clay bedrock often with a quarry for clay on site....
. While the shape and colour of tiles was once regionally distinctive, now tiles of many shapes and colours are produced commercially, to suit the taste and pocketbook of the purchaser.
Sheet metal in the form of
copper
Copper
Copper is a chemical element with the symbol Cu and atomic number 29. It is a ductile metal with very high thermal and electrical conductivity. Pure copper is soft and malleable; an exposed surface has a reddish-orange tarnish...
and
lead
Lead
Lead is a main-group element in the carbon group with the symbol Pb and atomic number 82. Lead is a soft, malleable poor metal. It is also counted as one of the heavy metals. Metallic lead has a bluish-white color after being freshly cut, but it soon tarnishes to a dull grayish color when exposed...
has also been used for many hundreds of years. Both are expensive but durable, the vast copper roof of Chartres Cathedral, oxidised to a pale green colour, having been in place for hundreds of years. Lead, which is sometimes used for church roofs, was most commonly used as flashing in valleys and around chimneys on domestic roofs, particularly those of slate. Copper was used for the same purpose.
In the 19th century, iron, electroplated with
zinc
Zinc
Zinc , or spelter , is a metallic chemical element; it has the symbol Zn and atomic number 30. It is the first element in group 12 of the periodic table. Zinc is, in some respects, chemically similar to magnesium, because its ion is of similar size and its only common oxidation state is +2...
to improve its resistance to rust, became a light-weight, easily-transported, waterproofing material. Its low cost and easy application made it the most accessible commercial roofing, world wide. Since then, many types of metal roofing have been developed. Steel shingle or standing-seam roofs last about 50 years or more depending on both the method of installation and the moisture barrier (underlayment) used and are between the cost of shingle roofs and slate roofs.
In the 20th century a large number of roofing materials were developed, including roofs based on bitumen (already used in previous centuries), on rubber and on a range of synthetics such as
thermoplastic
Thermoplastic
Thermoplastic, also known as a thermosoftening plastic, is a polymer that turns to a liquid when heated and freezes to a very glassy state when cooled sufficiently...
and on fibreglass.
Insulation
Because the purpose of a roof is to protect people and their possessions from climatic elements, the insulating properties of a roof are a consideration in its structure and the choice of roofing material.
Some roofing materials, particularly those of natural fibrous material, such as thatch, have excellent insulating properties. For those that do not, extra
insulation
Insulation
Insulation means:* Building insulation, added to buildings for comfort and energy efficiency* Soundproofing, also known as acoustic insulation, any means of reducing the intensity of sound...
is often installed under the outer layer. In developed countries, the majority of dwellings have a
ceiling
Ceiling
A ceiling is an overhead interior surface that covers the upper limit of a room. It is generally not a structural element, but a finished surface concealing the underside of the floor or roof structure above....
installed under the structural members of the roof. The purpose of a ceiling is to insulate against heat and cold, noise, dirt and often from the droppings and lice of birds who frequently choose roofs as nesting places.
Forms of insulation are felt or plastic sheeting, sometimes with a reflective surface, installed directly below the tiles or other material; synthetic foam batting laid above the ceiling and recycled paper products and other such materials that can be inserted or sprayed into roof cavities. So called
Cool roof
Cool roof
Cool roofs are the roofs that can deliver high solar reflectance and high thermal emittance...
s are becoming increasingly popular, and in some cases are mandated by local codes. Cool roofs are defined as roofs with both high
reflectivity
Reflectivity
In optics and photometry, reflectivity is the fraction of incident radiation reflected by a surface. In general it must be treated as a directional property that is a function of the reflected direction, the incident direction, and the incident wavelength...
and high
emissivity
Emissivity
The emissivity of a material is the relative ability of its surface to emit energy by radiation. It is the ratio of energy radiated by a particular material to energy radiated by a black body at the same temperature...
.
Poorly insulated roofing can suffer from problems such as the formation of
ice dam
Ice dam
An ice dam occurs when water builds up behind a blockage of ice. Ice dams can occur in various ways.-Caused by a glacier:Sometimes a glacier flows down a valley to a confluence where the other branch carries an unfrozen river...
s around the overhanging eaves in cold weather, causing water from melted snow on upper parts of the roof to penetrate the roofing material.
Drainage
The primary job of most roofs is to keep out water. The large area of a roof repels a lot of water, which must be directed in some suitable way, so that it does not cause damage or inconvenience.
Flat roof of adobe dwellings generally have a very slight slope. In a Middle Eastern country, where the roof may be used for recreation, it is often walled, and drainage holes must be provided to stop water from pooling and seeping through the porous roofing material.
Similar problems, although on a very much larger scale, confront the builders of modern commercial properties which often have flat roofs. Because of the very large nature of such roofs, it is essential that the outer skin is of a highly impermeable material. Most industrial and commercial structures have conventional roofs of low pitch.
In general, the pitch of the roof is proportional to the amount of precipitation. Houses in areas of low rainfall frequently have roofs of low pitch while those in areas of high rainfall and snow, have steep roofs. The longhouses of
Papua New Guinea
Papua New Guinea
Papua New Guinea , officially the Independent State of Papua New Guinea, is a country in Oceania, occupying the eastern half of the island of New Guinea and numerous offshore islands...
, for example, being roof-dominated architecture, the high roofs sweeping almost to the ground. The high steeply-pitched roofs of Germany and Holland are typical in regions of snowfall. In parts of North America such as
Buffalo
Buffalo, New York
Buffalo is the second most populous city in the state of New York, after New York City. Located in Western New York on the eastern shores of Lake Erie and at the head of the Niagara River across from Fort Erie, Ontario, Buffalo is the seat of Erie County and the principal city of the...
, USA or
Montreal
Montreal
Montreal is a city in Canada. It is the largest city in the province of Quebec, the second-largest city in Canada and the seventh largest in North America...
, Canada, there is a required minimum slope of 6 inches in 12 inches, a pitch of 30 degrees.
There are regional building styles which contradict this trend, the stone roofs of the Alpine chalets being usually of gentler incline. These buildings tend to accumulate a large amount of snow on them, which is seen as a factor in their insulation. The pitch of the roof is in part determined by the roofing material available, a pitch of 3/12 or greater slope generally being covered with asphalt shingles, wood shake, corrugated steel, slate or tile.
The water repelled by the roof during a rainstorm is potentially damaging to the building that the roof protects. If it runs down the walls, it may seep into the mortar or through panels. If it lies around the foundations it may cause seepage to the interior,
rising damp
Rising damp (structural)
Structural dampness refers to the presence of unwanted moisture in the structure of a building, either the result of intrusion from outside or condensation from within the structure....
or
dry rot
Dry rot
Dry rot refers to a type of wood decay caused by certain types of fungi, also known as True Dry Rot, that digests parts of the wood which give the wood strength and stiffness...
. For this reason most buildings have a system in place to protect the walls of a building from most of the roof water. Overhanging
eaves
Eaves
The eaves of a roof are its lower edges. They usually project beyond the walls of the building to carry rain water away.-Etymology:"Eaves" is derived from Old English and is both the singular and plural form of the word.- Function :...
are commonly employed for this purpose. Most modern roofs and many old ones have systems of valleys, gutters, waterspouts, waterheads and
drainpipes
Drain (plumbing)
A drain is the primary vessel for unwanted water to be flumed away, either to a more useful area, funnelled into a receptacle, or run into the sewers as waste.-Waste versus re-circulated drains:...
to remove the water from the vicinity of the building. In many parts of the world, roofwater is collected and stored for domestic use.
Areas prone to heavy snow benefit from a metal roof because their smooth surfaces shed the weight of snow more easily and resist the force of wind better than a wood shingle or a concrete tile roof.
Solar roofs
Newer systems include solar shingles which generate
electricity
Electricity
Electricity is a general term encompassing a variety of phenomena resulting from the presence and flow of electric charge. These include many easily recognizable phenomena, such as lightning, static electricity, and the flow of electrical current in an electrical wire...
as well as cover the roof. There are also solar systems available that generate hot water or hot air and which can also act as a roof covering. More complex systems may carry out all of these functions: generate electricity, recover thermal energy, and also act as a roof covering.
Solar systems can be integrated with roofs by:
integration in the covering of pitched roofs, e.g. solar shingles.
mounting on an existing roof, e.g. solar panel

Photovoltaic module

A solar panel is a packaged, connected assembly of solar cells, also known as photovoltaic cells...


on a tile

Tile

A tile is a manufactured piece of hard-wearing material such as ceramic, stone, metal, or even glass. Tiles are generally used for covering roofs, floors, walls, showers, or other objects such as tabletops...


roof.
integration in a flat roof membrane using heat welding, e.g. PVC.
mounting on a flat roof with a construction and additional weight to prevent uplift from wind.
See also
Bituminous waterproofing

Bituminous waterproofing

Bituminous waterproofing systems are designed to protect residential and commercial buildings. Bitumen is a mixed substance made up of organic liquids that are highly sticky and viscous, and are waterproof.-Roofing felt components:...



Building construction
Building envelope

Building envelope

The building envelope is the physical separator between the interior and the exterior environments of a building. Another emerging term is "Building Enclosure". It serves as the outer shell to help maintain the indoor environment and facilitate its climate control...



Green roof

Green roof

A green roof is a roof of a building that is partially or completely covered with vegetation and a growing medium, planted over a waterproofing membrane. It may also include additional layers such as a root barrier and drainage and irrigation systems...



Metal roof

Metal roof

A metal roof, often referred to as a tin roof, is a roofing system made from metal pieces or tiles. It is a component of the building envelope.-History:...



Metal Roofing Alliance

Metal Roofing Alliance

The Metal Roofing Alliance was formed in 1998 by a group of metal roofing manufacturers with the main goal of educating consumers about the benefits of metal roofing...



Roof crush

Roof crush

Roof crush is the failure and displacement of an automobile roof into the passenger compartment during a rollover accident.Every year approximately 10,000 Americans are killed in rollover accidents, accounting for about 30% of all light vehicle occupant fatalities. The number of occupant injuries...



Roof garden

Roof garden

A roof garden is any garden on the roof of a building. Besides the decorative benefit, roof plantings may provide food, temperature control, hydrological benefits, architectural enhancement, habitats or corridors for wildlife, and recreational opportunities....



Roofer

Roofer

A roofer specializes in roof construction, concentrating on the application of materials that water proof and / or weather proof buildings,designed material—as a substrate for the roofing materials to be installed on. The rafters, beams, and trusses are the frame or skeleton for the roof to be...



Roofing felt
Solar panel
Tensile architecture
Tented roof

Tented roof

A tented roof is a type of roof widely used in 16th and 17th century Russian architecture for churches. It is like a polygonal spire but differs in purpose in that it is typically used to roof the main internal space of a church, rather than an auxiliary structure...



Thin-shell structure

Thin-shell structure

Thin-shell structures are light weight constructions using shell elements. These elements are typically curved and are assembled to large structures...



Tile

Tile

A tile is a manufactured piece of hard-wearing material such as ceramic, stone, metal, or even glass. Tiles are generally used for covering roofs, floors, walls, showers, or other objects such as tabletops...



History
List of Greco-Roman roofs
Further reading
Francis Ching; Building Construction Illustrated, Visual Dictionary of Architecture, Architecture: Form, Space, and Order.
External links