 Porthole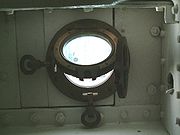 A
porthole
is a generally circular,
window
Window
A window is a transparent or translucent opening in a wall or door that allows the passage of light and, if not closed or sealed, air and sound. Windows are usually glazed or covered in some other transparent or translucent material like float glass. Windows are held in place by frames, which...
used on the
hull
Hull (watercraft)
A hull is the watertight body of a ship or boat. Above the hull is the superstructure and/or deckhouse, where present. The line where the hull meets the water surface is called the waterline.The structure of the hull varies depending on the vessel type...
of
ship
Ship
Since the end of the age of sail a ship has been any large buoyant marine vessel. Ships are generally distinguished from boats based on size and cargo or passenger capacity. Ships are used on lakes, seas, and rivers for a variety of activities, such as the transport of people or goods, fishing,...
s to admit light and air. Porthole is actually an abbreviated term for "port hole window". Though the term is of obvious
maritime
Sea
A sea generally refers to a large body of salt water, but the term is used in other contexts as well. Most commonly, it means a large expanse of saline water connected with an ocean, and is commonly used as a synonym for ocean...
origin, it is also used to describe round windows on
armored vehicles
Armoured fighting vehicle
An armoured fighting vehicle is a combat vehicle, protected by strong armour and armed with weapons. AFVs can be wheeled or tracked....
,
aircraft
Aircraft
An aircraft is a vehicle that is able to fly by gaining support from the air, or, in general, the atmosphere of a planet. An aircraft counters the force of gravity by using either static lift or by using the dynamic lift of an airfoil, or in a few cases the downward thrust from jet engines.Although...
,
automobiles
Automobile
An automobile, autocar, motor car or car is a wheeled motor vehicle used for transporting passengers, which also carries its own engine or motor...
(the
Ford Thunderbird
Ford Thunderbird
The Thunderbird , is an automobile manufactured by the Ford Motor Company in the United States over eleven model generations from 1955 through 2005...
a notable example), and even
spacecraft
Spacecraft
A spacecraft or spaceship is a craft or machine designed for spaceflight. Spacecraft are used for a variety of purposes, including communications, earth observation, meteorology, navigation, planetary exploration and transportation of humans and cargo....
.
On a ship, the function of a porthole, when open, is to permit light and fresh air to enter the dark and often damp below-
deck
Deck (ship)
A deck is a permanent covering over a compartment or a hull of a ship. On a boat or ship, the primary deck is the horizontal structure which forms the 'roof' for the hull, which both strengthens the hull and serves as the primary working surface...
quarters of the vessel. It also affords below-deck occupants a limited, but often much needed view to the outside world. When closed, the porthole provides a strong water-tight, weather-tight, and sometimes light-tight barrier.
A porthole on a ship may also be called a sidescuttle or side scuttle (side hole). This term is used in the U.S. Code of Federal Regulations. It is also used in related rules and regulations for the construction of ships. The use of the word "sidescuttle" instead of "porthole" is meant to be broad, including any covered or uncovered hole in the side of the vessel.
Structure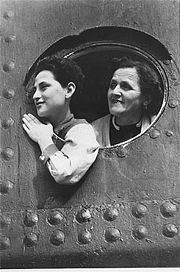 A porthole consists of at least two structural components and is, in its simplest form, similar to any other type of window in design and purpose. The porthole is primarily a circular
glass
Glass
Glass is an amorphous solid material. Glasses are typically brittle and optically transparent.The most familiar type of glass, used for centuries in windows and drinking vessels, is soda-lime glass, composed of about 75% silica plus Na2O, CaO, and several minor additives...
disk encased in a
metal
Metal
A metal , is an element, compound, or alloy that is a good conductor of both electricity and heat. Metals are usually malleable and shiny, that is they reflect most of incident light...
frame that is bolted securely into the side of a ship's hull. Sometimes the glass disk of a porthole is encased in a separate frame which is hinged onto the base frame so that it can be opened and closed. In addition, many portholes also have metal storm covers that can be securely fastened against the window when necessary. The main purpose of the storm cover is, as its name implies, to protect the window from heavy seas. It is also used to block light from entering lower berths when darkness is preferred. Storm covers are also used on Navy and merchant marine ships to prevent interior light from escaping the ship's lower berths, and to provide protection from hostile fire. Hinged porthole windows and storm covers are accessible from inside the ship's hull, and are typically fastened to their closed positions by hand tightening several pivoting, threaded devices, commonly referred to as "dogs." Older portholes can be identified by the protruding collar of their base plate which may be up to several inches deep, thus accommodating the thickness of a wooden hull.
Portholes range in diameter from several inches to more than two feet, and weigh from several pounds to over one hundred pounds. Much of the porthole's weight comes from its glass, which, on ships, can be as much as two inches thick. Metal components of a porthole are also typically very heavy; they are usually
sand-cast
Sand casting
Sand casting, also known as sand molded casting, is a metal casting process characterized by using sand as the mold material.It is relatively cheap and sufficiently refractory even for steel foundry use. A suitable bonding agent is mixed or occurs with the sand...
and made of
bronze
Bronze
Bronze is a metal alloy consisting primarily of copper, usually with tin as the main additive. It is hard and brittle, and it was particularly significant in antiquity, so much so that the Bronze Age was named after the metal...
,
brass
Brass
Brass is an alloy of copper and zinc; the proportions of zinc and copper can be varied to create a range of brasses with varying properties.In comparison, bronze is principally an alloy of copper and tin...
,
steel
Steel
Steel is an alloy that consists mostly of iron and has a carbon content between 0.2% and 2.1% by weight, depending on the grade. Carbon is the most common alloying material for iron, but various other alloying elements are used, such as manganese, chromium, vanadium, and tungsten...
,
iron
Iron
Iron is a chemical element with the symbol Fe and atomic number 26. It is a metal in the first transition series. It is the most common element forming the planet Earth as a whole, forming much of Earth's outer and inner core. It is the fourth most common element in the Earth's crust...
, or
aluminium
Aluminium
Aluminium or aluminum is a silvery white member of the boron group of chemical elements. It has the symbol Al, and its atomic number is 13. It is not soluble in water under normal circumstances....
. Bronze and brass are most commonly used, favoured for their resistance to saltwater
corrosion
Corrosion
Corrosion is the disintegration of an engineered material into its constituent atoms due to chemical reactions with its surroundings. In the most common use of the word, this means electrochemical oxidation of metals in reaction with an oxidant such as oxygen...
. The design of the porthole is such that it achieves its humble purposes without sacrificing the integrity of the ship's hull. The porthole's thick glass and rugged construction, tightly spaced fasteners, indeed even its round shape, all contribute to its purpose of maintaining hull strength and pressure of storm waves crashing against it.
Spacecraft portholes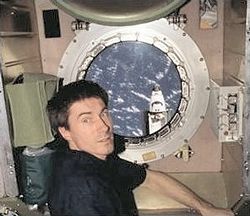 Portholes on spacecraft must be made from glass that can survive rapid temperature changes, without suffering the cracking that can result from
thermal shock
Thermal shock
Thermal shock is the name given to cracking as a result of rapid temperature change. Glass and ceramic objects are particularly vulnerable to this form of failure, due to their low toughness, low thermal conductivity, and high thermal expansion coefficients...
. Those on the
International Space Station
International Space Station
The International Space Station is a habitable, artificial satellite in low Earth orbit. The ISS follows the Salyut, Almaz, Cosmos, Skylab, and Mir space stations, as the 11th space station launched, not including the Genesis I and II prototypes...
were made from quartz glass mounted on
titanium
Titanium
Titanium is a chemical element with the symbol Ti and atomic number 22. It has a low density and is a strong, lustrous, corrosion-resistant transition metal with a silver color....
frames, covered with enamel. They are not designed to be opened.
On the Apollo
space capsule
Space capsule
A space capsule is an often manned spacecraft which has a simple shape for the main section, without any wings or other features to create lift during atmospheric reentry....
s a porthole was located in the hatch that the astronauts used at the beginning and end of each flight.
Submarine portholes
Portholes on submarines are generally made of acrylic plastic. In the case of deep diving submarines, the portholes can be several inches thick. The edge of the acrylic is usually conically tapered such that the external pressure forces the acrylic window against the seat. Usually such windows are flat rather than spherically dished. This decreases the area that can be viewed, but eliminates distortion associated with curved glass.