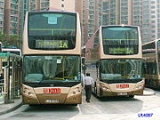 Bus
A
bus
is a road vehicle designed to carry
passenger
Passenger
A passenger is a term broadly used to describe any person who travels in a vehicle, but bears little or no responsibility for the tasks required for that vehicle to arrive at its destination....
s. Buses can have a capacity as high as 300 passengers. The most common type of bus is the
single-decker bus
Single-decker bus
A single-decker bus or single-decker is a bus that has a single deck for passengers. Normally the use of the term single-decker refers to a standard two-axled rigid bus, in direct contrast to the use of the term double-decker bus, which is essentially a single decked bus with an extra deck and...
, with larger loads carried by
double-decker bus
Double-decker bus
A double-decker bus is a bus that has two storeys or 'decks'. Global usage of this type of bus is more common in outer touring than in its intra-urban transportion role. Double-decker buses are also commonly found in certain parts of Europe, Asia, and former British colonies and protectorates...
es and
articulated bus
Articulated bus
An articulated bus is an articulated vehicle used in public transportation. It is usually a single-deck design, and comprises two rigid sections linked by a pivoting joint...
es, and smaller loads carried by
midibus
Midibus
A midibus is a classification of single-decker minibuses which generally are larger than a traditional minibus but smaller than a full-size single decker and can be anywhere between and long...
es and
minibus
Minibus
A minibus or minicoach is a passenger carrying motor vehicle that is designed to carry more people than a multi-purpose vehicle or minivan, but fewer people than a full-size bus. In the United Kingdom, the word "minibus" is used to describe any full-sized passenger carrying van. Minibuses have a...
es;
coaches
Coach (vehicle)
A coach is a large motor vehicle, a type of bus, used for conveying passengers on excursions and on longer distance express coach scheduled transport between cities - or even between countries...
are used for longer distance services.
Bus manufacturing
Bus manufacturing
Bus manufacturing is a specific sector of the automotive industry, which carries out the manufacturing of buses and coaches.-History:Bus manufacturing had its earliest origins in carriage building. Other bus manufacturers had their origins in truck manufacturing...
is increasingly globalised, with the same design appearing around the world.
Buses may be used for
scheduled bus transport
Public transport bus service
Bus services play a major role in the provision of public transport. These services can take many forms, varying in distance covered and types of vehicle used, and can operate with fixed or flexible routes and schedules...
,
scheduled coach transport
Coach (scheduled transport)
Coach scheduled transport is a mode of public transport by motor coach which is used in many countries around the world for longer distance journeys...
, school transport, private hire,
tourism
Tour bus
A tour bus service is a bus service that takes visitors sightseeing, with routes around tourist attractions. Double-decker buses and/or open top buses are commonly used, for their good views....
; promotional buses may be used for
political campaign
Political campaign
A political campaign is an organized effort which seeks to influence the decision making process within a specific group. In democracies, political campaigns often refer to electoral campaigns, wherein representatives are chosen or referendums are decided...
s and others are privately operated for a wide range of purposes.
Horse drawn buses
Horse-drawn vehicle
A horse-drawn vehicle is a mechanized piece of equipment pulled by one horse or by a team of horses. These vehicles typically had two or four wheels and were used to carry passengers and/or a load...
were used from 1820, followed by
steam bus
Steam bus
A steam bus is a bus powered by a steam engine. Early steam-powered vehicles designed for carrying passengers were more usually known as steam carriages, although this term was sometimes used to describe other early experimental vehicles too.-History:...
es in the 1830 and electric
trolleybus
Trolleybus
A trolleybus is an electric bus that draws its electricity from overhead wires using spring-loaded trolley poles. Two wires and poles are required to complete the electrical circuit...
es in 1882.