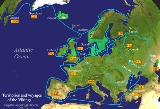 Viking Age
Viking Age
is the term for the period in European history, especially Northern European and Scandinavian history, spanning the late 8th to 11th centuries. Scandinavian (
Norse
Norsemen
Norsemen is used to refer to the group of people as a whole who spoke what is now called the Old Norse language belonging to the North Germanic branch of Indo-European languages, especially Norwegian, Icelandic, Faroese, Swedish and Danish in their earlier forms.The meaning of Norseman was "people...
)
Viking

Viking

The term Viking is customarily used to refer to the Norse explorers, warriors, merchants, and pirates who raided, traded, explored and settled in wide areas of Europe, Asia and the North Atlantic islands from the late 8th to the mid-11th century.These Norsemen used their famed longships to...


s
explored Europe by its oceans and rivers through trade and warfare. The Vikings also reached
Iceland
Settlement of Iceland
The settlement of Iceland is generally believed to have begun in the second half of the 9th century, when Norse settlers migrated across the North Atlantic. The reasons for the migration may be traced to a shortage of arable land in Scandinavia, and civil strife brought about by the ambitions of...
, Greenland,
Newfoundland
Norse colonization of the Americas
The Norse colonization of the Americas began as early as the 10th century, when Norse sailors explored and settled areas of the North Atlantic, including the northeastern fringes of North America....
, and
Anatolia
Anatolia
Anatolia is a geographic and historical term denoting the westernmost protrusion of Asia, comprising the majority of the Republic of Turkey...
. Additionally, there is evidence to support the
Vinland
Vinland
Vinland was the name given to an area of North America by the Norsemen, about the year 1000 CE.There is a consensus among scholars that the Vikings reached North America approximately five centuries prior to the voyages of Christopher Columbus...
legend that Vikings reached farther south to the
North America
North America
North America is a continent wholly within the Northern Hemisphere and almost wholly within the Western Hemisphere. It is also considered a northern subcontinent of the Americas...
n continent.
In
England
England
England is a country that is part of the United Kingdom. It shares land borders with Scotland to the north and Wales to the west; the Irish Sea is to the north west, the Celtic Sea to the south west, with the North Sea to the east and the English Channel to the south separating it from continental...
the Viking Age began dramatically on 8 June 793 when Vikings destroyed the
abbey
Abbey
An abbey is a Catholic monastery or convent, under the authority of an Abbot or an Abbess, who serves as the spiritual father or mother of the community.The term can also refer to an establishment which has long ceased to function as an abbey,...
on
Lindisfarne
Lindisfarne
Lindisfarne is a tidal island off the north-east coast of England. It is also known as Holy Island and constitutes a civil parish in Northumberland...
, a centre of learning famous across the continent.