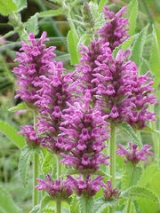 Stachys
Stachys
is one of the largest
genera
Genus
In biology, a genus is a low-level taxonomic rank used in the biological classification of living and fossil organisms, which is an example of definition by genus and differentia...
in the
flowering plant
Flowering plant
The flowering plants , also known as Angiospermae or Magnoliophyta, are the most diverse group of land plants. Angiosperms are seed-producing plants like the gymnosperms and can be distinguished from the gymnosperms by a series of synapomorphies...
family
Family (biology)
In biological classification, family is* a taxonomic rank. Other well-known ranks are life, domain, kingdom, phylum, class, order, genus, and species, with family fitting between order and genus. As for the other well-known ranks, there is the option of an immediately lower rank, indicated by the...
Lamiaceae
Lamiaceae
The mints, taxonomically known as Lamiaceae or Labiatae, are a family of flowering plants. They have traditionally been considered closely related to Verbenaceae, but in the 1990s, phylogenetic studies suggested that many genera classified in Verbenaceae belong instead in Lamiaceae...
. Estimates of the number of
species
Species
In biology, a species is one of the basic units of biological classification and a taxonomic rank. A species is often defined as a group of organisms capable of interbreeding and producing fertile offspring. While in many cases this definition is adequate, more precise or differing measures are...
in the genus vary from about 300, to about 450. The
type species
Type species
In biological nomenclature, a type species is both a concept and a practical system which is used in the classification and nomenclature of animals and plants. The value of a "type species" lies in the fact that it makes clear what is meant by a particular genus name. A type species is the species...
for the genus is
Stachys sylvatica
Stachys sylvatica
Stachys sylvatica, commonly known as Hedge Woundwort, is a perennial grassland herb growing to 80 cm tall....
.
Stachys
is in the subfamily Lamioideae.
Generic
Genus
In biology, a genus is a low-level taxonomic rank used in the biological classification of living and fossil organisms, which is an example of definition by genus and differentia...
limits and
relationships
Phylogenetic tree
A phylogenetic tree or evolutionary tree is a branching diagram or "tree" showing the inferred evolutionary relationships among various biological species or other entities based upon similarities and differences in their physical and/or genetic characteristics...
in this subfamily are poorly known.
The
distribution
Range (biology)
In biology, the range or distribution of a species is the geographical area within which that species can be found. Within that range, dispersion is variation in local density.The term is often qualified:...
of the genus covers
Europe
Europe
Europe is, by convention, one of the world's seven continents. Comprising the westernmost peninsula of Eurasia, Europe is generally 'divided' from Asia to its east by the watershed divides of the Ural and Caucasus Mountains, the Ural River, the Caspian and Black Seas, and the waterways connecting...
,
Asia
Asia
Asia is the world's largest and most populous continent, located primarily in the eastern and northern hemispheres. It covers 8.7% of the Earth's total surface area and with approximately 3.879 billion people, it hosts 60% of the world's current human population...
,
Africa
Africa
Africa is the world's second largest and second most populous continent, after Asia. At about 30.2 million km² including adjacent islands, it covers 6% of the Earth's total surface area and 20.4% of the total land area...
,
Australasia
Australasia
Australasia is a region of Oceania comprising Australia, New Zealand, the island of New Guinea, and neighbouring islands in the Pacific Ocean. The term was coined by Charles de Brosses in Histoire des navigations aux terres australes...
and
North America
North America
North America is a continent wholly within the Northern Hemisphere and almost wholly within the Western Hemisphere. It is also considered a northern subcontinent of the Americas...
.
Common name
Common name
A common name of a taxon or organism is a name in general use within a community; it is often contrasted with the scientific name for the same organism...
s include
heal-all
,
self-heal
,
woundwort
,
betony
,
lamb's ears
, and
hedgenettle
.
Wood betony
Stachys officinalis
Stachys officinalis, is commonly known as Purple Betony, Betaine , Betonie , Bishopwort, Lousewort, Wild hop, Wood betony , or Bishop's wort....
,
Stachys officinalis
, was the most important
medicinal herb
Herbalism
Herbalism is a traditional medicinal or folk medicine practice based on the use of plants and plant extracts. Herbalism is also known as botanical medicine, medical herbalism, herbal medicine, herbology, herblore, and phytotherapy...
to the
Anglo-Saxon
Anglo-Saxon
Anglo-Saxon may refer to:* Anglo-Saxons, a group that invaded Britain** Old English, their language** Anglo-Saxon England, their history, one of various ships* White Anglo-Saxon Protestant, an ethnicity* Anglo-Saxon economy, modern macroeconomic term...
s of early medieval
Great Britain
Great Britain
Great Britain or Britain is an island situated to the northwest of Continental Europe. It is the ninth largest island in the world, and the largest European island, as well as the largest of the British Isles...
.
The Chinese artichoke (
S. affinis
Stachys affinis
Stachys affinis, the Chinese artichoke, chorogi, knotroot, artichoke betony, or crosne, is an herbaceous perennial plant of the family Lamiaceae. Its tuber can be grown as a root vegetable. While the plant is easy to grow, the tubers are small, convoluted, and indented, so they are difficult to...
), is grown for its edible
tuber
Tuber
Tubers are various types of modified plant structures that are enlarged to store nutrients. They are used by plants to survive the winter or dry months and provide energy and nutrients for regrowth during the next growing season and they are a means of asexual reproduction...
. Several species are
cultivated
Horticulture
Horticulture is the industry and science of plant cultivation including the process of preparing soil for the planting of seeds, tubers, or cuttings. Horticulturists work and conduct research in the disciplines of plant propagation and cultivation, crop production, plant breeding and genetic...
as
ornamentals
Ornamental plant
Ornamental plants are plants that are grown for decorative purposes in gardens and landscape design projects, as house plants, for cut flowers and specimen display...
. Woolly Betony (
S. byzantina
Stachys byzantina
Stachys byzantina is a species of Stachys, native to Turkey, Armenia, and Iran. It is cultivated over much of the temperate world as an ornamental plant, and is naturalised in some locations as an escape from gardens...
) is a popular decorative garden plant.
Stachys
was
named
Botanical name
A botanical name is a formal scientific name conforming to the International Code of Botanical Nomenclature and, if it concerns a plant cultigen, the additional cultivar and/or Group epithets must conform to the International Code of Nomenclature for Cultivated Plants...
by Linnaeus in
Species Plantarum
Species Plantarum
Species Plantarum was first published in 1753, as a two-volume work by Carl Linnaeus. Its prime importance is perhaps that it is the primary starting point of plant nomenclature as it exists today. This means that the first names to be considered validly published in botany are those that appear...
in 1753. The
name
Binomial nomenclature
Binomial nomenclature is a formal system of naming species of living things by giving each a name composed of two parts, both of which use Latin grammatical forms, although they can be based on words from other languages...
is
derived
Etymology
Etymology is the study of the history of words, their origins, and how their form and meaning have changed over time.For languages with a long written history, etymologists make use of texts in these languages and texts about the languages to gather knowledge about how words were used during...
from the
Greek
Greek language
Greek is an independent branch of the Indo-European family of languages. Native to the southern Balkans, it has the longest documented history of any Indo-European language, spanning 34 centuries of written records. Its writing system has been the Greek alphabet for the majority of its history;...
word σταχυς (
stachys
), meaning "an ear of grain", and refers to the fact that the
inflorescence
Inflorescence
An inflorescence is a group or cluster of flowers arranged on a stem that is composed of a main branch or a complicated arrangement of branches. Strictly, it is the part of the shoot of seed plants where flowers are formed and which is accordingly modified...
is often a
spike
Raceme
A raceme is a type of inflorescence that is unbranched and indeterminate and bears pedicellate flowers — flowers having short floral stalks called pedicels — along the axis. In botany, axis means a shoot, in this case one bearing the flowers. In a raceme, the oldest flowers are borne...
. The name woundwort derives from the past use of certain species in
herbal medicine
Herbalism
Herbalism is a traditional medicinal or folk medicine practice based on the use of plants and plant extracts. Herbalism is also known as botanical medicine, medical herbalism, herbal medicine, herbology, herblore, and phytotherapy...
for the treatment of wounds.
Stachys
species are used as food plants by the
larva
Larva
A larva is a distinct juvenile form many animals undergo before metamorphosis into adults. Animals with indirect development such as insects, amphibians, or cnidarians typically have a larval phase of their life cycle...
e of some
Lepidoptera
Lepidoptera
Lepidoptera is a large order of insects that includes moths and butterflies . It is one of the most widespread and widely recognizable insect orders in the world, encompassing moths and the three superfamilies of butterflies, skipper butterflies, and moth-butterflies...
species including the
Coleophora
Coleophora
Coleophora is a very large genus of moths of the family Coleophoridae. It contains some 1,350 described species. The genus is represented on all continents, but the majority are found in the Nearctic and Palaearctic regions...
case-bearers
C. auricella
(recorded on
S. officinalis
),
C. lineolea
and
C. wockeella
(feeds exclusively on
S. officinalis
).
Description
Stachys
is a
genus
Genus
In biology, a genus is a low-level taxonomic rank used in the biological classification of living and fossil organisms, which is an example of definition by genus and differentia...
of
shrub
Shrub
A shrub or bush is distinguished from a tree by its multiple stems and shorter height, usually under 5–6 m tall. A large number of plants may become either shrubs or trees, depending on the growing conditions they experience...
s and
annual
Annual plant
An annual plant is a plant that usually germinates, flowers, and dies in a year or season. True annuals will only live longer than a year if they are prevented from setting seed...
or
perennial
Perennial plant
A perennial plant or simply perennial is a plant that lives for more than two years. The term is often used to differentiate a plant from shorter lived annuals and biennials. The term is sometimes misused by commercial gardeners or horticulturalists to describe only herbaceous perennials...
herbs
Herbaceous plant
A herbaceous plant is a plant that has leaves and stems that die down at the end of the growing season to the soil level. They have no persistent woody stem above ground...
. The
stems
Plant stem
A stem is one of two main structural axes of a vascular plant. The stem is normally divided into nodes and internodes, the nodes hold buds which grow into one or more leaves, inflorescence , conifer cones, roots, other stems etc. The internodes distance one node from another...
vary from 50–300 cm (19.7–118.1 in) tall, with simple,
opposite
Phyllotaxis
In botany, phyllotaxis or phyllotaxy is the arrangement of leaves on a plant stem .- Pattern structure :...
,
triangular
Leaf shape
In botany, leaf shape is characterised with the following terms :* Acicular : Slender and pointed, needle-like* Acuminate : Tapering to a long point...
leaves
Leaf
A leaf is an organ of a vascular plant, as defined in botanical terms, and in particular in plant morphology. Foliage is a mass noun that refers to leaves as a feature of plants....
, 1 centimetre long with serrate margins. In most species, the leaves are softly hairy. The
flower
Flower
A flower, sometimes known as a bloom or blossom, is the reproductive structure found in flowering plants . The biological function of a flower is to effect reproduction, usually by providing a mechanism for the union of sperm with eggs...
s are 1 to 2 cm (0.393700787401575 to 0.78740157480315 in) long, clustered in the axils of the leaves on the upper part of the stem. The corolla is 5-lobed with the top lobe forming a 'hood', varying from white to pink, purple, red or pale yellow.
Habitat
In Europe,
Stachys
can be found growing in wastelands, grasslands and woodland edges. All-heal thrives in any damp soil in full sun or in light shade. Plants are apt to become troublesome weeds in turf that is at all damp. Sow seed in very early spring in a flat outdoors, or give a short cold and moist conditioning treatment before sowing in a warm place. Growing from 1 to 2 feet high, with creeping, self-rooting, tough, square, reddish stems branching at leaf axis. The leaves are lance shaped, serrated and reddish at tip, about an inch long and 1/2 inch broad, grow on short stalks in opposite pairs down the square stem. The flowers grow from a clublike, somewhat square, whirled cluster, immediately below this club are a pair of stalkless leaves standing out on either side like a collar. Flowers are two lipped and tubular, the top lip is a purple hood, and the bottom lip is often white, it has three lobes with the middle lobe being larger and fringed upwardly. Flowers bloom at different times depending on climate and other conditions. Mostly from June to August. Gather whole plant when flowers bloom, dry for later herb use. Leaves and small flowers are edible.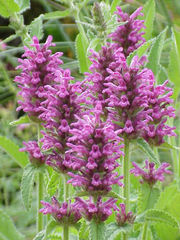 Properties
Used as a medicine for centuries throughout the world, and for a wide variety of ailments, Woundwort has been viewed by herbalists as something of a panacea. It does however have some medicinal uses that are constant. The plant's most useful constituents are
betulinic acid
Betulinic acid
Betulinic acid is a naturally occurring pentacyclic triterpenoid which has anti-retroviral, anti-malarial, and anti-inflammatory properties, as well as a more recently discovered potential as an anticancer agent, by inhibition of topoisomerase...
, D-camphor,
delphinidin
Delphinidin
Delphinidin is an anthocyanidin, a primary plant pigment, and also an antioxidant. Delphinidin gives blue hues to flowers like violas and delphiniums...
,
hyperoside
Hyperoside
Hyperoside is a chemical compound. It is the 3-O-galactoside of quercetin. It is a medicinally active compound that can be isolated from Drosera rotundifolia, from the Stachys plant, from Prunella vulgaris, from Rumex acetosella, Cuscuta Chinensis seeds and from St John's wort.In Rheum nobile and R...
,
manganese
Manganese
Manganese is a chemical element, designated by the symbol Mn. It has the atomic number 25. It is found as a free element in nature , and in many minerals...
,
oleanolic acid
Oleanolic acid
Oleanolic acid or oleanic acid is a naturally occurring triterpenoid, widely distributed in food and medicinal plants, related to betulinic acid. It can be found in Phytolacca americana , and Syzygium spp, garlic, etc...
,
rosmarinic acid
Rosmarinic acid
Rosmarinic acid, C18H16O8, is a natural phenol antioxidant carboxylic acid found in many Lamiaceae herbs used commonly as culinary herbs such as lemon balm, rosemary, oregano, sage, thyme and peppermint. Chemically, rosmarinic acid is an ester of caffeic acid with 3,4-dihydroxyphenyl lactic acid...
,
rutin
Rutin
Rutin, also called rutoside, quercetin-3-O-rutinoside and sophorin, is a citrus flavonoid glycoside found in buckwheat, the leaves and petioles of Rheum species, and asparagus...
,
ursolic acid
Ursolic acid
Ursolic acid is a pentacyclic triterpene acid, used in cosmetics, that is also capable of inhibiting various types of cancer cells by inhibiting the STAT3 activation pathway and human fibrosarcoma cells by reducing the expression of matrix metalloproteinase-9 by acting through the glucocorticoid...
, as well as various
saponin
Saponin
Saponins are a class of chemical compounds, one of many secondary metabolites found in natural sources, with saponins found in particular abundance in various plant species...
s and
tannin
Tannin
A tannin is an astringent, bitter plant polyphenolic compound that binds to and precipitates proteins and various other organic compounds including amino acids and alkaloids.The term tannin refers to the use of...
s. The whole plant is medicinal as an alterative, antibacterial, antipyretic, antiseptic, antispasmodic, astringent, carminative, diuretic, febrifuge, hypotensive, stomachic, styptic, tonic, vermifuge and vulnerary. A cold water infusion of the freshly chopped or dried and powdered leaves makes a refreshing beverage, while a weak infusion of the plant can be used as a medicinal eye wash for sties and pinkeye. It is taken internally as a medicinal tea in the treatment of fevers, diarrhea, sore mouth and throat, internal bleeding, and weaknesses of the liver and heart.
Circumscription
The distinction between
Stachys
and other genera is unclear and has varied from one author to another. In 2002, a molecular phylogenetic
study
Research
Research can be defined as the scientific search for knowledge, or as any systematic investigation, to establish novel facts, solve new or existing problems, prove new ideas, or develop new theories, usually using a scientific method...
showed that
Stachys officinalis
Stachys officinalis
Stachys officinalis, is commonly known as Purple Betony, Betaine , Betonie , Bishopwort, Lousewort, Wild hop, Wood betony , or Bishop's wort....
is not closely related to the rest of the genus. This study also found six other genera to be
embedded
Paraphyly
A group of taxa is said to be paraphyletic if the group consists of all the descendants of a hypothetical closest common ancestor minus one or more monophyletic groups of descendants...
within
Stachys
as it is currently
circumscribed
Circumscription (taxonomy)
In taxonomy, circumscription is the definition of the limits of a taxonomic group of organisms. One goal of taxonomy is to achieve a stable circumscription for every taxonomic group. Achieving stability can be simple or difficult....
. The embedded genera are
Prasium
,
Phlomidoschema
,
Sideritis
Sideritis
Sideritis is a genus of flowering plants well known for their medicinal properties...
,
Haplostachys
,
Phyllostegia
Phyllostegia
Phyllostegia is a genus of flowering plant in the mint family, Lamiaceae.Species include:* Phyllostegia glabra* Phyllostegia hirsuta Benth.* Phyllostegia hispida Hillebr. * Phyllostegia kaalaensis H.St.John...
, and
Stenogyne
.
Selected species
Stachys affinis

Stachys affinis

Stachys affinis, the Chinese artichoke, chorogi, knotroot, artichoke betony, or crosne, is an herbaceous perennial plant of the family Lamiaceae. Its tuber can be grown as a root vegetable. While the plant is easy to grow, the tubers are small, convoluted, and indented, so they are difficult to...


Bunge

Alexander G. von Bunge

Alexander Georg von Bunge was a Baltic German botanist. He was a professor of botany at the University of Tartu, and was director of the department from 1842 until 1844...


– Chinese artichoke
Stachys ajugoides

Stachys ajugoides

Stachys ajugoides is a species of flowering plant in the mint family known by the common name bugle hedgenettle. It is native to western North America, where it can be found in many types of habitat in Oregon, California, and Baja California, especially moist areas. It is an aromatic herb with...


Benth.

George Bentham

George Bentham CMG FRS was an English botanist, characterized by Duane Isely as "the premier systematic botanist of the nineteenth century".- Formative years :...


– Bugle Hedgenettle
Stachys albens

Stachys albens

Stachys albens, also known as whitestem hedgenettle or white hedgenettle, is a mint endemic to California. S. albens has 5-lobed calyx, which are densely cob-webby and white to pinkish in color.-Distribution:...


A.Gray

Asa Gray

-References:*Asa Gray. Dictionary of American Biography. American Council of Learned Societies, 1928–1936.*Asa Gray. Encyclopedia of World Biography, 2nd ed. 17 Vols. Gale Research, 1998.*Asa Gray. Plant Sciences. 4 vols. Macmillan Reference USA, 2001....


– White Hedgenettle, Whitestem Hedgenettle
Stachys alopecuros
Stachys alpina – Alpine Woundwort
Stachys annua (L.) L. – Annual Woundwort
Stachys arvensis

Stachys arvensis

Stachys arvensis is a species of flowering plant in the mint family known by the common names staggerweed and field woundwort. It is native to Europe, Western Asia, and North Africa. It is known on other continents as an introduced species and widespread weed.It grows in many types of habitat,...


L. – Staggerweed, Field Woundwort
Stachys bullata

Stachys bullata

Stachys bullata is a species of flowering plant in the mint family known by the common name California hedgenettle.-Distribution:It is endemic to California, where it is known from the Central Coast Ranges, the Transverse Ranges, and other coastal mountain ranges in the central and southern parts...


Benth.
Stachys byzantina

Stachys byzantina

Stachys byzantina is a species of Stachys, native to Turkey, Armenia, and Iran. It is cultivated over much of the temperate world as an ornamental plant, and is naturalised in some locations as an escape from gardens...


K.Koch – Woolly Betony, Lamb's Ear, S. lanata
Stachys candida
Stachys chamissonis

Stachys chamissonis

Stachys chamissonis is a species of flowering plant in the mint family known by the common name coastal hedgenettle. It is native to the west coast of North America, where it grows in moist coastal habitat from Alaska to central California. This mint produces an erect stem well over one meter in...


Benth. – Great Hedge Nettle, Coastal Hedge Nettle
Stachys chrysantha
Stachys ciliata
Stachys citrina
Stachys coccinea

Stachys coccinea

Stachys coccinea is an ornamental plant of the family Lamiaceae, which is native from Arizona to Texas and from Baja California Sur, Mexico to Nicaragua.Some cultivars of this species include:...


Jacq.
Stachys cooleyae Heller
Stachys corsica
Stachys cretica L.
Stachys discolor
Stachys ehrenbergii
Stachys floridana Shuttlew. ex Benth. – Florida Hedgenettle, Florida Betony
Stachys germanica L. – Downy Woundwort

Stachys glutinosa
Stachys hyssopifolia
Stachys iva
Stachys lanata
Stachys lavandulifolia
Stachys libanotica
Stachys macrantha (K.Koch) Stearn
Stachys macrostachya
Stachys mexicana Benth. – Mexican Hedge Nettle
Stachys monnieri

Stachys monnieri

Stachys monnieri is a perennial herbaceous flowering plant commonly called "Alpine betony" from the mint family Lamiaceae. Purplish pink colored flowers are produced in dense heads above a thick growth of wrinkled leaves. Plants grow about 18 inches tall when in bloom in mid summer....


(Gouan) P.W.Ball
Stachys officinalis

Stachys officinalis

Stachys officinalis, is commonly known as Purple Betony, Betaine , Betonie , Bishopwort, Lousewort, Wild hop, Wood betony , or Bishop's wort....


(L.) Trevis. – Betony
Stachys palustris

Stachys palustris

Stachys palustris, commonly known as Marsh Woundwort or Marsh Hedgenettle, is an edible perennial grassland herb growing to 80 centimeters tall. It is native to parts of Eurasia.-External links:**...


L. – Marsh Woundwort
Stachys pumila
Stachys pycnantha

Stachys pycnantha

Stachys pycnantha is a species of flowering plant in the mint family known by the common name shortspike hedgenettle. It is native to California, where it is known from many types of mountain and foothill habitat. This mint produces several stems usually exceeding 60 centimeters in height. It is...


Benth.
Stachys recta

Stachys recta

Stachys recta, commonly known as Stiff Hedgenettle or Perennial yellow woundwort, is herbaceous perennial plant belonging to the Lamiaceae family.-Etymology:...


L. – Yellow Woundwort
Stachys riddellii
Stachys scardia
Stachys stricta
Stachys sylvatica

Stachys sylvatica

Stachys sylvatica, commonly known as Hedge Woundwort, is a perennial grassland herb growing to 80 cm tall....


L. – Hedge Woundwort
Stachys sylvestris
Stachys tenuifolia Willd. – Smooth Hedgenettle
Formerly placed here
Agastache foeniculum

Agastache foeniculum

Agastache foeniculum , commonly called anise hyssop, is a species of perennial plant in the mint family,...


(Pursh) Kuntze (as S. foeniculum Pursh)
Leonurus japonicus

Leonurus japonicus

Leonurus japonicus, commonly called Chinese motherwort, is a herbaceous flowering plant native to Asia, including Korea and Japan, and China to Cambodia.-Description:...


Houtt. (as S. artemisia Lour.)
External links