 Ornamental plant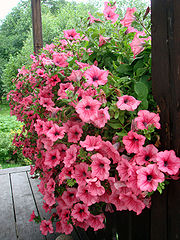 Ornamental plants
are plants that are grown for decorative purposes in
garden
Garden
A garden is a planned space, usually outdoors, set aside for the display, cultivation, and enjoyment of plants and other forms of nature. The garden can incorporate both natural and man-made materials. The most common form today is known as a residential garden, but the term garden has...
s and
landscape design
Landscape design
Landscape design is an independent profession and a design and art tradition, practised by landscape designers, combining nature and culture. In contemporary practice landscape design bridges between landscape architecture and garden design.-Design scope:...
projects, as house plants, for
cut flowers
Floristry
Floristry is the general term used to describe production, commerce and trade in flowers. It encompasses flower care and handling, floral design or flower arranging, merchandising, and display and flower delivery. Wholesale florists sell bulk flowers and related supplies to professionals in the trade...
and specimen display. The cultivation of these forms a major branch of
horticulture
Horticulture
Horticulture is the industry and science of plant cultivation including the process of preparing soil for the planting of seeds, tubers, or cuttings. Horticulturists work and conduct research in the disciplines of plant propagation and cultivation, crop production, plant breeding and genetic...
.
Garden plants
Most commonly ornamental garden plants are grown for the display of aesthetic features including: flowers, leaves, scent, overall foliage texture, fruit, Plant stem|stem and bark, and aesthetic form. In some cases, unusual features may be considered to be of interest, such as the prominent and rather vicious spine botany|thorns of
Rosa sericea
and
cacti
. In all cases, their purpose is for the enjoyment of gardeners, visitors, and/or the public.
Trees
Similarly certain
tree
Tree
A tree is a perennial woody plant. It is most often defined as a woody plant that has many secondary branches supported clear of the ground on a single main stem or trunk with clear apical dominance. A minimum height specification at maturity is cited by some authors, varying from 3 m to...
s may be called
ornamental trees
. This term is used when they are used as part of a garden or landscape setting, for instance for their flowers, their texture, form and shape, and other aesthetic characteristics. In some countries trees in 'utilitarian' landscape use such as screening and roadside plantings are called
amenity trees
.
Cultivation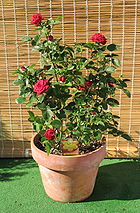 For plants to be considered as ornamental, they may require specific work and activity by a gardener. For instance, many plants cultivated for
topiary
Topiary
Topiary is the horticultural practice of training live perennial plants, by clipping the foliage and twigs of trees, shrubs and subshrubs to develop and maintain clearly defined shapes, perhaps geometric or fanciful; and the term also refers to plants which have been shaped in this way. It can be...
and
bonsai
Bonsai
is a Japanese art form using miniature trees grown in containers. Similar practices exist in other cultures, including the Chinese tradition of penjing from which the art originated, and the miniature living landscapes of Vietnamese hòn non bộ...
would only be considered as ornamental by virtue of the regular pruning carried out on them by the gardener, and they may rapidly cease to be ornamental if the work was abandoned.
Ornamental plants and trees are distinguished from utilitarian and crop plants, such as those used for
agriculture
Agriculture
Agriculture is the cultivation of animals, plants, fungi and other life forms for food, fiber, and other products used to sustain life. Agriculture was the key implement in the rise of sedentary human civilization, whereby farming of domesticated species created food surpluses that nurtured the...
and
vegetable
Vegetable
The noun vegetable usually means an edible plant or part of a plant other than a sweet fruit or seed. This typically means the leaf, stem, or root of a plant....
crops, and for
forestry
Forestry
Forestry is the interdisciplinary profession embracing the science, art, and craft of creating, managing, using, and conserving forests and associated resources in a sustainable manner to meet desired goals, needs, and values for human benefit. Forestry is practiced in plantations and natural stands...
or as fruit trees. This does not preclude any particular type of plant being grown both for ornamental qualities in the garden, and for utilitarian purposes in other settings. Thus
lavender
Lavender
The lavenders are a genus of 39 species of flowering plants in the mint family, Lamiaceae. An Old World genus, distributed from Macaronesia across Africa, the Mediterranean, South-West Asia, Arabia, Western Iran and South-East India...
is typically grown as an ornamental plant in gardens, but may also be grown as a crop plant for the production of
lavender oil
Lavender oil
Lavender oil is an essential oil obtained by distillation from the flower spikes of certain species of lavender. Two forms are distinguished, lavender flower oil, a colorless oil, insoluble in water, having a density of 0.885 g/mL; and lavender spike oil, a distillate from the herb Lavandula...
.
The term
The term
ornamental plant
is used here in the same sense that it is generally used in the horticultural trades. The term largely corresponds to 'garden plant', though the latter is much less precise, as any plant may be grown in a garden.