 Hellmuth, Obata and Kassabaum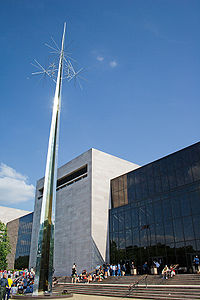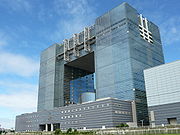 HOK
is a global
architecture
Architecture
Architecture is both the process and product of planning, designing and construction. Architectural works, in the material form of buildings, are often perceived as cultural and political symbols and as works of art...
, interiors, engineering, planning and consulting firm. HOK is the largest U.S.-based architecture-engineering firm and the "No. 1 role model for sustainable and high-performance design." HOK also is the second-largest interior design firm. As of 2011, the firm maintains more than 1,800 professional staff across a global network of 25 offices and is active in all major architectural specialties. Its senior leaders are located in several different locations across the world.
History
HOK was established in St. Louis, Missouri, in 1955. The firm's name is derived from the surnames of its three founding partners: George Hellmuth,
Gyo Obata
Gyo Obata
Gyo Obata is a significant American architect, the son of renowned painter Chiura Obata and his wife, Haruko Obata, a floral designer. In 1955, he co-founded global architectural firm HOK . He lives in St. Louis, Missouri and still works in HOK's St. Louis office...
and George Kassabaum, all graduates of the School of Architecture at
Washington University in St. Louis
Washington University in St. Louis
Washington University in St. Louis is a private research university located in suburban St. Louis, Missouri. Founded in 1853, and named for George Washington, the university has students and faculty from all fifty U.S. states and more than 110 nations...
. The new design firm started with 26 employees and the complementary talents of its three founders, who each assumed a distinct role in the firm's operations. Hellmuth focused on design, Obata on design and Kassabaum on project management.
The practice's first building designs were schools in St. Louis suburbs, and St. Thomas Aquinas High School in Florissant was the first private/parochial school designed by the firm. Another prominent school they designed was the
Saint Louis Priory School
Saint Louis Priory School
The Saint Louis Priory School, a Roman Catholic secondary day school for boys, is located in suburban St. Louis, Missouri, within the Archdiocese of Saint Louis. The school is run by the Benedictine monks of Saint Louis Abbey as part of their religious ministry.- History :The school was...
. By the mid-1960s, the firm was winning commissions across the
United States
United States
The United States of America is a federal constitutional republic comprising fifty states and a federal district...
and began to open additional offices, starting with San Francisco in 1966. By the 1970s the firm was operating internationally and in 1975 the firm was named as architect of the $3.5 billion
King Saud University
King Saud University
King Saud University is a public university located in Riyadh, Saudi Arabia. It was founded in 1957 by King Saud bin Abdul Aziz as Riyadh University, as the first university in the kingdom not dedicated to religious subjects. The university was created to meet the shortage of skilled workers in...
in
Riyadh
Riyadh
Riyadh is the capital and largest city of Saudi Arabia. It is also the capital of Riyadh Province, and belongs to the historical regions of Najd and Al-Yamama. It is situated in the center of the Arabian Peninsula on a large plateau, and is home to 5,254,560 people, and the urban center of a...
, at the time the single largest building project in the world.
In 1983, HOK formed HOK Sport Venue Event, which became a leader in designing sport stadiums, arenas and convention centers. In January 2009, the Board of HOK Group, Inc. and managers of HOK Sports Facilities, LLC transferred ownership of HOK Sport Venue Event to leaders of that practice. The company is now known as Populous and is completely separate from HOK.
HOK's first office outside the United States opened in
Hong Kong
Hong Kong
Hong Kong is one of two Special Administrative Regions of the People's Republic of China , the other being Macau. A city-state situated on China's south coast and enclosed by the Pearl River Delta and South China Sea, it is renowned for its expansive skyline and deep natural harbour...
in 1984 and HOK has continued to expand by opening additional offices in the United States and around the world and by acquiring other leading firms. In November 1994, HOK acquired CRSS Architects, Inc. based in
Houston, Texas
Houston, Texas
Houston is the fourth-largest city in the United States, and the largest city in the state of Texas. According to the 2010 U.S. Census, the city had a population of 2.1 million people within an area of . Houston is the seat of Harris County and the economic center of , which is the ...
, adding offices in Houston and Atlanta.
In 2004, George Hellmuth's nephew,
William Hellmuth
William Hellmuth
William "Bill" Hellmuth is an American architect who is known for a number of notable projects, including green architecture. Since 2004, he has been president of architecture firm Hellmuth, Obata and Kassabaum...
, was named president of the firm.
By 2007, international work represented more than 40% of HOK's annual revenue.
In 2008, HOK opened an office in
Mumbai
Mumbai
Mumbai , formerly known as Bombay in English, is the capital of the Indian state of Maharashtra. It is the most populous city in India, and the fourth most populous city in the world, with a total metropolitan area population of approximately 20.5 million...
,
India
India
India , officially the Republic of India , is a country in South Asia. It is the seventh-largest country by geographical area, the second-most populous country with over 1.2 billion people, and the most populous democracy in the world...
. In 2010, it established offices in
Seattle, Washington
Seattle, Washington
Seattle is the county seat of King County, Washington. With 608,660 residents as of the 2010 Census, Seattle is the largest city in the Northwestern United States. The Seattle metropolitan area of about 3.4 million inhabitants is the 15th largest metropolitan area in the country...
, and Ho Chi Minh City, Vietnam.
Innovation and sustainable design
HOK is an innovator in the building design industry and has greatly influenced the business of architecture. In 1983 HOK introduced HOK Draw, one of the first computer-aided drafting software products that specialized in conceptual architectural design. More recently, HOK has made a commitment to using
Building Information Modeling
Building Information Modeling
Building information modeling is the process of generating and managing building data during its life cycle.BIM involves representing a design as objects – vague and undefined, generic or product-specific, solid shapes or void-space oriented , that carry their geometry, relations and attributes...
(BIM) to streamline the design and construction process.
HOK is a leader in sustainable design, commonly referred to as "green architecture." Professionals in the firm authored one of the industry's most respected resources on the topic, "The HOK Guidebook to Sustainable Design," originally published in 2000 by John Wiley & Sons. A second edition of the book was published in 2005. HOK currently has more than 900 LEED (
Leadership in Energy and Environmental Design
Leadership in Energy and Environmental Design
Leadership in Energy and Environmental Design consists of a suite of rating systems for the design, construction and operation of high performance green buildings, homes and neighborhoods....
) registered professionals and 101 LEED certified projects. HOK placed first in Engineering News-Record's 2009 'Top 100 Green Design Firms' survey.
In September 2008, to better integrate nature's innovations into the design of buildings, communities and cities worldwide, HOK announced an alliance with the Biomimicry Group, co-founded by
Janine Benyus
Janine Benyus
Janine M. Benyus is an American natural sciences writer, innovation consultant, and author.-Life:Benyus graduated summa cum laude from Rutgers University with degrees in natural resource management and english literature/writing. Benyus teaches interpretive writing, lectures at the University of...
. In 2010, HOK and energy and daylighting consultant The Weidt Group completed design of Net Zero Court, a 170,735-square-foot, market-rate, zero-emissions class A commercial office building in St. Louis.
Global offices
United States
Atlanta
Chicago
Dallas
Denver
Houston
Los Angeles
Miami
New York
St. Louis
San Francisco
Seattle
Tampa
Washington, DC
Canada
Calgary
Ottawa
Toronto
Vancouver
Asia Pacific
Beijing
Ho Chi Minh City
Hong Kong
Shanghai
Singapore
Europe
London
HOK Euronet - affiliated firms in Amsterdam, Brussels, Madrid, Milan, Paris and Rome
India
Middle East
Selected projects
External links