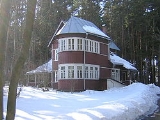 Dacha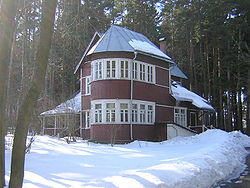 Dacha
is a Russian word for seasonal or year-round
second homes
often located in the exurbs of Soviet and post-Soviet cities. Cottages or shacks serving as family's main or only home (or districts of such buildings) are not considered dachas, although many purpose-built dachas are recently being converted for year-round residence. In some cases, dachas are occupied for part of the year by their owners and rented out to urban residents as summer retreats.
Dachas are very common in
Russia
Russia
Russia or , officially known as both Russia and the Russian Federation , is a country in northern Eurasia. It is a federal semi-presidential republic, comprising 83 federal subjects...
, and are also widespread in most parts of the former Soviet Union. It is estimated that about 50% of Russian families living in large cities have dachas.
As the size and type of dacha buildings was severely restricted during the Soviet time, some permitted features, such as attics and glazed verandas, became extremely widespread and often oversized. During the 1963–1985 period, these limitations were especially strict: only single-story
summer house
Summer house
A summer house or summerhouse has traditionally referred to a building or shelter used for relaxation in warm weather. This would often take the form of a small, roofed building on the grounds of a larger one, but could also be built in a garden or park, often designed to provide cool shady places...
s without permanent heating and with living areas less than 25 m² were allowed as second housing (though older dachas that didn't meet these requirements continued to exist). Since 1990, all such limitations have been eliminated.
Anyone who permanently dwells in a dacha is colloquially called a
dachnik
; the term usually refers to a whole distinctive lifestyle.
History
The first dachas in Russia began to appear during the reign of Peter the Great. Initially they were small estates in the country, which were given to loyal vassals by the
tsar
Tsar
Tsar is a title used to designate certain European Slavic monarchs or supreme rulers. As a system of government in the Tsardom of Russia and Russian Empire, it is known as Tsarist autocracy, or Tsarism...
. In archaic Russian, the word
dacha
means
something given
.
During the
Age of Enlightenment
Age of Enlightenment
The Age of Enlightenment was an elite cultural movement of intellectuals in 18th century Europe that sought to mobilize the power of reason in order to reform society and advance knowledge. It promoted intellectual interchange and opposed intolerance and abuses in church and state...
, Russian aristocracy used their dachas for social and cultural gatherings, which were usually accompanied by
masquerade ball
Masquerade ball
A masquerade ball is an event which the participants attend in costume wearing a mask. - History :...
s and
fireworks
Fireworks
Fireworks are a class of explosive pyrotechnic devices used for aesthetic and entertainment purposes. The most common use of a firework is as part of a fireworks display. A fireworks event is a display of the effects produced by firework devices...
displays. The
Industrial Revolution
Industrial Revolution
The Industrial Revolution was a period from the 18th to the 19th century where major changes in agriculture, manufacturing, mining, transportation, and technology had a profound effect on the social, economic and cultural conditions of the times...
brought about a rapid growth in the urban population, and urban residents increasingly desired to escape the heavily polluted cities, at least temporarily. By the end of the 19th century, the dacha became a favorite summer retreat for the upper and middle classes of Russian society.
After the Bolshevik revolution of 1917, most dachas were nationalized. Some were converted into vacation homes for the
working class
Working class
Working class is a term used in the social sciences and in ordinary conversation to describe those employed in lower tier jobs , often extending to those in unemployment or otherwise possessing below-average incomes...
, while others, usually of better quality, were distributed among the prominent functionaries of the Communist Party and the newly emerged cultural and scientific elite. All but a few dachas remained the property of the state and the right to use them was usually revoked when a dacha occupant was dismissed or fell out of favor with the rulers of the state.
Joseph Stalin
Joseph Stalin
Joseph Vissarionovich Stalin was the Premier of the Soviet Union from 6 May 1941 to 5 March 1953. He was among the Bolshevik revolutionaries who brought about the October Revolution and had held the position of first General Secretary of the Communist Party of the Soviet Union's Central Committee...
's favourite Dacha was in
Gagra
Gagra
Gagra is a town in Abkhazia, Georgia's breakaway republic, sprawling for 5 km on the northeast coast of the Black Sea, at the foot of the Caucasus Mountains...
,
Abkhazia
Abkhazia
Abkhazia is a disputed political entity on the eastern coast of the Black Sea and the south-western flank of the Caucasus.Abkhazia considers itself an independent state, called the Republic of Abkhazia or Apsny...
. The construction of new dachas was restricted until the late 1940s and required the special approval of the Communist Party leadership.
The period after
World War II
World War II
World War II, or the Second World War , was a global conflict lasting from 1939 to 1945, involving most of the world's nations—including all of the great powers—eventually forming two opposing military alliances: the Allies and the Axis...
saw a moderate growth in dacha development. Since there was no actual law banning the construction of dachas, squatters began occupying unused plots of land near cities and towns, some building sheds, huts, and more prominent dwellings that served as dachas. This practice of squatting was spurred by the desire of urban dwellers, all living in multi-storey apartment buildings, to spend some time close to nature, and also to grow their own fruits and vegetables. The latter was caused by the failure of the centrally planned Soviet agricultural program to supply enough fresh produce. As time passed, the number of squatters grew geometrically and the government had no choice but to officially recognize their right to amateur farming. The 1955 legislation introduced a new type of legal person into the Soviet juridical system, a
gardeners' partnership
, distinct from the internationally popular
community gardens
. The gardeners' partnership received the right to permanent use of land exclusively for agricultural purposes and permission to connect to public electrical and water supply networks. In 1958, yet another form of organization was introduced, a
cooperative for dacha construction
, which recognized the right of an individual to build a small house on the land leased from the government.
The 1980s saw the peak of the dacha boom with virtually every affluent family in the country having a dacha of their own or spending weekends and holidays at friends' dachas. Often ill-equipped and without indoor plumbing, dachas were nevertheless the ultimate solution for millions of working class families to having an inexpensive summer retreat. Having a piece of land also offered an opportunity for city dwellers to indulge themselves in growing their own fruits and vegetables. To this day,
May Day
May Day
May Day on May 1 is an ancient northern hemisphere spring festival and usually a public holiday; it is also a traditional spring holiday in many cultures....
holidays remain a feature of Russian life allowing urban residents a long weekend to plant seeds and tend fruit trees as the ground defrosts from the long Russian winter. Since there are no other national holidays that are long enough for planting, many employers give their staff an extra day off specifically for that purpose.
The collapse of communism in the Soviet Union saw the return to private land ownership. Most dachas have since been privatized and Russia is now the nation with the largest number of owners of
second home
Second home
Second home may refer to:* Vacation property* Pied-à-terre* Second Home , an album by Marié Digby...
s. The growth of living standards in recent years allowed many dacha owners to spend their discretionary income on improvements. Thus, many recently built dachas are fully equipped houses suitable for use as permanent residences. The market-oriented economy transformed the dacha into an asset, which generally reflects the prosperity of its owner and can be freely traded in the real estate market.
Due to the rapid increase in urbanization in Russia, many village houses are currently being sold to be used as dachas. Many Russian villages now have dachniki as temporary residents. Some villages have been fully transformed into dacha settlements, while some older dacha settlements often look like more permanent lodgings. The advantages of purchasing a dacha in a village usually are: lower costs, greater land area, and larger distances between houses. The disadvantages may include: lower-quality utilities, less security, and typically a farther distance to travel.
Dacha farming
The dacha plots (usually not more than 600 m² for Soviet collective farm labourers, more in other cases, often 1200 or 1500 m², but virtually never exceeding 0.96 ha) are too small to grow the needed amount of fruits and vegetables, thus sometimes they are also grown on separate dedicated plots of ground. In Soviet times and sometimes now, such dedicated plots of ground often were made of the unused sections of agricultural fields owned by collective farms. However, in rural areas, many dacha owners own a greater land area, and are able to grow the needed amount of fruits and vegetables right on their plot.
Many small dacha plots, especially the ones that were recently purchased, are not used for large-scale fruit and vegetable farming. Instead, they are frequently used for
gardening
Gardening
Gardening is the practice of growing and cultivating plants. Ornamental plants are normally grown for their flowers, foliage, or overall appearance; useful plants are grown for consumption , for their dyes, or for medicinal or cosmetic use...
and planting exotic plants.
Due to the high costs of good equipment, even relatively large plots of ground are often cultivated manually using instruments such as a spade or a spading fork. In autumn the grown potatoes and other crops are gathered and transported to the city where they are stored in cellars, dugouts (usually located on unused plots of ground), or in personal automobile garages.
Many Russians prefer to grow vegetables themselves because of the widespread (especially among the older part of the population) belief in the excessive use of agrochemicals in the store-bought vegetables, and the higher costs of the vegetables in the stores and
bazaar
Bazaar
A bazaar , Cypriot Greek: pantopoula) is a permanent merchandising area, marketplace, or street of shops where goods and services are exchanged or sold. The term is sometimes also used to refer to the "network of merchants, bankers and craftsmen" who work that area...
s. Also, growing one's own food supplies is a long-lived Russian tradition. Many affluent Russians practice that tradition.
The most common dacha fruits in cool temperate regions of Russia are
apple
Apple
The apple is the pomaceous fruit of the apple tree, species Malus domestica in the rose family . It is one of the most widely cultivated tree fruits, and the most widely known of the many members of genus Malus that are used by humans. Apple grow on small, deciduous trees that blossom in the spring...
,
blackcurrant
Blackcurrant
Blackcurrant, Ribes nigrum, is a species of Ribes berry native to central and northern Europe and northern Asia, and is a perennial....
,
redcurrant
Redcurrant
The redcurrant , Ribes rubrum, is a member of the genus Ribes in the gooseberry family Grossulariaceae, native to parts of western Europe...
,
gooseberry
Gooseberry
The gooseberry or ; Ribes uva-crispa, syn. R. grossularia) is a species of Ribes, native to Europe, northwestern Africa and southwestern Asia...
,
raspberry
Raspberry
The raspberry or hindberry is the edible fruit of a multitude of plant species in the genus Rubus, most of which are in the subgenus Idaeobatus; the name also applies to these plants themselves...
and
strawberry
Strawberry
Fragaria is a genus of flowering plants in the rose family, Rosaceae, commonly known as strawberries for their edible fruits. Although it is commonly thought that strawberries get their name from straw being used as a mulch in cultivating the plants, the etymology of the word is uncertain. There...
(sometimes also
sour cherry
Sour Cherry
Prunus cerasus, or the sour cherry, is a species of Prunus in the subgenus Cerasus , native to much of Europe and southwest Asia. It is closely related to the wild cherry Prunus cerasus, or the sour cherry, is a species of Prunus in the subgenus Cerasus (cherries), native to much of Europe and...
, downy cherry,
plum
Plum
A plum or gage is a stone fruit tree in the genus Prunus, subgenus Prunus. The subgenus is distinguished from other subgenera in the shoots having a terminal bud and solitary side buds , the flowers in groups of one to five together on short stems, and the fruit having a groove running down one...
,
pear
Pear
The pear is any of several tree species of genus Pyrus and also the name of the pomaceous fruit of these trees. Several species of pear are valued by humans for their edible fruit, but the fruit of other species is small, hard, and astringent....
,
sea-buckthorn
Sea-buckthorn
The sea-buckthorns are deciduous shrubs in the genus Hippophae, family Elaeagnaceae. The name sea-buckthorn is hyphenated here to avoid confusion with the buckthorns...
,
Actinidia kolomikta
Actinidia kolomikta
Actinidia kolomikta is a species of deciduous dioecious woody vine in the genus Actinidia native to temperate mixed forests of the Russian Far East, Korea, Japan and China . It is a very long-lived woody scrambler, which ultimately grows to 8-10 m . A...
, black chokeberry,
serviceberry
Serviceberry
Amelanchier , also known as shadbush, shadwood or shadblow, serviceberry or sarvisberry, wild pear, juneberry, saskatoon, sugarplum or wild-plum, and chuckley pear is a genus of about 20 species of deciduous-leaved shrubs and small trees in the Rose family .Amelanchier is native to temperate regions...
, sweetberry honeysuckle,
blackberry
Blackberry
The blackberry is an edible fruit produced by any of several species in the Rubus genus of the Rosaceae family. The fruit is not a true berry; botanically it is termed an aggregate fruit, composed of small drupelets. The plants typically have biennial canes and perennial roots. Blackberries and...
and
grape
Grape
A grape is a non-climacteric fruit, specifically a berry, that grows on the perennial and deciduous woody vines of the genus Vitis. Grapes can be eaten raw or they can be used for making jam, juice, jelly, vinegar, wine, grape seed extracts, raisins, molasses and grape seed oil. Grapes are also...
, but many of them are either rare or not hardy enough and require winter protection). Popular vegetables and herbs are
potato
Potato
The potato is a starchy, tuberous crop from the perennial Solanum tuberosum of the Solanaceae family . The word potato may refer to the plant itself as well as the edible tuber. In the region of the Andes, there are some other closely related cultivated potato species...
,
cucumber
Cucumber
The cucumber is a widely cultivated plant in the gourd family Cucurbitaceae, which includes squash, and in the same genus as the muskmelon. The plant is a creeping vine which bears cylindrical edible fruit when ripe. There are three main varieties of cucumber: "slicing", "pickling", and...
,
zucchini
Zucchini
The zucchini is a summer squash which often grows to nearly a meter in length, but which is usually harvested at half that size or less. It is a hybrid of the cucumber. Along with certain other squashes, it belongs to the species Cucurbita pepo. Zucchini can be dark or light green...
,
pumpkin
Pumpkin
A pumpkin is a gourd-like squash of the genus Cucurbita and the family Cucurbitaceae . It commonly refers to cultivars of any one of the species Cucurbita pepo, Cucurbita mixta, Cucurbita maxima, and Cucurbita moschata, and is native to North America...
,
tomato
Tomato
The word "tomato" may refer to the plant or the edible, typically red, fruit which it bears. Originating in South America, the tomato was spread around the world following the Spanish colonization of the Americas, and its many varieties are now widely grown, often in greenhouses in cooler...
,
carrot
Carrot
The carrot is a root vegetable, usually orange in colour, though purple, red, white, and yellow varieties exist. It has a crisp texture when fresh...
,
beetroot
Beetroot
The beetroot, also known as the table beet, garden beet, red beet or informally simply as beet, is one of the many cultivated varieties of beets and arguably the most commonly encountered variety in North America, Central America and Britain.-Consumption:The usually deep-red roots of beetroot are...
,
cabbage
Cabbage
Cabbage is a popular cultivar of the species Brassica oleracea Linne of the Family Brassicaceae and is a leafy green vegetable...
,
cauliflower
Cauliflower
Cauliflower is one of several vegetables in the species Brassica oleracea, in the family Brassicaceae. It is an annual plant that reproduces by seed...
,
radish
Radish
The radish is an edible root vegetable of the Brassicaceae family that was domesticated in Europe, in pre-Roman times. They are grown and consumed throughout the world. Radishes have numerous varieties, varying in size, color and duration of required cultivation time...
,
turnip
Turnip
The turnip or white turnip is a root vegetable commonly grown in temperate climates worldwide for its white, bulbous taproot. Small, tender varieties are grown for human consumption, while larger varieties are grown as feed for livestock...
,
onion
Onion
The onion , also known as the bulb onion, common onion and garden onion, is the most widely cultivated species of the genus Allium. The genus Allium also contains a number of other species variously referred to as onions and cultivated for food, such as the Japanese bunching onion The onion...
,
garlic
Garlic
Allium sativum, commonly known as garlic, is a species in the onion genus, Allium. Its close relatives include the onion, shallot, leek, chive, and rakkyo. Dating back over 6,000 years, garlic is native to central Asia, and has long been a staple in the Mediterranean region, as well as a frequent...
,
dill
Dill
Dill is a perennial herb. It is the sole species of the genus Anethum, though classified by some botanists in a related genus as Peucedanum graveolens C.B.Clarke.-Growth:...
,
parsley
Parsley
Parsley is a species of Petroselinum in the family Apiaceae, native to the central Mediterranean region , naturalized elsewhere in Europe, and widely cultivated as an herb, a spice and a vegetable.- Description :Garden parsley is a bright green hairless biennial herbaceous plant in temperate...
,
rhubarb
Rhubarb
Rhubarb is a group of plants that belong to the genus Rheum in the family Polygonaceae. They are herbaceous perennial plants growing from short, thick rhizomes. They have large leaves that are somewhat triangular-shaped with long fleshy petioles...
and
sorrel
Sorrel
Common sorrel or garden sorrel , often simply called sorrel, is a perennial herb that is cultivated as a garden herb or leaf vegetable...
.
The means of transportation for people to get to their dachas, besides cars, are "water trams", buses and electric trains, colloquially called "
elektrichka
Elektrichka
Elektrichka is an informal word for elektropoyezd , a Soviet or post-Soviet regional electrical multiple unit passenger train. Elektrichkas are widespread in Russia, Ukraine and other countries of the former Soviet Union....
" . Due to the high number of people traveling to dachas during the weekends (especially during the summer), traffic typically builds up around large cities, and
elektrichka
Elektrichka
Elektrichka is an informal word for elektropoyezd , a Soviet or post-Soviet regional electrical multiple unit passenger train. Elektrichkas are widespread in Russia, Ukraine and other countries of the former Soviet Union....
s and buses become filled up.
Elite
Gosdacha
The state-owned vacation houses allotted for government officials, academicians, military personnel, and other VIPs are called "
gosdachas
" . In modern Russia, the Federal Property Agency of Russia continues to own numerous estates throughout the country that are leased, often on non-market terms, to government officials. The President of Russia has official dacha residences in
Zavidovo
Zavidovo
Zavidovo is a village in Konakovsky District of Tver Oblast, Russia. It is used as an official residence place for the President of Russia, and was also used by the Soviet leaders. The residence is situated in the Zavidovo nature reserve. According to UNESCO, Zavidovo is one of the most...
and
Novo-Ogaryovo
Novo-Ogaryovo
Novo-Ogaryovo , also Novo-Ogarevo, is an estate in the Odintsovo District of Moscow Oblast to the west of the city, by the Rublyovo-Uspenskoye Highway and is the location of a suburban official residence of the President of Russia, officially recognized as such in 2000.The residence was constructed...
. Gosdachas in
Komarovo
Komarovo, Saint Petersburg
Komarovo is a municipal settlement in Kurortny District of the federal city of Saint Petersburg, Russia, located on the Karelian Isthmus on the shore of the Gulf of Finland, and a station of the Saint Petersburg-Vyborg railroad. It is located about northwest of central Saint Petersburg...
and
Peredelkino
Peredelkino
Peredelkino is a dacha complex situated just to the southwest of Moscow, Russia.-History:The settlement originated as the estate of Peredeltsy, owned by the Leontievs , then by Princes Dolgorukov and by the Samarins. After a railway passed through the village in the 19th century, it was renamed...
,
Zhukovka
Zhukovka
Zhukovka is a town in Zhukovsky District of Bryansk Oblast, Russia, situated on the left bank of the Desna River northwest of Bryansk. Population:...
,
Barvikha
Barvikha
Barvikha is a village in Odintsovsky District of Moscow Oblast, Russia. It is the site of the Barvikha Sanatorium, the health resort of the President of Russia...
, and Usovo and Rublyovka in
Moscow
Moscow
Moscow is the capital, the most populous city, and the most populous federal subject of Russia. The city is a major political, economic, cultural, scientific, religious, financial, educational, and transportation centre of Russia and the continent...
are populated by many Soviet-era intellectuals and artists. Former Russian President
Vladimir Putin
Vladimir Putin
Vladimir Vladimirovich Putin served as the second President of the Russian Federation and is the current Prime Minister of Russia, as well as chairman of United Russia and Chairman of the Council of Ministers of the Union of Russia and Belarus. He became acting President on 31 December 1999, when...
has a dacha in
Ozero
Ozero
Ozero is a co-operative society allegedly instituted on November 10, 1996 by Vladimir Smirnov , Vladimir Putin, Vladimir Yakunin, Andrei Fursenko, Sergey Fursenko, Yury Kovalchuk, Viktor Myachin, and Nikolay Shamalov...
.
Modern elite dachas
In modern times, the rise of a new class in the Russian society (the '
new Russian
New Russian
New Russian is a term for the newly rich business class in post-Soviet Russia. It is perceived as a stereotypical caricature...
s') has added a new dimension to the concept of dacha.
With construction costs often reaching into the millions of US dollars, the dachas of the country's elite bear no resemblance to Soviet-era small
garden house
Garden house
The term garden house can mean:* a small building in a garden * a small house in a large garden* a house built under the provision of special legislation for instance a friggebod....
s. Most dachas of the elite are constructed with brick and concrete, unlike the middle-class dachas that are mostly constructed with wood. Comparable in size and décor to
mansion
Mansion
A mansion is a very large dwelling house. U.S. real estate brokers define a mansion as a dwelling of over . A traditional European mansion was defined as a house which contained a ballroom and tens of bedrooms...
s and
palace
Palace
A palace is a grand residence, especially a royal residence or the home of a head of state or some other high-ranking dignitary, such as a bishop or archbishop. The word itself is derived from the Latin name Palātium, for Palatine Hill, one of the seven hills in Rome. In many parts of Europe, the...
s, they become an elaborate display of social status, wealth and power. These new symbols of prosperity are designed by professional architects, usually in eclectic style that reflect the nouveau-riche tastes of their owners, and feature numerous luxury items such as marble statues, fountains and exotic plants. Some have state-of-the-art sporting facilities such as an indoor swimming pool, multiple tennis courts and stables for race horses. A few privately owned estates even have small forests and lakes.
Many of Russia's oligarchs and successful entrepreneurs, athletes, pop musicians, and
mafia bosses
Russian Mafia
The Russian Mafia is a name applied to organized crime syndicates in Russia and Ukraine. The mafia in various countries take the name of the country, as for example the Ukrainian mafia....
now choose their dachas as their primary residence. As such, their estates are often surrounded by solid fences equipped with
barbed wire
Barbed wire
Barbed wire, also known as barb wire , is a type of fencing wire constructed with sharp edges or points arranged at intervals along the strand. It is used to construct inexpensive fences and is used atop walls surrounding secured property...
, surveillance cameras, and/or
motion detector
Motion detector
A motion detector is a device for motion detection. That is, it is a device that contains a physical mechanism or electronic sensor that quantifies motion that can be either integrated with or connected to other devices that alert the user of the presence of a moving object within the field of view...
s and are sometimes even protected by heavily armed guards.
See also
Types of houses or gardens similar to the
dacha
:
Further reading
External links