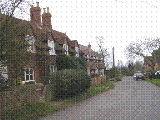 Cottage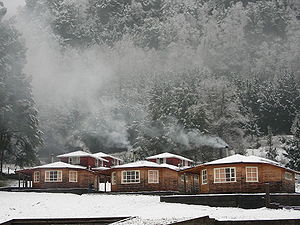 __toc__
In modern usage, a
cottage
is usually a modest, often cozy dwelling, typically in a rural or semi-rural location. However there are cottage-style dwellings in cities, and in places such as
Canada
Canada
Canada is a North American country consisting of ten provinces and three territories. Located in the northern part of the continent, it extends from the Atlantic Ocean in the east to the Pacific Ocean in the west, and northward into the Arctic Ocean...
the term exists with no connotations of size at all (cf. vicarage or
hermitage
Hermitage (religious retreat)
Although today's meaning is usually a place where a hermit lives in seclusion from the world, hermitage was more commonly used to mean a settlement where a person or a group of people lived religiously, in seclusion.-Western Christian Tradition:...
). In the
United Kingdom
United Kingdom
The United Kingdom of Great Britain and Northern IrelandIn the United Kingdom and Dependencies, other languages have been officially recognised as legitimate autochthonous languages under the European Charter for Regional or Minority Languages...
the term cottage also tends to denote rural dwellings of traditional build, although it can also be applied to dwellings of modern construction which are designed to resemble traditional ones ("mock cottages")
In certain places (e.g.
Eastern Canada
Eastern Canada
Eastern Canada is generally considered to be the region of Canada east of Manitoba, consisting of the following provinces:* New Brunswick* Newfoundland and Labrador* Nova Scotia* Ontario* Prince Edward Island* Quebec...
,
Scandinavia
Scandinavia
Scandinavia is a cultural, historical and ethno-linguistic region in northern Europe that includes the three kingdoms of Denmark, Norway and Sweden, characterized by their common ethno-cultural heritage and language. Modern Norway and Sweden proper are situated on the Scandinavian Peninsula,...
and
Russia
Russia
Russia or , officially known as both Russia and the Russian Federation , is a country in northern Eurasia. It is a federal semi-presidential republic, comprising 83 federal subjects...
) the term "cottage" (in Finnish
mökki
; in Estonian
suvila
; in Swedish
stuga
; in Norwegian
hytte
[from the German word
Hütte
], in Russian
дача
(
dacha
)) can refer to a vacation/summer home, often located near a body of water. However, in the USA generally this is more commonly called a "
cabin
Cabin
Cabin may refer to:* Cabin. A small, roughly built house usually with a wood exterior and typically found in rural areas* Log cabin, a small house built from logs with basic utilities* Cottage, a dwelling, typically in a rural, or semi-rural location...
", "
chalet
Chalet
A chalet , also called Swiss chalet, is a type of building or house, native to the Alpine region, made of wood, with a heavy, gently sloping roof with wide, well-supported eaves set at right angles to the front of the house.-Definition and origin:...
", or even "camp".
Origin of the term
Originally in the
Middle Ages
Middle Ages
The Middle Ages is a periodization of European history from the 5th century to the 15th century. The Middle Ages follows the fall of the Western Roman Empire in 476 and precedes the Early Modern Era. It is the middle period of a three-period division of Western history: Classic, Medieval and Modern...
, cottages housed agricultural workers and their friends and families. The term
cottage
denoted the dwelling of a cotter. Thus, cottages were smaller peasant units (larger peasant units being called
messuages
). In that early period, a documentary reference to a cottage would most often mean, not a small stand-alone dwelling as today, but a complete farmhouse and yard (albeit a small one).
Thus, in the Middle Ages, the word
cottage
(
MLat
Medieval Latin
Medieval Latin was the form of Latin used in the Middle Ages, primarily as a medium of scholarly exchange and as the liturgical language of the medieval Roman Catholic Church, but also as a language of science, literature, law, and administration. Despite the clerical origin of many of its authors,...
cotagium
) denoted not just a dwelling, but included at least a dwelling (
domus
) and a barn (
grangia
), as well as, usually, a fenced yard or piece of land enclosed by a gate (
portum
). The word is probably a blend of Old English
cot, cote
"hut" and
Old French
Old French
Old French was the Romance dialect continuum spoken in territories that span roughly the northern half of modern France and parts of modern Belgium and Switzerland from the 9th century to the 14th century...
cot
"hut, cottage", from
Old Norse
Old Norse
Old Norse is a North Germanic language that was spoken by inhabitants of Scandinavia and inhabitants of their overseas settlements during the Viking Age, until about 1300....
kot
"hut". Examples of this may be found in 15th century manor court rolls. The house of the cottage bore the Latin name: "
domum dicti cotagii
", while the barn of the cottage was termed "
grangia dicti cotagii
".
Later on, "cottage" might also have denoted a
smallholding
Smallholding
A smallholding is a farm of small size.In third world countries, smallholdings are usually farms supporting a single family with a mixture of cash crops and subsistence farming. As a country becomes more affluent and farming practices become more efficient, smallholdings may persist as a legacy of...
comprising houses, outbuildings, and supporting farmland or woods. A cottage, in this sense, would typically include just a few
acre
Acre
The acre is a unit of area in a number of different systems, including the imperial and U.S. customary systems. The most commonly used acres today are the international acre and, in the United States, the survey acre. The most common use of the acre is to measure tracts of land.The acre is related...
s of tilled land. Regional examples of this type included the
Welsh
Wales
Wales is a country that is part of the United Kingdom and the island of Great Britain, bordered by England to its east and the Atlantic Ocean and Irish Sea to its west. It has a population of three million, and a total area of 20,779 km²...
Tŷ unnos or
House in a night
, built by squatters on a plot of land defined by the throw of an
axe
Axe
The axe, or ax, is an implement that has been used for millennia to shape, split and cut wood; to harvest timber; as a weapon; and as a ceremonial or heraldic symbol...
from each corner of the property. Much later (from around the 18th century onwards), the development of industry led to the development of
weavers
Weaving
Weaving is a method of fabric production in which two distinct sets of yarns or threads are interlaced at right angles to form a fabric or cloth. The other methods are knitting, lace making and felting. The longitudinal threads are called the warp and the lateral threads are the weft or filling...
' cottages and
miners
Mining
Mining is the extraction of valuable minerals or other geological materials from the earth, from an ore body, vein or seam. The term also includes the removal of soil. Materials recovered by mining include base metals, precious metals, iron, uranium, coal, diamonds, limestone, oil shale, rock...
' cottages.
According to the
Oxford English Dictionary
Oxford English Dictionary
The Oxford English Dictionary , published by the Oxford University Press, is the self-styled premier dictionary of the English language. Two fully bound print editions of the OED have been published under its current name, in 1928 and 1989. The first edition was published in twelve volumes , and...
, the term
cottage
is used in North America to represent 'a summer residence (often on a large and sumptuous scale) at a watering-place or a health or pleasure resort' with its first recognised use dating to 1882, in reference to Bar Harbor in Maine.
In Canada and the U.S.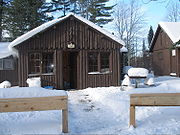 In North America, most buildings known as cottages are used for weekend or summer getaways by city dwellers. It is also not uncommon for the owners of cottages to rent their properties to tourists as a source of revenue. In
Saint John, U.S. Virgin Islands
Saint John, U.S. Virgin Islands
Saint John is an island in the Caribbean Sea and a constituent district of the United States Virgin Islands , an unincorporated territory of the United States. St...
, most buildings known as cottages or vacation rentals are used for weekend or summer getaways. In Michigan, when one refers to a cottage it normally means a summer residence farther north near or on a lake.
"Cottages" in Eastern Canada are generally located next to lakes, rivers, or the ocean in forested areas. They are used as a place to spend holidays with friends and family; common activities including swimming, canoeing, waterskiing,
fishing
Fishing
Fishing is the activity of trying to catch wild fish. Fish are normally caught in the wild. Techniques for catching fish include hand gathering, spearing, netting, angling and trapping....
,
hiking
Hiking
Hiking is an outdoor activity which consists of walking in natural environments, often in mountainous or other scenic terrain. People often hike on hiking trails. It is such a popular activity that there are numerous hiking organizations worldwide. The health benefits of different types of hiking...
, and
sailing
Sailing
Sailing is the propulsion of a vehicle and the control of its movement with large foils called sails. By changing the rigging, rudder, and sometimes the keel or centre board, a sailor manages the force of the wind on the sails in order to move the boat relative to its surrounding medium and...
. There are also many well-known
summer colonies
Summer colony
The term summer colony is often used, particularly in the United States and Canada, to describe well-known resorts and upper-class enclaves, typically located near the ocean or mountains of New England or the Great Lakes...
.
Cottage living is one of the most popular tourist draws in
Ontario
Ontario
Ontario is a province of Canada, located in east-central Canada. It is Canada's most populous province and second largest in total area. It is home to the nation's most populous city, Toronto, and the nation's capital, Ottawa....
, Canada, parts of which have come to be known as
cottage country
Cottage country
Cottage country is a common name in Eastern Canada for areas that are popular locations for recreational properties such as cottages and summer homes. The name is often applied locally; that is, any major population centre may have its own popular "cottage country" area...
. This term typically refers to the north and south shores of
Georgian Bay, Ontario
Georgian Bay, Ontario
The Township of Georgian Bay is an area municipality of the Muskoka District Municipality, in south-central Ontario, Canada. It is located on the Severn River, where it empties into Georgian Bay...
; Muskoka, Ontario; Haliburton, Ontario; and the
Kawartha Lakes, Ontario
Kawartha Lakes, Ontario
The city of Kawartha Lakes is a unitary municipality in Central Ontario, Canada. Although called a city, Kawartha Lakes is the size of a typical Ontarian county and is mostly rural....
; but has also been used to describe several other Canadian regions. The practice of renting cottages has become widespread in these regions, especially with rising property taxes for waterfront property.
What Eastern Canadians refer to as "cottages" (seasonal-use dwellings), are generally referred to as "cabins" in most of North America. This is most notable in the Midwest and Western United States, and Western Canada. In much of
Northern Ontario
Northern Ontario
Northern Ontario is a region of the Canadian province of Ontario which lies north of Lake Huron , the French River and Lake Nipissing. The region has a land area of 802,000 km2 and constitutes 87% of the land area of Ontario, although it contains only about 6% of the population...
,
New England
New England
New England is a region in the northeastern corner of the United States consisting of the six states of Maine, New Hampshire, Vermont, Massachusetts, Rhode Island, and Connecticut...
, and
upstate New York
Upstate New York
Upstate New York is the region of the U.S. state of New York that is located north of the core of the New York metropolitan area.-Definition:There is no clear or official boundary between Upstate New York and Downstate New York...
a summer house near a body of water is known as a camp.
In Finland
Statistics Finland
defines a cottage (in Finnish:
mökki
, in Swedish
stuga
or
villa
) as "a residential building that is used as a holiday or free-time dwelling and is permanently constructed or erected on its site". Finnish cottages are traditionally built of logs but other wood constructions have become common. They are usually situated close to water and almost all have a
sauna
Sauna
A sauna is a small room or house designed as a place to experience dry or wet heat sessions, or an establishment with one or more of these and auxiliary facilities....
.
There are 474,277 cottages in Finland (2005), a country with 187,888 lakes and 179,584 islands, including rental
holiday cottage
Holiday cottage
A holiday cottage is a cottage used for accommodation, which has become common in the United Kingdom and Canada. They are typically small homes that vacationers can rent and run as if it were their own home for the duration of their stay. This gives them the freedom to eat in, eat out, stay in bed...
s owned by hospitality companies but excluding holiday villages and buildings on garden allotments. Reports have 4,172 new cottages built in 2005. Most cottages are situated in the municipalities of
Kuusamo
Kuusamo
Kuusamo is a town and municipality in Finland. It is located in the Oulu province and is part of the Northern Ostrobothnia region. The municipality has a population of and covers an area of of which is water. The population density is ....
(6,196 cottages on January 1, 2006),
Kuopio
Kuopio
Kuopio is a city and a municipality located in the region of Northern Savonia, Finland. A population of makes it the ninth biggest city in the country. The city has a total area of , of which is water and half forest...
(5,194),
Ekenäs
Ekenäs
Ekenäs is a former town and municipality of Finland comprising the former municipalities Snappertuna and Tenala together with the town of Ekenäs. It was merged with Pohja and Karis to form the new municipality of Raseborg on January 1, 2009....
(Tammisaari - 5,053),
Mikkeli
Mikkeli
Mikkeli is a town and municipality in Finland. It is located in what used to be the province of Eastern Finland and is part of the Southern Savonia region. The municipality has a population of and covers an area of of which is water...
(4,649), and
Mäntyharju
Mäntyharju
Mäntyharju is a municipality of Finland.It is located in the province of Eastern Finland and is part of the Southern Savonia region. The municipality has a population of and covers an area of ofwhich is water. The coastline is almost...
(4,630).
In Sweden
The formal Swedish term for cottages is
fritidshus
(vacation house) or
stuga
, of which there are 680.000 in Sweden (2007). According to Statistics Sweden, about 50% of the Swedish population has access to a vacation house. In everyday talk, Swedes refer to their cottages as
lantstället
(the country house) or
stugan
(the cottage). Most vacation houses in Sweden are to be found along the coasts and around the major cities. Prices vary a lot depending on location; a modern seaside house near Stockholm may cost 100 times as much as a simple cottage in the inner regions of northern Sweden.
Until the end of World War II, only a small wealthy elite could afford vacation houses - often both a large seaside house and a hunting cabin up north. During the rapid urbanisation in the 1950s and 60's, many families were able to retain their old farmhouses, village cottages and fisherman cabins and convert them into vacation houses. In addition, economic growth made it possible even for low income-families to buy small lots in the countryside where they could erect simple houses. Former vacation houses near the large cities have gradually been converted into permanent homes as a result of
urban sprawl
Urban sprawl
Urban sprawl, also known as suburban sprawl, is a multifaceted concept, which includes the spreading outwards of a city and its suburbs to its outskirts to low-density and auto-dependent development on rural land, high segregation of uses Urban sprawl, also known as suburban sprawl, is a...
.
The traditional Swedish cottage is a simple panelled house made by wood and painted in
red
Falu red
Falu red or Falun red is the name of a Swedish, deep red paint well known for its use on wooden cottages and barns. The paint originated from the copper mine at Falun in Dalarna, Sweden. The traditional colour remains popular today due to its effectiveness in preserving wood. In Finland, it is...
. They may contain 1-3 small bedrooms and also a small bathroom. In the combined kitchen and living room (
storstuga
) there is usually a fireplace. Today, many cottages have been extended with "outdoor rooms" (semi-heated external rooms with glass walls and a thin roof) and large wood terraces. As a result of the friggebod reform in 1979, many cottage owners have built additional guesthouses on their lots.
In Hong Kong
Cottages are commonly found in the
New Territories
New Territories
New Territories is one of the three main regions of Hong Kong, alongside Hong Kong Island and the Kowloon Peninsula. It makes up 86.2% of Hong Kong's territory. Historically, it is the region described in The Convention for the Extension of Hong Kong Territory...
region of
Hong Kong
Hong Kong
Hong Kong is one of two Special Administrative Regions of the People's Republic of China , the other being Macau. A city-state situated on China's south coast and enclosed by the Pearl River Delta and South China Sea, it is renowned for its expansive skyline and deep natural harbour...
. City dwellers flock to these cottages during holidays and summer months to get away from the hustle and bustle of
Hong Kong
Hong Kong
Hong Kong is one of two Special Administrative Regions of the People's Republic of China , the other being Macau. A city-state situated on China's south coast and enclosed by the Pearl River Delta and South China Sea, it is renowned for its expansive skyline and deep natural harbour...
. Most are three storey brick structures with balconies on the upper floors. There is often an open roofed area for eating and entertaining.
These dwellings have full rooms and kitchens.
In Britain
In England the legal definition of a cottage is a small house or habitation without land. Under an
Elizabethan
Elizabethan era
The Elizabethan era was the epoch in English history of Queen Elizabeth I's reign . Historians often depict it as the golden age in English history...
statute
Statute
A statute is a formal written enactment of a legislative authority that governs a state, city, or county. Typically, statutes command or prohibit something, or declare policy. The word is often used to distinguish law made by legislative bodies from case law, decided by courts, and regulations...
, the cottage had to be built with at least 4 acre (0.01618744 km²; 0.00625000552608715 sq mi) of land. Traditionally the owner of the cottage and small holding would be known as a
cottager
Serfdom
Serfdom is the status of peasants under feudalism, specifically relating to Manorialism. It was a condition of bondage or modified slavery which developed primarily during the High Middle Ages in Europe and lasted to the mid-19th century...
. In the
Domesday Book
Domesday Book
Domesday Book , now held at The National Archives, Kew, Richmond upon Thames in South West London, is the record of the great survey of much of England and parts of Wales completed in 1086...
they were referred to as
Coterelli
. According to the
Hammonds
in their book
The Village Labourer
before the Enclosures Act the cottager was a farm labourer with land and after the Enclosures Act the cottager was a farm labourer without land. In Scotland and parts of Northern England the equivalent to cottager would be the crofter and the term for the building and it's land would be
croft
Croft (land)
A croft is a fenced or enclosed area of land, usually small and arable with a crofter's dwelling thereon. A crofter is one who has tenure and use of the land, typically as a tenant farmer.- Etymology :...
.
In popular modern culture the term
cottage
is used in a more general and romantic context and can date from any era but the term is usually applied to pre-modern dwellings. Older, pre-Victorian cottages tend to have restricted height, and often have construction timber exposed, sometimes intruding into the living space. Modern renovations of such dwellings often seek to re-expose timber purlins, rafters, posts etc. which have been covered, in an attempt to establish perceived historical authenticity.
Older cottages are typically modest, often semi-detached or terraced, with only four basic rooms ("two up, two down"), although subsequent modifications can create more spacious accommodation. A labourer's or fisherman's one-roomed house, often attached to a larger property, is a particular type of cottage and is called a
penty
. The term cottage has also been used for a largish house that is practical rather than pretentious, see Chawton Cottage.
In Ireland
Irish cottages were historically the homes of farm workers and labourers, but in recent years the term has assumed a romantic connotation especially when referring to cottages with thatched roofs. These thatched cottages were once to be seen all over Ireland but are now mostly built for the tourist industry.
Notable cottages
Bishop Asbury Cottage

Bishop Asbury Cottage

Bishop Asbury Cottage is the boyhood home of Francis Asbury, the first American Methodist Bishop, in Great Barr, England.Now a grade II listed museum, the 18th century cottage is furnished in period style, with memorabilia and information relating to Asbury's life in West Bromwich and Great Barr...



Bron-Yr-Aur

Bron-Yr-Aur

Bron-Yr-Aur , sometimes misspelled as Bron-Y-Aur, is an 18th century cottage in South Snowdonia, Wales, best known for its association with the English rock band Led Zeppelin....


Cottage (Wales)
Chantilly's Cottage Blu
La Trobe's Cottage

La Trobe's Cottage

La Trobe's Cottage is a historic cottage in Melbourne, Victoria, Australia, built in 1839 for the first superintendent of the Port Phillip District of New South Wales, Charles La Trobe, and his family. The cottage was constructed out of prefabricated materials imported from England on 50,000 square...



Oakhurst Cottage

Oakhurst Cottage

Oakhurst Cottage is a tiny 16th-century cottage in Hambledon, Surrey, in the United Kingdom. It is now owned by the National Trust, which has restored the timber-framed building as an excellent example of a Surrey labourer's cottage...



Arthur Cottage

Arthur Cottage

Arthur Cottage in the village of Cullybackey, County Antrim, Northern Ireland, is the ancestral home of Chester A. Arthur, the 21st President of the United States. It is situated 4 miles from Ballymena, only a short walk from the village of Cullybackey...



See also
Ben-and-but

Ben-and-but

But and ben is an architectural style for a simple building, usually applied to a residence. The term is most common in the Scots language, for a two-roomed cottage, but also used by archaeologists to describe a basic design of "outer room" conjoined with "inner room" as a residential building plan...


- a simple cottage, having only an inner and outer room
Bothy

Bothy

A bothy is a basic shelter, usually left unlocked and available for anyone to use free of charge. It was also a term for basic accommodation, usually for gardeners or other workers on an estate. Bothies are to be found in remote, mountainous areas of Scotland, northern England, Ireland, and Wales....


- simple shelter
Bungalow

Bungalow

A bungalow is a type of house, with varying meanings across the world. Common features to many of these definitions include being detached, low-rise , and the use of verandahs...


– type of single-storey house
Cottage garden

Cottage garden

The cottage garden is a distinct style of garden that uses an informal design, traditional materials, dense plantings, and a mixture of ornamental and edible plants. English in origin, the cottage garden depends on grace and charm rather than grandeur and formal structure...



Cottage industry
Dacha

Dacha

Dacha is a Russian word for seasonal or year-round second homes often located in the exurbs of Soviet and post-Soviet cities. Cottages or shacks serving as family's main or only home are not considered dachas, although many purpose-built dachas are recently being converted for year-round residence...


– seasonal or year-round second homes located in the exurbs of Soviet and Russian cities
Garden real estate

Garden real estate

A category in the niche real estate market containing property with good gardens. The market can be sub-classified as follows:* Property with gardens by well-known Landscape designers. This is normally the work of designers whose work has been published in books and magazines...


– property with gardens
Log cabin

Log cabin

A log cabin is a house built from logs. It is a fairly simple type of log house. A distinction should be drawn between the traditional meanings of "log cabin" and "log house." Historically most "Log cabins" were a simple one- or 1½-story structures, somewhat impermanent, and less finished or less...


- small house built from logs
Mar del Plata style

Mar del Plata style

The Mar del Plata style is a domestic architectural style very popular during the decades between 1935 and 1950 mainly in the Argentine resort city of Mar del Plata, but extended to other coastal towns like Miramar and Necochea.-Origins:...


- a small living unit located in and around the resort city of Mar del Plata

Mar del Plata

Mar del Plata is an Argentine city located on the coast of the Atlantic Ocean, south of Buenos Aires. Mar del Plata is the second largest city of Buenos Aires Province. The name "Mar del Plata" had apparently the sense of "sea of the Río de la Plata region" or "adjoining sea to the Río de la Plata"...


, Argentina

Argentina

Argentina , officially the Argentine Republic , is the second largest country in South America by land area, after Brazil. It is constituted as a federation of 23 provinces and an autonomous city, Buenos Aires...



Mobile home

Mobile home

Mobile homes or static caravans are prefabricated homes built in factories, rather than on site, and then taken to the place where they will be occupied...



Mountain hut - building located in the mountains intended to provide food and shelter to mountaineers and hikers
Pied-à-terre – small living unit, typically located in a large city
Sommerhus – term used in the Scandavian countries to describe the popular holiday homes or summer cottages
Vacation rental

Vacation rental

Vacation rental is the renting out of a furnished apartment or house on a temporary basis to tourists as an alternative to a hotel. The term vacation rental is mainly used in the US. In Europe the term villa rental or villa holiday is preferred for rentals of detached houses in warm climates...


– term in the travel industry meaning renting out a furnished apartment or house on a temporary basis to tourists as an alternative to a hotel
Vernacular architecture

Vernacular architecture

Vernacular architecture is a term used to categorize methods of construction which use locally available resources and traditions to address local needs and circumstances. Vernacular architecture tends to evolve over time to reflect the environmental, cultural and historical context in which it...


- traditional architecture in a particular area
Wilderness hut

Wilderness hut

A wilderness hut is a rent-free, open dwelling place for temporary accommodation, usually located in wilderness areas, national parks and along backpacking routes. As such, the tradition is largely found in Finland, and to some extent in Sweden, Norway, and northern Russia too.The huts can be...


- rent-free, open dwelling place for temporary accommodation
Further reading
Current editions:
Out of copyright (free download):
External links
Cottages (Books on cottages free to download at archive.org).