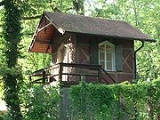 Summer house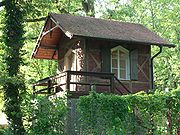 A
summer house
or
summerhouse
has traditionally referred to a
building
Building
In architecture, construction, engineering, real estate development and technology the word building may refer to one of the following:...
or shelter used for relaxation in warm weather. This would often take the form of a small, roofed building on the grounds of a larger one, but could also be built in a
garden
Garden
A garden is a planned space, usually outdoors, set aside for the display, cultivation, and enjoyment of plants and other forms of nature. The garden can incorporate both natural and man-made materials. The most common form today is known as a residential garden, but the term garden has...
or
park
Park
A park is a protected area, in its natural or semi-natural state, or planted, and set aside for human recreation and enjoyment, or for the protection of wildlife or natural habitats. It may consist of rocks, soil, water, flora and fauna and grass areas. Many parks are legally protected by...
, often designed to provide cool shady places of relaxation or retreat from the summer heat.
It can also refer to a second residence, usually located in
the country
Rural
Rural areas or the country or countryside are areas that are not urbanized, though when large areas are described, country towns and smaller cities will be included. They have a low population density, and typically much of the land is devoted to agriculture...
, that provides a cool and relaxing home to live during the
summer
Summer
Summer is the warmest of the four temperate seasons, between spring and autumn. At the summer solstice, the days are longest and the nights are shortest, with day-length decreasing as the season progresses after the solstice...
, such as a
vacation property
Vacation property
Vacation property is a niche in the real estate market dealing with residences used for holiday vacations . In the United Kingdom this type of property is usually termed a holiday home, in Australia, a holiday house/home, or weekender, in New Zealand, a bach or crib...
.
In Scandinavia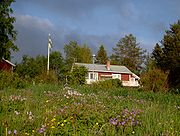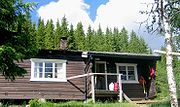 Especially in
Scandinavia
Scandinavia
Scandinavia is a cultural, historical and ethno-linguistic region in northern Europe that includes the three kingdoms of Denmark, Norway and Sweden, characterized by their common ethno-cultural heritage and language. Modern Norway and Sweden proper are situated on the Scandinavian Peninsula,...
,
sommerhus
is applied to summer residences (as a
second home
Second home
Second home may refer to:* Vacation property* Pied-à-terre* Second Home , an album by Marié Digby...
), which rather than simple shelters can be larger dwellings such as cottages.
Sommerhus
(in
Swedish
Swedish language
Swedish is a North Germanic language, spoken by approximately 10 million people, predominantly in Sweden and parts of Finland, especially along its coast and on the Åland islands. It is largely mutually intelligible with Norwegian and Danish...
,
Sommarstuga
or
lantställe
), literally
summer house
, in
Norwegian
Norwegian language
Norwegian is a North Germanic language spoken primarily in Norway, where it is the official language. Together with Swedish and Danish, Norwegian forms a continuum of more or less mutually intelligible local and regional variants .These Scandinavian languages together with the Faroese language...
hytte
, is the term used in the Scandinavian countries to describe the popular holiday homes or
summer cottage
Cottage
__toc__In modern usage, a cottage is usually a modest, often cozy dwelling, typically in a rural or semi-rural location. However there are cottage-style dwellings in cities, and in places such as Canada the term exists with no connotations of size at all...
s which are often located near the sea but can also be in attractive areas of the countryside. Most of them are timber constructions, often suitable for year-round use. Increasingly they have additions such as
sauna
Sauna
A sauna is a small room or house designed as a place to experience dry or wet heat sessions, or an establishment with one or more of these and auxiliary facilities....
s,
heating oven
Stove
A stove is an enclosed heated space. The term is commonly taken to mean an enclosed space in which fuel is burned to provide heating, either to heat the space in which the stove is situated or to heat the stove itself, and items placed on it...
s,
fireplace
Fireplace
A fireplace is an architectural structure to contain a fire for heating and, especially historically, for cooking. A fire is contained in a firebox or firepit; a chimney or other flue allows gas and particulate exhaust to escape...
s or attractive gardens. Increasingly, English speakers call them summerhouses. A swedish "sommarstuga" is traditionally painted with a special red colour called "
falu rödfärg
Falu red
Falu red or Falun red is the name of a Swedish, deep red paint well known for its use on wooden cottages and barns. The paint originated from the copper mine at Falun in Dalarna, Sweden. The traditional colour remains popular today due to its effectiveness in preserving wood. In Finland, it is...
and has white trimmed corners, windows and doors."
Many of the Danish resorts depend on the rental of summerhouses to accommodate national and foreign tourists who can rent them, usually on a weekly basis, at prices well below those of hotels. But Scandinavians often spend a considerable amount of time in their summerhouses which are often the venue for family reunions or simply weekends away from the office.
In recent years, the popularity and thus the cost of summerhouses has increased appreciably, particularly in Denmark's coastal resorts. While under Danish law, owners are not normally permitted to use these houses as permanent homes, an exception is made for pensioners.
See also
Arbour
Bothy

Bothy

A bothy is a basic shelter, usually left unlocked and available for anyone to use free of charge. It was also a term for basic accommodation, usually for gardeners or other workers on an estate. Bothies are to be found in remote, mountainous areas of Scotland, northern England, Ireland, and Wales....


- simple shelter
Bungalow

Bungalow

A bungalow is a type of house, with varying meanings across the world. Common features to many of these definitions include being detached, low-rise , and the use of verandahs...


– type of single-storey house
Dacha

Dacha

Dacha is a Russian word for seasonal or year-round second homes often located in the exurbs of Soviet and post-Soviet cities. Cottages or shacks serving as family's main or only home are not considered dachas, although many purpose-built dachas are recently being converted for year-round residence...


– seasonal or year-round second homes located in the exurbs of Soviet and Russian cities
Derby Summer House

Derby Summer House

The Derby Summer House, also known as the McIntire Tea-house, is a summer house designed in 1793 by architect Samuel McIntire, now located on the grounds of the Glen Magna Farms, Danvers, Massachusetts...



Gazebo

Gazebo

A gazebo is a pavilion structure, sometimes octagonal, that may be built, in parks, gardens, and spacious public areas. Gazebos are freestanding or attached to a garden wall, roofed, and open on all sides; they provide shade, shelter, ornamental features in a landscape, and a place to rest...



Mountain hut - building located in the mountains intended to provide food and shelter to mountaineers and hikers
Pavilion

Pavilion (structure)

In architecture a pavilion has two main meanings.-Free-standing structure:Pavilion may refer to a free-standing structure sited a short distance from a main residence, whose architecture makes it an object of pleasure. Large or small, there is usually a connection with relaxation and pleasure in...



Pied a terre

Pied a terre

A pied-à-terre is a small living unit usually located in a large city some distance away from an individual's primary residence. It may be an apartment or condominium....


– small living unit, typically located in a large city
Shepherd's hut

Shepherd's hut

A shepherd's hut was a 19th and 20th century forerunner to today's RV. These huts were used by shepherds during sheep raising and lambing. They were also used while moving flocks around for "natural fertilizer" purposes. Shepherd's huts often had iron wheels and corrugated iron tops...



Tea house

Tea house

A tea house or tearoom is a venue centered on drinking tea. Its function varies widely depending on the culture, and some cultures have a variety of distinct tea-centered houses or parlors that all qualify under the English language term "tea house" or "tea room."-Asia:In Central Asia this term...



Vacation rental

Vacation rental

Vacation rental is the renting out of a furnished apartment or house on a temporary basis to tourists as an alternative to a hotel. The term vacation rental is mainly used in the US. In Europe the term villa rental or villa holiday is preferred for rentals of detached houses in warm climates...



External links