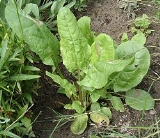 Sorrel
"Narrow-leaved sorrel" and variants redirect here. These terms may also refer to curled dock

Curled Dock

Curled Dock , also known as Curly Dock, Yellow Dock, Sour Dock, Narrow Dock, sometimes as "narrow-leaved dock" , and ambiguously as "garden patience", is a perennial flowering plant in the family Polygonaceae, native to Europe and Western Asia.The mature plant is a reddish brown colour, and...


(R. crispus).
Common sorrel
or
garden sorrel
(
Rumex acetosa
), often simply called
sorrel
, is a
perennial
Perennial plant
A perennial plant or simply perennial is a plant that lives for more than two years. The term is often used to differentiate a plant from shorter lived annuals and biennials. The term is sometimes misused by commercial gardeners or horticulturalists to describe only herbaceous perennials...
herb
Herbaceous plant
A herbaceous plant is a plant that has leaves and stems that die down at the end of the growing season to the soil level. They have no persistent woody stem above ground...
that is cultivated as a garden
herb
Herb
Except in botanical usage, an herb is "any plant with leaves, seeds, or flowers used for flavoring, food, medicine, or perfume" or "a part of such a plant as used in cooking"...
or
leaf vegetable
Leaf vegetable
Leaf vegetables, also called potherbs, green vegetables, greens, leafy greens or salad greens, are plant leaves eaten as a vegetable, sometimes accompanied by tender petioles and shoots...
(pot herb). Other names for sorrel include
spinach dock
and
narrow-leaved dock
.
Growth
Sorrel is a slender
plant
Plant
Plants are living organisms belonging to the kingdom Plantae. Precise definitions of the kingdom vary, but as the term is used here, plants include familiar organisms such as trees, flowers, herbs, bushes, grasses, vines, ferns, mosses, and green algae. The group is also called green plants or...
about 60 cm high, with roots that run deep into the ground, as well as juicy stems and edible, oblong
leaves
Leaf
A leaf is an organ of a vascular plant, as defined in botanical terms, and in particular in plant morphology. Foliage is a mass noun that refers to leaves as a feature of plants....
. The lower leaves are 7 to 15 cm in length, slightly arrow-shaped at the base, with very long
petiole
Petiole (botany)
In botany, the petiole is the stalk attaching the leaf blade to the stem. The petiole usually has the same internal structure as the stem. Outgrowths appearing on each side of the petiole are called stipules. Leaves lacking a petiole are called sessile, or clasping when they partly surround the...
s. The upper ones are
sessile
Sessility (botany)
In botany, sessility is a characteristic of plants whose flowers or leaves are borne directly from the stem or peduncle, and thus lack a petiole or pedicel...
, and frequently become crimson. The leaves are eaten by the
larva
Larva
A larva is a distinct juvenile form many animals undergo before metamorphosis into adults. Animals with indirect development such as insects, amphibians, or cnidarians typically have a larval phase of their life cycle...
e of several species of
Lepidoptera
Lepidoptera
Lepidoptera is a large order of insects that includes moths and butterflies . It is one of the most widespread and widely recognizable insect orders in the world, encompassing moths and the three superfamilies of butterflies, skipper butterflies, and moth-butterflies...
(
butterfly
Butterfly
A butterfly is a mainly day-flying insect of the order Lepidoptera, which includes the butterflies and moths. Like other holometabolous insects, the butterfly's life cycle consists of four parts: egg, larva, pupa and adult. Most species are diurnal. Butterflies have large, often brightly coloured...
and
moth
Moth
A moth is an insect closely related to the butterfly, both being of the order Lepidoptera. Moths form the majority of this order; there are thought to be 150,000 to 250,000 different species of moth , with thousands of species yet to be described...
) including the
blood-vein
Blood-vein
The Blood-vein, is a moth of the family Geometridae. It has a scattered distribution in Western and Central Europe north of the Alps. In the British Isles the distribution is patchy outside southern England and Wales...
moth.
Characteristics
It has whorled spikes of reddish-green
flower
Flower
A flower, sometimes known as a bloom or blossom, is the reproductive structure found in flowering plants . The biological function of a flower is to effect reproduction, usually by providing a mechanism for the union of sperm with eggs...
s, which bloom in summer, becoming purplish. The
stamen
Stamen
The stamen is the pollen producing reproductive organ of a flower...
s and pistils are on different plants (
dioecious
Dioecious
Dioecy is the property of a group of biological organisms that have males and females, but not members that have organs of both sexes at the same time. I.e., those whose individual members can usually produce only one type of gamete; each individual organism is thus distinctly female or male...
); the ripe
seed
Seed
A seed is a small embryonic plant enclosed in a covering called the seed coat, usually with some stored food. It is the product of the ripened ovule of gymnosperm and angiosperm plants which occurs after fertilization and some growth within the mother plant...
s are brown and shining.
Uses
Common sorrel has been cultivated for centuries. The leaves may be puréed in
soup
Soup
Soup is a generally warm food that is made by combining ingredients such as meat and vegetables with stock, juice, water, or another liquid. Hot soups are additionally characterized by boiling solid ingredients in liquids in a pot until the flavors are extracted, forming a broth.Traditionally,...
s and
sauce
Sauce
In cooking, a sauce is liquid, creaming or semi-solid food served on or used in preparing other foods. Sauces are not normally consumed by themselves; they add flavor, moisture, and visual appeal to another dish. Sauce is a French word taken from the Latin salsus, meaning salted...
s or added to
salad
Salad
Salad is any of a wide variety of dishes, including vegetable salads; salads of pasta, legumes, eggs, or grains; mixed salads incorporating meat, poultry, or seafood; and fruit salads. They may include a mixture of cold and hot, often including raw vegetables or fruits.Green salads include leaf...
s; they have a flavour that is similar to
kiwifruit
Kiwifruit
The kiwifruit, often shortened to kiwi in many parts of the world, is the edible berry of a cultivar group of the woody vine Actinidia deliciosa and hybrids between this and other species in the genus Actinidia....
or sour
wild strawberries
Wild Strawberries
Wild Strawberries may refer to:* Wild strawberries, a common name for Fragaria vesca* Other uncultivated species in the genus Fragaria* Wild Strawberries , a 1957 film by Ingmar Bergman* Wild Strawberries , a Canadian pop music group...
. The plant's sharp taste is due to
oxalic acid
Oxalic acid
Oxalic acid is an organic compound with the formula H2C2O4. This colourless solid is a dicarboxylic acid. In terms of acid strength, it is about 3,000 times stronger than acetic acid. Oxalic acid is a reducing agent and its conjugate base, known as oxalate , is a chelating agent for metal cations...
, which is a
poison
Poison
In the context of biology, poisons are substances that can cause disturbances to organisms, usually by chemical reaction or other activity on the molecular scale, when a sufficient quantity is absorbed by an organism....
. In small quantities sorrel is harmless; in large quantities it can be fatal.
In northern Nigeria, sorrel is known as
yakuwa
or
sure
in
Hausa
Hausa language
Hausa is the Chadic language with the largest number of speakers, spoken as a first language by about 25 million people, and as a second language by about 18 million more, an approximate total of 43 million people...
or
karassu
in Kanuri. It is also used in stews usually in addition to spinach. In some Hausa communities, it is steamed and made into salad using
kuli-kuli
(traditional roasted peanut cakes with oil extracted), salt, pepper, onion and tomatoes. The recipe varies according to different levels of household income. A drink called
solo
is made from a decoction of the plant calyx.
In Romania, wild or garden sorrel, known as
măcriş
or
ştevie,
is used to make sour soups, stewed with spinach, added fresh to lettuce and spinach in salads or over open sandwiches.
In Russia and Ukraine it is called shchavel' (щавель) and is used to make soup called
shav
Sorrel soup
Sorrel soup is a soup made from water or broth, sorrel leaves, and salt. Other possible ingredients are egg yolks or eggs , potatoes, carrots, parsley root, rice . It can be served hot or cold, and usually with sour cream. It is known in Russian, Polish, Ukrainian, Lithuanian, and Eastern European...
. It is used as a soup ingredient in other countries, too (e.g.,
Lithuania
Lithuania
Lithuania , officially the Republic of Lithuania is a country in Northern Europe, the biggest of the three Baltic states. It is situated along the southeastern shore of the Baltic Sea, whereby to the west lie Sweden and Denmark...
, where it is known as rūgštynė).
In Hungary this is known as
sóska
[ pronounced Shoshka]. It is called
kuzu kulağı
("lamb's ear") in Turkish. In Polish it is called
szczaw
.
In Croatia it is known as "Kiselica" and is used in soups and as a herb.
Among Northern
Sami
Sami people
The Sami people, also spelled Sámi, or Saami, are the arctic indigenous people inhabiting Sápmi, which today encompasses parts of far northern Sweden, Norway, Finland, the Kola Peninsula of Russia, and the border area between south and middle Sweden and Norway. The Sámi are Europe's northernmost...
it is known as
juopmu
and was traditionally added to reindeer milk as a flavoring and preservative.
In parts of Belgium it is served mixed with mashed potatoes, or as part of a traditional dish containing eel and other green herbs.
In rural Greece it is used with spinach, leeks, and chard in
spanakopita
Spanakopita
Spanakopita or spinach pie is a Greek savory pastry in the burek family with a filling of chopped spinach, feta cheese , onions or scallions, egg, and seasoning...
.
Subspecies
Several
subspecies
Subspecies
Subspecies in biological classification, is either a taxonomic rank subordinate to species, ora taxonomic unit in that rank . A subspecies cannot be recognized in isolation: a species will either be recognized as having no subspecies at all or two or more, never just one...
have been named; not all are cultivated:
Rumex acetosa ssp. acetosa
Rumex acetosa ssp. ambiguus
Rumex acetosa ssp. arifolius
Rumex acetosa ssp. hibernicus
Rumex acetosa ssp. hirtulus
Rumex acetosa ssp. vinealis
See also
Oxalis enneaphylla (Scurvy-grass sorrel)
Oxalis

Oxalis

Oxalis is by far the largest genus in the wood-sorrel family Oxalidaceae: of the approximately 900 known species in the Oxalidaceae, 800 belong here...


(Wood Sorrel)
Sorrel soup

Sorrel soup

Sorrel soup is a soup made from water or broth, sorrel leaves, and salt. Other possible ingredients are egg yolks or eggs , potatoes, carrots, parsley root, rice . It can be served hot or cold, and usually with sour cream. It is known in Russian, Polish, Ukrainian, Lithuanian, and Eastern European...