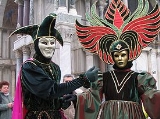 Masquerade ball
A
masquerade ball
is an event which the participants attend in
costume
Costume
The term costume can refer to wardrobe and dress in general, or to the distinctive style of dress of a particular people, class, or period. Costume may also refer to the artistic arrangement of accessories in a picture, statue, poem, or play, appropriate to the time, place, or other circumstances...
wearing a
mask
Mask
A mask is an article normally worn on the face, typically for protection, disguise, performance or entertainment. Masks have been used since antiquity for both ceremonial and practical purposes...
. (Compare the word "
masque
Masque
The masque was a form of festive courtly entertainment which flourished in 16th and early 17th century Europe, though it was developed earlier in Italy, in forms including the intermedio...
"—a formal written and sung court pageant.)
Masquerade balls were a feature of the
Carnival
Carnival
Carnaval is a festive season which occurs immediately before Lent; the main events are usually during February. Carnaval typically involves a public celebration or parade combining some elements of a circus, mask and public street party...
season in the 15th century, and involved increasingly elaborate allegorical
Royal Entries
Royal Entry
The Royal Entry, also known by various other names, including Triumphal Entry and Joyous Entry, embraced the ceremonial and festivities accompanying a formal entry by a ruler or his representative into a city in the Middle Ages and Early Modern Period in Europe...
, pageants and triumphal processions celebrating marriages and other dynastic events of late medieval court life. The "Bal des Ardents" (
"Burning Men's Ball"
) was held by Charles VI of France, and intended as a
Bal des sauvages
(
"Wild Men's Ball"
), a form of costumed ball (
morisco
).