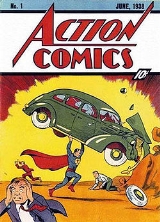 Comic book
A
comic book
or
comicbook
(often shortened to simply
comic
and sometimes called a
funny book
,
comic paper
, or
comic magazine
) is a
magazine
Magazine
Magazines, periodicals, glossies or serials are publications, generally published on a regular schedule, containing a variety of articles. They are generally financed by advertising, by a purchase price, by pre-paid magazine subscriptions, or all three...
made up of
comics
Comics
Comics denotes a hybrid medium having verbal side of its vocabulary tightly tied to its visual side in order to convey narrative or information only, the latter in case of non-fiction comics, seeking synergy by using both visual and verbal side in...
, narrative artwork in the form of separate panels that represent individual scenes, often accompanied by dialog (usually in word balloons, emblematic of the comic book art form) as well as including brief descriptive prose. The first comic book appeared in the
United States
United States
The United States of America is a federal constitutional republic comprising fifty states and a federal district...
in 1933, reprinting the earlier newspaper
comic strip
Comic strip
A comic strip is a sequence of drawings arranged in interrelated panels to display brief humor or form a narrative, often serialized, with text in balloons and captions....
s, which established many of the story-telling devices used in comics. The term "comic book" arose because the first comic books reprinted humor comic strips. Despite their name, however, comic books do not necessarily operate in humorous mode; most modern comic books tell stories in a variety of genres.
American comics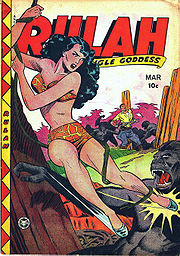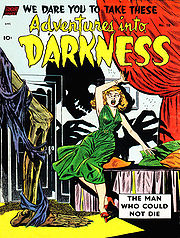 Since the introduction of the comic book format in 1934 with the publication of
Famous Funnies
Famous Funnies
Famous Funnies is an American publication of the 1930s that represents what popular culture historians consider the first true American comic book, following seminal precursors.-Immediate precursors:...
, the United States has produced the most titles, with only the British comic and Japanese
manga
Manga
Manga is the Japanese word for "comics" and consists of comics and print cartoons . In the West, the term "manga" has been appropriated to refer specifically to comics created in Japan, or by Japanese authors, in the Japanese language and conforming to the style developed in Japan in the late 19th...
as close competitors in terms of quantity of titles.
Cultural historians divide the career of the comic book in the U.S. into several ages or
historical eras
:
Proto-comic books and the Platinum Age
Golden Age

Golden Age of Comic Books

The Golden Age of Comic Books was a period in the history of American comic books, generally thought of as lasting from the late 1930s until the late 1940s or early 1950s...



Silver Age

Silver Age of Comic Books

The Silver Age of Comic Books was a period of artistic advancement and commercial success in mainstream American comic books, predominantly those in the superhero genre. Following the Golden Age of Comic Books and an interregnum in the early to mid-1950s, the Silver Age is considered to cover the...



Bronze Age

Bronze Age of Comic Books

The Bronze Age of Comic Books is an informal name for a period in the history of mainstream American comic books usually said to run from 1970 to 1985. It follows the Silver Age of Comic Books....



Modern Age

Modern Age of Comic Books

The Modern Age of Comic Books is an informal name for the period in the history of mainstream American comic books generally considered to last from the mid-1980s until present day...



Comic book historians continue to debate the exact boundaries of these eras, but they have come to an agreement, the terms for which originated in the
fandom
Fandom
Fandom is a term used to refer to a subculture composed of fans characterized by a feeling of sympathy and camaraderie with others who share a common interest...
press
Publishing
Publishing is the process of production and dissemination of literature or information—the activity of making information available to the general public...
. Comic books as a print medium have existed in America since the printing of
The Adventures of Obadiah Oldbuck
Histoire de M. Vieux Bois
Histoire de M. Vieux Bois, published in English as The Adventures of Obadiah Oldbuck, and also known as Les amours de Mr. Vieux Bois or simply Monsieur Vieuxbois, is a 19th-century publication written and illustrated by the Swiss caricaturist Rodolphe Töpffer. Published first in Europe as Histoire...
in 1842 in hardcover—making it the first known American prototype comic book. It is not considered a comic book. The introduction of
Jerry Siegel
Jerry Siegel
Jerome "Jerry" Siegel , who also used pseudonyms including Joe Carter, Jerry Ess, and Herbert S...
and
Joe Shuster
Joe Shuster
Joseph "Joe" Shuster was a Canadian-born American comic book artist. He was best known for co-creating the DC Comics character Superman, with writer Jerry Siegel, first published in Action Comics #1...
's
Superman
Superman
Superman is a fictional comic book superhero appearing in publications by DC Comics, widely considered to be an American cultural icon. Created by American writer Jerry Siegel and Canadian-born American artist Joe Shuster in 1932 while both were living in Cleveland, Ohio, and sold to Detective...
in 1938 turned comic books into a major industry, and is often presented as the start of the Golden Age of comics. Historians have proposed several names for the Age before Superman, most commonly dubbing it the Platinum Age.
While the Platinum Age saw the first use of the term "comic book" (
The Yellow Kid in McFadden's Flats
(1897)), the first known full-color comic (
The Blackberries
(1901)), and the first monthly comic book (
Comics Monthly
(1922)), it was not until the Golden Age that the
archetype
Archetype
An archetype is a universally understood symbol or term or pattern of behavior, a prototype upon which others are copied, patterned, or emulated...
of the superhero would originate.
The Silver Age of comic books is generally considered to date from the first successful revival of the dormant superhero form—the debut of
Robert Kanigher
Robert Kanigher
Robert Kanigher was a prolific comic book writer and editor whose career spanned five decades. He was involved with the Wonder Woman franchise for over twenty years, taking over the scripting from creator William Moulton Marston. In addition, Kanigher spent many years in charge of DC Comics' war...
and
Carmine Infantino
Carmine Infantino
Carmine Infantino Carmine Infantino Carmine Infantino (born May 24, 1925, in Brooklyn, New York is an American comic book artist and editor who was a major force in the Silver Age of Comic Books...
's
Flash
Flash (comics)
The Flash is a name shared by several fictional comic book superheroes from the DC Comics universe. Created by writer Gardner Fox and artist Harry Lampert, the original Flash first appeared in Flash Comics #1 ....
in
Showcase
Showcase (comics)
Showcase has been the title of several comic anthology series published by DC Comics. The general theme of these series has been to feature new and minor characters as a way to gauge reader interest in them, without the difficulty and risk of featuring "untested" characters in their own ongoing...
#4 (September/October 1956). The Silver Age lasted through the late 1960s or early 1970s, during which time
Marvel Comics
Marvel Comics
Marvel Worldwide, Inc., commonly referred to as Marvel Comics and formerly Marvel Publishing, Inc. and Marvel Comics Group, is an American company that publishes comic books and related media...
revolutionized the medium with such
naturalistic
Naturalism (literature)
Naturalism was a literary movement taking place from the 1880s to 1940s that used detailed realism to suggest that social conditions, heredity, and environment had inescapable force in shaping human character...
superheroes as
Stan Lee
Stan Lee
Stan Lee is an American comic book writer, editor, actor, producer, publisher, television personality, and the former president and chairman of Marvel Comics....
and
Jack Kirby
Jack Kirby
Jack Kirby , born Jacob Kurtzberg, was an American comic book artist, writer and editor regarded by historians and fans as one of the major innovators and most influential creators in the comic book medium....
's
Fantastic Four
Fantastic Four
The Fantastic Four is a fictional superhero team appearing in comic books published by Marvel Comics. The group debuted in The Fantastic Four #1 , which helped to usher in a new level of realism in the medium...
and Stan Lee and
Steve Ditko
Steve Ditko
Stephen J. "Steve" Ditko is an American comic book artist and writer best known as the artist co-creator, with Stan Lee, of the Marvel Comics heroes Spider-Man and Doctor Strange....
's
Spider-Man
Spider-Man
Spider-Man is a fictional Marvel Comics superhero. The character was created by writer-editor Stan Lee and writer-artist Steve Ditko. He first appeared in Amazing Fantasy #15...
.
The precise beginnings of the Bronze and Modern Ages remain less well-defined. Suggested starting points for the Bronze Age of comics include
Roy Thomas
Roy Thomas
Roy William Thomas, Jr. is an American comic book writer and editor, and Stan Lee's first successor as editor-in-chief of Marvel Comics. He is possibly best known for introducing the pulp magazine hero Conan the Barbarian to American comics, with a series that added to the storyline of Robert E...
and
Barry Windsor-Smith
Barry Windsor-Smith
Barry Windsor-Smith, born Barry Smith is a British comic book illustrator and painter whose best known work has been produced in the United States....
's
Conan
Conan the Barbarian
Conan the Barbarian is a fictional sword and sorcery hero that originated in pulp fiction magazines and has since been adapted to books, comics, several films , television programs, video games, roleplaying games and other media...
#1 (October 1970), Denny O'Neil and
Neal Adams
Neal Adams
Neal Adams is an American comic book and commercial artist known for helping to create some of the definitive modern imagery of the DC Comics characters Superman, Batman, and Green Arrow; as the co-founder of the graphic design studio Continuity Associates; and as a creators-rights advocate who...
'
Green Lantern

Green Lantern

The Green Lantern is the shared primary alias of several fictional characters, superheroes appearing in comic books published by DC Comics. The first Green Lantern was created by writer Bill Finger and artist Martin Nodell in All-American Comics #16 .Each Green Lantern possesses a power ring and...


/Green Arrow

Green Arrow

Green Arrow is a fictional superhero that appears in comic books published by DC Comics. Created by Mort Weisinger and George Papp, he first appeared in More Fun Comics #73 in November 1941. His secret identity is Oliver Queen, billionaire and former mayor of fictional Star City...



#76 (April 1970), or Stan Lee and
Gil Kane
Gil Kane
Eli Katz who worked under the name Gil Kane and in one instance Scott Edward, was a comic book artist whose career spanned the 1940s to 1990s and every major comics company and character.Kane co-created the modern-day versions of the superheroes Green Lantern and the Atom for DC Comics, and...
's
The Amazing Spider-Man
The Amazing Spider-Man
The Amazing Spider-Man is an American comic book series published by Marvel Comics, featuring the adventures of the fictional superhero Spider-Man. Being the mainstream continuity of the franchise, it began publication in 1963 as a monthly periodical and was published continuously until it was...
#96 (May 1971; the non-Comics Code issue). The start of the Modern Age (occasionally referred to as the "Iron Age") has even more potential starting points, but is generally agreed to be the publication of
Frank Miller
Frank Miller (comics)
Frank Miller is an American comic book artist, writer and film director best known for his dark, film noir-style comic book stories and graphic novels Ronin, Daredevil: Born Again, Batman: The Dark Knight Returns, Sin City and 300...
's
Batman: The Dark Knight Returns
Batman: The Dark Knight Returns
Batman: The Dark Knight Returns is a four-issue comic book limited series written and drawn by Frank Miller, originally published by DC Comics under the title Batman: The Dark Knight in 1986. When the issues were released in a collected edition later that year, the story title for the first issue...
graphic novel
Graphic novel
A graphic novel is a narrative work in which the story is conveyed to the reader using sequential art in either an experimental design or in a traditional comics format...
and
Alan Moore
Alan Moore
Alan Oswald Moore is an English writer primarily known for his work in comic books, a medium where he has produced a number of critically acclaimed and popular series, including Watchmen, V for Vendetta, and From Hell...
's
Watchmen
Watchmen
Watchmen is a twelve-issue comic book limited series created by writer Alan Moore, artist Dave Gibbons, and colourist John Higgins. The series was published by DC Comics during 1986 and 1987, and has been subsequently reprinted in collected form...
by
DC Comics
DC Comics
DC Comics, Inc. is one of the largest and most successful companies operating in the market for American comic books and related media. It is the publishing unit of DC Entertainment a company of Warner Bros. Entertainment, which itself is owned by Time Warner...
in 1986, as well as the publication of DC's
Crisis on Infinite Earths
Crisis on Infinite Earths
Crisis on Infinite Earths is a 12-issue American comic book limited series and crossover event, produced by DC Comics in 1985 to simplify its then 50-year-old continuity...
, written by
Marv Wolfman
Marv Wolfman
Marvin A. "Marv" Wolfman is an award-winning American comic book writer. He is best known for lengthy runs on The Tomb of Dracula, creating Blade for Marvel Comics, and The New Teen Titans for DC Comics.-1960s:...
with pencils by
George Pérez
George Pérez
George Pérez is a Puerto Rican-American writer and illustrator of comic books, known for his work on various titles, including Avengers, Teen Titans and Wonder Woman.-Biography:...
.
A notable event in the history of the American comic book came with the psychiatrist
Fredric Wertham
Fredric Wertham
Fredric Wertham was a Jewish German-American psychiatrist and crusading author who protested the purportedly harmful effects of violent imagery in mass media and comic books on the development of children. His best-known book was Seduction of the Innocent , which purported that comic books are...
's criticisms of the medium in his book
Seduction of the Innocent
Seduction of the Innocent
Seduction of the Innocent is a book by German-American psychiatrist Fredric Wertham, published in 1954, that warned that comic books were a negative form of popular literature and a serious cause of juvenile delinquency. The book was a minor bestseller that created alarm in parents and galvanized...
(1954), which prompted the American
Senate Subcommittee on Juvenile Delinquency
Senate Subcommittee on Juvenile Delinquency
The United States Senate Subcommittee on Juvenile Delinquency was established by the United States Senate in 1953 to investigate the problem of juvenile delinquency.- Background :...
to investigate comic books. In response to attention from the government and from the media, the U.S. comic book industry set up the
Comics Code Authority
Comics Code Authority
The Comics Code Authority was a body created as part of the Comics Magazine Association of America, as a tool for the comics-publishing industry to self-regulate the content of comic books in the United States. Member publishers submitted comic books to the CCA, which screened them for adherence to...
in 1954 and drafted the "Comics Code" in the same year.
Underground comics
In the late 1960s and early 1970s a surge of creativity emerged in what became known as underground comics. Published and distributed independently of the established comics industry, most of such comics reflected the youth
counterculture
Counterculture
Counterculture is a sociological term used to describe the values and norms of behavior of a cultural group, or subculture, that run counter to those of the social mainstream of the day, the cultural equivalent of political opposition. Counterculture can also be described as a group whose behavior...
and drug culture of the time. Many had an uninhibited, often irreverent style; their frank depictions of nudity, sex, profanity, and politics had no parallel outside their precursors, the pornographic and even more obscure "Tijuana bibles". Underground comics were almost never sold at news stands, but rather in such youth-oriented outlets as head shops and record stores, as well as by
mail order
Mail order
Mail order is a term which describes the buying of goods or services by mail delivery. The buyer places an order for the desired products with the merchant through some remote method such as through a telephone call or web site. Then, the products are delivered to the customer...
.
Frank Stack
Frank Stack
Frank Huntington Stack is an American underground cartoonist. Working under the name Foolbert Sturgeon to avoid persecution for his work while living in the bible belt, Stack published what is considered by many to be the first underground comic book, The Adventures of Jesus, in 1962.He graduated...
's
The Adventures of Jesus
, published under the name Foolbert Sturgeon, has been credited as the first underground comic.
Alternative comics
The rise of comic book
specialty store
Specialty store
Specialty stores are small stores which specialize in a specific range of merchandise and related items. Most stores have an extensive depth of stock in the item that they specialize in and provide high levels of service and expertise...
s in the late 1970s created/paralleled a dedicated market for "independent" or "
alternative comics
Alternative comics
Alternative comics defines a range of American comics that have appeared since the 1980s, following the underground comix movement of the late 1960s and early 1970s. Alternative comics present an alternative to "mainstream" superhero comics which in the past have dominated the US comic book industry...
" in the U.S. The first such comics included the anthology series
Star Reach
Star Reach
Star Reach was an influential, American science fiction and fantasy comics anthology published from 1974 to 1979 by Mike Friedrich...
, published by comic book writer
Mike Friedrich
Mike Friedrich
Mike Friedrich is an American comic book writer and publisher best known for his work at Marvel and DC Comics, and for publishing the anthology series Star*Reach, one of the first independent comics...
from 1974 to 1979, and
Harvey Pekar
Harvey Pekar
Harvey Lawrence Pekar was an American underground comic book writer, music critic and media personality, best known for his autobiographical American Splendor comic series. In 2003, the series inspired a critically acclaimed film adaptation of the same name.Pekar described American Splendor as "an...
's
American Splendor
American Splendor
American Splendor is a series of autobiographical comic books written by the late Harvey Pekar and drawn by a variety of artists. The first issue was published in 1976 and the most recent in September 2008, with publication occurring at irregular intervals...
, which continued sporadic publication into the 21st Century and which Shari Springer Berman and Robert Pulcini adapted into a
2003 film
American Splendor (film)
American Splendor is a 2003 American biographical comedy-drama film about Harvey Pekar, the author of the American Splendor comic book series. The film is also in part an adaptation of the comics, which dramatize Pekar's life...
. Some independent comics continued in the tradition of underground comics, though their content was generally less explicit, and others resembled the output of mainstream publishers in format and genre but were published by smaller artist-owned companies or by single artists. A few (notably
RAW
RAW (magazine)
RAW was a comics anthology edited by Art Spiegelman and Françoise Mouly and published by Mouly from 1980 to 1991. It was a flagship publication of the 1980s alternative comics movement, serving as a more intellectual counterpoint to Robert Crumb's visceral Weirdo, which followed squarely in the...
) were experimental attempts to bring comics closer to the status of
fine art
Fine art
Fine art or the fine arts encompass art forms developed primarily for aesthetics and/or concept rather than practical application. Art is often a synonym for fine art, as employed in the term "art gallery"....
.
During the 1970s the "small press" culture grew and diversified. By the 1980s, several independent publishers, such as
Pacific
Pacific Comics
Pacific Comics was an independent comic book publisher that flourished from 1981-1984. It was also a chain of comics shops and a distributor. It began out of a San Diego, California, comic book shop owned by brothers Bill and Steve Schanes...
,
Eclipse
Eclipse Comics
Eclipse Comics was an American comic book publisher, one of several independent publishers during the 1980s and early 1990s. In 1978, it published the first graphic novel intended for the newly created comic book specialty store market...
,
First
First Comics
First Comics was an American comic-book publisher that was active from 1983–1991, known for titles like American Flagg!, Grimjack, Nexus, Badger, Dreadstar, and Jon Sable...
,
Comico
Comicó
Comicó is a village and municipality in Río Negro Province in Argentina....
, and Fantagraphics had started releasing a wide range of styles and formats—from color superhero,
detective
Detective
A detective is an investigator, either a member of a police agency or a private person. The latter may be known as private investigators or "private eyes"...
, and
science fiction
Science fiction
Science fiction is a genre of fiction dealing with imaginary but more or less plausible content such as future settings, futuristic science and technology, space travel, aliens, and paranormal abilities...
comic books to black-and-white magazine-format stories of Latin American magical realism.
A number of small publishers in the 1990s changed the format and distribution of their comics to more closely resemble non-comics publishing. The "
minicomic
Minicomic
A minicomic is a creator-published comic book, often photocopied and stapled or with a handmade binding. In the United Kingdom and Europe the term "small press comic" is equivalent with minicomic reserved for those publications measuring A6 or less...
s" form, an extremely informal version of self-publishing, arose in the 1980s and became increasingly popular among artists in the 1990s, despite reaching an even more limited audience than the small press.
small publishers regularly releasing titles include Avatar Comics,
Hyperwerks
Hyperwerks
Hyperwerks Entertainment was founded by Karl Altstaetter and Jamie Douraghy in 1997, it is mostly noted for its comic book series. The two most notable Hyperwerks projects are the Deity and Rostam series....
, Raytoons, and
Terminal Press
Terminal Press
Terminal Press is an Independent Comic Book Publisher based out of Long Beach, New York.Terminal Press was started in 2001 by Brian Ferrara, who is the company's president and Editor-in-Chief. Ferrara was joined by art director Narek Gevorgian and lead illustrator Rolo Ledesma shortly after...
, buoyed by such advances in printing technology as digital
print-on-demand
Print on demand
Print on demand , sometimes called, in error, publish on demand, is a printing technology and business process in which new copies of a book are not printed until an order has been received...
.
Graphic novels
In 1964, Richard Kyle coined the term "graphic novel" to distinguish newly translated European works from genre-driven subject matter common in American comics.
Will Eisner
Will Eisner
William Erwin "Will" Eisner was an American comics writer, artist and entrepreneur. He is considered one of the most important contributors to the development of the medium and is known for the cartooning studio he founded; for his highly influential series The Spirit; for his use of comics as an...
popularized the term when he used it on the cover of the paperback edition of his work
A Contract with God, and Other Tenement Stories
A Contract with God
A Contract with God, and Other Tenement Stories is a graphic novel by Will Eisner that takes the form of several stories on a theme. Published by Baronet Books in October 1978 in simultaneous hardcover and trade paperback editions — the former limited to a signed-and-numbered print-run of 1,500 —...
in 1978. This represented a more thematically mature work than many had come to expect from the comics medium, and the critical success of
A Contract with God
helped to bring the term into common usage.
Rarest American comic books
The rarest comic books include copies of the unreleased
Motion Picture Funnies Weekly
Motion Picture Funnies Weekly
Motion Picture Funnies Weekly is a 36-page, black-and-white American comic book series created in 1939, and designed to be a promotional giveaway in movie theaters...
#1 from 1939. Eight copies, plus one without a cover, emerged in the estate of the deceased publisher in 1974. The "Pay Copy" of this book sold for $43,125 in a 2005
Heritage
Heritage Auctions
Heritage Auction Galleries is the world's largest collectibles auctioneer and the third largest auction house, with over $700 million in annual sales and 600,000 online bidder-members...
auction.
The most valuable American comics have combined rarity and quality with the first appearances of popular and enduring characters. Four comic books to have sold for over $1 million USD as of December 2010, including two examples of
Action Comics
Action Comics
Action Comics is an American comic book series that introduced Superman, the first major superhero character as the term is popularly defined...
#1, the first appearance of
Superman
Superman
Superman is a fictional comic book superhero appearing in publications by DC Comics, widely considered to be an American cultural icon. Created by American writer Jerry Siegel and Canadian-born American artist Joe Shuster in 1932 while both were living in Cleveland, Ohio, and sold to Detective...
, both sold privately through online dealer ComicConnect.com in 2010, and
Detective Comics
Detective Comics
Detective Comics is an American comic book series published monthly by DC Comics since 1937, best known for introducing the iconic superhero Batman in Detective Comics #27 . It is, along with Action Comics, the book that launched with the debut of Superman, one of the medium's signature series, and...
#27, the first appearance of
Batman
Batman
Batman is a fictional character created by the artist Bob Kane and writer Bill Finger. A comic book superhero, Batman first appeared in Detective Comics #27 , and since then has appeared primarily in publications by DC Comics...
, via public auction.
Misprints, promotional comic-dealer incentive printings, and similar issues with extremely low distribution also generally have scarcity value. The rarest modern comic books include the original press run of
The League of Extraordinary Gentlemen
The League of Extraordinary Gentlemen
The League of Extraordinary Gentlemen is a comic book series written by Alan Moore and illustrated by Kevin O'Neill, publication of which began in 1999. The series spans two six-issue limited series and a graphic novel from the America's Best Comics imprint of Wildstorm/DC, and a third miniseries...
#5, which DC executive
Paul Levitz
Paul Levitz
Paul Levitz is an American comic book writer, editor and executive. The president of DC Comics from 2002–2009, he has worked for the company for over 35 years in a wide variety of roles...
recalled and pulped due to the appearance of a vintage
Victorian era
Victorian era
The Victorian era of British history was the period of Queen Victoria's reign from 20 June 1837 until her death on 22 January 1901. It was a long period of peace, prosperity, refined sensibilities and national self-confidence...
advertisement for "Marvel
Douche
Douche
A douche is a device used to introduce a stream of water into the body for medical or hygienic reasons, or the stream of water itself.Douche usually refers to vaginal irrigation, the rinsing of the vagina, but it can also refer to the rinsing of any body cavity. A douche bag is a piece of...
", which the publisher considered offensive; only 100 copies exist, most of which have been CGC graded. (See
Recalled comics
Recalled comics
Comic books have been recalled for various reasons including simple printing errors, stories or images that were deemed inappropriate or to avoid potential lawsuits...
for more pulped, recalled, and erroneous comics.)
Franco-Belgian Comics
France
France
The French Republic , The French Republic , The French Republic , (commonly known as France , is a unitary semi-presidential republic in Western Europe with several overseas territories and islands located on other continents and in the Indian, Pacific, and Atlantic oceans. Metropolitan France...
and
Belgium
Belgium
Belgium , officially the Kingdom of Belgium, is a federal state in Western Europe. It is a founding member of the European Union and hosts the EU's headquarters, and those of several other major international organisations such as NATO.Belgium is also a member of, or affiliated to, many...
have a long tradition in comics and comic books, called
BDs
Franco-Belgian comics
Franco-Belgian comics are comics that are created in Belgium and France. These countries have a long tradition in comics and comic books, where they are known as BDs, an abbreviation of bande dessinée in French and stripverhalen in Dutch...
(an abbreviation of
bande dessinées
) in
French
French language
French is a Romance language spoken as a first language in France, the Romandy region in Switzerland, Wallonia and Brussels in Belgium, Monaco, the regions of Quebec and Acadia in Canada, and by various communities elsewhere. Second-language speakers of French are distributed throughout many parts...
and
strips
in
Dutch
Dutch language
Dutch is a West Germanic language and the native language of the majority of the population of the Netherlands, Belgium, and Suriname, the three member states of the Dutch Language Union. Most speakers live in the European Union, where it is a first language for about 23 million and a second...
. Belgian comic books originally written in Dutch show the influence of the Francophone "Franco-Belgian" comics, but have their own distinct style.
The name
la bande dessinée
derives from the original description of the art form as drawn strips (the phrase literally translates as "the drawn strip"), analogous to the sequence of images in a film strip. As in its English equivalent, the word "bande" can be applied to both film and comics. Significantly, the French-language term contains no indication of subject-matter, unlike the American terms "comics" and "funnies", which imply an art form not to be taken seriously. The distinction of comics as
le neuvième art
(literally, "the ninth art") is prevalent in French scholarship on the form, as is the concept of comics criticism and scholarship itself. Relative to the respective size of their populations, the innumerable authors in France and Belgium publish a high volume of comic books. In
North America
North America
North America is a continent wholly within the Northern Hemisphere and almost wholly within the Western Hemisphere. It is also considered a northern subcontinent of the Americas...
, the more serious Franco-Belgian comics are often seen as equivalent to graphic novels, but whether they are long or short, bound or in magazine format, in
Europe
Europe
Europe is, by convention, one of the world's seven continents. Comprising the westernmost peninsula of Eurasia, Europe is generally 'divided' from Asia to its east by the watershed divides of the Ural and Caucasus Mountains, the Ural River, the Caspian and Black Seas, and the waterways connecting...
there is no need for a more sophisticated term, as the art's name does not itself imply something frivolous.
In France, authors control the publication of most comics. The author works within a self-appointed time-frame, and it is common for readers to wait six months or as long as two years between installments. Most books first appear in print as a hardcover book, typically with 48, 56, or 64 pages.
British comics
Originally the same size as a usual comic book in the U.S. (although lacking the glossy cover), the British comic has adopted a magazine size, with
The Beano
The Beano
The Beano is a British children's comic, published by D.C. Thomson & Co and is arguably their most successful.The comic first appeared on 30 July 1938, and was published weekly. During the Second World War,The Beano and The Dandy were published on alternating weeks because of paper and ink...
and
The Dandy
The Dandy
The Dandy is a long running children's comic published in the United Kingdom by D. C. Thomson & Co. Ltd. The first issue was printed in 1937 and it is the world's third longest running comic, after Detective Comics and Il Giornalino...
the last to adopt this size (in the 1980s). Although the British generally speak of "a comic" or of "a comic magazine", and they also historically spoke of "a comic paper". Some comics, such as
Judge Dredd
Judge Dredd
Judge Joseph Dredd is a comics character whose strip in the British science fiction anthology 2000 AD is the magazine's longest running . Dredd is an American law enforcement officer in a violent city of the future where uniformed Judges combine the powers of police, judge, jury and executioner...
and other
2000 AD
2000 AD (comic)
2000 AD is a weekly British science fiction-oriented comic. As a comics anthology it serialises a number of separate stories each issue and was first published by IPC Magazines in 1977, the first issue dated 26 February. IPC then shifted the title to its Fleetway comics subsidiary which was sold...
titles, have been published in a tabloid form.
Although
Ally Sloper's Half Holiday
Ally Sloper's Half Holiday
Ally Sloper's Half Holiday was a British comic, first published on 3 May 1884. It has a legitimate claim to being the first comic magazine named after and featuring a regular character...
(1884), the first comic published in Britain, was aimed at an adult market, publishers quickly targeted a younger market, which has led to most publications being for children and created an association in the public's mind of comics as somewhat juvenile.
Popular titles within the UK have included
The Beano
,
The Dandy
,
The Eagle
Eagle (comic)
Eagle was a seminal British children's comic, first published from 1950 to 1969, and then in a relaunched format from 1982 to 1994. It was founded by Marcus Morris, an Anglican vicar from Lancashire. Morris edited a parish magazine called The Anvil, but felt that the church was not communicating...
,
2000 AD
, and
Viz
. Underground comics and "
small press
British small press comics
British small press comics, once known as stripzines, are comic books self-published by amateur cartoonists and comic book creators, usually in short print runs, in the UK. A "small press comic" is essentially a zine composed predominantly of comic strips. The term emerged in the early 1980s to...
" titles have also been published within the UK, notably
Oz
Oz (magazine)
Oz was first published as a satirical humour magazine between 1963 and 1969 in Sydney, Australia and, in its second and better known incarnation, became a "psychedelic hippy" magazine from 1967 to 1973 in London...
and
Escape Magazine
Escape Magazine
Escape magazine was a landmark British comic strip magazine founded and edited by Paul Gravett and Peter Stanbury. Nineteen issues were published between 1983 to 1989...
.
The content of
Action
, another title aimed at children and launched in the mid-1970s, became the subject of discussion in the
House of Commons
British House of Commons
The House of Commons is the lower house of the Parliament of the United Kingdom, which also comprises the Sovereign and the House of Lords . Both Commons and Lords meet in the Palace of Westminster. The Commons is a democratically elected body, consisting of 650 members , who are known as Members...
. Although on a smaller scale than similar investigations in the U.S., such concerns led to a moderation of content published within British comics. Such moderation never became formalized to the extent of promulgating a code, nor did it last long.
The UK has also established a healthy market in the reprinting and repackaging of material, notably material originating in the U.S. The lack of reliable supplies of American comic books led to a variety of black-and-white reprints, including Marvel's monster comics of the 1950s, Fawcett's
Captain Marvel
Captain Marvel (DC Comics)
Captain Marvel is a fictional comic book superhero, originally published by Fawcett Comics and later by DC Comics. Created in 1939 by artist C. C. Beck and writer Bill Parker, the character first appeared in Whiz Comics #2...
, and other characters such as
Sheena
Sheena, Queen of the Jungle
Sheena, Queen of the Jungle is a fictional, American comic book jungle girl heroine, published originally by Fiction House. The female counterpart to Tarzan, Sheena had two things in common with Edgar Rice Burrough's Jungle Lord: Both possessed the ability to communicate with wild animals and were...
,
Mandrake the Magician
Mandrake the Magician
Mandrake the Magician is a syndicated newspaper comic strip, created by Lee Falk , which began June 11, 1934. Phil Davis soon took over as the strip's illustrator, while Falk continued to script. The strip was distributed by King Features Syndicate.Davis worked on the strip until his death in 1964,...
, and
the Phantom
The Phantom
The Phantom is an American adventure comic strip created by Lee Falk, also creator of Mandrake the Magician. A popular feature adapted into many media, including television, film and video games, it stars a costumed crimefighter operating from the fictional African country Bengalla.The Phantom is...
. Several reprint companies were involved in repackaging American material for the British market, notably the importer and distributor Thorpe & Porter.
Marvel Comics established a UK office in 1972. DC Comics and
Dark Horse Comics
Dark Horse Comics
Dark Horse Comics is the largest independent American comic book and manga publisher.Dark Horse Comics was founded in 1986 by Mike Richardson in Milwaukie, Oregon, with the concept of establishing an ideal atmosphere for creative professionals. Richardson started out by opening his first comic book...
also opened offices in the 1990s. The repackaging of European material has occurred less frequently, although the
Tintin
The Adventures of Tintin
The Adventures of Tintin is a series of classic comic books created by Belgian artist , who wrote under the pen name of Hergé...
and
Asterix
Asterix
Asterix or The Adventures of Asterix is a series of French comic books written by René Goscinny and illustrated by Albert Uderzo . The series first appeared in French in the magazine Pilote on October 29, 1959...
serials have been successfully translated and repackaged in softcover books.
At
Christmas
Christmas
Christmas or Christmas Day is an annual holiday generally celebrated on December 25 by billions of people around the world. It is a Christian feast that commemorates the birth of Jesus Christ, liturgically closing the Advent season and initiating the season of Christmastide, which lasts twelve days...
time, publishers repackage and commission material for comic
annuals
Annual publication
An annual publication, more often called simply an annual, is a book or a magazine, comic book or comic strip published yearly. For example, a weekly or monthly publication may produce an Annual featuring similar materials to the regular publication....
, printed and bound as hardcover A4-size books;
Rupert
Rupert Bear
Rupert Bear is a children's comic strip character, who features in a series of books based around his adventures. The character was created by the English artist Mary Tourtel and first appeared in the Daily Express on 8 November 1920. Rupert's initial purpose was to win sales from the rival...
supplies a famous example of the British comic annual. DC Thomson also repackages
The Broons
The Broons
The Broons is a comic strip in Scots published in the weekly Scottish newspaper, The Sunday Post. It features the Broon family, who live in a tenement flat at 10 Glebe Street, in the fictional Scottish town of Auchentogle or Auchenshoogle . They are also shown as living on Glebe Street...
and
Oor Wullie
Oor Wullie
Oor Wullie is a Scottish comic strip published in the D.C. Thomson newspaper, The Sunday Post. It features a boy named William, known as Wullie . His trademarks are spiky hair, dungarees and an upturned bucket, which he often uses as a seat...
strips in softcover A4-size books for the holiday season.
Italian comics
In
Italy
Italy
Italy , officially the Italian Republic languages]] under the European Charter for Regional or Minority Languages. In each of these, Italy's official name is as follows:;;;;;;;;), is a unitary parliamentary republic in South-Central Europe. To the north it borders France, Switzerland, Austria and...
, comics (known in Italian as
fumetti
) made their debut as humor strips at the end of the 19th century, and later evolved into adventure stories inspired by those coming from the U.S. After World War II, however, artists like
Hugo Pratt
Hugo Pratt
Hugo Eugenio Pratt was an Italian comic book creator who was known for combining strong storytelling with extensive historical research on works such as Corto Maltese...
and
Guido Crepax
Guido Crepax
Guido Crepax was an Italian comics artist. He is most famous for his character Valentina, created in 1965 and very representative of the spirit of the sixties. The Valentina series of books and strips became noted for Crepax's sophisticated drawing, and for the psychedelic, dreamlike storylines,...
exposed Italian comics to an international audience. "Author" comics contain often strong erotic contents. Popular comic books such as
Diabolik
Diabolik
Diabolik is a fictional character, an anti-hero featured in Italian comics. He was created by sisters Angela and Luciana Giussani in 1962. His stories appear in monthly black and white digest-sized booklets. The character was inspired by several previous characters from Italian and French pulp...
or the
Bonelli
Sergio Bonelli Editore
Sergio Bonelli Editore is a publishing house of Italian comics. It takes its name from its president and comic book author, Sergio Bonelli....
line—namely
Tex Willer
Tex Willer
Tex Willer is the main fictional character of the Italian comics series Tex, created by writer Gian Luigi Bonelli and illustrator Aurelio Galleppini, and first published in Italy on 30 September 1948. It is among the most popular characters of Italian comics, with translations to numerous ...
or
Dylan Dog
Dylan Dog
Dylan Dog is an Italian horror comics series featuring an eponymous character created by Tiziano Sclavi for the publishing house Sergio Bonelli Editore...
—remain best-sellers.
Mainstream comics are usually published on a monthly basis, in a black-and-white
digest size
Digest size
Digest size is a magazine size, smaller than a conventional or "journal size" magazine but larger than a standard paperback book, approximately 5½ x 8¼ inches, but can also be 5⅜ x 8⅜ inches and 5½ x 7½ inches. These sizes have evolved from the printing press operation end...
format, with approximately 100 to 132 pages. Collections of classic material for the most famous characters, usually with more than 200 pages, are also common. Author comics are published in the French BD format, with an example being Pratt's
Corto Maltese
Corto Maltese
Corto Maltese is a comics series featuring an eponymous character, a complex sailor-adventurer. It was created by Italian comic book creator Hugo Pratt in 1967...
.
Italian cartoonists show the influence of comics from other countries, including France, Belgium,
Spain
Spain
Spain , officially the Kingdom of Spain languages]] under the European Charter for Regional or Minority Languages. In each of these, Spain's official name is as follows:;;;;;;), is a country and member state of the European Union located in southwestern Europe on the Iberian Peninsula...
, and
Argentina
Argentina
Argentina , officially the Argentine Republic , is the second largest country in South America by land area, after Brazil. It is constituted as a federation of 23 provinces and an autonomous city, Buenos Aires...
. Italy is also famous for being one of the foremost producers of
Walt Disney
Walt Disney
Walter Elias "Walt" Disney was an American film producer, director, screenwriter, voice actor, animator, entrepreneur, entertainer, international icon, and philanthropist, well-known for his influence in the field of entertainment during the 20th century. Along with his brother Roy O...
comic stories outside the U.S.
Donald Duck
Donald Duck
Donald Fauntleroy Duck is a cartoon character created in 1934 at Walt Disney Productions and licensed by The Walt Disney Company. Donald is an anthropomorphic white duck with a yellow-orange bill, legs, and feet. He typically wears a sailor suit with a cap and a black or red bow tie. Donald is most...
's superhero alter ego, Paperinik, known in English as Superduck, was created in Italy.
Japanese comics
The first comic books in
Japan
Japan
Japan is an island nation in East Asia. Located in the Pacific Ocean, it lies to the east of the Sea of Japan, China, North Korea, South Korea and Russia, stretching from the Sea of Okhotsk in the north to the East China Sea and Taiwan in the south...
appeared during the 18th Century in the form of woodblock-printed booklets containing short stories drawn from folk tales, legends, and historical accounts, told in a simple visual-verbal idiom. Known as , , and , these were written primarily for less literate readers. However, with the publication in 1775 of Koikawa Harumachi's comic book , an adult form of comic book originated, which required greater literacy and cultural sophistication. This was known as the . Published in thousands (possibly tens of thousands) of copies, the
kibyōshi
may have been the earliest fully realized comic book for adults in world literary history. Approximately 2,000 titles remain
extant
Extant literature
Extant literature refers to texts that have survived from the past to the present time. Extant literature can be divided into extant original manuscripts, copies of original manuscripts, quotations and paraphrases of passages of non-extant texts contained in other works, translations of non-extant...
.
Modern comic books in Japan developed from a mixture of these earlier comic books and of woodblock prints with Western styles of drawing. They took their form shortly after World War II. They are usually published in black-and-white, except for the covers, which are usually printed in four colors, although occasionally, the first few pages may also be printed in full color. The term
manga
means "random (or whimsical) pictures", and first came into common usage in the late 18th century with the publication of such works as
Santō Kyōden
Santo Kyoden
was a Japanese poet, writer and artist in the Edo period. His real name was , and he was also known popularly as . He is the brother of Santō Kyōzan.- Life :...
's picturebook (1798) and Aikawa Minwa's
Comic Sketches of a Hundred Women
(1798).
Development of this form occurred as a result of Japan's attempts to modernize itself, a desire awakened by trade with the U.S. Western artists were brought over to teach their students such concepts as line, form, and color; things which had not been regarded as conceptually important in
ukiyo-e
, as the idea behind the picture was of paramount importance. Manga at this time was referred to as
Ponchi-e
(Punch-picture) and, like its British counterpart
Punch
Punch (magazine)
Punch, or the London Charivari was a British weekly magazine of humour and satire established in 1841 by Henry Mayhew and engraver Ebenezer Landells. Historically, it was most influential in the 1840s and 50s, when it helped to coin the term "cartoon" in its modern sense as a humorous illustration...
magazine, mainly depicted humor and political satire in short one- or
four-picture format
Yonkoma
thumb|right|150px|Traditional Yonkoma layout, a comic-strip format, generally consists of gag comic strips within four panels of equal size ordered from top to bottom...
.
Dr.
Osamu Tezuka
Osamu Tezuka
was a Japanese cartoonist, manga artist, animator, producer, activist and medical doctor, although he never practiced medicine. Born in Osaka Prefecture, he is best known as the creator of Astro Boy, Kimba the White Lion and Black Jack...
(1928–1989), widely acknowledged as the father of narrative manga, further developed this form. Seeing an
animated
Animation
Animation is the rapid display of a sequence of images of 2-D or 3-D artwork or model positions in order to create an illusion of movement. The effect is an optical illusion of motion due to the phenomenon of persistence of vision, and can be created and demonstrated in several ways...
war
propaganda
Propaganda
Propaganda is a form of communication that is aimed at influencing the attitude of a community toward some cause or position so as to benefit oneself or one's group....
film titled inspired Tezuka to become a comic artist. He introduced episodic storytelling and character development in comic format, in which each story is part of larger story arc. The only text in Tezuka's comics was the characters' dialogue and this further lent his comics a cinematic quality. Inspired by the work of Walt Disney, Tezuka also adopted a style of drawing facial features in which a character's
eye
Human eye
The human eye is an organ which reacts to light for several purposes. As a conscious sense organ, the eye allows vision. Rod and cone cells in the retina allow conscious light perception and vision including color differentiation and the perception of depth...
s,
nose
Human nose
The visible part of the human nose is the protruding part of the face that bears the nostrils. The shape of the nose is determined by the ethmoid bone and the nasal septum, which consists mostly of cartilage and which separates the nostrils...
, and
mouth
Mouth
The mouth is the first portion of the alimentary canal that receives food andsaliva. The oral mucosa is the mucous membrane epithelium lining the inside of the mouth....
are drawn in an extremely exaggerated manner. This style created immediately recognizable expressions using very few lines, and the simplicity of this style allowed Tezuka to be prolific. Tezuka's work generated new interest in the
ukiyo-e
tradition, in which the image is a representation of an idea, rather than a depiction of reality.
Though a close equivalent to the American comic book, manga has historically held a more important place in Japanese culture than comics have in American culture. Japanese society shows a wide respect for manga, both as an art form and as a form of popular literature. Many manga become
television
Television
Television is a telecommunication medium for transmitting and receiving moving images that can be monochrome or colored, with accompanying sound...
shows or short films. As with its American counterpart, some manga has been criticized for its sexuality and violence, although in the absence of official or even industry restrictions on content, artists have freely created manga for every age group and for every topic.
Manga magazines—also known as "anthologies", or colloquially, "phone books"—often run several series concurrently, with approximately 20 to 40 pages allocated to each series per issue. These magazines are usually printed on low-quality newsprint and range from 200 to more than 850 pages each. Manga magazines also contain one-shot comics and a variety of four-panel yonkoma (equivalent to comic strips). Manga series may continue for
many years
if they are successful, with stories often collected and reprinted in book-sized volumes called , the equivalent of the American
trade paperbacks
Trade paperback (comics)
In comics, a trade paperback is a collection of stories originally published in comic books, reprinted in book format, usually capturing one story arc from a single title or a series of stories with a connected story arc or common theme from one or more titles...
. These volumes use higher-quality paper and are useful to readers who want to be brought up to date with a series, or to readers who find the cost of the weekly or monthly publications to be prohibitive. Deluxe versions are printed as commemorative or collectible editions. Conversely, old manga titles are also reprinted using lower-quality paper and sold for 120 ¥ (approximately $1 USD) each.
Genres of manga
Manga titles are primarily classified according to the
demographics
Demographics
Demographics are the most recent statistical characteristics of a population. These types of data are used widely in sociology , public policy, and marketing. Commonly examined demographics include gender, race, age, disabilities, mobility, home ownership, employment status, and even location...
of their intended audience. The most popular forms of manga target the markets of young boys (shōnen manga) and young girls (shōjo manga). Other categories include adult comics (seinen manga and josei manga) and "businessman" comics. Each of these types occupy their own shelves in most Japanese bookstores. Comics with adult content (ero manga) usually sell in
doujinshi
stores rather than normal bookstores.
Doujinshi
, fan-made Japanese comics operate in a far larger market in Japan than the American "underground comics" market; the largest doujinshi fair, Comic Market, attracts 500,000 visitors twice a year.
See also
External links