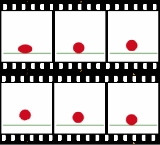 Animation
Animation
is the rapid display of a sequence of images of 2-D or 3-D artwork or model positions in order to create an
illusion
Illusion
An illusion is a distortion of the senses, revealing how the brain normally organizes and interprets sensory stimulation. While illusions distort reality, they are generally shared by most people....
of movement. The effect is an
optical illusion
Optical illusion
An optical illusion is characterized by visually perceived images that differ from objective reality. The information gathered by the eye is processed in the brain to give a perception that does not tally with a physical measurement of the stimulus source...
of
motion
Motion (physics)
In physics, motion is a change in position of an object with respect to time. Change in action is the result of an unbalanced force. Motion is typically described in terms of velocity, acceleration, displacement and time . An object's velocity cannot change unless it is acted upon by a force, as...
due to the phenomenon of
persistence of vision
Persistence of vision
Persistence of vision is the phenomenon of the eye by which an afterimage is thought to persist for approximately one twenty-fifth of a second on the retina....
, and can be created and demonstrated in several ways. The most common method of presenting animation is as a motion picture or video program, although there are other methods.
From Latin
animātiō
, "the act of bringing to life"; from
animō
("to animate" or "give life to") +
-ātiō
("the act of").
Early examples of attempts to capture the phenomenon of motion drawing can be found in
paleolithic
Paleolithic
The Paleolithic Age, Era or Period, is a prehistoric period of human history distinguished by the development of the most primitive stone tools discovered , and covers roughly 99% of human technological prehistory...
cave painting
Cave painting
Cave paintings are paintings on cave walls and ceilings, and the term is used especially for those dating to prehistoric times. The earliest European cave paintings date to the Aurignacian, some 32,000 years ago. The purpose of the paleolithic cave paintings is not known...
s, where animals are depicted with multiple legs in superimposed positions, clearly attempting to convey the perception of motion.
A 5,000 year old earthen bowl found in Iran in Shahr-i Sokhta has five images of a goat painted along the sides.