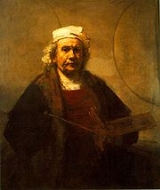 Fine art
Fine art
or the
fine arts
encompass art forms developed primarily for
aesthetics
Aesthetics
Aesthetics is a branch of philosophy dealing with the nature of beauty, art, and taste, and with the creation and appreciation of beauty. It is more scientifically defined as the study of sensory or sensori-emotional values, sometimes called judgments of sentiment and taste...
and/or concept rather than practical application.
Art
Art
Art is the product or process of deliberately arranging items in a way that influences and affects one or more of the senses, emotions, and intellect....
is often a synonym for fine art, as employed in the term "art gallery".
Historically, the five greater fine arts were painting, sculpture, architecture, music and poetry, with minor arts including drama and dancing. Today, the fine arts commonly include the visual art and performing art forms, such as
painting
Painting
Painting is the practice of applying paint, pigment, color or other medium to a surface . The application of the medium is commonly applied to the base with a brush but other objects can be used. In art, the term painting describes both the act and the result of the action. However, painting is...
,
sculpture
Sculpture
Sculpture is three-dimensional artwork created by shaping or combining hard materials—typically stone such as marble—or metal, glass, or wood. Softer materials can also be used, such as clay, textiles, plastics, polymers and softer metals...
,
collage
Collage
A collage is a work of formal art, primarily in the visual arts, made from an assemblage of different forms, thus creating a new whole....
,
decollage
Décollage
Décollage, in art, is the opposite of collage; instead of an image being built up of all or parts of existing images, it is created by cutting, tearing away or otherwise removing, pieces of an original image. Examples include inimage or etrécissements and excavations...
,
assemblage
Assemblage
An assemblage is an archaeological term meaning a group of different artifacts found in association with one another, that is, in the same context...
,
installation
Installation art
Installation art describes an artistic genre of three-dimensional works that are often site-specific and designed to transform the perception of a space. Generally, the term is applied to interior spaces, whereas exterior interventions are often called Land art; however, the boundaries between...
,
calligraphy
Calligraphy
Calligraphy is a type of visual art. It is often called the art of fancy lettering . A contemporary definition of calligraphic practice is "the art of giving form to signs in an expressive, harmonious and skillful manner"...
,
music
Music
Music is an art form whose medium is sound and silence. Its common elements are pitch , rhythm , dynamics, and the sonic qualities of timbre and texture...
,
dance
Dance
Dance is an art form that generally refers to movement of the body, usually rhythmic and to music, used as a form of expression, social interaction or presented in a spiritual or performance setting....
,
theatre
Theatre
Theatre is a collaborative form of fine art that uses live performers to present the experience of a real or imagined event before a live audience in a specific place. The performers may communicate this experience to the audience through combinations of gesture, speech, song, music or dance...
,
architecture
Architecture
Architecture is both the process and product of planning, designing and construction. Architectural works, in the material form of buildings, are often perceived as cultural and political symbols and as works of art...
,
film
Film
A film, also called a movie or motion picture, is a series of still or moving images. It is produced by recording photographic images with cameras, or by creating images using animation techniques or visual effects...
,
photography
Photography
Photography is the art, science and practice of creating durable images by recording light or other electromagnetic radiation, either electronically by means of an image sensor or chemically by means of a light-sensitive material such as photographic film...
,
conceptual art
Conceptual art
Conceptual art is art in which the concept or idea involved in the work take precedence over traditional aesthetic and material concerns. Many of the works, sometimes called installations, of the artist Sol LeWitt may be constructed by anyone simply by following a set of written instructions...
, and
printmaking
Printmaking
Printmaking is the process of making artworks by printing, normally on paper. Printmaking normally covers only the process of creating prints with an element of originality, rather than just being a photographic reproduction of a painting. Except in the case of monotyping, the process is capable...
.