 Plastic bottle
A
plastic bottle
is a
bottle
Bottle
A bottle is a rigid container with a neck that is narrower than the body and a "mouth". By contrast, a jar has a relatively large mouth or opening. Bottles are often made of glass, clay, plastic, aluminum or other impervious materials, and typically used to store liquids such as water, milk, soft...
constructed of
plastic
Plastic
A plastic material is any of a wide range of synthetic or semi-synthetic organic solids used in the manufacture of industrial products. Plastics are typically polymers of high molecular mass, and may contain other substances to improve performance and/or reduce production costs...
, with a neck that is narrower than its real body and an opening at the top. The mouth of the bottle is normally sealed with a plastic
bottle cap
Bottle cap
Bottle caps are a type of closure used to seal the openings of bottles of many types. They can be small circular pieces of metal, usually steel, with plastic backings, and for plastic bottles a plastic cap is used instead. A bottle cap is typically colorfully decorated with the logo of the brand...
. Plastic bottles are typically used to store liquids such as
water
Water
Water is a chemical substance with the chemical formula H2O. A water molecule contains one oxygen and two hydrogen atoms connected by covalent bonds. Water is a liquid at ambient conditions, but it often co-exists on Earth with its solid state, ice, and gaseous state . Water also exists in a...
, soft drinks,
motor oil
Motor oil
Motor oil or engine oil is an oil used for lubrication of various internal combustion engines. The main function is to lubricate moving parts; it also cleans, inhibits corrosion, improves sealing, and cools the engine by carrying heat away from moving parts.Motor oils are derived from...
,
cooking oil
Cooking oil
Cooking oil is purified fat of plant origin, which is usually liquid at room temperature ....
,
medicine
Medicine
Medicine is the science and art of healing. It encompasses a variety of health care practices evolved to maintain and restore health by the prevention and treatment of illness....
,
shampoo
Shampoo
Shampoo is a hair care product used for the removal of oils, dirt, skin particles, dandruff, environmental pollutants and other contaminant particles that gradually build up in hair...
,
milk
Milk
Milk is a white liquid produced by the mammary glands of mammals. It is the primary source of nutrition for young mammals before they are able to digest other types of food. Early-lactation milk contains colostrum, which carries the mother's antibodies to the baby and can reduce the risk of many...
, and
ink
Ink
Ink is a liquid or paste that contains pigments and/or dyes and is used to color a surface to produce an image, text, or design. Ink is used for drawing and/or writing with a pen, brush, or quill...
. The size ranges from very small sample bottles to large
carboy
Carboy
A carboy is a rigid container with a typical capacity of 5 to 15 gallons . Carboys are primarily used for transporting fluids, often water or chemicals.They are also used for in-home fermentation of beverages, often wine.-Brewing:...
s.
This article provides a description of common plastic container
resin
Resin
Resin in the most specific use of the term is a hydrocarbon secretion of many plants, particularly coniferous trees. Resins are valued for their chemical properties and associated uses, such as the production of varnishes, adhesives, and food glazing agents; as an important source of raw materials...
materials, their qualities, usages, and limitations.
History
Plastic bottles were first used commercially in 1947, but remained relatively expensive until the early 1960s when high-density polyethylene was introduced. They quickly became popular with both manufacturers and customers due to their lightweight nature and relatively low production costs compared with
glass bottle
Glass bottle
A glass bottle is a bottle created from glass. Glass bottles can vary in size considerably, but are most commonly found in sizes ranging between about 10ml and 5 liters....
s. The
food industry
Food industry
The food production is a complex, global collective of diverse businesses that together supply much of the food energy consumed by the world population...
has almost completely replaced glass in many cases with plastic bottles, but
wine
Wine
Wine is an alcoholic beverage, made of fermented fruit juice, usually from grapes. The natural chemical balance of grapes lets them ferment without the addition of sugars, acids, enzymes, or other nutrients. Grape wine is produced by fermenting crushed grapes using various types of yeast. Yeast...
and
beer
Beer
Beer is the world's most widely consumed andprobably oldest alcoholic beverage; it is the third most popular drink overall, after water and tea. It is produced by the brewing and fermentation of sugars, mainly derived from malted cereal grains, most commonly malted barley and malted wheat...
are still commonly sold in glass bottles.
Construction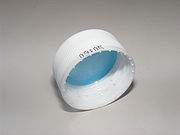 Plastic bottles are formed using a variety of techniques. The choice of material varies depending upon application.
High Density Polyethylene
:
HDPE is the most widely used resin for plastic bottles. This material is economical, impact resistant, and provides a good moisture barrier. HDPE is compatible with a wide range of products including acids and caustics but is not compatible with solvents. It is supplied in FDA approved food grade. HDPE is naturally translucent and flexible. The addition of color will make HDPE opaque although not glossy. HDPE lends itself readily to silk screen decoration. While HDPE provides good protection at below freezing temperatures, it cannot be used with products filled at over 160 °F (71.1 °C) or products requiring a hermetic (vacuum) seal.
Low Density Polyethylene
Low density polyethylene
Low-density polyethylene is a thermoplastic made from petroleum. It was the first grade of polyethylene, produced in 1933 by Imperial Chemical Industries using a high pressure process via free radical polymerization. Its manufacture employs the same method today. LDPE is commonly recycled and has...
:
LDPE is similar to HDPE in composition. It is less rigid and generally less chemically resistant than HDPE, but is more translucent. LDPE is used primarily for squeeze applications. LDPE is significantly more expensive than HDPE.
Polyethylene Terephthalate
Polyethylene terephthalate
Polyethylene terephthalate , commonly abbreviated PET, PETE, or the obsolete PETP or PET-P, is a thermoplastic polymer resin of the polyester family and is used in synthetic fibers; beverage, food and other liquid containers; thermoforming applications; and engineering resins often in combination...
:
Polyethylene Terephthalate (PET, PETE or
polyester
Polyester
Polyester is a category of polymers which contain the ester functional group in their main chain. Although there are many polyesters, the term "polyester" as a specific material most commonly refers to polyethylene terephthalate...
) is commonly used for carbonated beverage, water bottles and many food products. PET provides very good alcohol and essential oil barrier properties, generally good chemical resistance (although acetones and ketones will attack PET) and a high degree of impact resistance and tensile strength. The orienting process serves to improve gas and moisture barrier properties and impact strength. This material does not provide resistance to very high temperature applications—max. temp. 200 °F (93.3 °C).
Polyvinyl Chloride
Polyvinyl chloride
Polyvinyl chloride, commonly abbreviated PVC, is a thermoplastic polymer. It is a vinyl polymer constructed of repeating vinyl groups having one hydrogen replaced by chloride. Polyvinyl chloride is the third most widely produced plastic, after polyethylene and polypropylene. PVC is widely used in...
:
PVC is naturally clear, has extremely good resistance to oils, and has very low oxygen transmission. It provides an excellent barrier to most gases and its drop impact resistance is also very good. This material is chemically resistant, but it is vulnerable to solvents. PVC is an excellent choice for salad oil, mineral oil, and vinegar. It is also commonly used for shampoos and cosmetic products. PVC exhibits poor resistance to high temperatures and will distort at 160 °F (71.1 °C), making it incompatible with hot filled products
Polypropylene
Polypropylene
Polypropylene , also known as polypropene, is a thermoplastic polymer used in a wide variety of applications including packaging, textiles , stationery, plastic parts and reusable containers of various types, laboratory equipment, loudspeakers, automotive components, and polymer banknotes...
:
Polypropylene(PP) is used primarily for jars and closures and provides a rigid package with excellent moisture barrier. One major advantage of polypropylene is its stability at high temperatures, up to 220 °F. Polypropylene is autoclavable and offers the potential for steam sterilization. The compatibility of PP with high filling temperatures is responsible for its use with hot fill products.
PP has excellent chemical resistance, but provides poor impact resistance in cold temperatures
Polystyrene

Polystyrene

Polystyrene ) also known as Thermocole, abbreviated following ISO Standard PS, is an aromatic polymer made from the monomer styrene, a liquid hydrocarbon that is manufactured from petroleum by the chemical industry...


(PS)
:
Styrene offers excellent clarity and stiffness at an economical cost. It is commonly used with dry products including vitamins, petroleum jellies, and spices. Styrene does not provide good barrier properties, and exhibits poor impact resistance.
Fluorine Treated HDPE
:
Bottles are exposed to fluorine gas in a secondary operation, are similar in appearance to HDPE and have exceptional barrier properties to hydrocarbons and aromatic solvents. Fluorine treated bottles are excellent for use with insecticides, pesticides, herbicides, photographic chemicals, agricultural chemicals, household and industrial cleaners, electronic chemicals, medical cleaners and solvents, citrus products, d-limone, flavors, fragrances, essential oils, surfactants, polishes, additives, graffiti cleaning products, pre-emergents, stone and tile care products, waxes, paint thinner, gasoline, biodiesel, xylene, acetone, kerosene and more.
For non-bottle applications, fluorination of plastic can provide compliance with state and federal regulations. An example would be fluorination plastic fuel tanks used for lawn and garden equipment, automobiles, etc.
Post Consumer Resin
(PCR):
PCR is a blend of reclaimed natural HDPE (primarily from milk and water containers) and virgin resin. The recycled material is cleaned, ground and recompounded into uniform pellets along with prime virgin material especially designed to build up environmental stress crack resistance. PCR has no odor but exhibits a slight yellow tint in its natural state. This tint can be hidden by the addition of color. PCR is easily processed and inexpensive. However, it cannot come into direct contact with food or pharmaceutical products. PCR can be produced in a variety of recycled content percentages up to 100%.
K-Resin SBC
:
K-resin is ideally suited to a wide variety of packaging applications by virtue of its sparkling clarity, high gloss, and impact resistance. K-Resin, a styrene derivative, is easily processed on polyethylene equipment. It is suitable for packaging many products but is specifically incompatible with fats and unsaturated oils or solvents. This material is frequently used for display and point-of-purchase packaging.
Health and environmental issues
There is ongoing concern as to the use of plastics in consumer
food packaging
Food packaging
Food packaging is packaging for food. It requires protection, tampering resistance, and special physical, chemical, or biological needs. It also shows the product that is labeled to show any nutrition information on the food being consumed....
solutions. The
environmental impact
Environmental degradation
Environmental degradation is the deterioration of the environment through depletion of resources such as air, water and soil; the destruction of ecosystems and the extinction of wildlife...
of the disposal of these products, as well as concerns regarding consumer safety, are hotly debated.
Labeling

Plastic bottles are marked at their base with the
Resin identification code
Resin identification code
The SPI resin identification coding system is a set of symbols placed on plastics to identify the polymer type. It was developed by the Society of the Plastics Industry in 1988, and is used internationally....
to indicate the material used:
1 - PET (Polyethylene Terephthalate

Polyethylene terephthalate

Polyethylene terephthalate , commonly abbreviated PET, PETE, or the obsolete PETP or PET-P, is a thermoplastic polymer resin of the polyester family and is used in synthetic fibers; beverage, food and other liquid containers; thermoforming applications; and engineering resins often in combination...


)
2 - HDPE (High Density Polyethylene

High density polyethylene

High-density polyethylene or polyethylene high-density is a polyethylene thermoplastic made from petroleum. It takes 1.75 kilograms of petroleum to make one kilogram of HDPE...


)
3 - PVC (Polyvinyl Chloride

Polyvinyl chloride

Polyvinyl chloride, commonly abbreviated PVC, is a thermoplastic polymer. It is a vinyl polymer constructed of repeating vinyl groups having one hydrogen replaced by chloride. Polyvinyl chloride is the third most widely produced plastic, after polyethylene and polypropylene. PVC is widely used in...


)
4 - LDPE (Low Density Polyethylene

Low density polyethylene

Low-density polyethylene is a thermoplastic made from petroleum. It was the first grade of polyethylene, produced in 1933 by Imperial Chemical Industries using a high pressure process via free radical polymerization. Its manufacture employs the same method today. LDPE is commonly recycled and has...


)
5 - PP (Polypropylene

Polypropylene

Polypropylene , also known as polypropene, is a thermoplastic polymer used in a wide variety of applications including packaging, textiles , stationery, plastic parts and reusable containers of various types, laboratory equipment, loudspeakers, automotive components, and polymer banknotes...


)
6 - PS (Polystyrene

Polystyrene

Polystyrene ) also known as Thermocole, abbreviated following ISO Standard PS, is an aromatic polymer made from the monomer styrene, a liquid hydrocarbon that is manufactured from petroleum by the chemical industry...


)
7 - Other
See also
Bottle

Bottle

A bottle is a rigid container with a neck that is narrower than the body and a "mouth". By contrast, a jar has a relatively large mouth or opening. Bottles are often made of glass, clay, plastic, aluminum or other impervious materials, and typically used to store liquids such as water, milk, soft...



In-mould labelling

In-mould labelling

In-mould labelling is the use of paper or plastic labels during the manufacturing of containers by blow molding, injection molding, or thermoforming processes. The label serves as the integral part of the final product, which is then delivered as pre-decorated item. Combining the decoration...



Society of the Plastics Industry

Society of the Plastics Industry

Founded in 1937, The Society of the Plastics Industry, Inc. is the trade association representing one of the largest manufacturing industries in the United States. SPIs members represent the entire plastics industry supply chain in the US, including processors, machinery and equipment manufacturers...



Recycling of PET bottles

Recycling of PET Bottles

Bottles made of PET are recycled to reuse the material out of which they are made and to reduce the amount of waste going to landfills....



Packaging
Plastics
Books
Soroka, W, "Fundamentals of Packaging Technology", IoPP, 2002, ISBN 1-930268-25-4
Yam, K. L., "Encyclopedia of Packaging Technology", John Wiley & Sons, 2009, ISBN 978-0-470-08704-6
External links