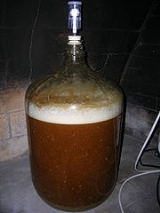 Carboy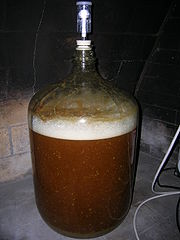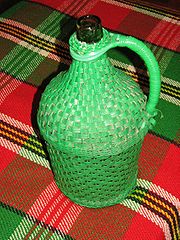 A
carboy
is a rigid container with a typical capacity of 5 to 15 gallons (20 to 60 L). Carboys are primarily used for transporting fluids, often water or chemicals.
They are also used for in-home fermentation of beverages, often wine.
Brewing
In
brewing
Brewing
Brewing is the production of beer through steeping a starch source in water and then fermenting with yeast. Brewing has taken place since around the 6th millennium BCE, and archeological evidence suggests that this technique was used in ancient Egypt...
, a carboy is also known as a
demijohn
. It is a glass or plastic vessel used in fermenting beverages such as
wine
Wine
Wine is an alcoholic beverage, made of fermented fruit juice, usually from grapes. The natural chemical balance of grapes lets them ferment without the addition of sugars, acids, enzymes, or other nutrients. Grape wine is produced by fermenting crushed grapes using various types of yeast. Yeast...
,
mead
Mead
Mead , also called honey wine, is an alcoholic beverage that is produced by fermenting a solution of honey and water. It may also be produced by fermenting a solution of water and honey with grain mash, which is strained immediately after fermentation...
, and
beer
Beer
Beer is the world's most widely consumed andprobably oldest alcoholic beverage; it is the third most popular drink overall, after water and tea. It is produced by the brewing and fermentation of sugars, mainly derived from malted cereal grains, most commonly malted barley and malted wheat...
. Usually it is fitted with a
rubber
Rubber
Natural rubber, also called India rubber or caoutchouc, is an elastomer that was originally derived from latex, a milky colloid produced by some plants. The plants would be 'tapped', that is, an incision made into the bark of the tree and the sticky, milk colored latex sap collected and refined...
stopper
Stopper (plug)
A bung is truncated cylindrical or conical closure to seal a container, such as a bottle, tube or barrel. Unlike a lid which encloses a container from the outside without displacing the inner volume, a bung is partially inserted inside the container to act as a seal...
and a
fermentation lock
Fermentation lock
The fermentation lock or airlock is a device used in beer brewing and wine making that allows carbon dioxide released by the beer to escape the fermenter, while not allowing air to enter the fermenter, thus avoiding oxidation....
to prevent
bacteria
Bacteria
Bacteria are a large domain of prokaryotic microorganisms. Typically a few micrometres in length, bacteria have a wide range of shapes, ranging from spheres to rods and spirals...
and
oxygen
Oxygen
Oxygen is the element with atomic number 8 and represented by the symbol O. Its name derives from the Greek roots ὀξύς and -γενής , because at the time of naming, it was mistakenly thought that all acids required oxygen in their composition...
from entering during the fermentation process.
During the
homebrewing
Homebrewing
Homebrewing is the brewing of beer, wine, sake, mead, cider, perry and other beverages through fermentation on a small scale as a hobby for personal consumption, free distribution at social gatherings, amateur brewing competitions or other non-commercial reasons...
process, a primary carboy is used for fermentation. Once primary fermentation is complete, the beer is either transferred to a secondary carboy for conditioning or it can be transferred directly to bottles for conditioning. (This process of transferring is usually called
racking
Racking
Racking is the process of siphoning the wine or beer off the lees into a new, clean barrel or in the case of beer off the trub. Racking allows clarification and aids in stabilization. Wine that is allowed to age on the lees often develops "off-tastes". A racking hose or tubing is used and can be...
.)
Polypropylene
Polypropylene
Polypropylene , also known as polypropene, is a thermoplastic polymer used in a wide variety of applications including packaging, textiles , stationery, plastic parts and reusable containers of various types, laboratory equipment, loudspeakers, automotive components, and polymer banknotes...
carboys are also commonly used in laboratories to transfer purified water. They are typically filled at the top and have a spigot at the bottom for dispensing.
The word carboy is from the
Persian
Persian language
Persian is an Iranian language within the Indo-Iranian branch of the Indo-European languages. It is primarily spoken in Iran, Afghanistan, Tajikistan and countries which historically came under Persian influence...
qarabah
(قرابه), from
Arabic
Arabic language
Arabic is a name applied to the descendants of the Classical Arabic language of the 6th century AD, used most prominently in the Quran, the Islamic Holy Book...
qarraba
, "big
jug
Jug (container)
A jug is a type of container used to hold liquid. It has an opening, often narrow, from which to pour or drink, and nearly always has a handle. One could imagine a jug being made from nearly any watertight material, but most jugs throughout history have been made from clay, glass, or plastic...
".
Carboys come in various volumes ranging from 1 to 6.5 gallons (3.8 to 24.7 L). The term carboy itself usually refers to a 5 gallon (19 L) carboy, unless otherwise noted. A 1.25 gallon (4.5 L) carboy is usually called a jug. A 15 gallon (57 L) carboy is usually called a
demijohn
(in the Philippines, "
dama juana
".)
"
Demijohn
" is an old word that formerly referred to any glass vessel with a large body and small neck, enclosed in
wicker
Wicker
Wicker is hard woven fiber formed into a rigid material, usually used for baskets or furniture. Wicker is often made of material of plant origin, but plastic fibers are also used....
work. The word may derive from the name of a
Persian
Iran
Iran , officially the Islamic Republic of Iran , is a country in Southern and Western Asia. The name "Iran" has been in use natively since the Sassanian era and came into use internationally in 1935, before which the country was known to the Western world as Persia...
town,
Damghan
Damghan
Damghan is a city in and capital of Damghan County, Semnan Province, Iran. At the 2006 census, its population was 57,331, in 15,849 families.Damghan is situated from Tehran on the high-road to Mashad, at an elevation of...
, but this is not supported by any historical evidence. According to
The Oxford English Dictionary
Oxford English Dictionary
The Oxford English Dictionary , published by the Oxford University Press, is the self-styled premier dictionary of the English language. Two fully bound print editions of the OED have been published under its current name, in 1928 and 1989. The first edition was published in twelve volumes , and...
the word comes from the
French
French language
French is a Romance language spoken as a first language in France, the Romandy region in Switzerland, Wallonia and Brussels in Belgium, Monaco, the regions of Quebec and Acadia in Canada, and by various communities elsewhere. Second-language speakers of French are distributed throughout many parts...
dame-jeanne
, literally "Lady Jane", as a popular appellation. This is in accordance with the historical evidence at present known, since the word occurred initially in France in the 17th century, and no earlier trace of it has been found elsewhere.
In Britain,
demijohn
refers to a 4.5 litre glass brewing vessel.
Laboratory
In modern laboratories, carboys are usually made of plastic, though traditionally were (and still are in many university settings) made of ferric glass or other shatter-resistant glasses immune to acid corrosion or
halide
Halide
A halide is a binary compound, of which one part is a halogen atom and the other part is an element or radical that is less electronegative than the halogen, to make a fluoride, chloride, bromide, iodide, or astatide compound. Many salts are halides...
staining common in older plastic formulations. They are used to store large quantities of liquids, such as
solvent
Solvent
A solvent is a liquid, solid, or gas that dissolves another solid, liquid, or gaseous solute, resulting in a solution that is soluble in a certain volume of solvent at a specified temperature...
s or deionised water. In these applications, a tap may be included for dispensing. Carboys are also used to collect and store waste solvents. Collecting waste solvents in plastic carboys is preferable to reusing glass Winchesters due to the lesser chance of breakage if a solution is placed in an incorrectly labeled carboy.
External links